Alexander Volkanovski follows Orthodox Christianity as his religion. Volkanovski is likely to have followed Orthodox Christianity because his parents come from two countries with a large population following the religion.
Born and raised in New South Wales, Australia, Alexander Volkanovski began training in MMA in 2010. But before MMA and UFC, Volkanovski was a rugby player and played in a semi-professional rugby league.
The 35-year-old joined UFC in 2016 and fought his first match against Yusuke Kasuya. From there, the Australian fighter went on a crazy run, remaining undefeated for 11 fights. During this run, Volkanovski fought Max Holloway three times, defeating him all three times.
The first loss in his UFC career came earlier this year against Islam Makhachev. Volkanovski was looking to become the first Australian to hold two UFC titles, but Makhachev spoilt the party for him.
Alexander returned to the Octagon ring in July and defeated Yair Rodriguez by TKO. And now the Australian is ready to get his revenge on Makhachev, with the rematch taking place in Abu Dhabi on Saturday.
Volkanovski has stepped up to fight Makhachev on 12 days' notice after Charles Oliveira pulled out due to an injury.
Alexander Volkanovski Religion: Is He Muslim Or Christian?
Alexander Volkanovski's religion isn't a topic his fans are unaware of. The Australian UFC fighter is an Orthodox Christian and has proudly embraced it in front of the world.
In 2020, he shared a post celebrating Easter and captioned it, "Happy Orthodox Easter!!" Orthodox Easter is different from the Easter celebrated by the larger population.
It is because Orthodox Christians use a different calendar to work out what day Easter should fall on. The preparation begins with Great Lent, starting on Clean Monday, and ends on Lazarus Saturday.
The Orthodox churches in Greece, Cyprus, and Romania base their Easter on the Julian calendar, and they also believe that Easter must happen after the Jewish festival, Passover.
So, in 2020, for many, Easter fell on April 12, but Alexander celebrated the festival on April 19, after the Passover ended on April 16.
If you are questioning how an Australian fighter became an Orthodox Christian, as the majority of Australia's population is Catholic Christian, then it's probably because of his parents.
Alexander's parents are from Europe. His father is from North Macedonia (previously Yugoslavia), and his mother is from Greece. And those two countries do have a large population who are Orthodox Christians.
Alexander Volkanovski Tattoos
Alexander Volkanovski has three big tattoos on his body, and one of those tattoos represents his religious views.
The UFC fighter has a cross tattoo on the upper back of his body. The cross is wrapped with a chain around it and represents the religion he follows.
One of his other tattoos is of a Serpent, which covers almost the entirety of his right arm. The Sperent tattoo has its tongue extended out of its mouth and is extended towards his chest.
The Serpent tattoo has different meanings in different cultures. In Japanese culture, a serpent tattoo can symbolize protection against illness or bad luck. It can also represent good luck and wisdom.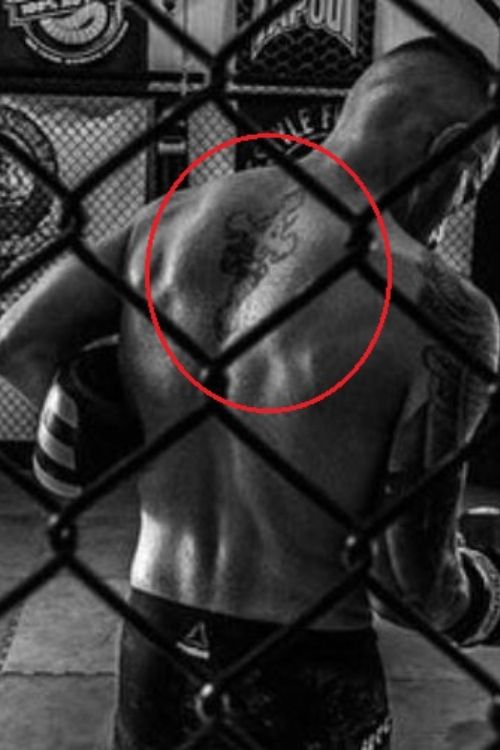 In Native American and African cultures, the serpent tattoo is linked to rain and lightning. But in general terms, a serpent tattoo is likely to represent rebirth and transformation.
The concept of rebirth and renewal is because of the snake's ability to shed its skin, and being a fighter, Alexander probably related to it. A fighter also goes through a major transformation after every fight and after coming up against his opponents.
His other tattoo is on the inner side of his right arm, and it is a flower and also consists of a tribal design.