Eliah Drinkwitz isn't Jewish but is a Christian and has frequently talked about how important his religion is to him. The first person he thanked after his appointment was also Jesus Christ.
The Missouri football head coach's name also comes from the Bible. His father named him Elijah, who according to the Bible, worked miracles through God. But Jerry named his son with the J.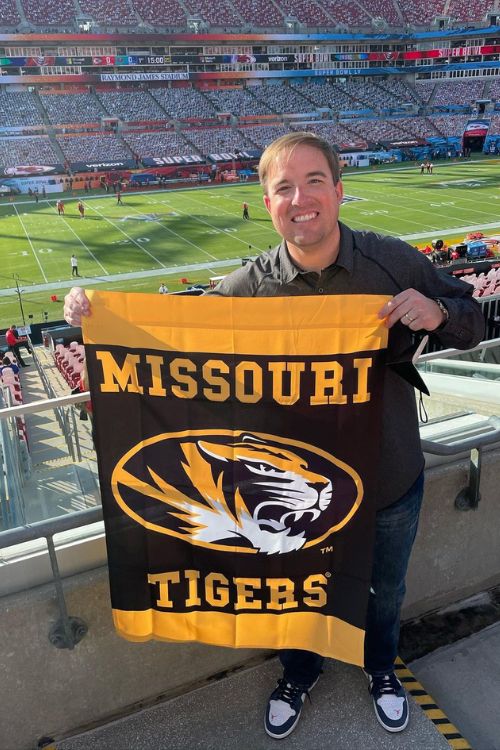 Known as a chatty person since a young age, the football coach aspired to be a lawyer. But his football genes directed him to follow the family tradition.
After losing to Georgia, the Tigers' second loss of the season, Eliah said he didn't regret any of the tactics he used in the game. But he did say the team was disappointed it couldn't position itself to contend for the SEC East title.
Is Eliah Drinkwitz Jewish? Coach Religion
Eliah Drinkwitz doesn't follow Jewish faith, in fact, the Missouri Coach is a Christian. Previously, a Jewish website, STL Jewish Light, had also talked about the coach's beliefs.
The website said though his name sounds Jewish, the football coach doesn't have any Jewish connection. But those who follow the coach do know that he is very religious and has always mentioned his faith whether it be on social media or interviews.
Previously, in 2016, Drinkwitz posted on X (formerly Twitter), "Faith not fear, Hope not worry!" On his Instagram bio, Drinkwitz has written, "Husband, father, Christ follower."
So, along with being a religious man, he is also a family guy and has shared several family photos on his Instagram handle. The coach has four daughters and has previously brought his daughters to press conferences.
In December 2019, when Eliah was appointed as the head coach of the Tigers, one of the first people he thanked was Lord Jesus Christ.
He said, "I must start by thanking my Lord and Savior, Jesus Christ. Without him, I would have no purpose in life, and he has given me my direction."
Drinkwitz then went on to thank his wife, Lindsey, who pushed him to become a football coach in 2010. His previous coach, Gus Malzahn, described him as a Christian coach.
In an interview, Malzahn said Drinkwitz puts God first before his profession.
Eliah Drinkwitz Ethnicity
Eliah Drinkwitz comes from a Caucasian background and was born in Oklahoma. But the football coach was raised in Alma, Arkansas.
Drinkwitz comes from a football family, with his father, Jerry, previously being an all-conference running back at Luther College. Jerry coached high school ball before he moved his family to Arkansas.
A kid who grew up dreaming of becoming a lawyer, Drinkwitz loved debating and arguing. But there were also occasions where his mother Susie would find papers littered with X's and O's and arrows.
Eliah was homeschooled by his mother in his early years and was enrolled in a public school in third grade. He had leadership qualities from a young age, which led to him becoming president of the high school student council.
Drinkwitz weren't influential or massively rich households. Jerry and Susie earned enough to provide for their children, and financial aid was a key to college education.
The family also had a T-shirt printing business, which Jerry and Susie began from their garage. Drinkwitz started his coaching career with Alma High School in 2005 and slowly rose through the ranks.
Last year, Drinkwitz renewed his contract with the Tigers, keeping him as the head coach until 2027. His salary increased as well, up to $6 million.