Man United's play this season has been inconsistent.
Still, they are in second place in the Premier League. After Ole joined as manager, they picked up but can he deliver? Fans anticipate the silverware and Bolt agrees.
The FA Cup quarter-final match on 21 March against Leicester City was a huge disappointment for City fans.
The Red Devils weren't up to mark as their usual self, and Ole's decision to bring in Bruno Fernandes, Luke Shaw, Edinson Cavani, and Scott McTominay at the latter stage didn't work.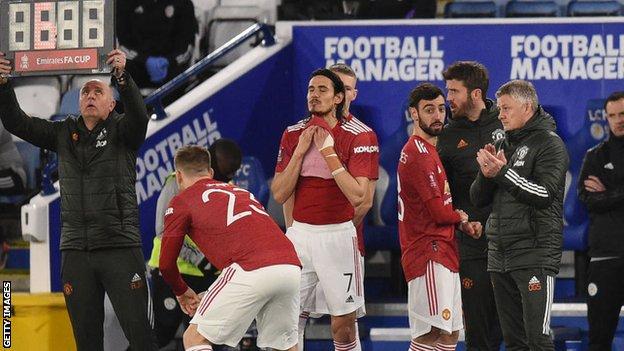 Fred's blunder right at the beginning gave leeway to Kelechi Iheanacho for a successful opening shot.
Greenwood equalized it, but Tielemans scored another in the second half.
Two goals led the foxes, and Iheanacho headed the final winning shot several minutes before wrap-up.
United's lackluster performance gave Leicester great opportunities to seal their win of three goals over the former's one.
Usain Bolt was disappointed and in a dilemma regarding Ole
Olympic legend, Usain Bolt, is no less disenchanted. A stout fan and supporter of the Red Devils, he is skeptical whether Ole is up to the task.
He said to CNN:
"It's not been the best season… In fact, I'm actually surprised we're in second place; you know what I mean because it's been so up and down.
"So I'm just happy that we're in the top four. Now hopefully, we get at least one trophy this year because I think we definitely need one. So I just got to cross my fingers and hope for the best!"
Ole Gunnar Solskjaer was appointed in 2018 as the head coach and manager for Man United.
His start-off with the Red Devils was very good but became unstable as the team wasn't able to deliver in high-pressure finalizing matches.
What seemed like high hopes and a fresh beginning for United changed into a topsy-turvy season. They were knocked out of the Champions League Cup race after losing to Leipzig on 8th December.
They recently slipped their chance of securing a place in the FA Cup semi-finals after Leicester deservedly beat them.
The high point came when they brought Man City's winning streak to a halt. And secured second place in the table of the Premier League.
It's been a tightrope play for the Red Devils.
Their upcoming quarter-final match with Granada on April 9 will be the defining moment on whether the team can win a trophy under Ole's leadership.
Can Ole overcome the Challenge? Bolt's Take on the Matter
The question of whether the United Boss is at par in securing legendary club United to claim a trophy remains to be seen.
Past performances indicate that the team has been unpredictable. Tottenham defeated them in a win 6-1, one of the lowest moments for such a formidable team.
Bolt is in predicament on whether Ole is the man to motivate United to victory cups.
Ole points out that winning a trophy is important but also rubs up against one's ego. However, fans, including the Jamaican sprinter-gold medalist, think otherwise.
The latter shares with CNN, "I think Fred should not be in the midfield…"
"I think he lacks so much. He works hard, but he's lacking passing, and he gives away a lot of cheap fouls in bad areas – and we definitely need more strikers, somebody that's really a pure striker.
"I think [Edinson] Cavani needs to play more. I definitely feel like as long as he's fit, he should be on the field, you know what I mean, and overall I think we need to pressure all the players…
"If you're sure of your spot, then you don't play as hard as you should. So it's just one of those things I feel like needs to change, and we'll be fine."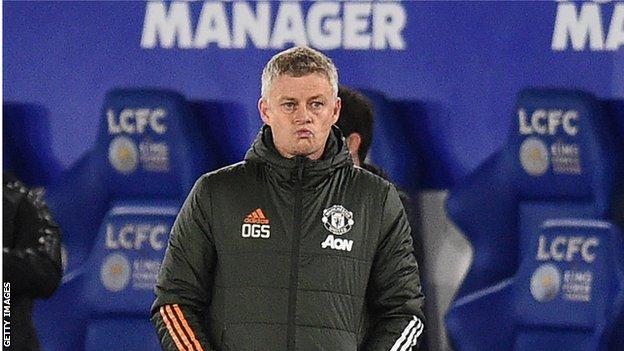 Is Ole's Reputation at Stake?
Solskjaer defends his team and points out that the continuous play of games and the intensity of the season has zapped up the Red Devils' strength and energy.
But loopholes have occurred indicated by the fragility of defense in the recent match against Leicester.
After 39 years, the Foxes won their first FA Cup semi-finals match, and Leicester Boss Brendan Rodgers and his team were exhilarant.
But now the time has come for Ole to showcase his substance and safeguard his reputation.
As the manager of one of Europe's most highly reputable clubs of the Premier League, winning the silverware will certainly go down in history as the [first] feather in his cap.