The world-renowned sprinter Usain Bolt is the name that lives in everyone's mind rent-free. The retired Jamaican sprinter has earned global fame alongside his whopping net worth of $90 million and lives a luxurious lifestyle.
Additionally, Bolt is often referred to as the fastest human on the planet. Not to mention, he was one of the highest-paid athletes in the world.
Mostly during his Olympic days, people would have their eyes on the one and only Bolt.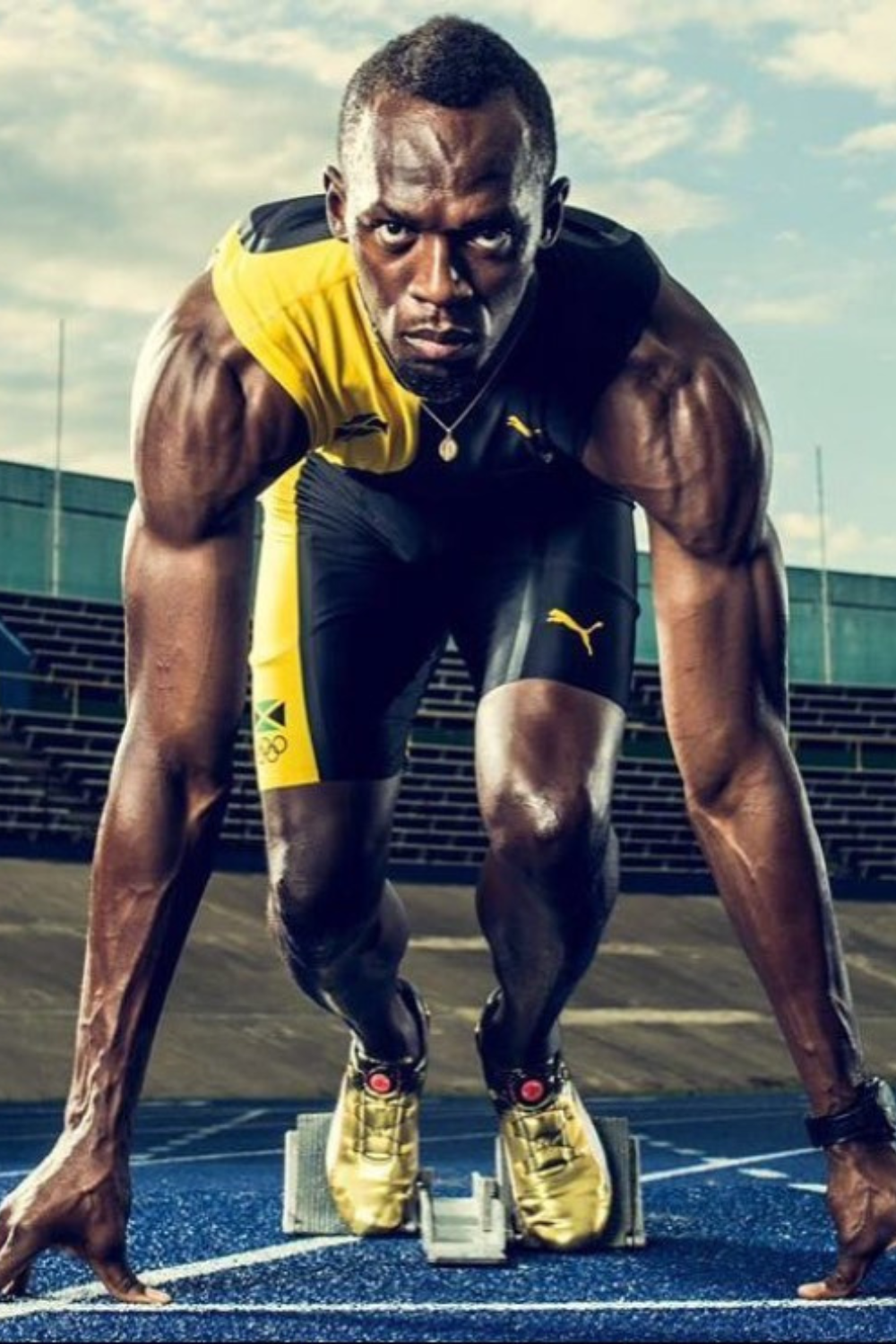 His earnings are mostly gained through brand endorsements rather than career earnings.
Bolt participated in the sports brand Puma Fashion Show at New York Fashion Week on September 2022.
In January 2023, the Jamaican retired sprinter found $12.7 million missing from his investment account.
Following it, we will be covering all the aspects of his earnings and lifestyle to date.
Quick Facts
Full Name
Usain St Leo Bolt
Date of Birth
21 August 1986
Birth Place
Sherwood Content, Jamaica
Nick Name
Lightning Bolt
Religion
Catholic
Nationality
Jamaican
Ethnicity
Black
Zodiac Sign
Leo
Age
36 Years Old
Height
6'5″/1.95 m/195 cm
Weight
94 kg/207 lb.
Hair Color
Light presence of hair (Black)
Eye Color
Dark Brown
Build
Athletic
Father's Name
Wellesley Bolt
Mother's Name
Jennifer Bolt
Siblings
A brother, Sadiki Bolt, and a sister, Sherine Bolt
Education
William Knibb Memorial High School
University of Technology
Marital Status
Married
Wife
Kasi Bennett
Kids
Olympia Lightning Bolt, Saint Leo Bolt and Thunder Bolt
Profession
Former sprinter
Club
Racers Track Club
Coach
Glen Mills
Active Years
2004-2017
Net Worth
$90 million
Social Media
Instagram, Twitter, Website
Merch
T-shirt, Shoes, I Am Bolt
Last Update
March, 2023
Bolt is highly referred to as "Lightning Bolt" for his amazing speed; he even has 19 Guinness World Records to vouch for it. To illustrate, Bolt's speed measures 37.58 km/h (23.35 mph), while his top speed to date is 44.72 km/h (27.79 mph).
Born in Jamaica to his parents, Jennifer Bolt and Wellesly Bolt, he has two siblings; a brother, Sadiki Bolt, and a sister, Sherine Bolt.
Furthermore, Bolt grew up in a small town with a normal life, where his parents ran a local grocery store.
Apparently, Bolt commenced early in his career path right after high school; however, he only made his professional debut in 2004.
Likewise, he retired later, in 2017. Following it, he often featured in friendly professional matches of soccer.
To date, Bolt has garnered eight gold medals in the Olympics and eight World Championships. Not to mention, he is the record holder for 100 meters, 200 meters, and 4 × 100 meters relay.
Records And Accolades
Bolt today stands with the record of 9.58 seconds in 2009 for the 100 meters as his personal best. Following it, he holds the world record of 19.19 seconds for the 200 meters.
Advancing on his Guinness World Records, all his maintained records are his fastest run records for 100 meters, 150 meters, and 200 meters.
Apparently, it also includes IAAF World Athlete of the Year trophies and him as the most-paid track athlete.
Altogether, Bolt has garnered eight gold medals in the Olympics, AND eleven gold medals in World Championships, with two silver and a bronze.
Moreover, he has four gold medals in CAC Junior Championships for Under 17, seven gold medals in CARIFTA Games for Under 20.
Adding to the list, he has a gold medal from Commonwealth Games, CAC Championships, Diamond League, and World Junior Championships.
For the World Junior Championships, he has also garnered two silver medals.
Few of his recognition to date are highlighted below.
Track & Field Athlete of the Year
BBC Overseas Sports Personality of the Year (3x)
Laureus World Sportsman of the Year (4x)
BBC Overseas Sports Personality of the Year (3x)
L'Équipe Champion of Champions (4x)
Jamaica Sportsman of the Year (5x)
AIPS Male Athlete of the Year
Marca Leyenda
Did Usain Bolt Participate In The Tokyo 2020 Olympics?
The answer is no. The eight-time Olympic gold medalist, the fastest man on earth, did not participate in the Tokyo 2020 Olympics.
This was the first Olympics where the athlete was not seen sprinting after he started his career. His last Olympic appearance was at the 2016 Rio Olympics, where he won three gold medals in the 100m, 200m, and 4 x 100m relay.
Following that, one of the greatest sprinters of all time retired in 2017 after the World Championships. Besides that, he won all three events at the 2012 London Olympics and two events at the 2008 Beijing Olympics.
Although he won the 4 x 100m relay in Beijing Olympics, the title was stripped off as his teammate was found guilty of doping.
Furthermore, the Lightning Bolt is the only sprinter ever to win the Olympic 100 m and 200 m titles consecutively in three Olympics.
How Much Money Does The Athlete Have?
By the end of his retirement, Usain Bolt was estimated to have earned $31 million. Indeed, he was the highest-earning track athlete.
Currently, he stands with a $90 million net worth and is estimated to make $20 million annually.
As a matter of fact, Usain Bolt earns the most from endorsements.
For instance, his earnings during the year of his retirement were just $2.2 million from race winnings and appearance fees at track events.
Not to mention, bagging the World Championships title earns him $60,000, while earning a world record gains him bonuses of $100,000. Besides, countries pay their athletes after winning a title, and so does Jamaica.
Back in 2016, when Bolt gained a title, he garnered $30,000 for his haul of three gold medals.
At the time of his retirement, Usain Bolt starred as the 23rd highest-paid athlete globally, while no track athletes were listed in the top 100 earners.
Endorsements, Sponsorships, & Advertisements
Endorsements and Sponsorships
Initially, Bolt commenced with only Puma and Jamaican mobile phone Company Digicel as his sponsors. Apparently, his deal with Puma dates way back to his teenage days.
According to the sources, he has been with Puma since he was sixteen, which dates back to 2002.
As per the Financial Times, Puma first offered him with $1.5 million a year, which later turned into a $10 million contract.
Currently, he is the brand ambassador of PUMA's sports footwear and apparel items.
After his historic win in 2002, Puma made a series of videos of Bolt's feat to date as a promotion.
Following it, Bolt gained numerous projects and endorsements in his hands. But, in the meantime, he also earned his nickname. "Lightning Bolt."
Later, after his Beijing performance, Bolt signed deals with brands like Gatorade, Hublot, Virgin, and Visa.
Afterward, he joined the brand Gatorade for their event, the "Gatorade Bolt," in September 2010.
Back then, he traveled to Australia, where he privately coached players while participating in the 10th-anniversary celebration of the 2000 Summer Olympic Games. Additionally, Bolt has been featured in advertisements for Virgin Media.
Advertisements
He was also featured in an advert for Visa during the Summer Olympics. Later, he dealt with RockLive, which launched a gaming app named Bolt!
As the app hit the market, it became the No.1 in Jamaica and was No. 2 on the list of Top Free Apps in the UK iTunes charts.
The same year, Bolt indulged in his own design of headphones with the headphone maker Soul Electronics. When it arrived on the market, it had both an in-ear bud and an over-ear model.
Apparently, it featured the Jamaican color scheme with Bolt's signature pose.
In 2017, Bolt was also ranked as the third-highest athlete in social media income behind Cristiano Ronaldo and Neymar.
Bolt charges $250,000 to $300,000 for a track meet appearance and gains $9 million from just wearing Puma shoes.
Adding to it, Bolt had also signed for Japan's All Nippon Airways, Enertor, and Australian telecom Company Optus.
Bolt As An
Entrepreneur
Back in 2018, Usain Bolt founded the micro-mobility Company under his name, Bolt Mobility. But, to elaborate, the company was in existence to create electric scooters and many other mobility products.
Therefore, Bolt was featured in all the company's advertisements alongside YouTube commercials.
Furthermore, he even took his own Facebook account to advertise his company and even announced its upcoming Bolt Nano.
According to Bolt, his scooter provides extra storage for bags, shopping, phones, etc. As for the speed limit, it can accelerate up to 30mph; however, it is only capped at 15 mph.
However, his initial appearance for the company in public came in March 2019. Before that, he would appear in the interviews alongside the company's CEO, Sarah Pishevar Haynes.
In 2019, they expanded their company to New York City and Europe while also making the first introduction in Paris. During his tenure, Bolt featured in CNBC interviews on the NYSE.
Likewise, during Paris's introduction, Bolt also put forward his future release of the Nano minicar at Viva Technology. Later, he even appeared in the CNN interview.
Additionally, they have expanded their branches throughout Asia and Europe as well.
Originally based in Miami, Bolt Mobility raised $30 million in venture capital funding.
Also, his products start with a price range of $999. In the same terms, Bolt had also released his line of shaving company, Champion Shave.
Other Extra Works
Apart from endorsements and sponsorships, Bolt also has his autobiography. It was released in 2010 as 'My Story: 9.58: Being the World's Fastest Man.'
Within the 291 pages of the book, Bolt includes his lifelong journey from his early days to London.
Similarly, Bolt has also been featured in the documentary film titled "I Am Bolt." It was released on 28 November 2016 in the United Kingdom and explained an athlete's life.
Well, it was directed by Benjamin Turner and Gabe Turner, who depicts the frame of Bolt's life as he wins the Olympic gold medals.
TV Appearances
Bolt has made many cameo appearances in the programs. Starting in the cameo of 13 October 2012, Bolt appeared for the opening sketch in Saturday Night Live, hosted by Christina Applegate.
Simultaneously, he was featured in the "Drop the Mic" for a rap battle against James Corden.
Indeed, it was during The Late Late Show with James Corden. But then, he was also seen in the pilot episode of the cartoon SCRAM! in 2020. As a quick fact, SCRAM! was produced by KidSuper and Puma.
While on the same lane, Bolt is also a music producer, making his debut in 2019 with dancehall music. His first music produced featured five Jamaican dancehall artists.
Apparently, the album Olympe Rosé included Dexta Daps' "Big Moves," Munga's Honorable "Weekend," Christopher Martin's "Dweet," Ding Dong's "Top A Di Top," and Ricardo's "Bibi" Gardner "Mount A Gyal."
The same year, he also released another music, 'Immortal Riddim,' featuring "Dweet," Vybz Kartel, and "Weekend."
After these, "Living the Dream" was his most recent work, released in January 2021, which was created alongside Nugent 'NJ' Walker.
Moreover, Bolt is a game character in the famous mobile game Temple Run 2, which has been downloaded over 500 million times.
Lifestyle
Of course, with a whopping net worth, Usain Bolt leads a luxurious life. He has his own set of healthy eateries and workout schedules to stay healthy and fit.
Indeed, he has his in-house gym room for home training. Usain starts the day with a simple egg sandwich and twenty minutes in the weight room.
As for his lunch, he goes for pasta with corned beef and goes for his training.
Following it, he eats many veggies with yams, meat, and Jamaican dumplings for his dinner. Finally, as a light snack throughout the day, Bolt munches on mango, pineapple, and apples.
Bolt's Penthouse In Australia
In 2018, Usain Bolt had a £1.45 million ($1.80 million) penthouse in Australia, which is said to be on rent. Apparently, it is situated to the north of Sydney inside the luxury Point Frederick's exclusive Araluen apartments.
Furthermore, it flaunts a modernized kitchen, five spacious bedrooms, a heated jacuzzi, and an ensuite bathroom with a balcony.
Additionally, it includes a private lift, a spacious car garage, and a garden with a Brisbane Lake view.
As per the real state, the penthouse boasts a "Styled to impress" slogan.
Apart from it, he has a house in Jamaica on 40 acres of land with five bedrooms.
Cars Collection
Indeed, Usain Bolt is an avid car lover and has a huge collection of them. Some of his collections include the listed cars.
Ferrari 458 Italia worth $291,000.
Ferrari F430 Spider with a convertible top.
BMW M3
Nissan GT-R worth £80,000 ($105,000), in black and gold color.
A customized Jeep Wrangler
Audi SUV
Chevy Camaro
Help And Charity
He equals his share of work to charity for the people as much as he has earned to date. Well, his endorsement deal with Puma also helps Bolt's alma mater.
To illustrate, Puma sends sporting equipment to William Knibb Memorial High School every year.
Additionally, he helped with the exposure of his country as all his documentaries are often filmed in his native land and shot by the Jamaican production crew.
Besides, he has also many times included his signed items for charity. Likewise, he was also involved in Soccer Aid For UNICEF 2022 at the Etihad Stadium in September 2022, which raised money for children in need.
As a well-known factor, he also has his own charitable foundation named "Usain Bolt Foundation."
Well, his foundation aims to create opportunities through education and cultural development. Indeed, it is aimed at children and their dreams.
Missing Millions From His Investment Account
After retiring from the sport in 2017, the 8-time Olympic gold medalist was fully invested in his business and investments.
On January 11, 2023, Bolt found his $12.7 million missing from an investment account he had with Stocks & Securities Limited (SSL) of Kingston, Jamaica, per the Associated Press.
Bolt's attorney sent a letter to the firm requesting the return of the money.
Social Media Presence
Altogether, you can visit his social media platforms if you wish to gain in-depth personal touch with the athlete.
Well, he is on Instagram as Usain St. Leo Bolt (@usainbolt), with 11.7 million followers.
View this post on Instagram
Likewise, he is on Twitter as Usain St. Leo Bolt (@usainbolt), with 4.9 million followers.
Popularity
Even after the retirement, Usain Bolt still remains in the limelight for his different brands deals, fashion shows and charity events.
The above graphs showcases his popularity over three months period all over the world.
Frequently Asked Questions
What was Usain Bolt's fastest speed?
Usain Bolt set the 100m world record of 9.58 seconds at the 2009 IAAF World Championships.
Who is faster than Usain Bolt?
Erriyon Knighton ran a 19.49 at the age of just 18 years, which is the fourth-fastest time in 200 meters history, behind Yohan Blake, Micheal Johnson, and Usain Bolt. This timing is faster than Bolt ever ran before he hit his prime.
Why did Usain Bolt retire so early?
The injury of the hamstring he suffered in 2014 was the major reason for his early retirement. In 2017, the Jamaican called it quits on his running career and played A-league for eight weeks before departing from the Australian side Gold Coast Mariners and putting an end to his sporting career.