NFL player Isaac Rochell wife, Allison Kucharczyk, is a social media influencer who achieved significant fame through her TikTok content and comedy on YouTube.
Isaac and Allison began their relationship while they were sophomores and later tied the knot in December 2020. Excitingly, the couple is currently expecting their first child.
They joyfully shared the news of their pregnancy on Instagram on June 12, posting a heartwarming picture of them holding the sonogram image of their soon-to-arrive baby.
Isaac Rochell is a defensive end who plays for the Las Vegas Raiders in the National Football League (NFL).
He played college football at the University of Notre Dame, where he was a three-year starter known for his strong performance.
In 2017, he was selected in the seventh round of the NFL Draft by the Los Angeles Chargers and was promoted to the active roster on December 12, 2017.
Rochell re-signed with the Chargers on April 21, 2020. He also played for the Indianapolis Colts and the Cleveland Browns before joining the Las Vegas Raiders.
Isaac Rochell Wife, Allison Kucharczyk
Allison Kucharczyk is a popular social media influencer known for her hilarious comedic content, pranks, and vlog-style videos shared on the popular app TikTok.
Born on January 10, 1995, she pursued a degree in interior design at Michigan State University before turning to her true calling of social media career in October 2019.
Currently residing in California, Allison has gained a massive following, with over 2.4 million fans on TikTok and more than 169k subscribers on YouTube.
One of her most famous TikTok videos features her witty complaint about an NFL fine her husband received, and it has earned over 11 million views.
Along with her content on Tiktok and YouTube, Allison has recently launched her podcast on Instagram. A podcast named Sunday Sports Club, where she talks about sports, especially football.
With her entertaining and engaging personality, Allison Kuch has become a beloved figure in the world of social media.
Relationship Timeline And Married Life
Isaac Rochell and Allison Kuch met in 2014 during their sophomore year in college. They managed to maintain their relationship despite attending different schools.
Rochell studied in Indiana, while Kuch pursued her education in Michigan. Even when Rochell was drafted by the Los Angeles Chargers, and Kuch completed her degree, they managed to overcome the long-distance challenges and maintain their relationship.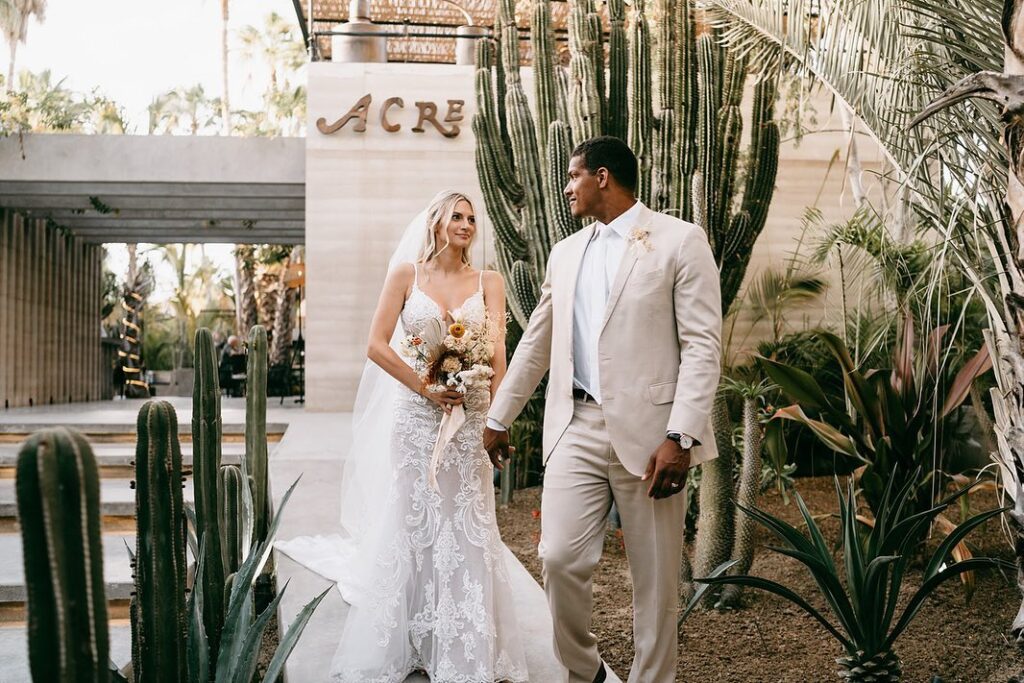 On July 26, 2020, Rochell proposed to Kuch, and they got engaged. Kuch shared their engagement journey on YouTube, which included behind-the-scenes moments of Rochell talking to Kuch's family via FaceTime.
The couple secretly eloped in December 2020 before hosting an official wedding ceremony in April 2021.
Isaac Rochell And Allison Kuch Are Expecting Their First Baby
On June 12, 2023, the duo was very excited to announce their pregnancy news. They uploaded adorable pictures of them holding sonogram images of their soon-to-arrive baby.
Allison, with excitement, announced the due date in a heartwarming caption, "Baby coming December".
Just one month later, the couple held a private gender reveal party where they announced the gender of their baby.
The intimate and romantic beach reveal showed that they were expecting a baby girl. Upon hearing the news, the couple was filled with joy and love for their little princess.
Frequently Asked Questions:
Is Isaac Rochell still with the Raiders?
On August 29, 2023, Issac Rochell announced his own release from the Raiders on Twitter. However, according to the Raiders roster, the player is on the practice squad.