Kourtney Kellar is the famous fiancee of Isaiah Hartenstein, a German-American professional basketball player for the New York Knicks of the NBA.
Kellar is a former Miss Texas 2017. She is a boxing ring girl, as most people know her as a viral girl from Logan Paul's video.
She went trending for days after her clip with Logan Paul went viral. Kellar is a well-known bikini model and a social media star who has worked as a commercial model for several famous brands.
She has appeared on the cover of Maxim, Cigar Snob, and Fashion Stars.
Let's learn about the personal and professional life of Kourtney Kellar. Meanwhile, here are some facts about her.
Quick Facts
| | |
| --- | --- |
| Full Name | Kourtney Kellar |
| Nick Name | Kellar, NBA Girlfriend |
| Date Of Birth | March 8, 1991 |
| Age | 32 Years Old |
| Birth Place | Texas, USA |
| Nationality | American |
| Ethnicity | White |
| Zodiac Sign | Pisces |
| Mother's Name | Michelle Kellar |
| Father's Name | Michael Kellar |
| Sibling | Michael Yancey, Ashley Westfall, Ronald Gubrud, And Lana Marker |
| Height | 5 ft 6 in / 167 cm / 1.67 cm |
| Weight | 54 kg / 119 lb |
| Hair Color | Blonde |
| Eye Color | Grey |
| Sexual Orientation | Straight |
| Shoe Size | 7.5 |
| College / University | Henderson State University |
| Educational Qualification | Graduated |
| Profession | Model / Vlogger |
| Title | Miss Texas International 2017 |
| Boyfriend | Isaiah Hartenstein |
| Marital Status | Engaged |
| Children | None |
| Net Worth | $1-$5 Million |
| Social Media | Instagram, Facebook, YouTube, LinkedIn |
| Last Update | September 2023 |
Early Life &

Education

Kourtney Kellar was born in Texas on March 8, 1991, to Michele Kellar (mother) and Michael Kellar (father).

Her father is a heart patient and has undergone several heart surgery. In February 2017, he got a better defibrillator to control his abnormal heartbeats.

Despite being ill, her father stood beside her and supported her in her memorable moments.

Kourtney's mother takes care of the entire family and has been her inspiration and supporter.
Kourtney has four siblings: Michael Yancey, Ashley Westfall, Ronald Gubrud, and Lana Marker. Apart from this, she also has a half-brother named Jarrett Crowe.
For education, Kellar graduated with a Bachelor of Science in Athletic Training from Henderson State University in 2013.
Kellar was a stellar student and actively involved in extra-circular activities.
She was a cheerleader in high school and was a Co-Ed cheerleading captain.
Besides this, Kourtney was the student activities board executive secretary and recipient of the emergency medical technician scholarship.
She has an authorized license for CPR from American Heart Association.
Age, & Body Measurement
Kourtney Kellar was born in 1991, which makes her 32 as of 2023. People born in March are Pisces.
March Pisceans have strong empathy for others and tend to be too sympathetic while dealing with their troubles. This perfectly defines Kourtney as a person.
She is of white ethnicity and a Christian. Kellar is 1.67 meters tall, weighs around 119 pounds, and has gorgeous blonde hair and grey eyes.
Lifestyle
Hobbies & Interests
Kourtney has always been a fashion and model fanatic. Despite having a science degree, she pursued her modeling career.
Kellar's favorite pastimes are traveling, reading, and swimming. She is diet conscious and a fitness freak.
Conversely, Kourtney is also a foodie and loves chocolate cakes, ice cream, sandwiches, Pasta, and Pizza.
The beautiful Kellar is a coffee person and also loves drinking fruit juice in summer. Her favorite cocktail is Mojito.
Diet Plan & Gym Schedule
Kourtney Kellar is a gym person who controls her diet to maintain her body.
For her diet, she usually eats bland food for breakfast, such as low-fat milk or fruit juice and sandwiches. Kellar mainly eats fresh vegetables and salad for lunch.
She drinks coffee or juices with some nuts and dry fruit for snacks and ends the day with dinner, usually salads and desserts.
As for the exercise routine, Kourtney gets up early in the morning for yoga and stretching. She also goes for a half an hour morning walk.
Kellar does pilates daily to improve her strength and stamina and does pushups, pull-ups, crunches, and squats as part of her daily work routine.
Modeling Career
After graduating from high school, Kourtney Kellar pursued her career in modeling.
It wasn't until she was crowned Miss Texas in 2017 that her modeling career took off.
Viral Girl Kourtney Kellar
Kourtney was already famous as a viral girl from Logan Paul's video before being known as an NBA player's girlfriend.
Logan Paul is an American YouTuber and famous boxer Jake Paul's brother. In a boxing match where Jake won, Logan went to take his winning interview.
Kourtney was a ring girl at the time. In the live interview, Logan leaned toward Kourtney and said something to her.
She smiled widely and nodded her head. This clip went viral, and so did Kourtney.
The flirting clip of Logan Paul and Kourtney Kellar made headlines and even went trending for days.
Boyfriend & Relationships
Kourtney and Isaiah started dating on February 14, 2019, and celebrate their anniversary every valentines day.
The pair has made their relationship public and frequently posts about each other.
One of Kellar's most popular TikTok videos is a day in the life of an NBA girlfriend, and it quickly went viral.
The exciting and cute thing about the couple is the difference in their height. Isaiah is 2.13 meters tall, but Kourtney is just 1.67 meters.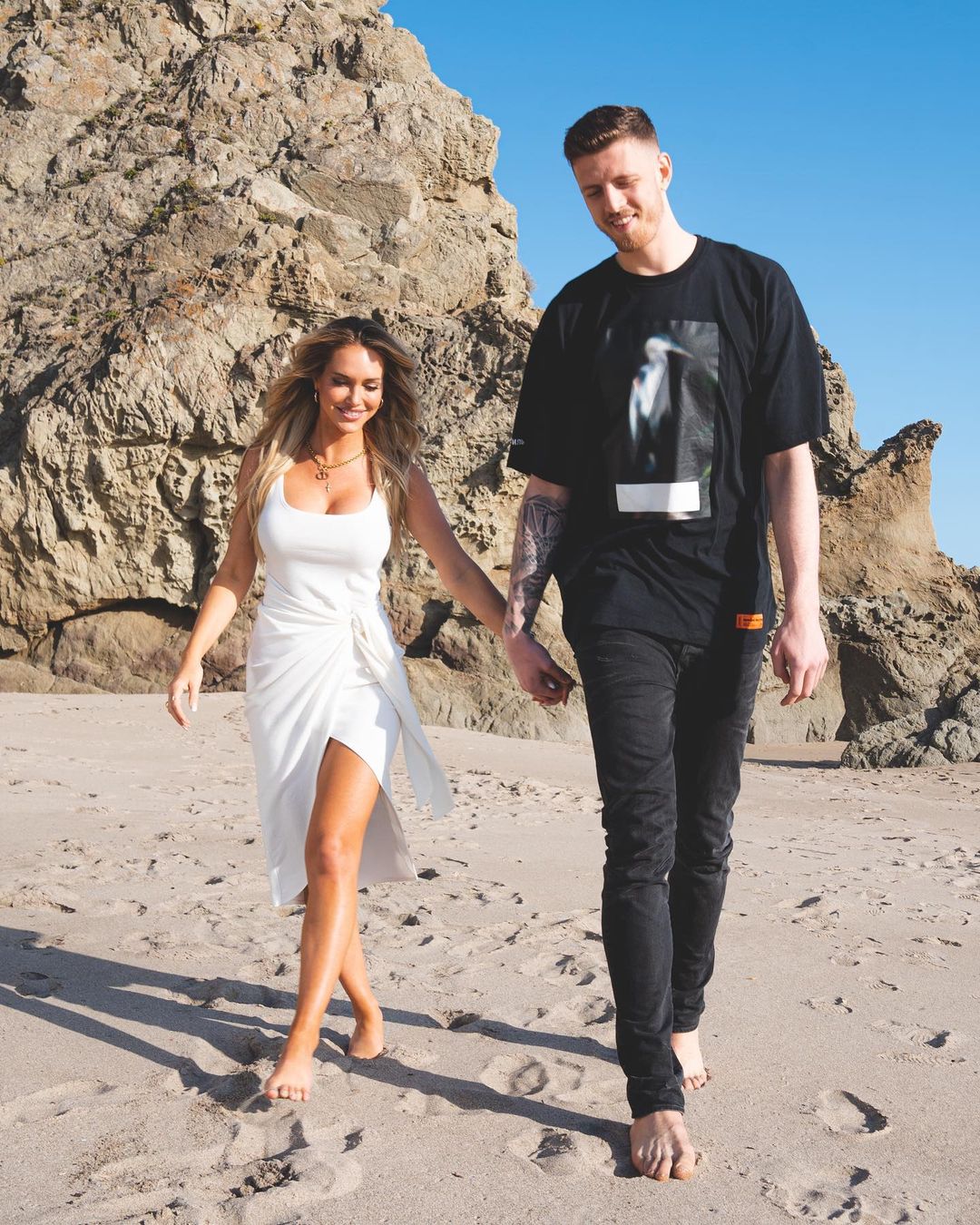 Kourtney Kellar and Isaiah Hartenstein are engaged.
After two years of a beautiful relationship, the couple finally took their relationship to the next level. In April 2022, Isaiah Hartenstein proposed to Kourtney.
The Proposal
The couple was casually hanging out in Malibu, California. Isaiah got to his knees and took out the beautiful diamond ring.
He proposed to Kourtney, asking if she wanted to spend her whole life with him, and she, without any hesitation, said Yes!
Hartenstein captured the beautiful moment with the help of a videographer he had hired to record the whole thing.
Hartenstein publicly announced in his Instagram post their beautifully captured photo with the caption, "Excited for the next part of our journey!! Love you ❤️💍 @kourtney_kellar #foe."
Kellar also publically announced her relationship status on Instagram. She wrote her caption in German, stating, "Ich hab ja natürlich gesagt." which translates to, "Of course, I said "Yes."
They live together in Westchester as of this writing.
Isaiah Hartenstein
Isaiah Hartenstein was born on May 05, 1998, to Florian Hartenstein (father) and Theresa (mother).
He joined the Artland Dragons, led the team to a German championship in the Under-16 Bundesliga JBBL, and was named MVP in the 2013-2014 season.
Florian, his father, served as head coach of the team and was named JBBL Coach of the Year.
Hartenstein played in the 2014 Jordan Brand Classic International Game.
Zalgiris Kaunas Under-18 squad won the Euroleague Basketball Next Generation Tournament with Isaiah's help and was selected MVP of the game.
He debuted in Germany's top-tier level Basketball Bundesliga on February 1, 2015, against Eisbaren Bremerhaven.
He won the NBA G League in 2019 with the Rockets against Rio Grande Valley Vipers and won the NBA G League Finals MVP award.
Hartenstein signed a two-year contract worth $16 million with the New York Knicks on July 12, 2022.
Reportedly, Hartenstein's assist rate is a career-low, and he has attempted just five triples since the start of 2023.
On March 14, in an interview, Isaiah revealed that he wanted to move back to the Clippers this season. He was willing to take the MLE by the Clippers, but John Wall was chosen over him.
Ex-Boyfriend
Before Isaiah, Kourtney was in a relationship with Chase Bryant, a famous singer-songwriter.
The couple met during Chase's private concert, where Kourtney was a promoting model for the event.
Chase was captivated by her beauty and publically showed interest in her. They started to see each other after the concert and ultimately fell in love.
They'd been dating for a long time and were even engaged, but they broke their engagement in 2019.
Net Worth & Salary
The net worth of Kourtney Kellar is estimated between $1 million to $5 million as of 2023.
She has earned her net worth from her primary profession as a model.
Exciting Facts About Kourtney Kellar
Kourtney is a pet lover, and she has a dog named Oui.
Her favorite color is red, but she also loves monochrome.
Kourtney learned boxing for self-defense from the coach.
She loves traveling; her bucket-list destination includes Dubai, Maldives, and Paris.
Kourtney considers dancing part of her exercise to keep her fit and healthy.
Social Media Presence
Kourtney Kellar is active on social media and has thousands of followers.
She posts pictures of her from her shoots and with her fiance Isaiah.
Instagram (@kourtney_Kellar): 714K followers
Facebook (@Kourtney Kellar): 3.1K friends
Youtube (@Kourtney Kellar): 1.09 subscribers
Linkedin(@Kourtney Kellar): 462 connections
Popularity Graph
Kourtney Kellar is a famous fiancee of Isaiah Hartenstein. She is a model, ring girl, influencer, and vlogger professionally.
The popularity graph shows the wavelength from the last twelve months.
Frequently Asked Questions (FAQS)
Are Kourtney Kellar and Logan Paul dating?
No, Kourtney Kellar and Logan Paul aren't dating. She is engaged to German NBA player Isaiah Hartenstein. After the flirting video of them went viral, many people regarded Kourtney Kellar as the new love interest of Logan Paul and started shipping them together. But unfortunately, the ship did not sail as Kourtney was already in a relationship with NBA player Isaiah.
Which is the modeling agency of Kourtney Kellar?
Kourtney Kellar has been signed with Wilhelmina Models, an Austin based modeling agency since January 2015. She has also been working with Julie Freeman Agency for seven years and The Sculp Agency LLC for eight years.
Is Isaiah Hartenstein an NBA champion?
No, Isaiah Hartenstein is not an NBA champion, but he was an NBA G League champion in 2019 when he secured a championship with the Rockets against Rio Grande Valley Vipers.