An alley-oop dexterous, Isaiah Hartenstein is a German-American professional basketball player for the New York Knicks of the National Basketball Association (NBA).
Isaiah is one of the most ingenious and courageous players of his generation from Europe.
Hartenstein earned the NBA G League championship and was named the MVP in the NBA G League Finals in 2019.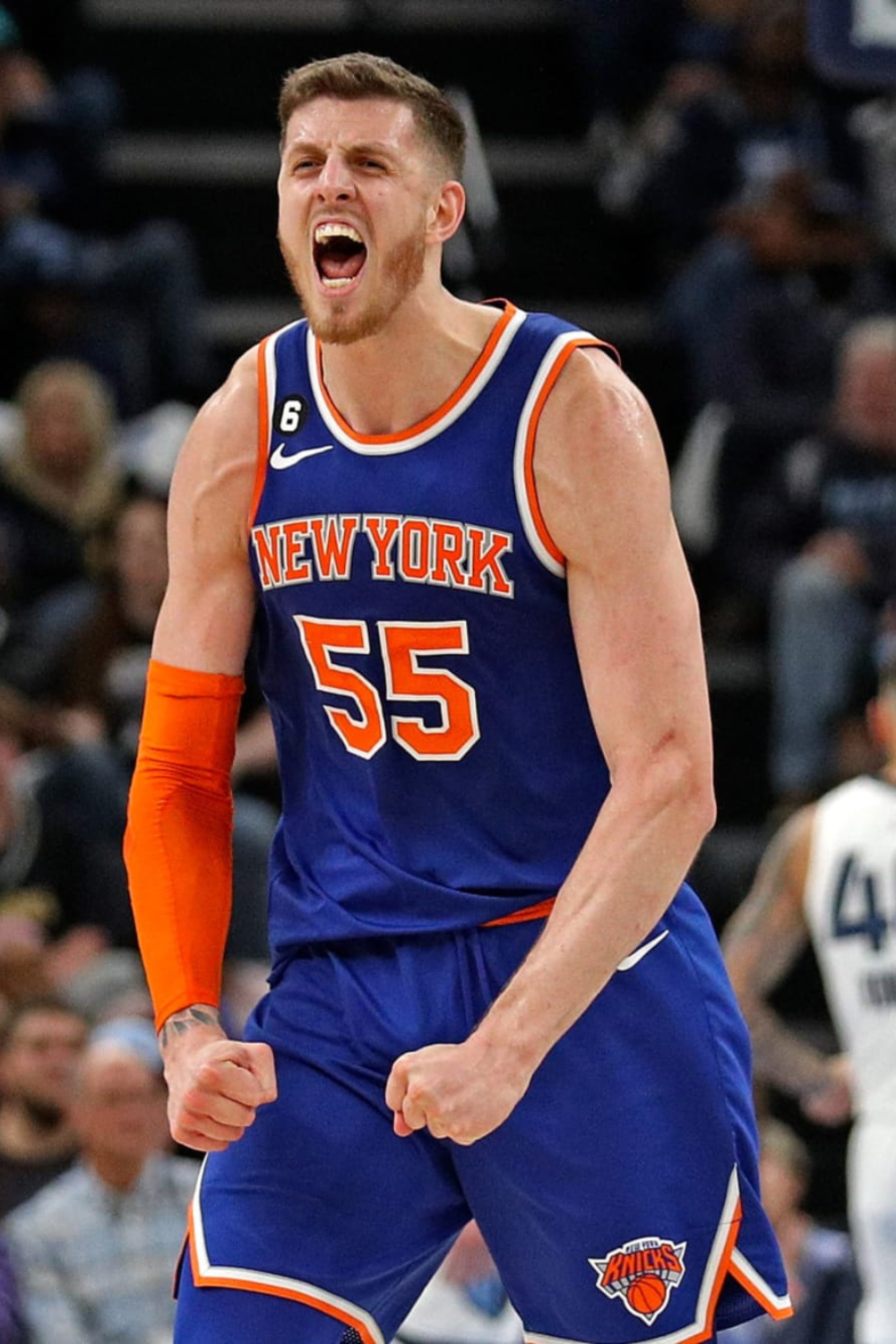 In addition, he became the Lithuanian League champion in 2017 and amassed glory after being a King Mindaugas Cup winner in 2017.
His versatility, flashy moves, defensive rebounds, and passing proficiency are difficult to ignore.
Unveiling his admired skills, he has a long wingspan aiding him to block almost every shot.
On the flip side, he is still a work in progress and must continue with the exertion to be a masterpiece.
Uncover additional information about the competent center, Isaiah Hartenstein. Also, have a brief peek at the quick facts below.
Quick Facts
Full Name
Isaiah Hartenstein
Birth Date
May 5, 1998
Birth Place
Eugene, Oregon
Nick Name
Hartendimes
Religion
Christianity
Nationality
German-American
Ethnicity
Mixed
Education
Not available
Horoscope
Taurus
Father's Name
Florian Hartenstein
Mother's Name
Theresa
Siblings
One (Jasmine)
Age

24

Years Old
Height
7'0″/2.13 m/213 cm
Weight
113 Kg/250 lb.
Jersey no.
55
Hair Color
Brown
Eye Color
Brown
Body Type
Athletic
Profession
NBA player
Draft Year
2017 / Round:2 / Pick: 43rd overall
League
NBA
Active Years
2015 – present
Sexual Orientation
Straight
Marital Status
Unmarried
Girlfriend
Kourtney Kellar
Kids
None
Net Worth
$1 million – $5 million
Salary
$7,804,879
Position
Center
Current team
New York Knicks
Social Media
Instagram, Facebook
Last Update

March 2023
Early Life & Family
Isaiah Hartenstein was born to his father, Florian, and Theresa, in Eugene, Oregon, on May 5, 1998.
His father is a former professional basketball player in Germany and served as a basketball coach.
Isaiah resided in the USA until 2008 and shifted along with his family to Germany, where his father played basketball professionally.
He has been playing basketball since he was young and was also a member of the German junior national team.
The professional basketball player has a sister, Jasmine, and a nephew, Shawn.
In addition, he is a dual citizenship holder; Germany and America.
Father's Supremacy
Florian Hartenstein was his initial coach of Isaiah. The center started playing basketball under his father's coaching.
As a former professional basketball player, his father passed his knowledge to his son.
After they moved to Germany, they had their gym where they spent hours working out together.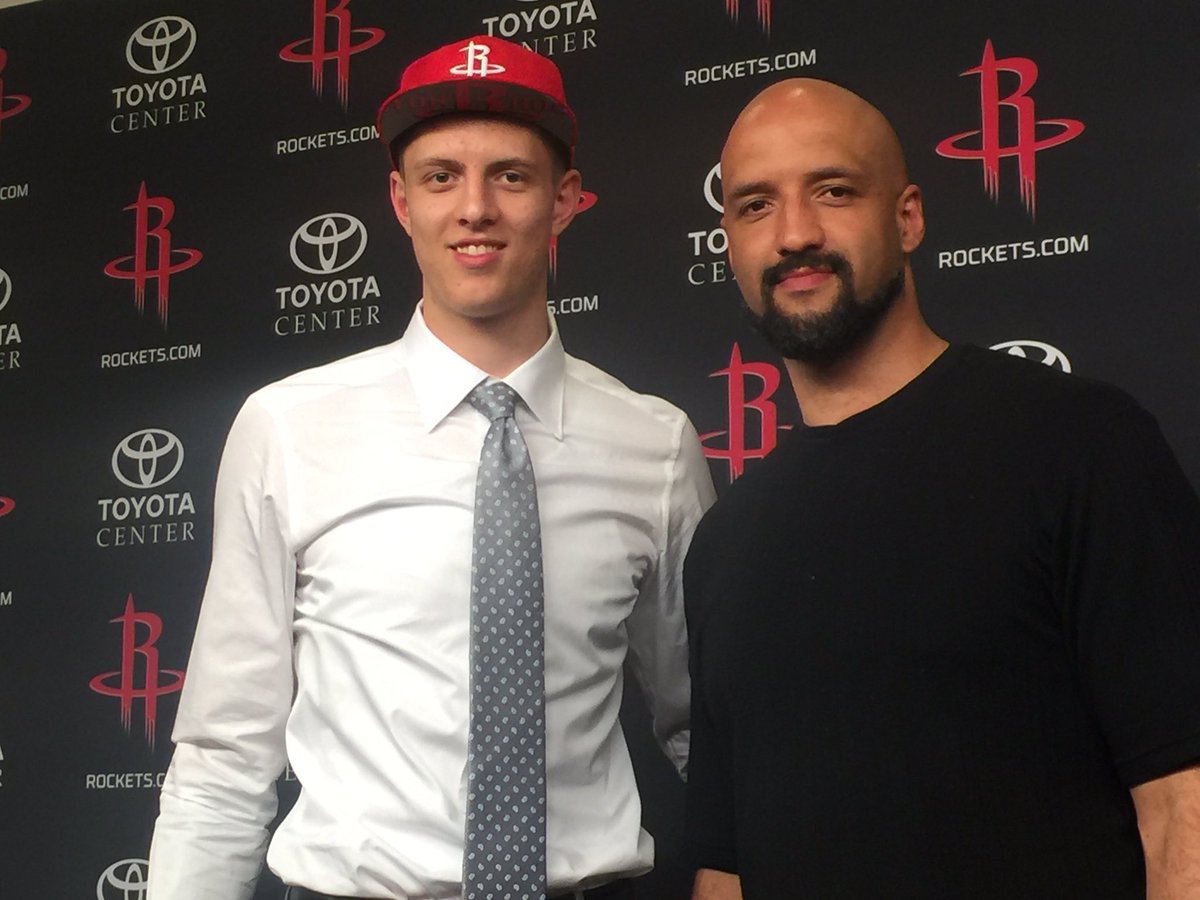 Moreover, Florian coached Isaiah to adept vital skills, dribbling, shooting, and passing in his teenage days, and all the hard work paid off as Isaiah is playing in the NBA.
He played under the varied rules his father created, including being prohibited from scoring for one quarter in each and could only pass.
The NBA player's father made sure that he got adequate training in his early days. All the credit for his NBA success goes to his dad.
Basketball Career
International Career
Being a German inhabitant, Hartenstein represented his nation at the 2014 FIBA Europe Under-16 Championship and the 2015 FIBA Europe U-18 Championship.
Hartenstein also featured for the team at the 2016 FIBA Europe U-18 Championship, guiding Germany to a fourth-place finish.
He averaged team-highs of 14.7 points, 9.5 rebounds, 1.7 blocks, and 1.7 steals, and his finest performance earned him a spot in the tournament's "All-Star Five" spot.
The center made his debut with the German men's national team in August 2017 at the EuroBasket 2017. He finished the campaign averaging 4.3 points and 2.5 rebounds per game.
Professional career
Artland Dragons
Isaiah Hartenstein joined a professional basketball team based in Germany, MTV Gießen.
And he proceeded his career at the youth teams of QTSV Quakenbruck, representing its professional team Artland Dragons, where his father was the head coach.
In 2013-14, he partook in the Under-16 Bundesliga JBBL, assisting the Artland Dragons junior team to a German championship. WITH His brilliant performance in the championship, he was named Most Valuable Player.
Accordingly, he was selected to play in the 2014 Jordan Brand Classic International tournament, where he scored 4 points and 5 rebounds in 18 minutes.
Hartenstein joined the Žalgiris Kaunas Under-18 team and earned the MVP honor after helping the team win the qualifying tournament to the Euroleague Basketball Next Generation Tournament.
The NBA player debuted in Germany's top-tier level Basketball Bundesliga against Eisbären Bremerhaven on February 1, 2015.
Zalgiris Kaunas
Isaiah Hartenstein signed a deal with Lithuanian squad Žalgiris Kaunas in August 2015 but continued with the Artland Dragons on loan.
Later in January 2016, he chose to join Žalgiris Kaunas and left the Dragons.
He debuted for Žalgiris Kaunas in Lithuania's top-flight league, the LKL, against Šiauliai and in EuroLeague against Fenerbahce.
Hartenstein finished his first season helping his team win their first ever King Mindaugas Cup.
Houston Rockets
In February 2016, during the NBA All-Star Weekend in Toronto, Hartenstein attended the 'Basketball Without Borders Global Camp.'
He recorded 10 points and grabbed three rebounds in 19 minutes of action at the Nike Hoop Summit on April 7, 2017.
Subsequently, he declared for the 2017 NBA draft on April 22, 2017, and was selected by Houston Rockets with the 43rd overall pick in the 2017 NBA draft.
For the Rockets, he competed in the 2017 NBA Summer League. Likewise, in the 2017-18 season, he played 38 games in the NBA G League, averaging 9.5 points and 6.6 rebounds for Rio Grande Valley Vipers.
In February 2019, he scored his first career triple-double and logged 12 points, 16 rebounds, and 11 assists in a victory over the Salt Lake City Stars.
Accordingly, in the 2018-19 season, he logged 33 points and a career-high eight 3-pointers, which helped the Vipers win the NBA G League Championship, and he was named the Finals MVP.
Denver Nuggets
After he was waived by Houston Rockets, Hartenstein signed a multi-year deal with Denver Nuggets in November 2020. With the Nuggets, he played behind Nikola Jokic and averaged 3.6 points and 2.8 rebounds per game.
Cleveland Cavaliers
Hartenstein and two future second-round picks were traded to Cleveland Cavaliers in exchange for center JaVale McGee on March 25, 2021.
He finished his tenure with the Cavaliers playing 12 games, averaging 9 points, 7 rebounds, 2.6 assists, and 1.4 blocks per game.
Los Angeles Clippers & New York Knicks
After his short stint with Cleveland Cavaliers, Isaiah Hartenstein signed with the Los Angeles Clippers in September 2021.
On July 12, 2022, the center signed a two-year/$16 million contract with the New York Knicks. Despite being able to score, Hartenstein is having a great impact on the Knicks' team.
The center almost did not sign with the Knicks and was on the verge of re-signing with the Clippers. But the Clippers signed John Wall and Hartenstein moved on with the Knicks.
Awards & Achievements
NBA G League champion (2019)
All-NBA G League First Team (2019)
NBA G League Finals MVP (2019)
King Mindaugas Cup winner (2017)
Lithuanian League champion (2017)
Age, Height & Weight
The German-American player, Isaiah Hartenstein, was born on May 5, 1998, which makes him 24 years old.
He stands at an impressive height of 7 feet (2.13 meters) and weighs around 113 kg (250 pounds). The versatile center player has a wingspan of 7 feet 2 inches (2.18 meters).
His most significant strength is his gifted size, well-established weight, and great-shaped body, which precisely reinforced his momentum to run on the court.
The professional basketball player adores moral and modest style and looks captivating in simple attire.
Hartenstein also has a tattoo of a basket and a ball on his arm and he also exhibits another tattoo of a quotation, "Make every day your masterpiece."
Net Worth & Salary
A player with both defensive and offensive skill sets, Hartenstein has a net worth of $1 million-$5 million as of 2023.
Hartenstein bagged $838,464 in his rookie season and $1,416,852 in his second season.
In 2020-21, with the Cavaliers, he earned $588,287 and $1,032,277 from playing with the Nuggets.
In 2021-22 with Los Angeles Clippers, he earned $1,729,217. Thus, he is gaining 6.7 percent better than in 2020-21. Also, he's the 13th best-paid player for the Clippers and the 164th best-paid center that year.
The center is estimated to bag $7,804,879 in the 2022-23 season, playing with the Kicks.
Overall, his cumulative earnings with several NBA teams are around $13,409,976 thus far.
Who Is Isaiah Hartenstein's Girlfriend?
A player with an allure and appealing complexion can be an impressive aspect of attraction. Every girl would be head over hills for this NBA player. But sorry girls, he has already found the love of his life.
Hartenstein is now engaged to his long-time girlfriend, Kourtney Kellar. She is an American bikini model born in March 1991 and started modeling for the cheerleading outfit brand Varsity at 14.
The 2017 Miss Texas International models for the brand, Ignite, which creates thin string bikinis and KO watches.
The fun fact about the couple's bond is their height which Kellar often jokes about; NBA center Isaiah is a seven-footer, whereas Kourtney is 5'7″.
The NBA player first met the model in 2019 when she ended her engagement with the country singer, Chase Bryant.
After dating for around three years, Hartenstein took her to the beach and popped the question in April 2022.
The pair looks inseparable and soon we might get to hear about their wedding.
Social Media Presence
Bold and good-looking, Hartenstein is usually an avid social media user. He has thousands of engaging audiences who support his activities.
On stumbling on his Instagram under the handle @ipjh55, you will notice 'Follower of Jesus Christ' on his bio. This signifies that Hartenstein is a devotee of Jesus Christ.
He is also available on Twitter @Ipjh55 and Facebook @Isaiah Hartenstein.
Twitter: 7,352 followers
Instagram: 65.4k followers
Facebook: 7.9k followers
Popularity
The professional basketball player has earned quite a few number of fans, playing in different foreign leagues and NBA.
The above graph gives brief information about the popularity go Isaiah Hartenstein based on Google searches in the United States over a year.
Frequently Asked Questions
Is Isaiah Hartenstein good?
Hartenstein is showing his value with the Knicks and plays a vital role in the rotation. With his addition to the team, the team is performing impressively. So, it would not be wrong to consider him a good player, and he is a delightful surprise on the court.
Is Hartenstein of black ethnicity?
Hartenstein is of mixed ethnicity, a German-American-born player. But his father is of Afro-German descent, and his mother is American.
What NBA teams did Hartenstein play for?
Hartenstein commenced his professional basketball career in 2015, and his NBA career started with the Houston Rockets in 2018. Besides the Rockets, he has played with Denver Nuggets, Cleveland Cavaliers, Los Angeles Clippers, and New York Knicks.