MunicH: IMPRessive Italy in the Euro 2020 Semi-Finals After Victory Over ACE TEAM Belgium with a score of 2 – 1 on july 2
It was a titillating game with more than 12,000 viewers on the edge of their seats.
Italy and Belgium played a game that was like one being played in the finals.
In the Euro 2020 tournament, the Azzurri have been, perhaps, the best playing team.
The two goals they scored that day were of the finest quality. They have 13 consecutive wins and have played 32 games without losing.
Although Belgium is rated as the top-notch team in the world, they were a disappointment.
In the 2018 World Cup, they came third, but couldn't secure a place in the Euro 2020 semi-finals.
Their team is made up of brilliant players, but for more than a decade, they have not been able to deliver as a talented international football team.
Hopefully, Belgium may be able to reclaim their glory in the Qatar 2022 World Cup that is 18 months away.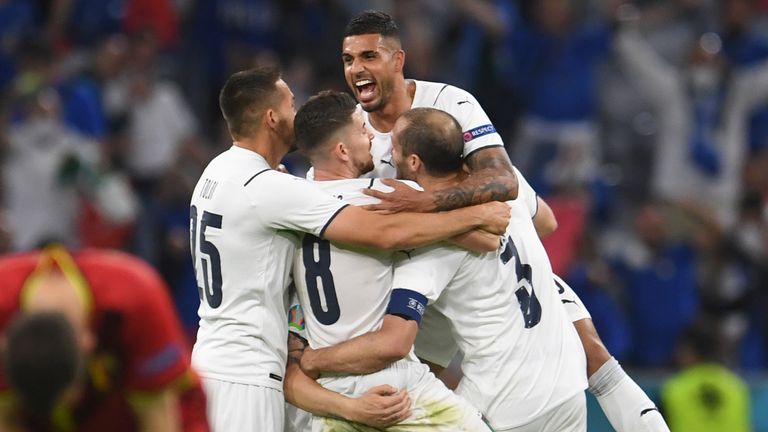 Italy Paves Their Way towards the Semi-Finals
The Italians were the more fluid team that day, although the Belgians were no less a formidable opponent.
In the beginning, it looked like Romelu Lukaku was going to intimidate the start of the game.
But Italy national team's Leonardo Bonucci showed otherwise. However, the VAR disallowed his score much to his dismay.
Giovanni Di Lorenzo's touch did not help resulting in a wiped-out goal.
At the 31st minute in the first-half, Nicolo Barella impressed spectators with an acutely driven opening strike after maneuvering through two defenders.
He was fed the ball by Marco Verratti and worked his way through resilient defenders after propelling the ball into the far corner despite Thibaut Courtois' efforts.
Incidentally, Courtois is regarded as one of world football's outstanding goalkeepers.
Kevin De Bruyne appeared to be a threat, but Gianluigi Donnarumma saved the shot from the Belgian striker.
The Italian goalkeeper sensationally saved a second shot by Lukaku when he quickly blocked it with his right hand.
The Italians played a tough match. Classical and experienced players, their defense was very strong.
They pushed hard and were rewarded at the 44th minute of the game.
Lorenzo Insigne wowed the crowd at Allianz Arena after scoring the second goal for his team.
Italian boss Roberto Mancini spoke to Sky Sports:
"I don't think we suffered too much in any moment of the game. To beat a team like Belgium you need a great performance by everybody and this is exactly what happened today.
"We scored two and we could have scored more. I think the victory is fully deserved. Spain are next but the more you go forward the most difficult it becomes. Tonight, however, we just want to think about our performance and our victory."
Penalty Score for Belgium
It appeared like the Italian national team was getting the upper hand.
The Belgians felt they weren't getting their due either.
However, Lorenzo's foul with Jeremy Doku created an opportunity for Lukaku. The Inter Milan striker revived Belgium's hope.
Before going into the break, Lukaku gave his team the spot-kick to win a penalty goal.
In the last 23 of his appearances, he has scored 24 goals.
He got five opportunities to test his skills as a bona fide striker. However, football possesses slim margins and it certainly wasn't his day.
During the second half, De Bruyne passed the ball to him and there was great anticipation that a score would be made.
Italy's score of two would have been equalized, but Lukaku's shot went directly to midfielder Roma Leonardo Spinazzola.
Again, he was so close with an empty net before him when a deflected throw by Nacer Chadli skimmed over his head.
Belgium Boss Roberto Martinez spoke to Sky Sports: "The feelings are what you can imagine, really – sadness and disappointment – because I do not think these players deserve to be out of this tournament.
"They have done an incredible job to be prepared to be ready to go step-by-step every day, from the beginning of the tournament. And unfortunately, today (Friday), we faced a very good side (Italy). I thought it was two very good teams in this knockout phase. And, unfortunately, the margins did not go in our favour."
FORZA ITALIA 🇮🇹🇮🇹🇮🇹

🗣 Reaction podcast #ITA are in #Euro2020 semis 🙌🏼

-Insigne magic 🔥
-Jorginho passing clinic 👌🏽
-Chiellini bullies Lukaku 💪🏽
-Bonucci class
-Barella a machine
-Di Lorenzo struggles v Doku
-Spinazzola injury heartbreak 😢

🎧 https://t.co/vwCYPn7s0G pic.twitter.com/SeQ5rLkWSW

— Carlo Garganese (@carlogarganese) July 2, 2021
The Defining Moment for Italy
During the second half, the Italians had opportunities to increase their lead. Belgium had more chances though.
Spinazzola, Federico Chiesa, and Insigne tried and came quite close.
But the triumphant victory came for the Italy football team when Spinazzola stopped a shot by Lukaku.
He saved the day for the Azzurri as their score remained in the lead.
Knowing no bounds, captain Giorgio Chiellini, who had returned from an injury and Bonucci rejoiced in Spinazzola's critical move.
It won them the coveted direction for entering the semi-finals. And the stadium crowd was in a frenzy.
On Tuesday, they face Spain in London.