Jabari Parker is an American-born professional basketball player who last appeared in the NBA League for the Boston Celtics. He is a free agent, as the Celtics waived him on January 7, 2022.
Parker began his NBA journey with the Milwaukee Bucks in 2014. Since then, he has already played for five different clubs until 2022.
Before heading to the NBA, Jabari played college basketball for Duke University for a year.
While at Duke, he won several awards and honors, including the ACC Rookie Player of the Year.
It is his high school years for which Jabari is mainly remembered. He achieved unbelievable success while leading Simeon Academy to four straight national championships victories from 2010 to 2013.
For that reason, many consider him among the best high school athletes the United States has ever seen. For his performance, he won the High School National Player Award in 2012.
His performance in the NBA is generally outstanding, but he has been struggling for the past few seasons. Consequently, the Celtics waived him much sooner than expected.
However, his fans can surely expect his return to the NBA again as he is just 28 years old and can bounce back.
In this article, let's uncover more about the exciting life of one of the most successful contemporary basketball athletes. But, before that, let's glance at some quick facts.
Jabari Parker | Quick Facts
Full Name
Jabari Ali Parker
Known As
Jabari Parker
Date of Birth
March 15, 1995
Birth Place
Chicago, Illinois, the USA
Nick Name
JB
Religion
Christianity
Nationality
American
Ethnicity
African-American / Tongan
Zodiac Sign
Pisces
Age

28

years old
Height
6'7″/2.01 m/201 cm
Weight
111 kg/245 lb.
Hair Color
Black
Eye Color
Dark brown
Build
Athletic
Father's Name
Sonny Parker
Mother's Name
Folola "Lola" Finau-Parker
Siblings
Christian, Darryl, Iman, and Tilah Parker
Education

Neal F. Simeon Career Academy (Chicago, Illinois)
Duke University (Durham, North Carolina)

Marital Status
Unmarried
Sexual Orientation
Straight
Girlfriend
Logan West
Kids
None
Profession
Basketball player
NBA Draft
2014 / Round: 1 / 2nd pick overall
Position
Power forward
League
National Basketball Association (NBA)
Active Years
(2014 – Present)
Salary
$1.06 million (previous)
Net Worth
$20 million
Currently Plays For
None / Free agent
Jersey Number
5, 2, 12, 1, 53, 20
Social Media
Not available
Merch
Notebook
Last Update

May 2023
Jabari Parker | Early Life, Family & Education
Jabari Parker was born on March 15, 1995, in Chicago, Illinois, United States. He is the youngest child of his parents, Sonny and Folola Finau-Parker.
He is of mixed ethnicity, as his father is an African-American while his mother belongs to the Tongan tribe. However, his family is Christian, and they all are members of the LDS Church.
Brought up in Chicago, Parker initially attended Robert A. Black Magnet Elementary School. He learned to play basketball very early, and his older brothers, mainly Christian, were his first playmates.
Moreover, his father, Sonny, was a retired veteran NBA player, and he was pretty happy that his sons followed in his footsteps. Sonny has been working as a youth foundation director since 1990.
Jabari and Christian mainly spent time playing basketball on the LDS church's basketball court. As a result, Jabari became a basketball prodigy and began playing in middle school leagues.
Likewise, his cousin, Jay, was very close to him and was his primary motivator during his school years. His other siblings supported their younger brother by making a presence regularly during his games.
His other brother, Darryl, also played basketball and later appeared for the Oregon Ducks. Similarly, Christian played college basketball for Brigham Young University-Hawaii.
However, Jabari was the only one among the Parker brothers to reach the farthest in his endeavors.
He was destined to get that success from the start because he was always the best in the game.
Parker was so good that he began receiving scholarship offers from colleges when he was just a fifth-grader. He later transferred to Simeon Academy and graduated high school in 2013 before attending Duke University for further studies.
Jabari Parker | Age, Weight & Height
As of 2023, Jabari Parker is 28 years old.
And Parker stands at 6 feet 7 inches (2.01 meters) tall and weighs around 111 kg (245 pounds).
Jabari Parker | Career
High School Career
Jabari Parker's four-year career at the Simeon Career Academy must be one of his best times. He will perhaps cherish the beautiful moments he experienced there for the rest of his life.
His first season was so perfect that he was his team's top performer, as he finished the season with an average of 19.3 points and 5.0 rebounds per game.
To add to his happiness, they won the IHSA Class 4A state championship that year. Consequently, ESPN recognized him as the Freshman of the Year (2010), after which he received scholarship offers from various top universities like Illinois, Kansas, etc.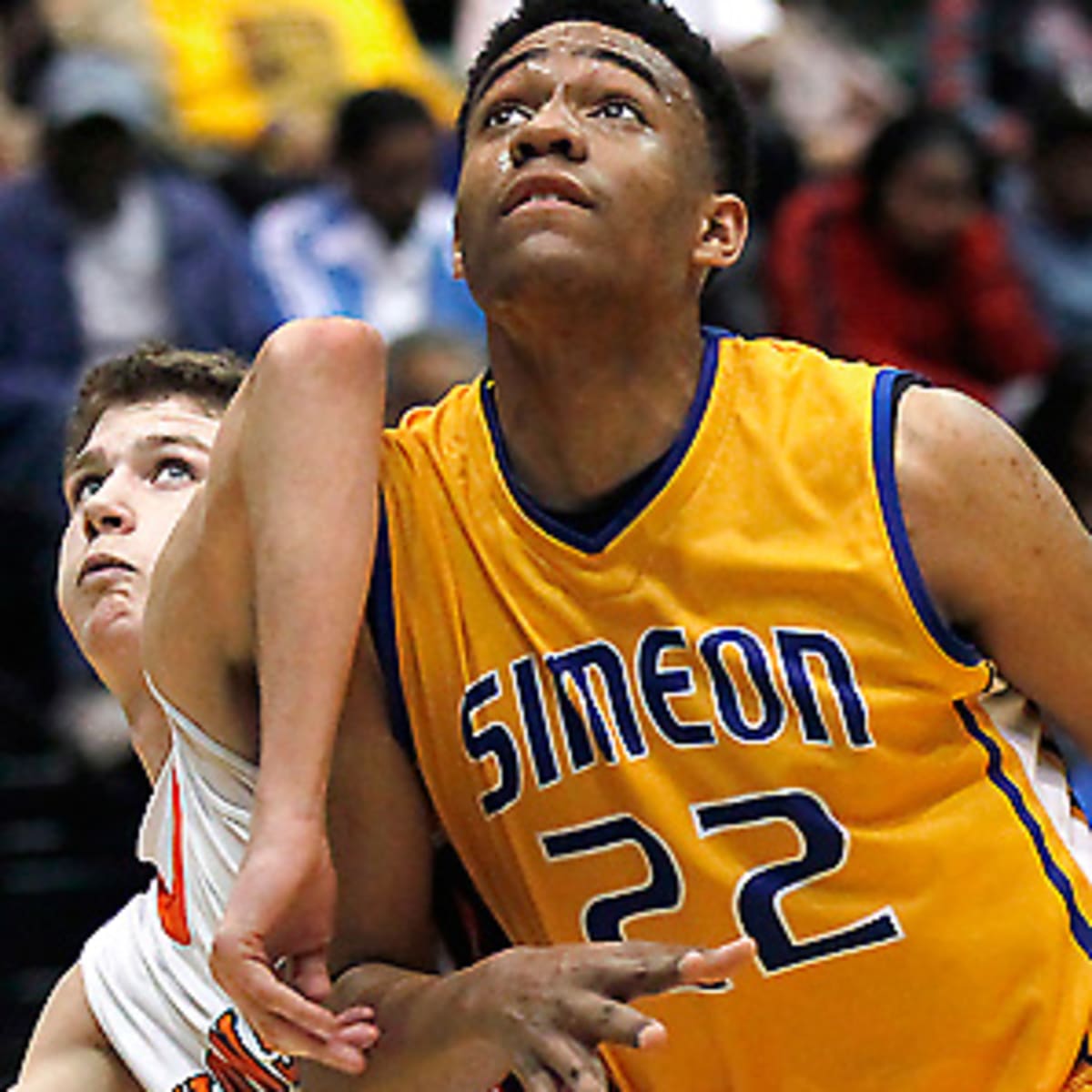 His performance was consistently top-notch, one season after another. As a result, he led his team to national championship victories every year until he graduated in 2013.
Parker finished high school, registering several records, including being the second player to win four consecutive IHSA basketball championships after Sergio McClain.
Moreover, he won several best player awards and got opportunities to participate in various tournaments like Nike Hoop Summit and Nike Global Challenge.
College Career
After finishing high school as the fourth-best rated player, Jabari joined Duke University in Durham and played for the Duke Blue Devils.
Parker started his college career with a blast scoring 22 points and six rebounds on November 8. As a result, he received his first ACC Rookie of the Week honors a few days later.
He finished his first and only season with an average of 19.1 points and 8.7 rebounds per game and led the Devils' scoreboard in both scoring and rebounding that season.
Adding to his high school legacy, Parker received several honors and awards in college. He won the ACC Freshman of the Year and came second in the race to the ACC Player of the Year in 2014.
Professional Career
The Milwaukee Bucks chose him as the 2014 NBA draft's first-round 2nd pick after he went straight to the draft skipping his last three college seasons. He signed with the Bucks on July 9 and appeared in that year's NBA Summer League.
Parker played very well for the club in his first NBA season until he suffered a knee injury on December 15. He had only appeared in 25 matches averaging 12.3 points and 5.5 rebounds.
However, it took quite a long time for him to recover, so he missed all the remaining matches of his rookie season. Not only that, but Parker also did not appear in the initial games of his second NBA season.
He played 78 matches in the second season averaging 14.1 points and 5.5 rebounds per game.
Continuous Injuries In Later Seasons
After having a satisfactory performance in his second season, Parker hoped for better results in the upcoming season.
Unfortunately, he tore the ligament in his left knee, due to which he missed many matches in the third season. He had played 51 matches, averaging 20.1 points per game.
In the 2017-18 season, the Bucks sent him to Wisconsin Herd to play for the NBA G League until his recovery.
The power forward returned to the NBA regular season and played over 30 matches for the Bucks.
After the season ended, Jabari signed a two-year contract with the Chicago Bulls on July 14, 2018. However, they released him mid-season, and he played half the season with the Washington Wizards.
Later, he signed with the Atlanta Hawks but played significantly fewer matches due to a shoulder injury.
Parker was associated with the Sacramento Kings for a season and the Boston Celtics for the 2021-22 season before being waived by the Celtics on January 7, 2022, and becoming a free agent.
As of this writing, he is a free agent and is not linked with any teams.
International Career
Besides his league career, Jabari has previously played for the United States national team of different age categories.
While representing his national team, he helped them lift some trophies, including the FIBA Americas U-16 Championship in 2011. However, he did not debut for the senior national team.
Awards & Achievements
Some of his awards and achievements include:
Gatorade National Player of the Year (2012)
Illinois Mr. Basketball (2012, 2013)
USA Basketball Male Athlete of the Year (2011)
Consensus first-team All-American (2014)
First-team All-ACC (2014)
USBWA National Freshman of the Year (2014)
Gold at the FIBA Americas U-16 Championship (2011)
Gold at the FIBA World U-17 Championship (2012)
Jabari Parker | Net Worth
According to sources, the American power forward has a net worth of $20 million.
It has already been around seven years since he started his NBA career, so his primary source of earning is the league games.
In 2014, the Milwaukee Bucks paid him around $5 million for his rookie season.
Since his debut, he has played for different NBA clubs over the years, and his salary was increased one season after another until his performance declined around 2019. During his time with the Celtics, he was the 189th best-paid power forward in the 2021-22 season,
The athlete has earned around $57 million in his eight NBA seasons.
Apart from game earnings, he earns well through brand endorsements and merch sales. He had signed his first endorsement deal with Jordan shoe company just before the NBA draft in 2014.
You can find his past salary details on spotrac.com.
Jabari Parker | Personal Life
Jabari Parker's name has often been associated with Logan West. She is an American model who won the Miss Connecticut Teen USA and the Miss Teen USA simultaneously in 2012.
Logan was born in 1994 in Connecticut, USA. Besides modeling, she works with different non-profit organizations that counsel kids who often get victimized by bullies and runs anti-bullying programs across various schools in Connecticut.
According to rumors, West and Jabari had begun dating in 2016, and West often used to attend the matches when he was with the Bucks.
Moreover, she had baptized herself as a Mormon after falling in love with him. After that, she used to visit the LDS Church along with Parkers' family members.
So, it was apparent they were very close to each other. But, even though they were spotted together on many occasions, the duo never openly declared they were in a relationship.
As of 2023, there is no news to confirm that they are still dating. Some websites on the Internet have even mentioned that Parker is no longer dating anyone.
Jabari Parker | Social Media Presence
Jabari Parker is presently inactive on social media. However, the renowned basketball player previously had social media accounts and had a huge fan following.
In 2018, he shocked NBA fans by unfollowing his former teammate Giannis Antetokounmpo and the Milwaukee Bucks club's official page on Instagram.
He shut down his social media accounts a little while later and decided to stay low-profile, away from his fans' reach.
Jabari Parker | Popularity
Jabari Parker has earned himself a huge number of fan following since his impressive college career. He made quite a few headlines after being waived by the Celtics.
The above graph gives brief information about the popularity of Jabari based on Google searches in the United States over a year.
Jabari Parker | FAQs
When did Celtics get Jabari Parker?
Celtics acquired Jabari Parker on April 16, 2021.
Are Jabari Parker and Tony Finau related?
Yes, Jabari Parker and Tony Finau are related. They are cousins. Finau is a professional golfer from the USA.