Jabari Smith Jr. parents, Jabari Smith Sr. and Taneskia Purnell separated when he was young, but they remained on good terms to raise him & his brother.
From high school days at Sandy Creek to college basketball at Auburn & now in the NBA, Smith's father & mother have always been his biggest inspiration and supporter.
Jabari Jr.'s father, Jabari Smith Sr., is a former basketball player who played four seasons in the NBA before going overseas.
No wonder his son, who plays the Houston Rockets in the NBA, got the basketball genes from him.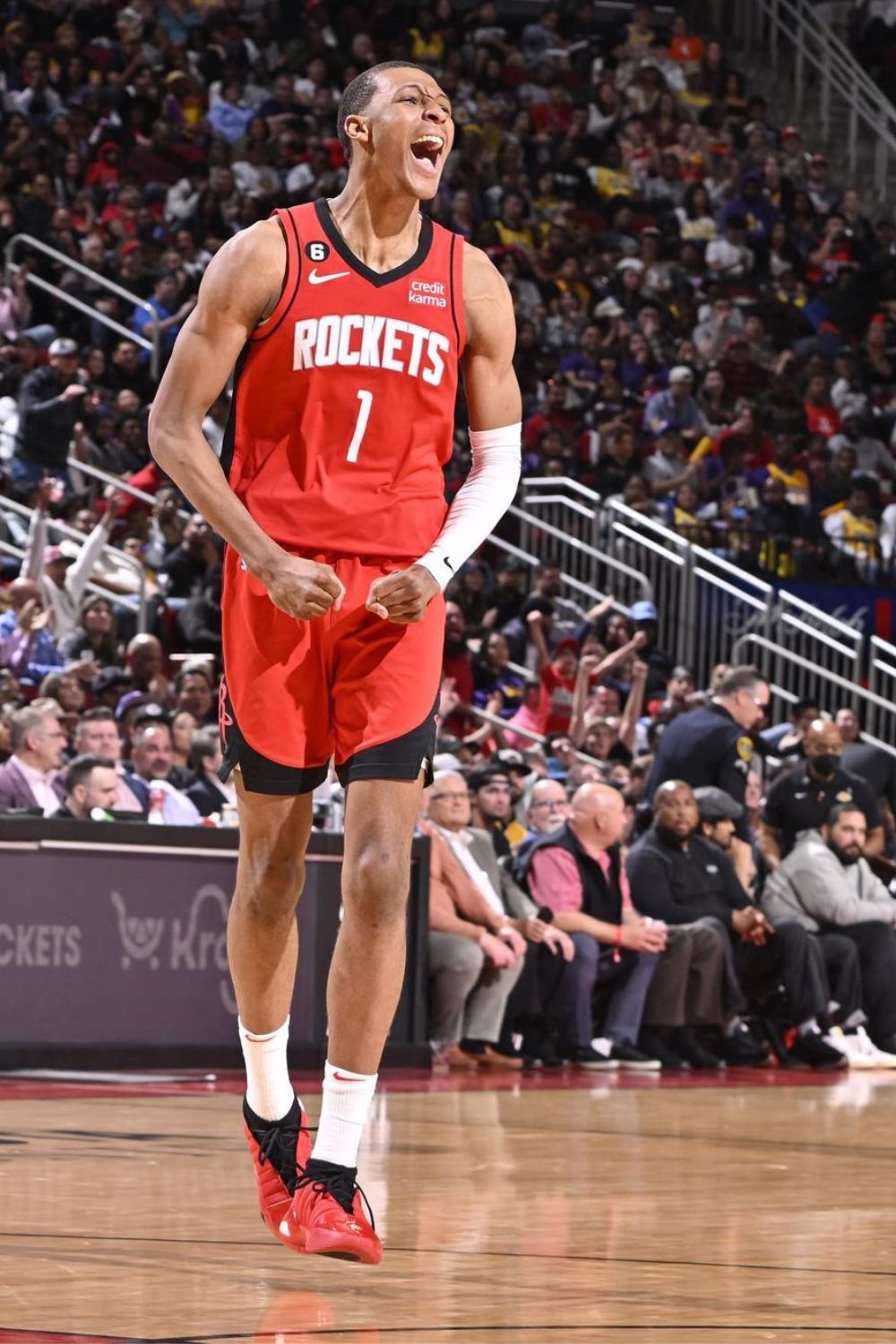 Jabari Montsho Smith Jr currently plays for the NBA team Houston Rockets.
He joined the Rockets as the 3rd overall pick in the 2022 NBA draft- following the top two fellow draftees: Paolo Banchero (#1) & Chet Holmgren (#2).
Throughout his career, he has made several accomplishments, such as the NBA All-Rookie Second Team (2023), Wayman Tisdale Award (2022), NABC Freshman of the Year (2022), SEC Freshman of the Year (2022).
Jabari Smith Jr Parents Are Not Together Anymore
Smith Jr. was born on May 13, 2003, in Fayetteville, Georgia, to Jabari Smith Sr. (father) and Taneskia Purnell (mother).
As reported, when Jabari Jr. was 10 years old, his dad & mom separated, i.e. in 2013.
Even though his parents ended their relationship, they were always there for their children whenever they needed them.
The Houston Rockets power forward's father, Jabari Smith Sr., nicknamed "The Giant Tiger," is a former basketball player.
Born on February 12, 1977, Jabari Sr. played collegiate basketball at LSU before he became the second-round pick of the Sacramento Kings in the 2000 NBA draft.
He played four seasons in the NBA for Sacramento Kings (2000- 2004) and New Jersey (2004-05). He even played LeBron James during his career.
Being an athlete himself, he always put his sons through training and drills in the driveway most mornings before the boy's school.
In fact, Jabari Smith Sr. is the one who trained the future NBA player from an early age and molded him as a player who could excel in shooting rather than just benefiting from his size.
In light of supporting Jabari Smith Jr., his mother, Taneskia, also played an integral part in his success.
She was the moral and emotional support that he needed to keep his focus on the goal.
Smith Jr. Has An Elder Brother
Jabair Smith Jr. is the youngest of two kids of his parents.
His older brother A.J. Freeman also played basketball at Sandy Creek High and Atlanta Metropolitan State College but didn't pursue it professionally.
The siblings used to train together growing up and were always seen spending time together.
They used to run sprints before school, which was their usual routine to practice rip-throughs and one-dribble pull-ups in the driveway.
From an early age, the Jabari brothers were built into athletes, they consistently maintained their routine since their childhood days.
For sure, A.J. is proud of his little brother's achievements in the world's largest basketball platform, the NBA.
Jabari Smith Jr.'s Remarkable Records
The 2022-23 NBA season was Jabari's rookie season, which didn't go well given the expectations from the 3rd overall draft pick.
He managed to average 12.8 points & 7.2 rebounds per game.
But in terms of double-doubles, Smith Jr. did attract a lot of attention with 16 double-doubles, which is the most by a rookie since Yao Ming in 2003.
Moreover, on the 2023 Las Vegas Summer League opening night against the Trail Blazers, he scored 33 points with 7 rebounds. Then, it followed with 38 points against the Pistons on July 9, 2023.
From two games, he averaged 35.5 points.