Yao Ming is a former Chinese professional basketball player who played for nine seasons for the Houston Rockets in the NBA. He is presently the incumbent president of the Chinese Basketball Association.
Ming is one of the most influential players China has ever produced. After his consistent performances for China and Shanghai Sharks in the early 2000s, he entered the NBA as the top pick of the 2002 draft.
The player went on to have a great NBA career. He became an NBA All-Star in every league edition he played until 2011. However, Ming failed to lift the championship in his eight-year-long NBA career.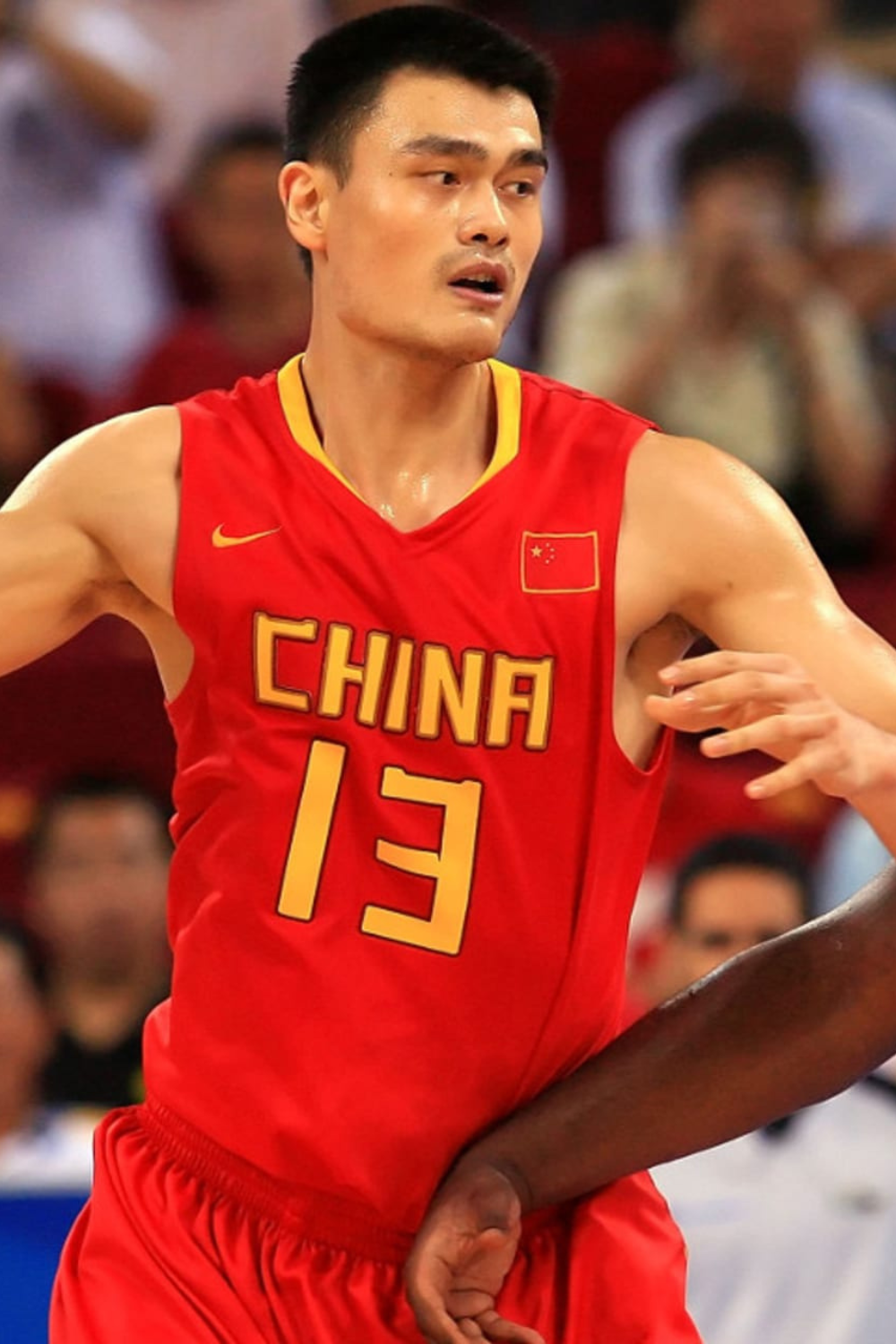 The giant center from Shanghai remained in the spotlight for his game throughout his career.
As a center, he was naturally good at blocking and rebounding, but that was not the only thing special about him. We will discover more about what made Yao shine in the biggest basketball league.
Now let's dive into this fantastic athlete's life, career, and more in the article below. Before that, here are some quick facts.
Quick Facts
Full Name
Yao Ming
Date of Birth
September 12, 1980
Birth Place
Shanghai, China
Nick Names
Chairman Yao, The Great Wall, etc.
Religion
Non-Religious
Nationality
Chinese
Zodiac Sign
Virgo
Age

42

Years Old
Height
7'6″/2.29 m/229 cm
Weight
141 kg/310 lb.
Hair Color
Black
Eye Color
Dark brown
Build
Athletic
Father's Name
Yao Zhiyuan
Mother's Name
Fang Fengdi
Siblings
None
Marital Status
Married
Sexual Orientation
Straight
Wife's Name
Ye Li
Kids
One (Yao Qinlei)
Former Profession
Basketball player
NBA Draft
2002 / Round: 1 / 1st pick overall
Position
Center
League
National Basketball Association (NBA)
Active Years
(1997 – 2011)
Net Worth
$180 million
Currently Plays For
None / Retired
Jersey Number
11
Social Media
Instagram, Twitter
Merch
Book
Last Update

March 2023
Early Life & Family
On September 12, 1980, Yao Ming was born in Shanghai, China, as the only son of Yao Zhiyuan and Fang Fengdi. Both of his parents played professional basketball during their youth.
Ming weighed 5 kg (11.02 pounds) at the time of his birth, almost twice the weight of an average newborn kid.
As his parents were former basketball players, he was already quite familiar with the sport.
However, he never saw his parents play league games as they had to leave basketball games and do government-assigned work at that time.
Just some years before Yao's birth, China was going through the 'Cultural Revolution,' started by Mao Zedong in 1966 for the socialistic transformation of Chinese society from a backward semi-feudal system.
As the period of structural transition is often very tough, every Chinese felt that personally, including Ming's parents.
Although the result of Mao's campaign could not be what he had expected, there were many positive changes. One change among them was a state-sponsored sports school that later produced Yao Ming, who ruled the NBA for almost a decade.
When he was nine, he started attending sports school and practicing to become a professional basketball player.
He stated that he had initially started playing basketball for fun, but it became an essential part of his life in the long run.
Basketball Career
Professional Career
Yao started playing league basketball for the junior team of the Shanghai Sharks when he was just 13.
In the years afterward, he worked on his basketball skills and eventually debuted for the Sharks in the CBA in 1997.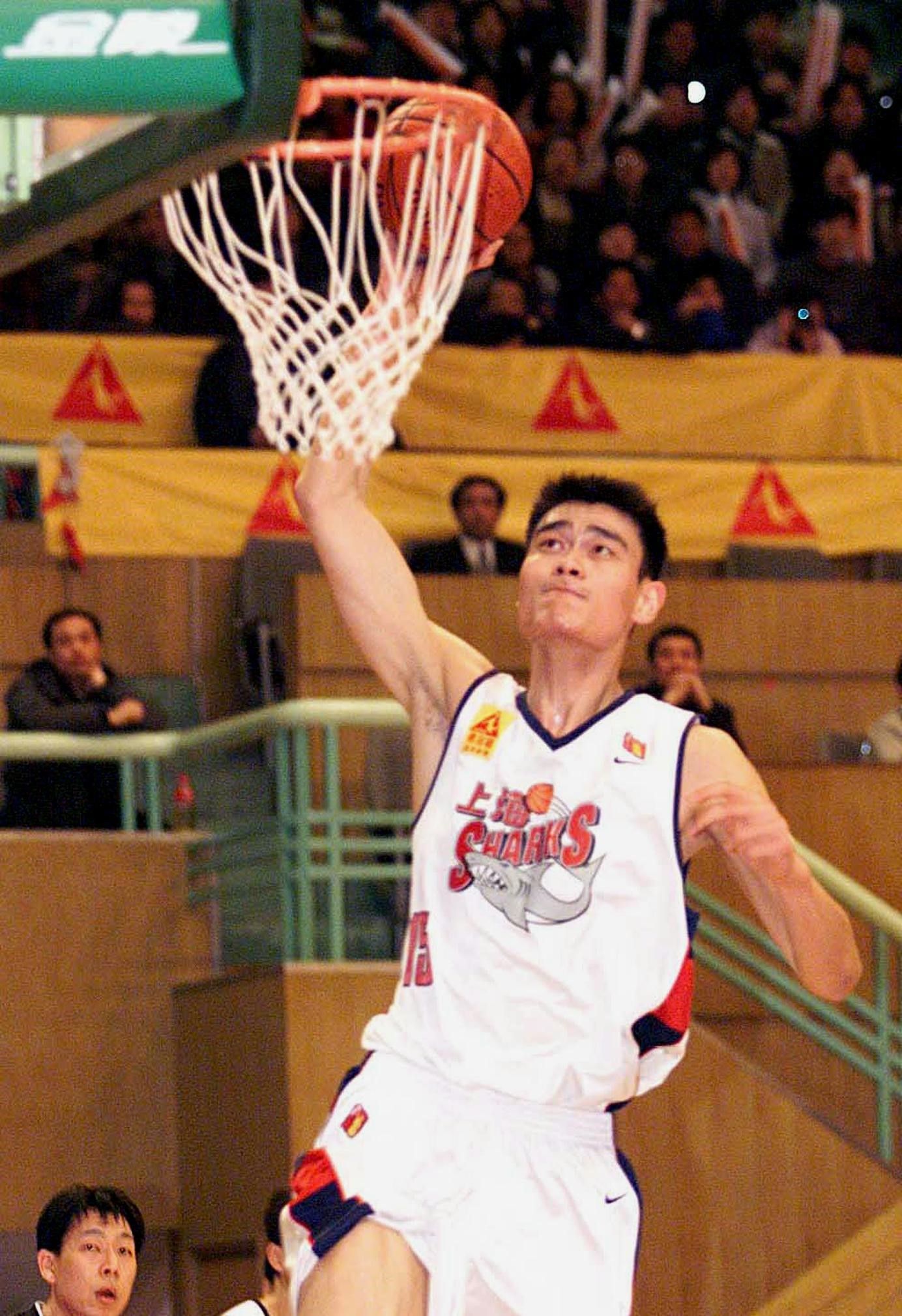 Although many basketball officials and stakeholders had told him to join the NBA, he initially rejected their request.
However, after Wang Zhizhi left the Bayi Rockets to play in the NBA, Ming followed Zhizhi's footsteps and declared his name for the NBA draft in 2002.
NBA Career
There was widespread media speculation that Yao would get selected as a first pick in the 1999 NBA draft. Leaving up to the hype, the Houston Rockets picked him as the 2002 NBA draft's 1st pick.
With that, Yao became the first foreign player who entered the NBA as a first pick without playing American college basketball.
Contrary to popular sports analysts' opinion that his NBA would end up in failure, Yao had a fantastic performance from the start.
He finished his rookie season with an average of 13.5 points and 8.2 rebounds per game. Yao was also selected to the NBA All-Rookie First Team for his impressive first year in the league.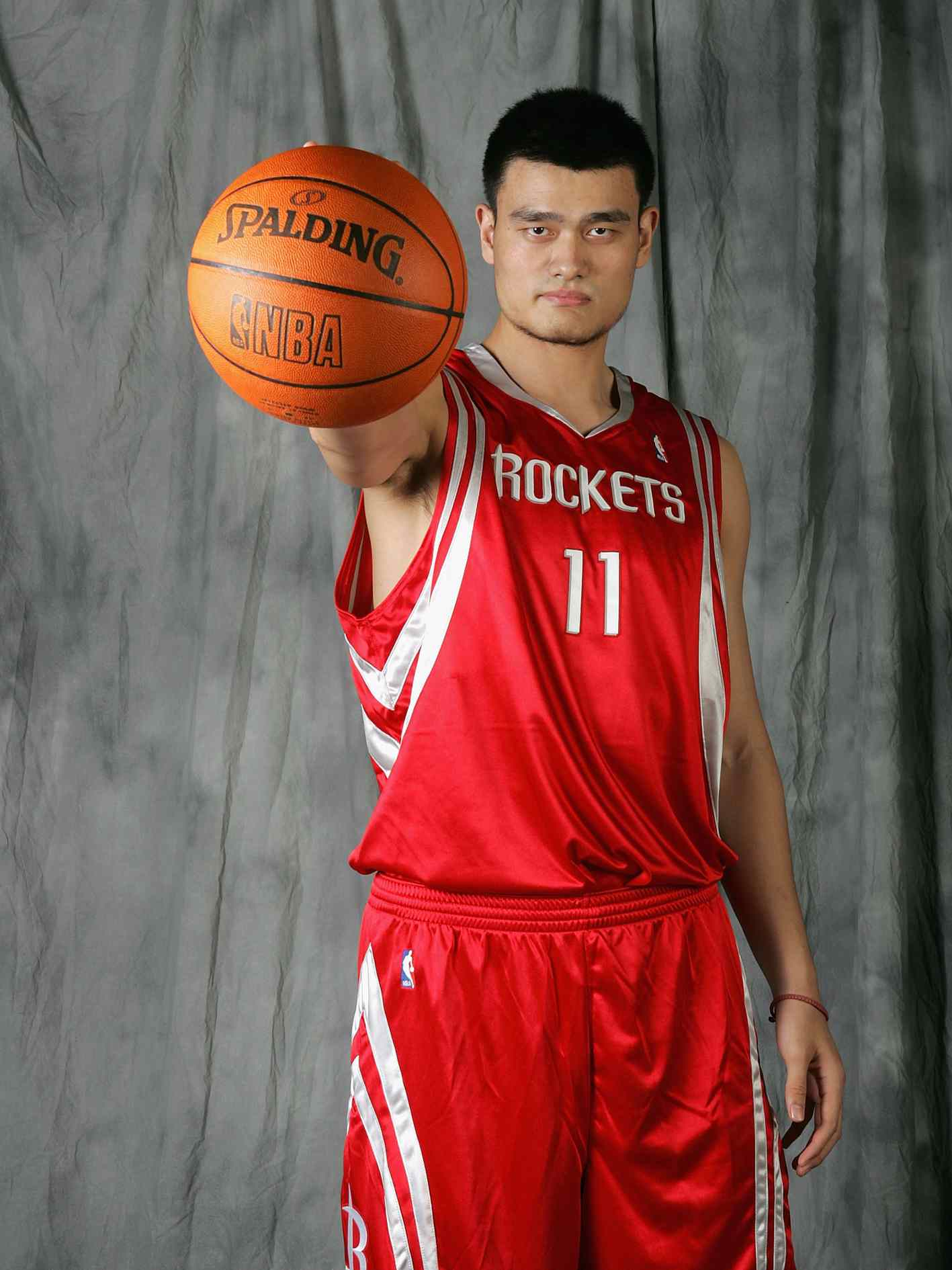 Ming played almost all matches for the Rockets until his fourth NBA season. On top of that, he drastically improved his offensive game and kept scoring more points in the last matches.
In his nine NBA seasons, Ming was named to the NBA All-Star eight times, only missing once in 2010. He concluded his NBA career by scoring 9,247 points, 4,494 rebounds, 920 blocks, 769 assists, and 189 steals.
The former NBA player announced his retirement in a press conference in Shanghai on July 20, 2011. He mentioned his retirement is because of his foot and ankle injuries.
Ming was inducted into the Hall of Fame along with Shaquille O'Neal and Allen Iverson. He also had his jersey retired by the Houston Rockets.
National Team Career
Yao Ming has represented the Chinese national teams in numerous international events. He first played for them in the Summer Olympics in 2000.
Ming has also played for them in tournaments such as Asian Cup, World Championships, and many others.
Although the Chinese national team never lifted World championships and won gold in the Olympics, they won gold in three FIBA Asia Cups.
Injuries
Yao sustained his first major injury in his fourth season, because of which he only played 57 matches. He had a foot injury and had to undergo surgery to recover fully.
Ming had impressive stats despite the inconvenience, and his fans voted him for the All-Star game.
Similarly, he had a knee injury in his fifth season, but he managed to average 25.0 points and 9.4 rebounds per game that season.
After the 2008-09 season, Yao missed many games every season due to various major injuries.
Despite missing games due to injuries, he made it to the All-Star games in all seasons he appeared, except in 2010.
Apart from previous foot and knee injuries, Yao suffered another major blow to his foot and ankle, ending his professional career. Although he wanted to play for some more time in the NBA, he had to quit because he could not cope with his injuries.
He announced his retirement on July 20, 2011, through a press conference in Shanghai, China.
Awards & Achievements
Some of his awards and achievements include:
CBA champion (2002)
Jersey no.11 was retired by the Houston Rockets
CBA rebounding leader (2000-02)
CBA Slam Dunk leader (2000, 2001)
All-NBA Second Team (2007, 2009)
FIBA Asia Cup MVP (2001, 2003, 2005)
CBA blocks leader (2000, 2001, 2002)
Net Worth & Career Earnings
One of the NBA legends, Yao Ming, has an estimated net worth of around $180 million as of 2023. Ming gained fortune from his professional basketball career, endorsement deals, and investments.
As per Forbes, Ming had earned $51 million from games and other means in a single season in 2008.
Yao has made around $93 million just from salary in his overall NBA career. When the Houston Rockets signed him in 2002, they paid him approximately $4 million for his rookie season.
Similarly, they offered him nearly $4.2 million for his second season. As his performance kept getting better, the Rockets kept him with them throughout his playing career and raised his salary on an annual basis.
Although he could not give his best due to frequent injuries, Ming received over $17 million in the 2010-11 season, his last season in the NBA.
Besides club earnings, a large part of his money came from his deals with various famous brands. After getting picked in the draft, Ming immediately signed with the Nike shoes.
He was associated with other companies like Pepsi, Coca-Cola, Reebok, Apple, McDonald's, etc.
Yao owns Yeeha Restaurant in Shanghai and Yao Restaurant in Houston and invested $1.5 million in the Yao Restaurant and Bar.
He also launched Yao Family Wines in 2009 in California and the NBA Yao Basketball Club in collaboration with NBA China in February 2014.
Actively Involved In Good Deeds
As someone who sympathizes with socialism, Ming has a deep concern for environmental and social issues and always strives to work for the collective good, which he has often shown by engaging in social works.
For that same reason, the Chinese Communist Party awarded him the Proletarian Award in 2005.
Ming has spoken out in support of environmental and animal conservation on numerous occasions. He had made a film back in 2012 to make people aware of northern white rhinoceros and the urgency to save them from being extinct.
Similarly, he is associated with various projects for elephant protection. He worked with the team that produced a documentary named 'The End of the Wild' and worked closely with WildAid and the African Wildlife Foundation for the same reason.
Besides that, Yao has been a part of various charities and philanthropic campaigns, such as one hosted in 2003 to prevent the spread of SARS, relief works during the 2008 Sichuan earthquake, etc.
He also established Yao Ming Foundation and has been involved in several programs that provide necessary assistance to underprivileged children in China.
Wife & Kids
Yao is married to a former Chinese basketball player, Ye Li. Ye was born on November 20, 1981, in Shanghai, China, the same city Yao was born and raised.
The 6 feet 3 inches (1.90 meters) tall Li had represented the Chinese women's basketball team at the Summer Olympics in 2004.
Ming first met Li in 1997 when he was just 17 years old. Although he was interested in her, Ye was unsure if she wanted to start a relationship with him.
As per the reports, Ye later accepted Yao's proposal after he offered her team pins, which he received in the Summer Olympics in 2000.
Her relationship with Yao was confirmed during the same event when she appeared together with him at the 2004 Athens Olympic Games.
After dating for years, the lovers eventually married on August 6, 2007. They welcomed their first child, a daughter, Yao Qinlei, on May 21, 2010, in Houston, Texas.
Meme Story
In 2009, Yao Ming and his Rockets teammate, Metta World Peace, appeared together and talked to the reporters in a press conference organized after the NBA playoffs.
Little did he know then that the moment captured during that event would immortalize him in the Internet meme community.
His hilarious laugh after Metta cracked a joke has become a popular meme template since 2010.
The first template was created and submitted by a memer with the username Downlow in 2010 on Reddit. Soon after, many other memers worldwide found it funny and started making memes using his funny face on numerous topics.
The meme template, generally referred to as "B***h Please," has become an essential part of popular meme culture and is widely celebrated even by young people who don't know about Ming as a professional basketball player.
Some Interesting Facts About Yao Ming
A documentary film named The Year of the Yao was released in 2004, which mainly focuses on his NBA rookie year.
Ming has worked as a voice actor for a character in the 2009 Chinese animated movie, The Magic Aster.
Ming owns a winery named Yao Family Wines in Napa Valley, California, which started in 2016.
Yao Ming graduated with a degree in Economics from Shanghai Jiao Tong University in 2018.
Social Media
Yao is not fond of social media and used to post occasionally. However, he has been inactive since 2020 on Instagram and since 2018 on Twitter.
You can find him on Instagram under the handle @yao and Twitter @YaoMing.
Instagram: 503k followers
Twitter: 195.9k followers
Popularity
After becoming the first foreign country player to be picked first in the NBA draft and playing in the NBA, he has been continuously gaining fans worldwide.
On top of that, his infamous meme is one of the catalysts for boosting his popularity among people outside of basketball culture.
The above graph gives brief information about the popularity of Yao Ming based on Google searches in the United States over a year.
Frequently Asked Questions
Are Yao Ming and Shaquille O'Neal friends?
Yes, Yao Ming and Shaquille O'Neal are now friends. However, during their active years, their rivalry was among the most talked-about things in the sports media. During their career, they confronted each other 18 times, among which Yao won eight.
O'Neal was also accused of racism against Ming in 2003, which he denied by saying he was joking. On the other hand, Ming also did not take that matter seriously.
Is Yao Ming the Hall of Famer?
Yes, Yao Ming was inducted into the Naismith Basketball Hall of Fame in 2016, together with Shaquille O'Neal and Allen Iverson.