Jackie Stewart's kids Paul and Mark Stewart, are the pride of their parents. Paul followed his father's footsteps, whereas Mark chose not to follow it.
We are all aware of the news that Helen was diagnosed with dementia.
In one of the interviews, Jackie said that whenever he sees his two kids, there is sadness but also a tremendous amount of love.
Sir John Young Steward, widely known as Jackie, is a former Formula One racing driver from Scotland.
The fans also nicknamed him "Flying Scot." He participated in Formula One from 1965 to 1973.
During that time, Jackie came in second twice and also won three World Drivers' Championships throughout the nine seasons.
Before Lewis Hamilton won the 2015 championship, he was the first British driver to win three championships.
Moreover, the last victory Stewart achieved in his career was the 1973 German Grand Prix.
Additionally, the last entry Sir John made was for the 1973 United States Grand Prix; however, he didn't finish it.
Why Did Mark Not Follow His Father's Footsteps?
During the racing era of Jackie, Mark, too, was affected by the deaths of various racers that happened because of that sport.
Despite it being a glamorous sport, the son was aware of its reality. Besides that, the son, Mark, was also a patient with dyslexia.
Mark was having a lot of trouble at school, so Stewart took him to take the tests.
When doctors finally found out Jackie's son was dyslexic, the racer mentioned that he had experienced similar difficulties in school.
Moreover, people referring to him as an idiot and making him feel stupid were hard for him to deal with.
However, after discovering both his father and son had dyslexia, Mark felt a bit of relief that they weren't idiots.
So, due to his health condition and the reality of racing, he had seen since childhood, he decided not to pursue a career in motor racing.
Moreover, the son has also mentioned all the hardships that his father had to face, but it was Helen, his mother, who held all of them together.
However, after his mother was diagnosed with dementia, it was very hard for all of them to deal with it.
But Sir John came back and tracked and treated dementia-like an opponent, as he was determined to beat it.
Jackie Stewart's Son, Paul Stewart
Paul Evan Stewart chose to follow in the footsteps of his father, Jackie. Paul is a retired racing driver who competed in Formula Ford 2000 in 1988.
The player also participated in the British Formula 3 championship from 1989 to 1990 and in Formula 3000 from 1991 to 1993.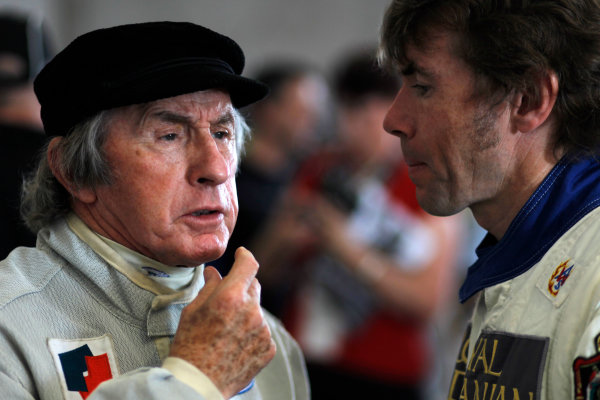 Unfortunately, the racer was diagnosed with ulcerative colitis in September 1999.
At first, when the second colonoscopy was done in January 2000, the cancerous cells weren't detected.
However, in a few months, the problems started to arise more, and at that time, he was diagnosed with bowel cancer in April 2000.
Jackie's son quit his position as chief operating officer of Jaguar Racing after hearing the news.
After that, Paul went to the Mayo Clinic in the United States for treatment. Thankfully, a CAT scan revealed no sign of the cancer coming back.
"I am lucky that I have the love and support of my wife and boys. The doctors have told me my chances of beating this thing are very good, and I am determined to beat it." Paul said.