Jackson Holliday's future wife, Chloe Cox, first crossed paths with him during high school. Holliday popped the big question to Chloe in 2022 and will probably tie the knot at the end of 2023.
The graduate of Stillwater High School, Jackson surprised his fans when he announced his engagement with Chloe in 2022. Many raised their eyebrows because of their young age, but the teenagers are ready to take the big step.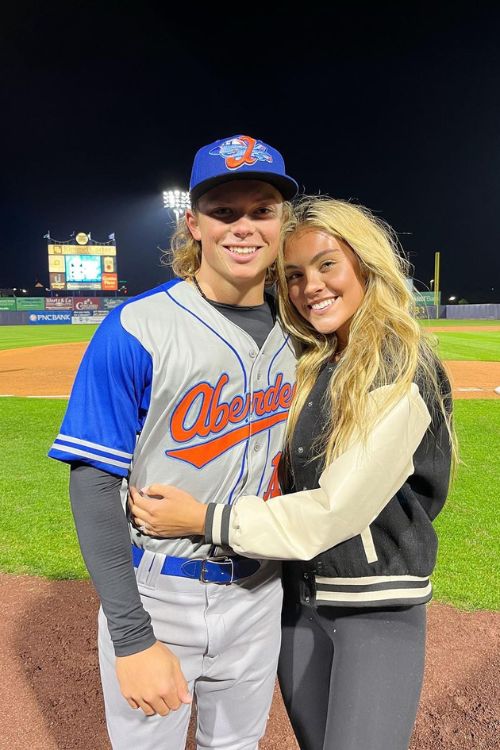 Holliday was the no.1 pick of the 2022 MLB Draft, selected by the Baltimore Orioles. The 19 -year-old was promoted to High-A Aberdeen IronBirds earlier this year after a string of stunning performances.
The son of former MLB player Matt Holliday, Jackson is currently said to be the best prospect in the minors, especially after the promotion of Elley de la Cruz to the major league.
Jackson Holliday Wife To Be Chloe Cox
Jackson Holliday's future wife, Chloe Cox, graduated from Stillwater High School. Cox is available on Instagram with the username @chloe__coxx and has gained 6k followers.
The teenager turned 19 earlier this year in April and celebrated the occasion by visiting Jackson at his baseball game in Aberdeen, Maryland. The blonde beauty has previously tried her hands at modeling as well.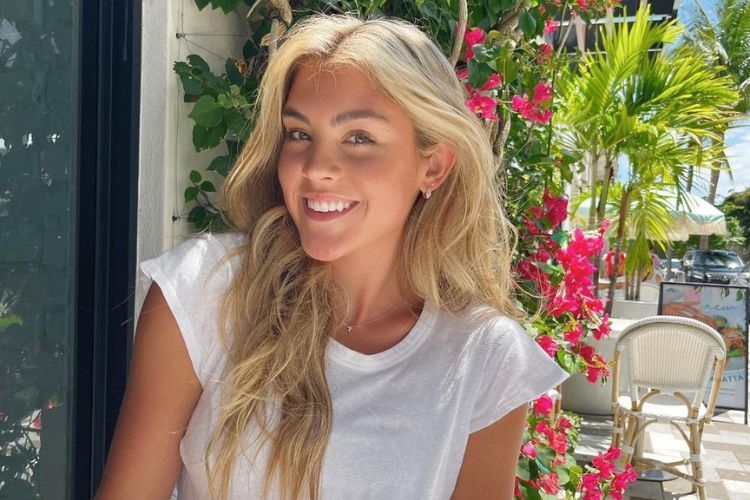 She shared a few photographs from her photoshoot with Toni Li, which Lindy Layman Agency arranged. When it comes to staying fit, Chloe seems to give her athlete fiance a run for his money.
Chloe has shared several story highlights of her everyday workouts. Cox is one of those fitness freaks that prefers running more than other forms of exercise. She had previously shared a photo of her completing a 15-mile run.
Jackson Holliday And Chloe Cox Relationship Timeline
Jackson Holliday and Chloe Cox became Instagram officials in 2020. But the young couple began dating in 2019.
The MLB's top prospect's first Instagram post is that of Chloe catching a fish which he shared on August 27, 2020. And he captioned the post, "Happy one year love."
Cox had become Instagram official with Jackson only a month before that post. She shared a photo of them in Atlanta, Georgia, and joked how their hair length is the same.
They Were Each Other's Prom Date
In 2021, during their junior year, Jackson and Chloe were each other's prom date. Chloe wore a beautiful green dress, while Jackson wore a smart grey suit with a white T-shirt.
While sharing the prom images on her Instagram handle, Chloe also revealed she had adopted a furry pet.
Last year, in their senior year, the young couple once again attended prom night. Jackson kept his fashion sense the same as last time. Chloe chose to wear a white-skill dress this time around.
Chloe Watched As Jackson Was Announced As The No.1 Overall Pick
It meant the world for Chloe to see her boyfriend's dream come to life. In 2022, Jackson was chosen by the Baltimore Orioles as the No. 1 overall draft pick.
The photos shared by Jackson on his Instagram show Chloe sitting beside him during the ceremony. Jackson's entire family was also present in the room, with his parents beside him.
Chloe later shared a series of photos from the Draft Day and captioned the post, "Proud of you, Jax. The sweetest day. Take care of my guy, Orioles."
Jackson Goes Down On One Knee
The Ironbirds player, after three years of dating, went down on one knee on December 29, 2022.
The future MLB star proposed to Chloe during their trip to Mexico. The baseball player popped the big question at Punta De Mita and had a few engagement photos.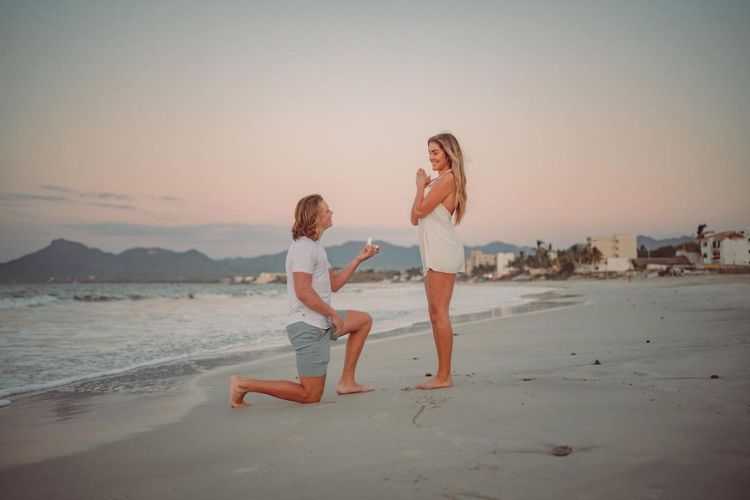 The soon-to-be bride Chloe certainly looked excited to become Chloe Holliday as she showed her beautiful engagement ring to the cameras in multiple pictures.
Earlier this year, in March, Chloe announced to her Instagram followers that she had said "Yes to the dress" and found her dream dress at Alice in Ivory Dallas boutique.
They might be young to tie the knot, but they certainly look assured with each other.
The young couple is yet to announce their wedding date, and maybe Jackson will have his MLB debut before his wedding day.