Jade Jones is a famous British Martial Artist. She shook the world by winning gold at her debut Olympics in London 2012 as a 19-years-old.
Jade originated from Bodelwyddan, Denbighshire, Wales, and became Great Britain's first-ever Taekwondo athlete to win gold at the Olympic games.
Her tendency to target the head part of her opponents got the attention of everyone. As a result, the world Taekwondo Federation gave Jade the "Head Hunter."
Jade had made her name as one of the sixth athletes in the sport's history to have consecutively won two Olympic gold medals.
In this read, we will delve into the life of Jade Jones and learn more about her career achievements, early life, retirement, coaches, Net worth, and others.
Before going deep, let's take a glance at some quick facts.
Jade Jones: Quick Facts
| | |
| --- | --- |
| Full Name | Jade Louise Jones |
| Date of Birth | 1993, March 21 |
| Place of Birth | Bodelwyddan, Wales, UK |
| Nickname | The Head Hunter |
| Religion | Christianity |
| Nationality | British |
| Ethnicity | Britain |
| Father's Name | Gary Jones |
| Mother's Name | Jayne Ferguson |
| Siblings | Luke & James |
| Education | Flint High School |
| Zodiac Sign | Aries |
| Age | 30 Years Old |
| Height | 5'6″ (167 cm) |
| Weight | 56 kg (126 lb) |
| Eye color | Brown |
| Hair Color | Blonde |
| Shoe Size | Unavailable |
| Body Measurement | Not Available |
| Marital Status | Unmarried |
| Figure | Athletic |
| Boyfriend | Jordan Gayle |
| Children | None |
| Profession | Martial Artist |
| Sport | Taekwondo |
| Club | GB Academy |
| Coach | Martin Williams, Paul Green |
| First Olympic | 2012 London |
| Career High | Gold at the 2012 & 2016 Olympic |
| Net worth | $1-5 million |
| Salary | Unknown |
| Active Since | 2010 |
| Pets | Unknown |
| Role Model | Kelly Holmes |
| Social Handle | Twitter, Instagram |
| Last Update | November, 2023 |
When Did Jade Jones Start Taekwondo & Why?
Jade Jones was quite naughty when she was younger. Thus her grandad Martin (from her mother's side) took her down to the local leisure center to get her interested in something productive and thought it would keep her out of trouble.
To be more specific, Martin caught her smoking at the age of ten and pushed her toward martial art because of her rebellious character. But it was a pure chance. It was Taekwondo.
To lead Jade in the right direction, Martin made a decision decade ago that would be best for her.
Later, to focus on Taekwondo full-time, she opted out of Flint High School at 16.
Jade Jones: Early Life, Parents & Education
Jade was born to her parents, Gary Jones and Jayne Ferguson, in Bodelwyddan, Wales, UK.
She grew up in a household with her two older brothers, Luke and James. Ever since Jade was a child, she used to fight on the grass and box with the boys.
Her dad Gary used to work in removals; thus, Jade would lift machines along with her dad.
Coming from a family with two brothers, she had grown up with a bit of rough and tumble. However, grandfather Martin Foulkes is Jade's most prominent critic and supporter.
While the rest of the family members say you are unique but unlucky, she wouldn't do well in some games, but her grandad would say she has been rubbish straight.
Martin has always been Jade's strong pillar and is super proud of what Jade has achieved to this date.
He would come to most of the competitions. Being a taekwondo fanatic himself, Martin knows more opponents than Jade knows.
Do you want to know more about Kyle Van Noy and his exit from Miami Dolphins? Click Here>>
Also, Martin is in charge of looking after Jade Jones's precious medals.
Also, there is a nice balance in the family. While Jade's grandfather and dad are more strict and critical, her mother, Jayne, hugs her no matter what she does.
Education
Jade attended Flint High School in her hometown till 16. Then, she left school as she adapted to martial arts so well to focus on her training.
In 2012 she joined GB Taekwondo Academy based in Manchester and started her trivia career in Taekwondo by playing for them.
Jade Jones: Age, Height & Weight
Jone's birthday is on March 21, and she was born in 1993. Thus, as of 2023, she is 30 years old. Her birth sign is Aries, and her flower is Daffodil and Jonquil.
She stands 5 feet 6 inches (167 cm) tall and weighs 57 kg (126 lb). Being an athlete, she has a fit body and great physic.
Jade Jones: Professional Career
Jade is considered one of the most accomplished Taekwondo players.
In 2010, she was the winner of the inaugural Youth Olympics Games, and it was the moment she realized she could succeed at the 2012 Olympics.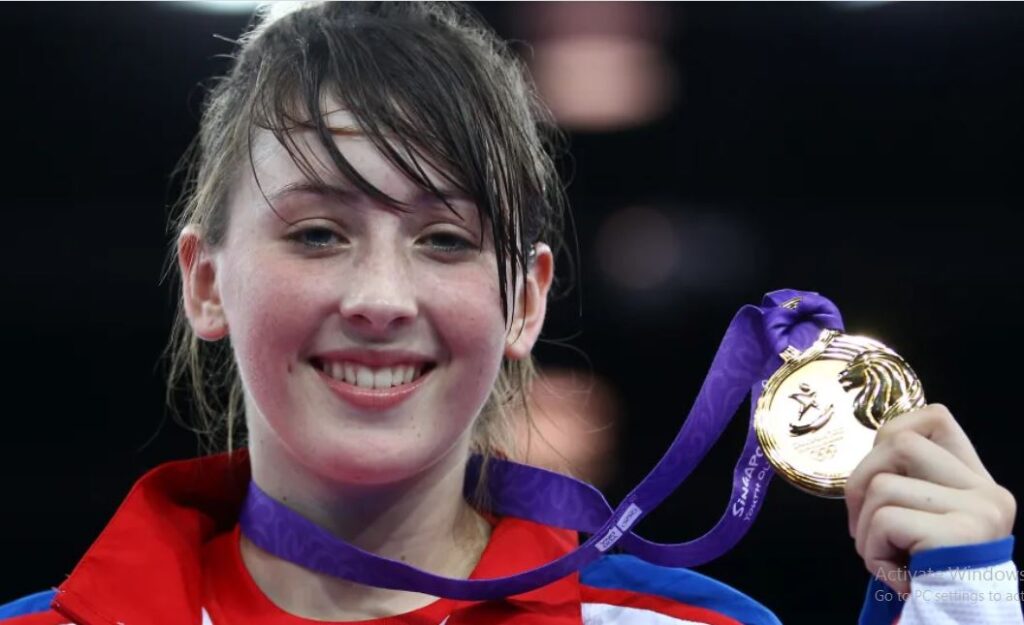 In addition, Jade began her international journey with a bronze medal at the 2010 European Taekwondo Championship.
Back in 2012, nobody had expected anything from Jade when she competed in the Olympics.
Everyone was like she was only going for the experience. But in her head, she was determined to win and did her best.
Jade Jones became the first British Taekwondo athlete to bring gold at the 2012 London Olympics in the women's 57 kg division.
Later, she won gold at the 2015 European Games in Baku in the -57 kg weight division and became the second female Taekwondo athlete.
Furthermore, she made history by winning her second gold at the 2016 Rio Olympics.
In addition, she secured gold at the 2019 World Championship and took the European crown in 2021 for the third time.
Awards and Achievements
The Wels fighter has been incredibly successful and was awarded BBC Wales Sports Personality of the Year in 2012.
Similarly, she was appointed as a Member of the Order of the British Empire (MBE) in 2013 because of her incredible performance in the 2012 Olympics.
Later, Jade also became a member of the Officer of the British Empire (OBE) in the New Year Honours of 2020 for her services to Taekwondo and sport.
It was exciting to read about Ranking the 15 Best NFL Defensive Ends>>
Who is the Coach of Jade Jones?
Martin Williams of Flint Taekwondo Club is Jade's childhood coach, who trained her since she was eight. Once William stated that Jade had exceptional talent from childhood and was destined for success.
Later, when she went to GB Taekwondo, she was trained by famous former coach Paul Green. Paul helped Jade to claim two Olympic medals.
According to some online sources, due to disagreement on Jade's joining Channel 4's "The Jump" series in 2016, Paul resigned from GB Taekwondo's coach position. It was a mutual decision.
Why is Jade Jones called "The Head Hunter"?
Jade is known for her insane ability to score points by shooting at the head. Thus, her skills complement her nickname, "The Head Hunter."
The rule in Taekwondo is 3 points for a kick in the head or one punch for a kick to the body. So she kept targeting the head every time to get a high score.
Jade Jones: Tokyo Olympics 2020 & Retirement
Jade was left close to tears inside the Makuhari Masse Hall, where she hoped to become the first British woman to earn gold at three consecutive Olympic games, because she did not survive her first outing.
After the defeat, she talked in an interview and said she was on an emotional roller coaster, trying to feel better rather than destructive.
Also, she wished she could have done more in the match, but it's done now, and she has learned her lesson.
Jade admitted that she is just obsessed with winning and that feeling of standing on the top of the podium with the national anthem playing in the background.
At this point in her career, anything less than gold is a failure.
Also, Tokyo 2020 was a tough draw for Jade. She didn't know who she would be fighting until 2 hours before. Due to this reason, she put a lot of pressure on herself.
In addition, her family members and the crowd were not there due to COVID taking her out of the fear zone and encouraging her.
Previously she said she wanted to take a bit of time out and work out what happens next, whether she wants to target the 2024 Paris Olympics in just three years which is opposed to the usual four-year gap due to postponing the Tokyo Olympics by a year due to Covid.
"Should've, would've, could've!" is how I feel," Jade Jones wrote on Twitter, hinting at her comeback after the shocking defeat at Tokyo Olympics.
Her fans are excited after this tweet and eagerly waiting to see her win her third gold at Olympics.
Jade Jones: Relationship
Jade Jones is in a relationship with ex-Taekwondo star Jordan Gayle.
She lives with her boyfriend Jordan, fellow Taekwondo Olympian Bianca Walkden, and Bianca's boyfriend Aaron Cook, a Taekwondo athlete.
Jordan Gayle was born on 1991 March 24 and is from the United Kingdom of Great Britain. He has participated in 23 tournaments and has 35 registered fights, among which he has won 20 matches.
He retired from Taekwondo in 2015 and is currently associated with GB Taekwondo as a coach.
Jade Jones: Net Worth
Jade Jone, a professional athlete's primary source of income, is from national and international tournaments, partnerships, and sponsorships.
According to some sources, her estimated net worth is between $1 million and $2 million.
The information regarding her House, cars and other assets has not been disclosed yet.
Jade Jones: Social Media Presence
Jade is quite active on Twitter and Instagram. While on Facebook, she is not entirely functional.
Many of her tweets are related to her favorite taekwondo moments, her training captures with fellow mates, about her family members thanking her for their love and support.
She does many retweets of news accounts such as BBC Wales, BBC Sports, and other kinds of stuff in which she is featured. Her tweets are very encouraging and motivating for the younger generations.
Likewise, on Instagram, she shares some meaningful life events with her followers.
Besides her posts mainly being related to the profession, she also shares pictures of her hanging out with her family and friends like any other 29-years-old girl.
Looking at her Instagram posts, we can tell she is a fun-loving, down-to-earth strong girl with immense love for her supporters and fans. You can get the link to her social sites down below:
Click here to learn about the 12 Best NFL Cornerbacks Right Now>>
Frequently Asked Questions (FAQs)
What Dan Black Belt is Jade Jones?
Jade Jones is the sixth Dan Black Belt.
Is athlete Jade Jones Married?
No, Jade Jones is not married, but she is dating Jordan Gayle, a former Taekwondo athlete. The couple lives together, and Jade trained with Jordan during the lockdown before the Tokyo Olympics.