Jaime Jaquez Jr., a prominent basketball player, hails from a family with a solid athletic background. Jaime's sister, Gabriela, is equally passionate about basketball.
Jaime Jaquez Jr., a talented basketball player from UCLA, recently graduated in June 2023, and his sister Gabriela Jaquez couldn't be prouder of his accomplishment.
Jaquez, who was considered a promising prospect after his college career, received an invitation to the green room of the 2023 NBA Draft.
He was recognized for his potential and talent, being on the cusp of being a first-round pick.
Eventually, the Miami Heat selected him with the eighteenth overall pick in the draft.
This was a significant achievement for Jaime, as it marked the realization of his dream to play in the NBA.
Like her brother, Gabriela also attends UCLA. Jaime postponed his NBA aspirations and continued his college education, allowing them to play together at the same university.
Gabriela is an exceptional basketball player, just like her brother. She had the privilege of starting two games in her first year of college basketball.
Throughout her freshmen season, she played in all 37 games for her team, showcasing her dedication and commitment. She played about 17 minutes per game on average, contributing significantly to her team's success.
Jaime Jaquez Jr Sister
Gabriela Jaquez, a native of Irvine, California, is the daughter of Angela and Jaime Jaquez. Both of her parents were basketball players at Concordia University.
Gabriela has two siblings: an older brother named Jaime and a younger brother named Marcos.
As an aspiring athlete, Gabriela finds her greatest inspiration in the late Kobe Bryant. She admires his dedication and exceptional skills, and she aspires to emulate his success in her own basketball journey.
Gabriela's current goal is to excel in her college basketball career.
After completing her college education, she aims to pursue a professional basketball career in the Women's National Basketball Association (WNBA).
By setting her sights on the WNBA, Gabriela hopes to continue honing her skills and making a meaningful impact in the world of women's basketball.
Off the court, Gabriela enjoys taking a nap before games, as it helps her prepare mentally and physically. When she's not focused on basketball, she relishes spending time at the beach and hanging out with her friends, finding balance and relaxation in these activities.
As for her academic path, Gabriela is currently undecided about her major, exploring her interests and possibilities while excelling both on the court and in the classroom.
Gabriela Is Proud Of Jaime
Gabriela Jaquez, the sister of Jaime Jaquez, takes great pride in her brother's achievements.
Despite occasional disagreements, they have a strong bond and always support each other.
In an interview, Gabriela described their relationship as a mix of healthy competition and enjoyment.
Both Gabriela and Jaime Jr. have played multiple sports, but their shared dream was to play basketball at UCLA, which is conveniently located just 45 minutes away from their hometown.
Gabriela wanted her brother to choose the path that suited him best, but she couldn't deny her excitement at the possibility of overlapping with him at UCLA for a year.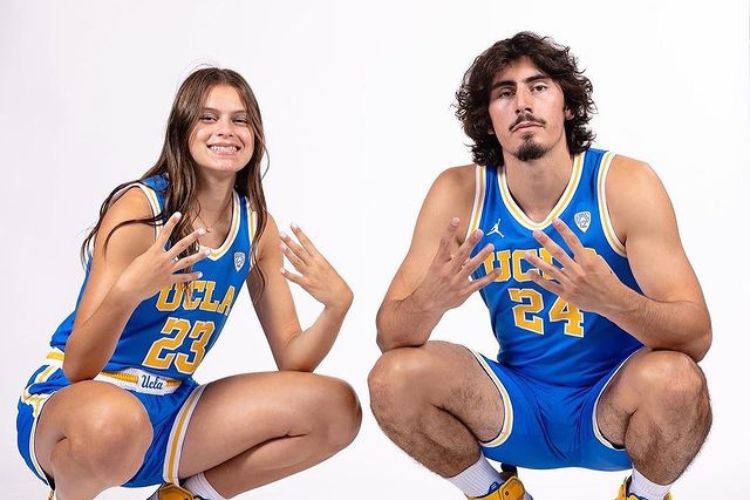 When Jaime Jr. decided to return to UCLA, Gabriela was thrilled and proud of his decision.
Sharing the court has allowed them to learn from each other and incorporate new skills and insights.
Gabriela has adopted her brother's relentless attitude, while Jaime Jr. has integrated some of Gabriela's favorite plays into his game.