Jakob Poeltl is an Austrian professional basketball player in the National Basketball Association (NBA) League. He plays as a center for the San Antonio Spurs of the NBA.
Even though he was initially skeptical about making his career in basketball, Jakob eventually pursued it. He started playing basketball in Austria and later made it big up to the NBA.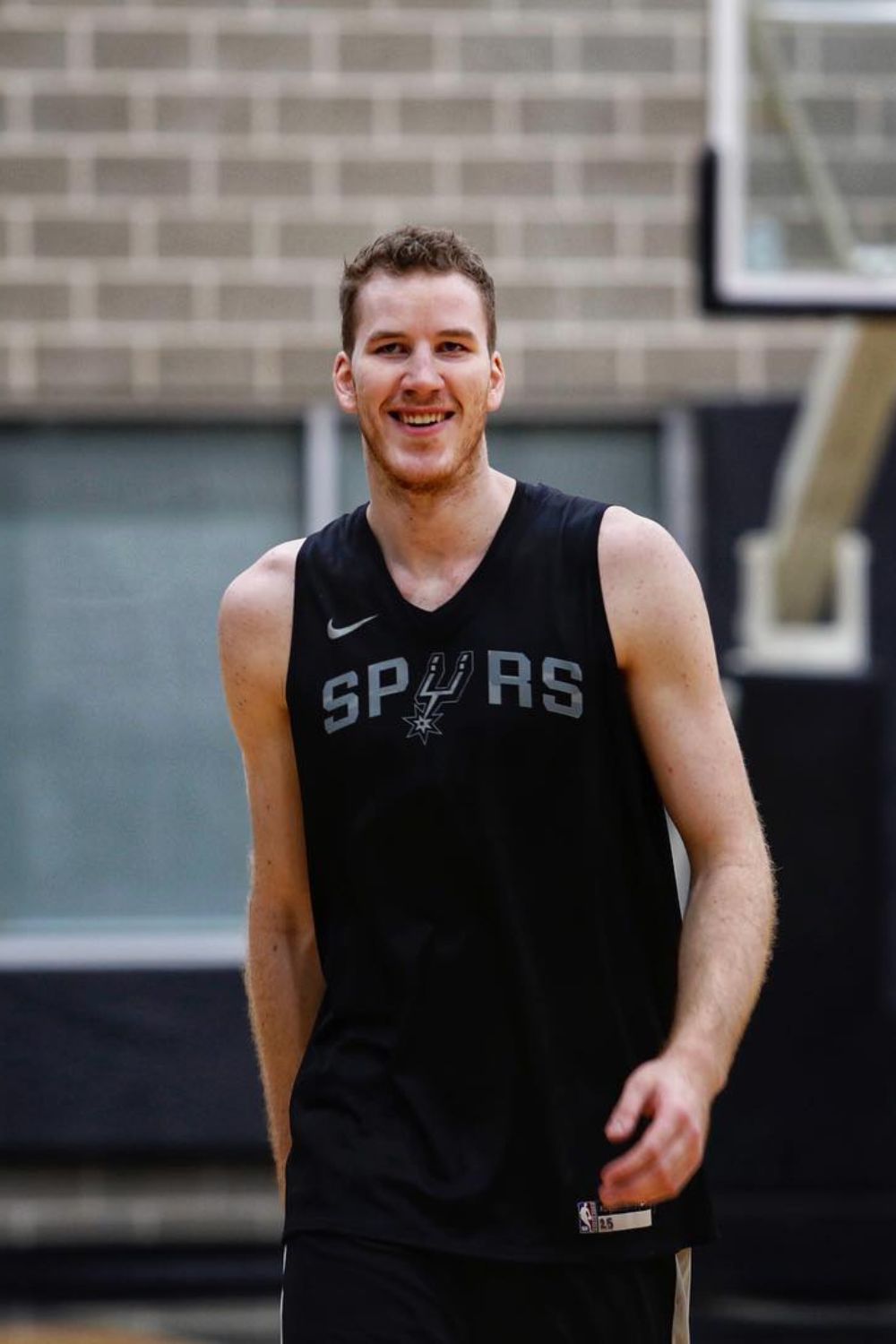 Previously, before joining the NBA, he played college basketball for the Utah Utes men's basketball team. While there, he received numerous accolades and honors, making him one of the country's top prospects after just two seasons.
The Toronto Raptors drafted him in 2016 as the first-round 9th pick. Consequently, he became the first-ever Austrian to play in the NBA.
Jakob Poeltl is mainly known among his fans for his highly efficient shots and ability to score points for the team consistently.
Moreover, he has a high block percentage which, of course, seems easy for him because of his colossal size.
The young teenager who had come to America to pursue higher studies and play basketball has come a long way to create a big name for himself.
However, the overall journey has not always been easy for this Austrian beast.
Let's explore his early life, brief basketball career in Europe, University years and NBA, and much more.
But before moving into the details, here are some quick facts about Jakob Poeltl.
Quick Facts
Full Name
Jakob Poeltl
Date of Birth
October 15, 1995
Birth Place
Vienna, Austria
Nick Name
Jake Puddle
Religion
Christianity
Nationality
Austrian
Zodiac Sign
Libra
Age

28

years old
Height
2.16 m (7 feet 1 inch)
Weight
245 lb (111 kg)
Hair Color
Brown
Eye Color
Blue
Build
Athletic
Father's Name
Rainer Omer
Mother's Name
Martina Poeltl
Siblings
A younger sister
Siblings
Miriam Poeltl
Education
University of Utah (Salt Lake City, Utah)
Marital Status
Unmarried
Sexual Orientation
Straight
Girlfriend's Name
Not available
Kid
None
Profession
Professional basketball player
NBA Draft
2016
Position
Center
League

Austrian Basketball Superliga (2013-2014)
NBA (2016-present)

Active Years
(2013–present)
Net Worth
$1-$5 million
Base Salary (2022)
$8,750,000
Currently Plays For
San Antonio Spurs
Jersey Number
25 (current)
Career Highlights & Awards

Pac-12 All-Freshman Team (2015)
Kareem Abdul-Jabbar Award (2016)
First-team All-Pac-12 (2016)
Pete Newell Big Man Award (2016)

Social Media
Facebook, Instagram
Merch
Notebook, Trading card, Sublimated plaque
Last Update

November 2023
Early Life, Family & Education
On October 15, 1995, Jakob Poeltl was born in Vienna, Austria, to his parents, Rainer Omer and Martina Poeltl. Both his parents played volleyball in international tournaments for their country, Austria.
Jakob grew up in his hometown, Vienna, and attended a local gymnasium as a kid. As his parents were from a volleyball background, they used to take him along in their practice sessions.
He would often run here and there on the court behind the volleyball.
However, he soon began to develop an interest in basketball, a less popular sport in Austria. Meanwhile, he grew up taller than average kids, which suited him more to play the sport.
Consequently, his parents enrolled him in a youth basketball program in Vienna.
He played basketball for Vienna DC Timberwolves for around seven years during high school. As a result, he developed various basketball shot skills and borrowed some techniques from volleyball.
His family frequently used to go for outings and picnics. While his family would play volleyball, he would join them and enjoy themselves together.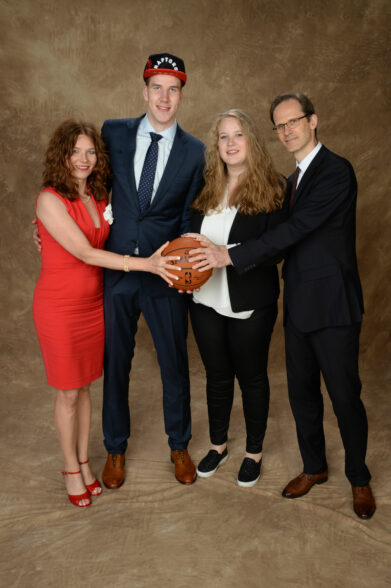 He recalls doing so because it was all fun and stuff. However, he accepts that playing basketball has helped him a lot to improve his basketball game now. For that, he feels he is forever indebted to his athletic parents.
Moreover, he has a younger sister named Miriam.
While the basketball player was still in high school, he participated in the 2013 FIBA Europe U-18 Championship.
While he was performing well at that event, he got the University of Utah's officials' attention.
Consequently, he got an opportunity to pursue his higher education and college career in the USA. He enrolled at the University of Utah in 2014.
Career
College Career
After the University of Utah offered him a scholarship in 2014, he left Austria and came to the USA. In his first year, Poeltl developed a good bonding with the team of coaches, which guaranteed more playtime for him.
In turn, the coaches, especially Larry Krystkowiak, one of the head coaches, took him seriously and groomed him well.
He played most of the matches as a starter in his first year and had impressive stats. He had 18 points and 10 rebounds in his debut match of the first season.
Following this match, he improved even more and played a lot better.
As a freshman, he averaged 9.1 points and 6.8 rebounds per game playing 34 matches.
He averaged 17.1 points and 9.1 rebounds per game in his second NCAA season. He played 36 matches this season to achieve these impressive numbers.
Jakob earned the Pac-12 Player of the Year and was named the All-Pac-12 First Team for his performance. He decided to forgo his junior and senior season following the second season and declared for the upcoming NBA draft in 2016.
Professional Career
Toronto Raptors
Jakob Poeltl had already achieved fame while still playing college basketball. So obviously, he would not get undrafted that year even though he had skipped two years of his college career.
The Toronto Raptors selected him, making him the first Austrian to get drafted in the most-popular American league. The club also selected the athlete as the draft's first round 9th overall pick.
He signed his rookie scaled contract with the club on July 9, 2016. He made his NBA debut for the Raptors against the Detroit Pistons on October 26, 2016.
However, his rookie season stats were not as satisfying as expected. He played 54 matches in which he averaged 3.1 points and rebounds of the same score in his first NBA season.
In addition, he played for the Raptors' affiliate club, Raptors 905, in the NBA D League.
Moving onto the second season, he somehow returned to his game and played some great matches. He scored 14 points leading his team to win against the Philadelphia 76ers on October 21, 2017.
Likewise, he scored a career-high 18 points in a match against the Indiana Pacers on December 1, 2017. He played all 82 games in the 2017-18 season and averaged 6.9 points and 4.8 rebounds per game.
San Antonio Spurs
As soon as the season ended, the Raptors traded him to the San Antonio Spurs on July 18, 2018. He debuted for the Spurs on October 17, 2018, playing against the Minnesota Timberwolves.
Poeltl scored 4 points and 2 rebounds in addition to 2 assists to log a narrow win of 112-108 against the mighty opponent.
He played 77 matches in his first season for the club and averaged 5.5 points and 5.3 rebounds per game. The club made him play for 66 matches in the 2019-20 season, where he averaged 5.6 points and 5.7 rebounds per game.
On November 24, 2020, he renewed his contract with the Spurs.
He played 69 matches following the contract in the 2020-21 season. However, he improved his game this season and averaged 8.6 points and 7.9 rebounds per game.
The player is still playing for the Spurs in the 2021-22 season and has been performing much better than in his previous league years. But as per the rumors, the Spurs will likely trade him to the Hornets soon.
However, it is still not confirmed whether he will be traded in the middle of this season or after it ends.
Apart from league games, he represents his country, Austria, in various international tournaments.
Awards & Achievements
Some of his awards and achievements include:
Pac-12 All-Freshman Team (2015)
Kareem Abdul-Jabbar Award (2016)
First-team All-Pac-12 (2016)
Pete Newell Big Man Award (2016)
Consensus second-team All-American (2016)
Pac-12 Player of The Year (2016)
Age, Weight & Height
As of 2023, the NBA player is 28 years of age. He celebrates his birthday every October 15.
Talking about his body measurements, he weighs around 245 lb (111 kg) and stands 2.16 meters (7 feet 1 inch) tall. He says he gained such a lofty height from his parents, just like he inherited athleticism from them.
However, he is huge compared to his parents. Moreover, he has brown colored hair and blue eyes, moving on to his facial attributes.
Personal Life
It may be surprising for many of his fans, but the athlete, already over his mid-20s, is not in a relationship with anyone. The player is quite shy and reserved when revealing his personal life.
Even though he has already spent many years in the spotlight playing basketball, he has never talked about his private life in the media.
Also, there are no previous records about his love affairs. Most probably, he has never been in a relationship to date.
His first love is basketball, and he always talks about his professional life in interviews and podcasts. So maybe, the player wants to enjoy playing basketball for some years more completely.
Hopefully, someday, he will shed light on his private life. We will share it with our readers as soon as we get new information.
Net Worth, Salary & Career Earnings
According to sources, Jakob Poeltl has an estimated net worth ranging from $1 million to $5 million.
The Austrian national has accumulated a lot of wealth through NBA league games. He earns a good amount from league games through merch sales and brand endorsements.
The Toronto Raptors had paid him around $2.7 million when he began his NBA career in 2016.
However, following his rookie season, the club increased his salary further the following year. As a result, he received around $2.8 million from his second season for the Raptors.
He has already received around $14 million for playing three NBA seasons for the San Antonio Spurs. As of now, his annual salary is approximately $8.75 million.
The European basketball star has already accumulated around $20 million throughout his NBA career.
Social Media Presence
Jakob Poeltl uses two social media handles, namely Instagram and Facebook. But, quite surprisingly, he does not have a Twitter account.
He mainly posts about his professional life. In addition, he posts pictures of his photoshoots and fun times with his colleagues.
You can go through his social media handles by clicking the links given below:
Frequently Asked Questions (FAQS)
Where is Jakob Poeltl now?
Jakob Poeltl is with the San Antonio Spurs of the NBA now. He has been playing for the club, wearing jersey No.25, since 2018. However, the club is expected to trade him to the other team soon.
Is Jakob Poeltl good?
Yes, Jakob Poeltl is quite good. He is solid, especially as an offensive player, for he has a higher field goal percentage. In addition, he is very effective in pick-and-roll situations.