NBA sensation Jamal Murray owes a significant part of his success to his parents, Sylvia and Roger Murray. Jamal is what he is today because of his parent's support and encouragement, in addition to his talent and hard work.
Jamal Murray is a Canadian professional basketball player who plays for the NBA team Denver Nuggets and the Canadian National team. He was drafted by the Nuggets in the first round of the 2016 NBA draft as the 7th overall pick.
2023 proved to be a great year for Murray and his team as the Denver Nuggets won the prestigious 2023 NBA Finals for the first time in the team's history.
Jamal missed the entire 2021-22 season because of torn ACL, and now he is back to his form as an NBA Champion.
Murray has always been an extraordinary basketball player, achieving a lot in his career. However, this article will not focus on Murray and his career but on his parents.
Jamal Murray Mother Sylvia And Father Roger Are Proud Of The NBA Champ
Jamal was born to Sylvia and Roger Murray on February 23, 1997, in Ontario, Canada. He has a younger brother named Lamar Murray.
The NBA champ grew up in a household of mixed culture. Jamal Murray's mother, Sylvia, hails from Syria, and his father, Roger, is originally from Jamaica. Roger later moved to Canada at the age of nine and was raised there.
Roger was a track and field athlete and also used to play basketball when he was younger. He considers himself not only a father, but a coach, trainer, and friend to Jamal.
When Jamal was younger, Roger used to take care of his training, and Sylvia used to make sure that he did his homework and got good grades.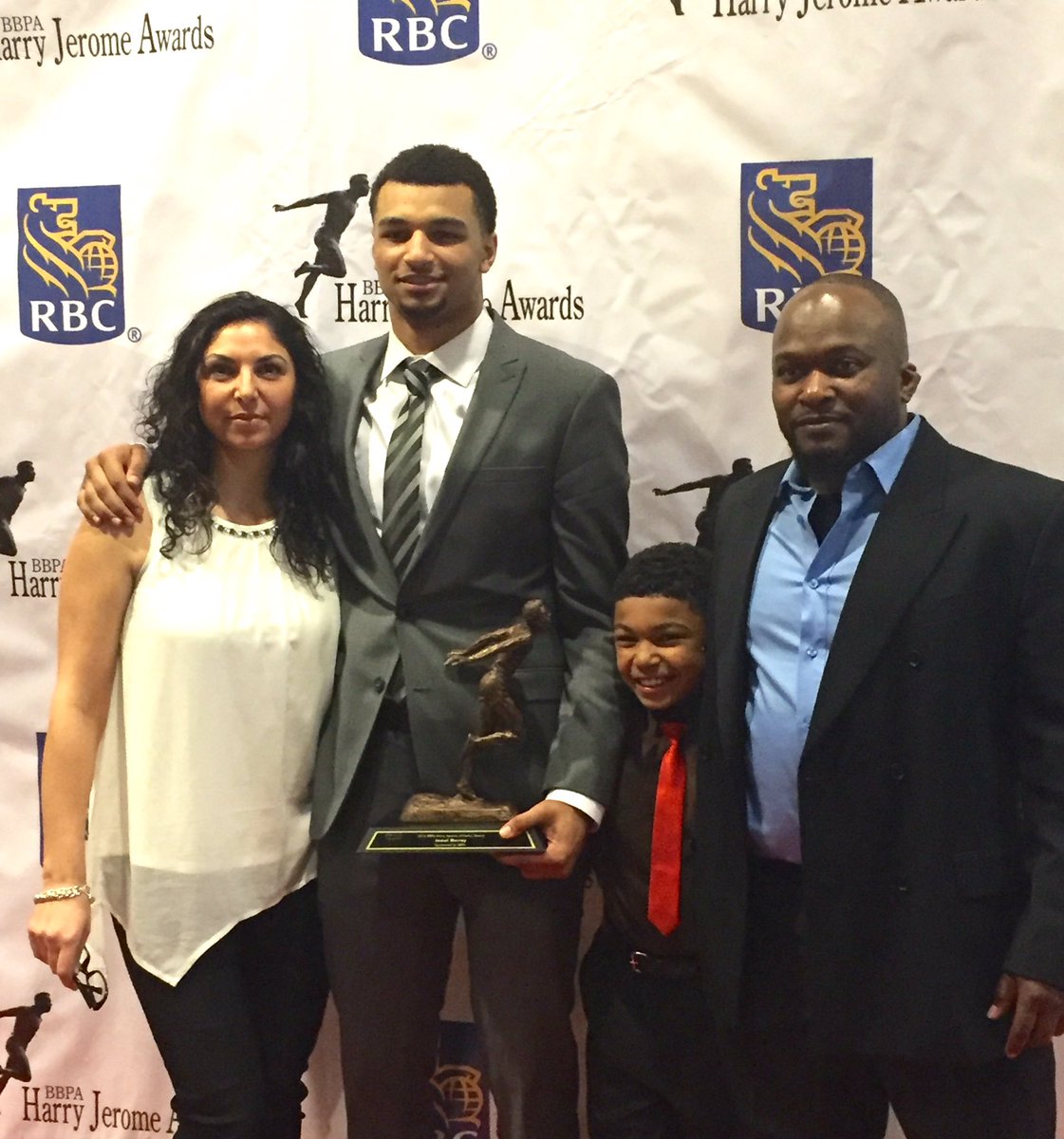 In a childhood interview with Murray, he expressed that his mother provided assistance with his schoolwork, engaged in conversations, and sent messages of love, even when she was busy with work. He acknowledged her for her positive attitude towards him and her support for what he does.
This shows that Sylvia was a great mother and supported her son since his early days. Although Sylvia has remained away from the media these days, she must be very proud of her son's achievements.
Roger Murray's Involvement in Jamal Murray's Basketball Career
Jamal was passionate about basketball from the tender age of three, and he could play the sport for hours. Because of his father's early guidance and training, Jamal honed his skills.
Roger taught basketball to his son from the basics and helped him get drafted into the NBA, which is a dream for every basketball player.
Jamal credits his father for his success and for helping him develop his game to the point where he was able to play at the University of Kentucky.
The proud father makes sure to show up at almost every game of his son. Roger is always watching his son behind the basket and cheering up for him. He makes sure to provide last-minute advice to his son before his games.
Before the 2023 NBA Finals, Roger shared the advice he gives to his son:
"Show your passion. Know the moment. Try to reach your goals and do whatever it takes to reach those goals."
A few days ago, Roger was heated in a controversy. In an interview conducted by Malika Andrews with Jamal Murray, he said that growing up, his father had him practice "pain tolerance" drills which involved balancing cups of hot tea on his quads and picking up leaves in frigid weather to increase his mental fortitude.
Many people opined that Roger went a bit too far, some even thought it was an abuse. Even though the particular training might have been a little too much, we cannot deny the fact that Roger has played an important role in shaping his son's career.