Jaromir Jagr is a legend in NHL history, not only as the stellar and a total blast on the ice but also as one of the wealthiest NHL players in history.
The first Czech to play in the NHL as a professional, Jaromir has been active since his NHL Draft in 1990.
Even though he started his professional career with the Pittsburgh Penguins, Jaromir has played for numerous other clubs, including New York Ranger, Philadelphia Flyers, New Jersey Devils, and Calgary Flames.
Not to mention, his contract with the Washington Capitals, worth $77 million, was the most expensive contract at that time.
Already thirty years into his career, Jagr now plays for the HC Kladno as a right-winger. He has been with them since 2018 and has expressed his to end his career with them in past interviews.
Besides his colorful and hectic professional life, today, we will also talk about his personal life.
Did you know Jagr, who is nearing 50, is still single? And the reason behind him wearing number 68 only will be revealed right here and right now.
Jaromir Jagr: Quick Facts
| | |
| --- | --- |
| Full Name | Jaromir Jagr |
| Birth Date | February 15, 1972 |
| Birth Place | Klado, Czechoslovakia |
| Known as | Jaromir Jagr |
| Religion | Orthodox Christian |
| Nationality | Czech |
| Ethnicity | White |
| Education | Updating Soon |
| Horoscope | Aquarius |
| Father's Name | Jaromir Jagr |
| Mother's Name | Anna Jagrova |
| Siblings | Sister |
| Age | 51 Years Old |
| Height | 6 feet 3 inches (191 cm) |
| Weight | 104 kgs(230 lbs) |
| Build | Athletic |
| Eye color | Dark brown |
| Profession | Professional ice hockey player |
| Active years | 1988-present |
| Current Team | HC Kladno |
| Position | Right Wing |
| Shoots | Left |
| Marital Status | Single |
| Net Worth | $40 million |
| Salary | $1 million |
| Social Media | Instagram, Twitter |
| Merch | Jersey, Rookie Cards |
| Last Update | March, 2023 |
How old is Jaromir Jagr?- Age and Body Measurements
Jaromir Jagr was born on February 15, 1972, they stellar player on the ice, making him 51 years old.
Not only that, but he was born under the sign of Aquarius, who is known for their uniqueness and stubbornness.
Likewise, blessed with athletic skills, Jagr also has a build to support his career, considering how rough the game can be at some point.
Jaromir is 6 feet 3 inches(191 cm) tall, a total beast on the ice. With proper workouts and exercise Jagr weighs around 104 kg (230 lbs).
Early Life, Family, and Jersey Number
One of the leading ice hockey players of his time, Jaromir Jagr, is a well-known NHL player. He was born in Kladno, Czechoslovakia, with his Father, Jaromir Jagr, and his mother, Anna Jagrova.
Not to mention, his Father owns a hotel chain and serves as HC Kladno's president.
Many might not know, but Jagr wears the number 68 and has been throughout his career in honor of the Prague Spring that happened in 1968 Czechoslovakia.
Other than his parents, Jagr also has a sister named Jitka Kallova.
Aside from their names, other information like their profession and whereabouts have been kept a secret from the media. As for his nationality, the star player is Czech, while his ethnicity happens to be white.
Likewise, Jagr has been skating since the early age of three and has shown exceptional skills.
By age 15, he was already playing at the highest level of competition in Czechoslovakia for HC Kladno. Also, at 17, Jagr became the youngest member of the Czechoslovakia national team.
Jon Gruden Bio: Age, Career, Wife, Kids, Net Worth, Contract Wiki >>
Since his whole childhood and teenage life was dedicated to ice hockey, there is not much stuff on his educational part. But we will update you as soon as we get some information on them.
Entry to the NHL- Early Career at Pittsburgh Penguins
Jagr was someone who pursued and honed his skills on the ice ever since he was a child. His dedication and eagerness to learn could easily be seen in his games and play.
Because of it, Jagr was drafted by the NHL in early 1990, making him the first Czechoslovak to be selected without defecting to the west.
Upon his selection, the Pittsburgh Penguins picked the young athlete in the 1990 NHL Entry Draft fifth overall.
After this, he immediately relocated to North America and was the first Czechoslovak to attend the draft in Vancouver.
His team was not built with feeble players as stellar as he was. The Pittsburgh Penguins were the powerhouse who Stanley Cups back-to-back in 1991 and 1992.
Not to mention, following his contribution, Jagr became one of the youngest players in NHL history(20) to score a goal in the Stanley Cup Finals.
Despite being the beast on ice, Jagr still lacked social skills, mainly because he lacked an understanding of the English language.
Hence, in his early days, Jaromir could read the daily weather forecast on Pittsburgh radio station WDVE. Moreover, he also played scrabble to increase his English vocabulary.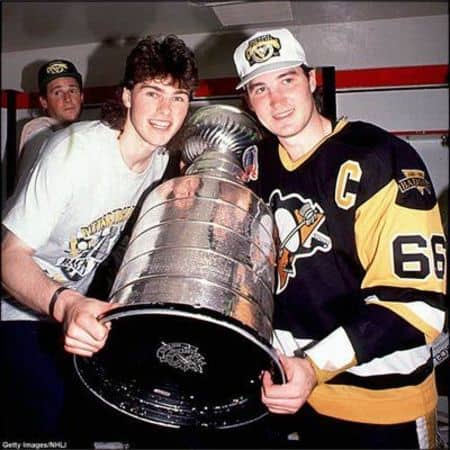 During the 1994-95 season, Jaromir won the first Art Ross Trophy after finishing the regular season with the most points.
The following year, he set another record for most scores by a European-born player. In 1997-98 Jagr was left with Captain's role after their former captain Ron Francis left the team.
Furthermore, Jaromir won four straight NHL scoring titles from 1997-98 to 2000-01, followed by the Hart Memorial Trophy, the NHL's most valuable player, and the Lester B.
Pearson Award in 1999. Also, in the 1998 Winter Olympics, he led his national team to win the gold medal.
Washington Capitals and Future Teams
After spending a decade with the Penguins, Jagr finally moved to another team, Washington Capitals, and signed with them in 2001.
He was the then-largest contract in the NHL, with $77 million for seven years. Aside from that, his annual salary alone covered $11 million, with an option for an eighth year.
Sadly, Jagr could not prove worth all that money as he was back with the Penguins. At Washington, Jagr failed to defend his title and missed the 2002 Stanley Cup playoffs.
Not only did he fail to be NHL's top scorer, but he also was unable to qualify his team for the Stanley Cup playoffs and even make the NHL All-Star Team at the end.
Similarly, in 2002-03, Washington finished sixth n the Eastern Conference but lost to the Tampa Bay Lightning in the first round of the 2003 playoffs.
Upon seeing failure after failure and nothing much, Washington wished to trade their high-priced veteran, but barely any teams were willing to risk so much money on Jagr.
But even after that, on January 23, 2004, Jagr was finally traded to the New York Rangers in exchange for Anson Carter. They agreed on paying $4 million per year of Jagr's salary.
Since he was traded before the 2005-06 season, Jaromir's salary was reduced from $11 million to $7.8 million, which is still a hefty amount.
Likewise, Jagr led his national team to gold at the 2005 World Hockey Championships and was selected for a tournament all-star.
With that, he also became a member of hockey's prestigious Triple Gold Club, which only allowed access to players who have won a Stanley Cup, a World Hockey Championships, and an Olympic gold medal.
Since his team, Rangers missed seven consecutive seasons. Many picked them as the worst team in the league.
After the Fall
However, Jaromir stood for his team and promised they would be surprised when they made the Stanley Cup playoffs.
As said, Jagr started strong initially and became the fourth NHL player to score ten or more goals in less than ten games.
After that, Jagr broke many records and helped his team move forward in the season. But his injuries in the season also put the Rangers in a tight spot.
Also, on October 5, 2006, Jagr took the captain role right before the first game of the 2006-07 season, replacing now-retired captain Mark Messier.
How many years did Jaromir Jagr play in the NHL?
Since his NHL Draft by the Pittsburgh Penguins in 1990, Jaromir has played ice hockey for almost 30 years, more if you count his early days.
Even though he started his professional career in Pittsburgh, Jagr played for more than five teams throughout his long hockey career and became a part of it.
After Washington and the Rangers, Jagr moved to Avangard Omsk in 2008 as an unrestricted free agent for the first time.
He agreed to a two-year contract with the team worth $5 million. The following year, he was named the captain of the group.
Despite showing his interest in playing in the NHL again, Jaromir re-signed with the Avangard for the 2010-11 season.
Floyd Mayweather Jr. Bio: Age, Wife, Kids, Career, Net Worth, IG Wiki >>
But as soon as his contract ended, Jagr made his comeback at the NHL with the Philadelphia Flyers, a cross-state rival of the Penguins.
Similarly, he signed a one-year deal with the team worth $3.3 million. During his debut game, Jagr scored his 1,600th NHL point, and by the end of the game, he was the top scorer.
After his contract termination, Jagr signed with the Dallas Stars for a year in a contract worth $4.5 million. It was his first time playing for the Western Conference.
But on April 2, 2013, he was traded for the Boston Bruins in exchange for Lane MacDermid, Cody Payne, and a conditional third-round pick in the 2013 NHL Entry Draft.
The star player has also played for the New Jersey Devils from 2013 to 2015, Florida Panthers from 2015 to 2017, and Calgary Flames.
Since he is nearing his retirement, Jagr has been playing with the HC Kladno since 2018. It was his wish to end his career at HC Kladno. Also, the club his Father played in the day.
Is Jaromir Jagr still playing hockey? Where is he now?
Despite being on the ice professionally for 30 years, Jaromir has not slowed down but has shown the same passion for the game as he did back in the day.
Not to mention, his injuries and aging body indeed have made it hard to play rigorously.
Aside from his professional life, Jagr also seems to be happy in his personal life. As of now, this 51-year-old NHL player is still single, but he has his fair share of women in his early days.
In 1996, this Czech player dated Iva Kubelkova, and they lived together for three years before parting in 1999.
Following that, Jagr was seen dating his new girlfriend, Nikol Lenertova. Sadly, they could not stay for long and, as a result, broke right after.
Likewise, Jaromir then had an affair with Lucie Borhyovain in 2004 and Inna Puhajkova back in 2006.
After his numerous failed attempt at having a married life, Jagr stayed single for many years. He only started dating in 2015 after meeting beautiful Veronika Koprivova, the 2012 Miss Czech pageant finalist.
Luckily, the couple has been together for almost five years. If this goes on, we may finally see Jagr tying the knot. Let's see for now!
How much is Jaromir Jagr worth?- Net Worth and Salary Estimation
From what we know, Jaromir Jagr is a stellar player and always has been since he was a child.
Whether it was his Father or his inborn natural talent, Jagr has shown exceptional skills on the ice for anyone to miss.
That zeal and play led Washington to make a $77 million contract with young Jagr.
Likewise, this talented NHL player has accumulated a net worth of $40 million. Also, he has earned over $135,382,322 from his professional career in just 25 seasons.
Julie Hampton Bio: Kirk Cousins' Wife, Career, Kids, Net Worth, IG Wiki >>
Jaromir is also one of the richest hockey players right now. Even though his contract amount kept decreasing over the years, his worth in the NHL world is still the same.
Aside from this, Jagr has yet to reveal his other incomes and assets for public knowledge.
Net Worth of Jaromir Jagr in Different Currencies
Let's have a look into the net worth of Jaromir Jagr in different currencies, including the Indian Rupee and BitCoin
Currency
Net Worth
Euro
€

34,103,000

Pound Sterling
£

29,168,200

Australian Dollar
A$

54,886,240

Canadian Dollar
C$

50,673,800

Indian Rupee
₹

2,949,474,000

BitCoin
฿

920
Social Media Presence
Instagram– 398k Followers
Twitter– 313.3k Followers
Some FAQs
What is the Penguin Jersey Number of Jagr?
Jagr wears Jersey number 68.
When did Jaromir Jagr and Mario Lemieux play together?
Jagr and Lemieux played together on February 23, 1996.
Has Jaromir Ever lost his Teeth?
The ice-hockey player loses teeth during Tuesday night's game against the Ottawa Senators.