Jason Ellis' wife, Katie Gilbert, might no longer be with him after his cryptic tweet earlier this year in March. The couple has all their pictures on Instagram and still share an amicable relationship.
Jason and Katie's relationship goes past a decade. The couple became Instagram official in 2013, and three years later, they got engaged live on-air.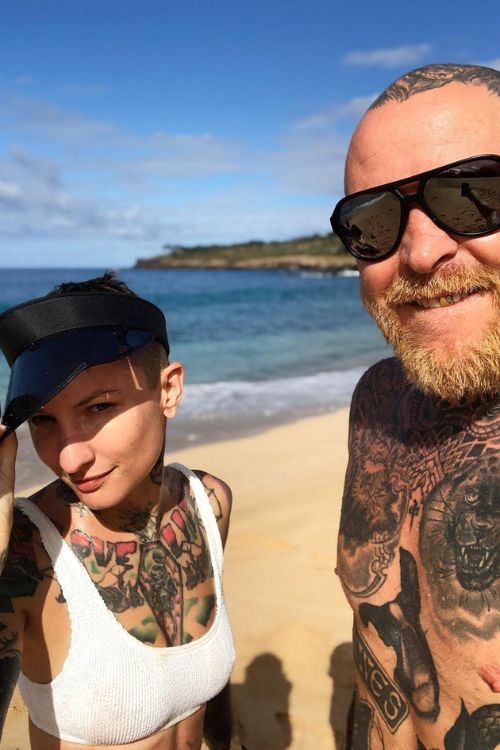 Katie also shared a good rapport with Jason's two kids from his previous marriage with Andrea.
In March, Jason tweeted he is now gay and divorced, prompting fans to think Jason and Katie might be through with each other. The host of Jason Ellis show, Jason, previously came out as bisexual.
Jason, who first rose to fame in the early 2000s with his show on SiriusXM, has had a huge following on social media for several years. Now his podcast is available on Apple Podcast, featuring Mike Tully as a co-host.
Jason Ellis Wife, Katie Gilbert
At one point, Katie used to be a regular guest on Jason's podcast.
Katie, who identifies as a pansexual, has earned much of her fame being the better half of the former professional skateboarder. On Instagram, Katie is seen sharing dozens of photos of her tattooed body and that with her sphynx cat.
She also loves to stay fit and has previously shared clips of her boxing training. As recently as June 30, Katie shared a snap with her new boxing coach.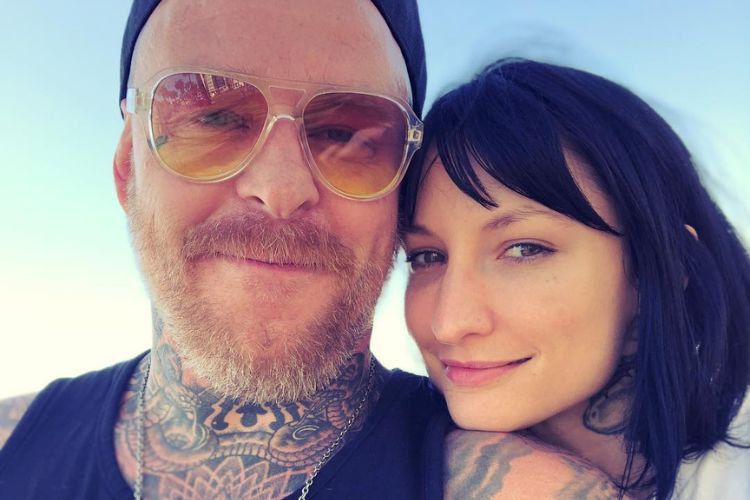 In the caption, Katie seems to give hints that she might make boxing a professional career. Standing alongside her trainer, Katie captioned the post thanking her trainer and wrote, "I'm already learning and adapting so much. I cannot wait to see where this goes."
Katie also has an OnlyFan account, which she has in the past promoted on social media. She is also on Twitter, sharing her thoughts on boxing and UFC and some questionable videos and snaps.
Throughout the years, Katie has appeared on several podcasts individually as well as with Jason. In a podcast from 2019 with Whitney Miller, the two openly talked about their sexuality and their marriage.
Jason Ellis And Katie Gilbert Relationship
Before tying the knot with Katie, Jason was previously married to Andrea Brown. The former couple even share two kids.
On Reddit, someone previously said Jason met Katie for the first time when she worked as an assistant for American musician Benjamin Madden. On Katie's profile, Jason debuted in 2013, a year after his divorce from Andrea.
And since then, there has been unstoppable content between the two. The two not have shared interests in boxing and UFC but also in raising pets, including cats, dogs, and a gecko.
Not forget to mention their love for tattoos. The couple, Jason and Katie, have their bodies covered in tattoos, head to toe. And the tattoo also played a big role in Jason's engagement proposal.
The Couple Got Engaged Live On Air In 2016
In 2016, instead of going down on one knee, like any normal couple, Jason inked the words, "Marry me?" on Katie's leg to ask her hand in marriage.
The entire proposal took place when they were on air, with Katie being left in complete shock at first looking at the tattoo. But she quickly replied with a "Yes."
Before the proposal, Jason arranged a game where if you lose, you would have to be blindfolded and get inked. With Jason making sure to rig the game, he floored Katie with the surprise proposal.
Jason And Katie Tied The Knot In 2017
A year after the proposal, Katie and Jason tied the knot on August 20, 2017.
With people usually wearing white to their wedding, Jason and Katie chose a gothic theme, wearing black dress, and black suit.
But earlier this year, on Twitter, Jason hinted he is divorced for the second time. Ellis quoted a tweet, writing, "Now I'm just gay and divorced."
Since then, the couple hasn't spoken much about their relationship and still have all their photographs on Instagram. After that tweet, Jason shared an appreciation post for Katie on her birthday in April.
Jason captioned it, "I will always love you." Since then, Jason hasn't shared any content related to Katie, and the same has been seen on Katie's Instagram.