Javaris Crittenton is a former professional American basketball player of the National Basketball Association (NBA). Throughout his career, Javaris has played for world-renowned NBA teams such as the Los Angeles Lakers, Memphis Grizzlies, and Washington Wizards.
Likewise, Crittenton also played in the Chinese Basketball Association for a short period. However, his NBA career did not last forever.
Unfortunately, he was charged with the murder of a 22 years old woman named Jullian Jones, who was also a mother of four children.
Besides, Javaris was only a 24-year-old making his name in the NBA. Reportedly, he joined a street gang while he was with the Lakers. Would he have been a successful NBA star?
Would he have been the highest-paid athlete? There are so many questions regarding Javaris Crittenton but merely no answers.
So, without any hold-backs, let us go further to know about Crittenton's short-lived career and how it ended. But before that, let's glance at some of his quick facts.
Quick Facts:
Full Name
Javaris Cortez Crittenton
Birth Date
December 31, 1987
Birth Place
Atlanta, Georgia, USA
Known As
Javaris Crittenton
Religion
Unknown
Nationality
American
Ethnicity
Black
Education
Southwest Atlanta Christian Academy
Georgia Institute of Technology
Horoscope
Capricorn
Father's Name
James Crittenton Junior
Mother's Name
Sonya Dixon
Siblings
Unknown
Age
35 Years Old
Height
6 feet 5 inches (1.9m)
Weight
91 kg (200 lb)
Hair Color
Black
Eye Color
Black
Build
Athletic
Profession
Former professional basketball player
League
National Basketball Association
Position
Shooting guard
Jersey Number
#1- Los Angeles Lakers

#3- Memphis Grizzlies

#8- Washington Wizards

Active Years
2007 – 2011
Relationship Status
Single
Salary
$854,389 as of 2013
Net Worth
Estimated $10,000
Social Media
Not available
Merch
Basketball Cards, Jersey
Last Update
June, 2023
Javaris Crittenton |
Early Life, Education, And Family
Javaris Crittenton was born in Atlanta, Georgia, on December 31, 1987. His parents are James Crittenton Jr. and Sonya Dixon. Information on whether he is an only child or not is not available.
Crittenton joined the Southwest Atlanta Christian Academy and played basketball for the school team. During his sophomore year, he played alongside professional NBA player Dwight Howard.
In the Georgia High School Association Class-A state championship game, Javaris and Dwight led Southwest Atlanta to a victory.
Similarly, as a junior in 2005, Crittenton recorded 28.4 points on average per game, including 7.5 assists and 8.2 rebounds.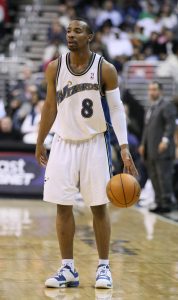 And for the second time, Javaris led Southwest Atlanta to the GHSA class A state finals. However, during the final game, Southwest Atlanta had a defeat against Randolph Clay.
Furthermore, during his senior season, Crittenton scored an average of 29 points per game, with nine assists and seven rebounds.
And again, he led Southwest Atlanta to the GHSA Class-A semi-finals against Randolph-Clay.
Similarly, like that of junior season, Southeast Atlanta made their way to the championship finals after defeating Randolph-Clay.
In the final game of the state championship, Southeast Atlanta was successful in defeating the opposing team. After a victory over Whitefield Academy, Southeast Atlanta became the state champions.
Javaris received McDonald's All-American title following the senior season. Also, The Atlanta Journal-Constitution named him Mr. Georgia Basketball.
Moreover, he was a member of the Future Business Leaders of America and the Senior Beta Club with a 3.5 GPA.
Javaris Crittenton |
College Career
While Crittenton was at Georgia Tech, he was an exceptional player and considered a team leader. Besides, he was a rare prize for the first-year team.
Furthermore, in February 2007, after playing numerous games, Georgia Tech's coach Paul Hewitt pushed Javaris Crittenton to take responsibility for a leadership role.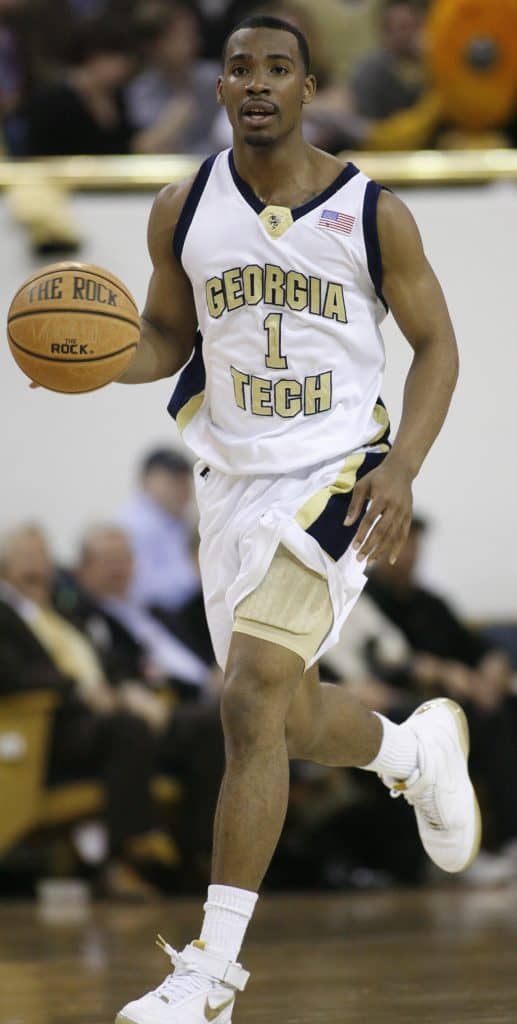 In addition to his leadership, Crittenton scored a career-high 29 points in a game against Florida State on February 13.
However, despite the opportunities, Javaris left school after only one season to become a professional basketball player.
Javaris Crittenton |
Professional Career
Los Angeles Lakers
Javaris started his professional career with the Los Angeles Lakers in 2007. The Lakers drafted Javaris Crittenton in the 2007 NBA Draft. Moreover, he was the 19th pick in the draft's first round.
Further, on July 8, 2007, during an NBA Summer League game, he recorded 18 points and a victorious jump shot in the last few seconds of the game.
Similarly, Crittenton scored 18 points with one assist in the Los Angeles Laker's first preseason game against the Golden State Warriors held in Honolulu.
However, the Lakers lost the game against the Warriors by 111–110.
Memphis Grizzlies
Moving on to his second trade, on February 1, 2008, The Los Angeles Lakers traded Crittenton and teammates and a couple of the first-round draft picks to Memphis Grizzlies in exchange for Pau Gasol and another second-round draft pick.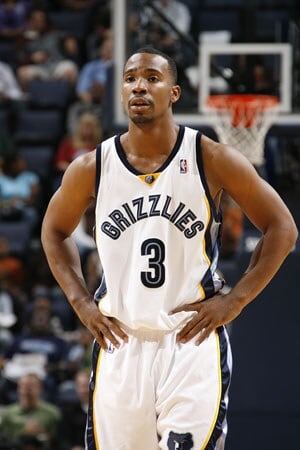 Furthermore, on April 2, 2008, Javaris Crittenton recorded 23 points as a member of the Memphis Grizzlies in a victory over the New York Knicks.
Washington Wizards
After keeping Crittenton for almost a year, the Memphis Grizzlies traded him to the Washington Wizards on December 10, 2008.
In a three-team trade, along with Crittenton, the New Orleans Hornets traded Mike James.
In exchange, the Wizards traded a conditional first-round draft pick to the Memphis Grizzlies and Antonio Daniels to the Hornets.
The following year, in December 2009, Crittenton and his teammate Gilbert Arenas had a dispute over some matter and were involved in a locker room face-off involving guns.
What's more, in a recent interview, when asked if there were chances of pulling the trigger in the incident between Javaris and Gilbert, former Washington Wizards teammate Caron Butler stated that
"You never know, and that's the crazy thing about it."
Even more so, on January 25, 2010, Javaris Crittenton pleaded guilty. As a result, he was given one year of probation for violating the law with a gun possession charge from the incident.
Two days after the charge, the former NBA commissioner, Davin Stern, suspended both Crittenton and Arenas for the remainder of the season.
After some time, The Wizards released Javaris after the suspension. However, Crittenton did not play for the Wizards any longer, whereas Arenas rejoined the team.
Charlotte Bobcats
Following his release, the Charlotte Bobcats signed a non-guaranteed contract with Javaris Crittenton on September 22, 2010.
However, the agreement lasted only three weeks as the Bobcats released Javaris on October 15.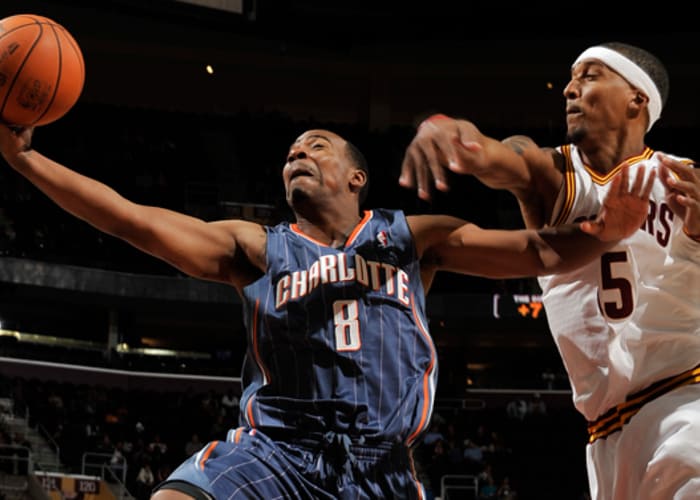 Zhejiang Guangsha Lions (China)
After his release from the Charlotte Bobcats, Crittenton went to China in December 2010 and joined the Chinese Basketball Association.
He played five games for the Zhejiang Guangsha Lions of the Chinese Basketball Association and scored an average of 25.8 points per game.
However, his time with the CBA was only short-term, as he returned to the United States after a few weeks.
Dakota Wizards (NBA D-League)
After returning from China, Crittenton signed with the Dakota Wizards of the NBA Development League following year in February 2011 as a member of the Dakota Wizards.
He played 21 games for the development league team and was the starting player in five games.
Javaris Crittenton | Career stats
Javaris Crittenton |
Murder Charges
In an unfortunate event, on August 26, 2011, the Atlanta Police department charged Crittenton with the murder of Jullian Jones, a 22-year-old mother of four.
The incident took place on August 19. And according to the Atlanta Police Department, Jullian Jones was not the intended target.
The police department believed that Javaris Crittenton intended to attack someone who robbed him in April 2011.
On August 29, three days after the charge, while Javaris was waiting to board a flight to Atlanta, the FBI at John Wayne Airport in Orange County, California, arrested Javaris Crittenton.
Furthermore, Crittenton's lawyer stated that he was going to Atlanta to surrender himself to custody. Crittenton had to drive out to Atlanta to stand trial for the murder.
But he denied his involvement in the conflict and got released on a bond worth $230 thousand.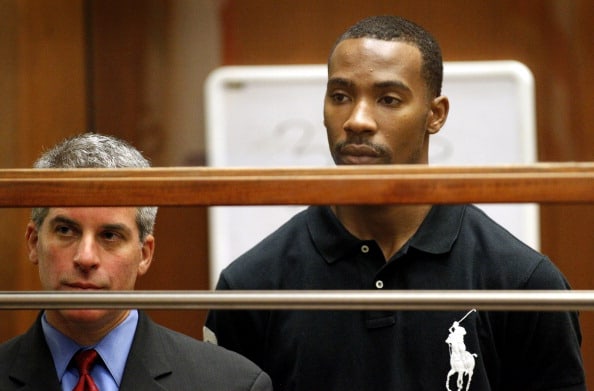 However, on April 2, 2013, Crittenton and his cousin, Douglas Gamble, were charged with the murder of Jullian Jones.
Additionally, both were charged with felony murder, assault with a deadly weapon, possession of a firearm, false statements, attempted murder, and participation in criminal gang activities.
Crittenton reportedly joined a southern California gang called Crips after signing with the Los Angeles Lakers.
Also, according to Fulton County assistant district attorney Gabe Banks, Javaris had allegedly shot at Demontinez Stephens earlier in August 2011.
However, the shooting's target was Trontavious Stephens, Demontinez's brother and a member of the R. O. C. Crew, part of the Bloods, a rival gang, Crips.
Javaris Crittenton |
Drug Charges
Shortly after he was released on bail, Javaris Crittenton was arrested again on January 10, 2014. He was accused of selling a few kilograms of cocaine and several hundred pounds of marijuana along with thirteen other persons.
Consequently, The Georgia State charged Crittenton with two counts of conspiracy to violate the Georgia Controlled Substance Act.
This act states that any possession of a controlled substance can be a misdemeanor or a felony, depending upon the type of substance and the amount.
Not long before his trial, on April 29, 2015, Javaris Crittenton pleaded guilty to voluntary homicide with a weapon and aggravated assault with a firearm. As a result, he was sentenced to 23 years in prison.
This clearly tells Javaris Crittenton in 2023 in jail, still serving his sentence for all the accused charges and proven guilty.
Javaris Crittenton |
Personal Life And Net Worth
As Javaris was sent to prison at a young age, there isn't much information regarding his personal life.
However, some sources reported that Javaris had a girlfriend named Tyress Daniels, who was expecting a child with him.
Also, Daniels had filed a complaint against Crittenton an accusation of domestic violence.
There is no information regarding the whereabouts of Tyress Daniels and her child in the media yet. Not to mention that he also dated Mia Fields during his time at George Tech.
Now, Javaris Crittenton has been in prison since 2011, and whatever savings he has is from his NBA career. He earned approximately $4.5 million in four years of his career.
Furthermore, his NBA salary with the Memphis Grizzlies was $1,285,200. Currently, his net worth is only about $10 thousand.
Likewise, Gilbert Arenas, suspended along with Javaris, has a net worth of $40 million. And he earned a $20.81 million salary during his NBA career.
Social Media Presence:
As Javaris is in prison, he is not in a position to use any social media accounts like Instagram, Twitter, Reddit, or Facebook.
Some FAQs:
Is Javaris Crittenton still in jail?
Yes, Javaris Crittenton was sentenced to 23 Years in Prison for killing Jullian Jones, a 22-year-old mother of four children.
When is Javaris Crittenton's release date?
The term and time of his sentence are 23 years which makes it crystal clear that Javaris Crittenton is slated for release on December 13, 2036.