The famous 2005 SEC Offensive Player of the Year, Jay Cutler, has a net worth of $30 million.
Jay Cutler is a professional football player from the United States. During his career, he had impressive stints with Denver Broncos and Chicago Bears.
His career in American football formally began at Heritage Hills high school. Cutler was a regular starter for the football team for three years.
Jay never looked back ever since as he rose to the pinnacle of the football division. Eventually, he went on to play with his dream hood childhood club Chicago Bears.
However, he faced severe injuries and medical conditions right when he was about to peak. Thus, his career was cut short off after being diagnosed and inconsistent form.
Nonetheless, in his prime years, he was the highest-paid athlete in the position he played. Naturally, therefore, he has several awards and honors to his name.
Here are some quick facts about the former player before we head any further into the details.
Quick Facts
Name
Jay Cutler
Full Name
Jay Christopher Cutler
Nick Name
"Mr. Fourth Quarter"
Birthdate
April 29, 1983
Birthplace
Santa Claus, Indiana
Age
40 years old
Sexual Orientation
Straight
Zodiac sign
Taurus
Chinese Zodiac
Pig
Nationality
American
Religion
Christianity
Body type
Athletic
Hair Color
Dark Brown
Eye color
Blue
Height
6'3″ (1.91 m)
Weight
231 lb (104 kg)
Shoe Size
13.5 (US)
Chest
45 inches (114.3 cm)
Biceps
15.5 inches (39.37 cm)
Thighs
34 inches (86.36 cm)
Profession
Former NFL Quarterback
Position
Quarterback
Jersey No.
#6
Career History
Denver Broncos (2006–2008),
Chicago Bears (2009–2016),
Miami Dolphins (2017)
NFL Draft
2006 / Round: 1 / Pick: 11
High School
Heritage Hills High School
College
Vanderbilt University
Parents
Jack Cutler (Father)
Sandy Cutler (Mother)
Siblings
Jenna Cutler (Sister)
Relationship status
Divorced
Married Year
2013
Divorced Year
2020
Ex-Wife
Kristin Cavallari
Children
Camden Jack Cutler (Son)
Jaxon Wyatt Cutler (Son)
Saylor James Cutler (Daughter)
Net Worth
$30 million
Social Media
Instagram
Merch
Trading Card, Youth Game Jersey, Autographed Mini Helmet
Last Update
December, 2023
Jay Cutler | Net Worth and Income
Jay Cutler made this tremendous net worth of $30 million from his professional football career. Similarly, he's had his fair share of involvement in movies and visual media.
He was one of the most valued assets during the 2006 NFL draft. Thus, he was drafted in the first round as the 11th pick.
Per The Richest, he was signed with a base salary of $275,000. Also, his roster bonus with the Denver Broncos for 2006 was $1,280,000.
His first six-year contract with the Broncos was worth $48 million without the bonuses. He earned around 11 million dollars in dividends alone.
Contracts
In March 2009, he signed a five-year contract with the Chicago Bears. The agreement was valued at around $50,370,000.
Thus, he started his stint with the Bears with a base salary of $10 million. Also, he received $1,400,000 as a signing bonus the same year.
Additionally, he performed so well that the Bears decided to offer him a seven-year contract. In March 2014, he signed the deal, which was valued at $126,700,000.
In 2016, he was earning a base salary of $16,000,000. But, this was his last year with the Bears as a $2 million buy-out clause released his contract.
Finally, in March 2017, he signed a one-year deal worth $10,00,000 with Miami Dolphins.
You might like to know about Rich Gannon Bio: Early Life, NFL, Personal Life & Net Worth >>
Jay Cutler | Cars and House
Houses
Jay Cutler regularly makes adjustments to his portfolio of houses and mansions. But, throughout, he has owned a lot of luxurious homes.
In 2012, Jay Cutler bought a luxurious property in Nashville, Tennessee, for $5.3 million.
This mansion was built in Mediterranean style featuring 7.5-bedroom and wood-beamed ceilings. This 25-room residence was even featured in their reality show.
However, the pair listed this property for sale in 2020 with a major discount. Actually, he provided a final price of 5.75 million dollars which was 2.15 million dollars from the original request.
Nashville Mansion
Recently, they have moved into a new place after listing their old property on sale. But, it wasn't far from Tennessee, where they used to live.
Per the website Lonny, they have invested in a celebrity quarter near Nashville. The duo spent around $4.2M Farmhouse to buy this farmhouse.
The house covered a massive area of 10,000 square meters with a rustic, modern tone. It is open and spacious and ideal for hosting friends and parties.
Also, the new house was warmly welcomed by the couple. Despite being divorced, they haven't been shy of showing their love.
Furthermore, Jay Cutler had to sell his Lake Illinois property for a loss. Per Patch, Jay Cutler sold the property for nearly $3.6 million in 2017.
But, he had bought the property for almost a price of $4.25 million in 2014. this transaction covered him with a loss of around $600,000 in money.
Car
Despite the huge net worth of Jay Cutler, he prefers driving a car that suits his lifestyle. Hence, he doesn't have luxurious cars in his garage.
Per an interview, he owns a Chevy 2500 conversion van. Explorer Van Co. in Indiana manufactured it. Jay is someone who believes in comfort in daily life over luxury.
Therefore, he bought this car to transport his assets to games and go for off-season road tours. It's a complete family car, and he even takes this vehicle during his practice sessions.
Audi R8
Similarly, one of his favorite cars is the Audi R8. It is one of the only luxury vehicles you will find in his limited collection. The valuation for the Audi R8 is almost $250,000.
His version of Audi can reach up to 201 mph. Also, it can clock 0 to 60 seconds in less than 3 seconds.
Similarly, it is white from both the inside and the outside. And the accents are orange in color.
Jay Cutler | Lifestyle and Vacation
Lifestyle
Jay Cutler was diagnosed with diabetes at the midpoint of his career. Hence, he had to adapt his lifestyle completely based on his medical condition.
Since, he has made impactful changes in his daily lifestyle, mainly in his diets. Per One Drop, Jay credits his fitness to diet, workout, and constant blood sugar inspections.
Similarly, his sugar and sweets intake are moderated and reduced. During the time his levels drops, he eats a Snickers or Milky Way.
And his physician has made his diet with limited carbohydrates.
Furthermore, jay Cutler is a complete family man. He believes an athlete's lifestyle should revolve around his happiness and family. He's strong on his beliefs and even considers endorsements are a liability.
Vacations
Jay Cutler believes that every athlete should break from his game and get away from daily life. Hence, during odd seasons Jay is usually on holiday.
Recently, the pair of Jay and his wife went completely viral on Instagram. His wife posted a butt pic of Jay, who was chilling in Tulum, Mexico.
Likewise, they have traumatic experiences to share from their vacation to the Bahamas. Per the website Si, the pair got stranded in the Bahamas for three weeks because of the pandemic.
Jay Cutler Net Worth | Charity
Throughout, the net worth of Jay Cutler has been channeled into various charities and foundations. He has always tried to use his fame and status to support them in any way possible.
Hence, he is an active face when it comes to giving back to the community. However, his direction of volunteering changed when he was diagnosed with type 1 diabetes.
As a result, Jay decided to work on his charity named "Jay Cutler foundation" after the 2007 offseason. It was a nonprofit organization dedicated to helping poor and diabetic children improve their quality of life.
However, the foundation started by helping the youth at risk by providing education and empowerment. The foundation was created by teaming with the Mile High United Way's Youth Success Initiative.
"Dedicated to Diabetes"
Similarly, Jay Cutler is a front runner when it comes to volunteering works too. Jay partnered with "Dedicated to Diabetes" when he was playing with Denver Broncos. The idea behind this was to enhance public knowledge of diabetes.
Then, Jay partnered with Eli Lilly and Company for "Touchdowns for Diabetes."
In this campaign, Lilly sent a child to a diabetes camp for each touchdown pass that Cutler passed by donating $1,000 to the ADA's "Camp Scholarship Fund.
Accordingly, Lilly donated $100 to the ADA Camp Scholarship fund for every completed pass. This campaign was a major movement during the 2009 season.
Furthermore, he is known to support the growth of other sports too.
In 2014, Jay Cutler donated $15,000 for the development of a baseball team. Then, he donated another $15,000 for the disadvantaged young Chicago with diabetes.
You might like to know about Quintez Cephus Bio: NFL, Girlfriend, Net Worth & Sexual Assault >>
Jay Cutler | Movies, Endorsements, And Book Publications
Movies and Media
Jay Cutler was ranked as the 8th most handsome quarterback in the NFL. Hence, he was famous among these fans and households during his prime. Thus, he has a fair share of appearances in movies and visual media.
Jay was a regular starter for the Denver Broncos and Chicago Bears in the early 2010s.
Thus, it wasn't surprising to see him outside the field analyzing the games. In addition, he had several appearances on The NFL on CBS from 2010 to 2014.
Per sources, Jay appeared for two of Oprah's Big Give episodes in Denver in 2007. Alongside him were former tight-end Broncos Tony Scheffler and former Broncos backup Preston Parsons.
Jay appeared in more shows.
Similarly, he has guest-starred with his wife Kristin Cavallari as well. In addition, the pair shared a cameo in an episode of the comedy show "The League," where Jay starred as himself.
Likewise, he has been part of animated characters too. For example, Jay Cutler was featured in the "Guitar Queer-O" episode of South Park. The episode hosted a short-animated depiction of Cutler.
Since it was a parody show, Jay Cutler was made fun of for his inconsistent form. Yet, Jay found it funny and responded he had no hard feelings.
In 2011, the Bears lost five straight games while Cutler was out with a thumb injury.
Then, Jay became part of one of the most famous parody songs. Magic 1 recorded "Cutty Come Back," a parody of the song "Baby Come Back."
Endorsements
NFL players enjoy endorsing products on TV and food stores in different advertisements. However, Jay Cutler has a different opinion when it comes to brand endorsements.
Jay Cutler was one of the highest-paid players in 2014 after signing a seven-year deal with the Bears. This made him sure that he would stay with the Bears through 2020.
As a result, Cutler felt he was already earning more than enough in his life. In an interview with 247sports, he revealed that he preferred spending time with his family instead of endorsing items.
Therefore, he believes that other things are more important than sponsorship deals in his life. Hence, endorsement deals don't contribute much to the net worth of Jay Cutler.
Book and Publications
Jay Cutler spent 12 seasons in NFL, including his dream team from his childhood. Cutler's journey to the top has been an inspiring one. However, it was full of challenges, including injuries at the end of his career.
The royalties from the book definitely contribute to the net worth of Jay Cutler. Hence, there have been several books written about Sting. "The Ultimate Jay Cutler Fun Fact and Trivia Book" is once a book written about him.
Mark Peters authored this book in 2013. Unfortunately, it is available in Kindle format only for now. This eBook contains more than 150 trivia pieces, little-known facts, and fun facts about Jay.
Per critics, it is a new way of knowing one's favorite star. And, it is great to impress your family, friends or win a bet.
Similarly, his other publications including trading cards and appearances in magazines.
In addition, he has apparel for a dedicated NFL Football Trading Card. One famous collection is the "2006 Press Pass Big Numbers #BN28 Jay Cutler Trading Card."
Jay Cutler | Career
Following his high school, Jay Cutler joined Vanderbilt University. This college would be the place where he further nurtured his soccer skills.
Jay worked hard on himself while breaking several records. Consequently, he became the first freshman in Vanderbilt to have the highest rushing downs and yards.
Similarly, he obtained a Bachelor of Human and Organizational Development degree in 2005.
He started his professional football career one year after finishing college. Firstly, he was selected by the Denver Broncos in the first round during the draft.
Then, he signed an agreement with the club of $48 million, which included 11 million dollars in bonuses. He played with the Denver Broncos until 2008, performing impressively.
In 2009, he handed a request to be traded to Chicago Bears. Eventually, the Broncos agreed to transfer him. At first, he signed a $30 million deal spanning two years.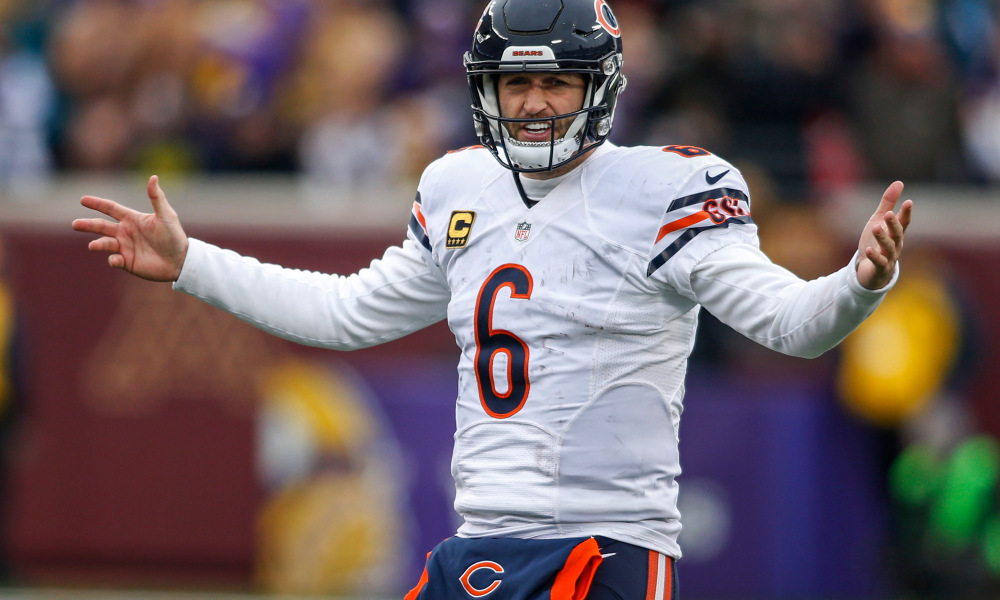 By 2014, he had dropped one after another stellar performance. As a result, he was offered a seven-year extension the same year.
Unfortunately, he suffered through stints of injuries in the latter part of his career.
Hence, his performance and results were consistently poor. Therefore, the Bears published a $2 million purchase from Cutler in 2017.
Jay wanted to withdraw from professional soccer after these events. But Cutler changed his mind and signed a 1-year Miami Dolphins $10 million deal. After the end of the 2017 season, he finally retired.
3 Facts About Jay Cutler
After graduating from the University of Vanderbilt, Jay Cutler collected several academic records. It included 9 9,953 yards, 59 touchdowns, 8,697 yards, 1,242 passing attempts, and 76 touchdowns.
Jay Cutler led Heritage Hills High School on a 15-0 record and a trip to the state championship.
Jay Cutler was caught in an interview saying, "you know," 57 times. This count happened in a single interview.
You might like to know about Rob Ninkovich- Stats, Contract, Wife, Net Worth & NFL >>
Social Media Presence
Quotes
"I think both sides would possibly do a few things differently. But everything happens for a reason. That's behind."
"It wasn't about anything. I don't have to sit by him the whole game, do I?"
"I think I'm older, a little bit more mature. In my younger days, it might have been a little bit rockier than it is right now."
FAQs
Why did Jay Cutler ask to be traded to Chicago Bears?
Jay Cutler is someone who always believes in following your passion.
Although Cutler started his career in the Denver Broncos, he asked for trading to his favorite childhood team, the Chicago Bears.