Jayson Tatum's father, Justin Tatum, is always concerned about his son's success. The pro-NBA player is always grateful for his father, who has always been the back of his career.
Justin hit the limelight as Jayson spoke about the strict training and complex treatments – the training nearly cost Jayson his career.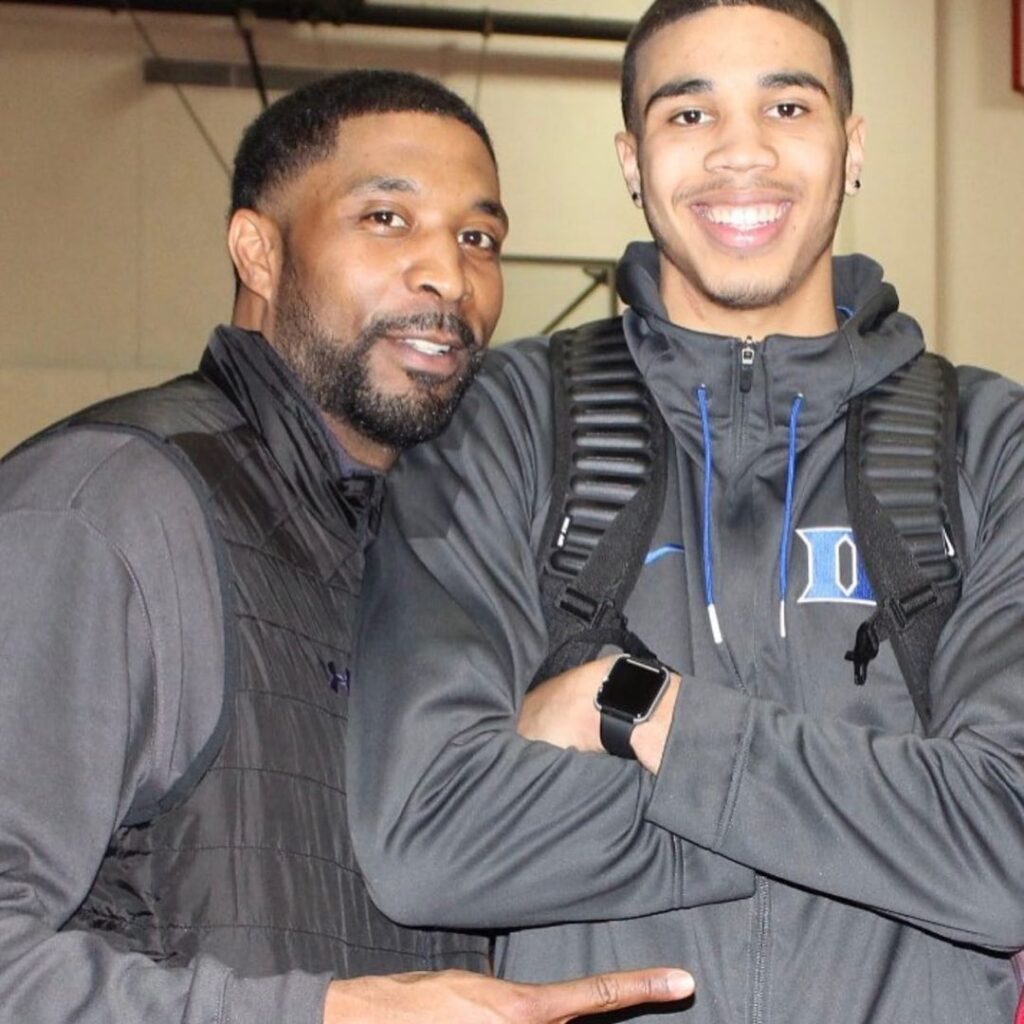 Jayson Tatum is 2018's Gatorade National Boys Basketball Player of the Year. Currently, he plays for the Bolton Celtics of the National Basketball Association (NBA). He truly excels at what he does.
And he is humble enough to credit his father for his efforts to train him at an early age.
This article will provide in-depth knowledge about Jayson Tatum's father, Justin Tatum. So, let's have a look at him in detail below.
Justin Tatum | Quick Facts
Full Name
Justin Tatum
Birth Date
April 11, 1979
Birth Place
N/A
Nick Name
None
Religion
Christianity
Nationality
American
Ethnicity
Black
Education
CBC high school
St. Louis University
Horoscope
Sagittarius
Father's Name
N/A
Mother's Name
N/A
Siblings
N/A
Age

43 years old

Height
6'7″ (193cm)
Weight
235 lbs (106 kg)
Hair Color
Black
Eye Color
Black
Build
Athletic
Profession
Basketball Coach
Marital Status
Married
Spouse
Brandy Cole (Former)
Kids
Two sons and a daughter
Net Worth
N/A
Merch of Jayson Tatum
T-shirts, Hoodie, Backpack, Paperback
Last Update
March, 2023
Jayson Tatum's Father Justin Tantom: Early Life
Jayson Tatum's father, Justin Tatum, was also a sportsman which made him easy for to step up as a basketball player. Justin is an American former college basketball player and Gym teacher.
He is a gym teacher and basketball coach at Christian Brothers College (CBC) High School in St. Louis. Justin Tatum was born on April 11, 1979.
Justin has been interested in basketball since childhood, and he played high school basketball for CBC, where he excelled as a teenager.
Tatum led the team to victory, not just any success, in the 1997 state title.
While his academic years at CBC, he earned his bachelor's degree in Criminal Justice. Later, he joined Saint Louis University (SLU) and continued his basketball career.
He stood at 6 feet and 7 inches tall, which helped him have the edge over the other players.
In 2000, he helped his college's team SLU Billikens lead to a conference championship under the direction of Coach Lorenzo Romar. In addition, he also made an NCCA appearance.
For his fantastic performance in college basketball, he was named the Conference USA First Team All-Defense player. At Saint Louis University, he also placed 6th in blocked shots.
Years later, he slowly began his coaching career. He served as a coach and athletics director at Soldan International Studies High School for six years. Subsequently, their High School alma mater hired him on March 13.
In one decade of his coaching career, ever since his hiring, he bagged two Metro Catholic Conference (MCC) in 2014 and 2019.
Similarly, he won five District Championships and the State Championship with CBC High School in 2022.
What does Jaston Tatum's father do for a living?
From being a college basketball player, usually, one would try to enter the drafts to get selected by a central league basketball team or make it to the NBA.
But Justin Tatum was different. He did not want to pursue a career as a professional basketball player. Instead, he wanted to be a coach.
Since playing college basketball, he has shifted towards being a coach.
Honestly, his record as a basketball coach is more impressive than his college basketball stats.
In 2010 and 2011, Coach Tatum with his team was placed in 3rd position on the table. But in 2012, he took home the state championship with the team he had been coaching at the time, Soldan Tigers.
Similarly, in 2014 he took home the state championship with his then-team Christian Brothers College (CBC) high school.
Likewise, he has won three PHL (Public High League) Conferences with District Championships.
In 2014 and 2019, he won the Metro Catholic Conference (MCC) championship, two times in total, with five district championships.
Justin Tatum was recognized for his talents as a coach in 2012 when he was awarded the Coach of the Year.
In an online interview, Jasyon reportedly said that his father was the first person to throw a ball in his hands. He also claimed that his father was there from the beginning of his basketball life.
Players he has coached
Over almost 15 years, he has trained many amateur players and turned them into professionals.
Reportedly, 14 of his students have turned out to be Division I players in college, with nine in Division II and other proficiency levels.
By being a coach, he has connections with many successful athletes who have progressed academically or in basketball.
How much does Jayson Tatum's father earn?
While we do not have the exact information about his net worth, we can estimate his net worth through different available data.
Justin Tatum has been working as a coach since his graduation from college. The average salary per annum for a basketball coach in the United States is around $42,000.
Considering the inflation since his college days, let us assume his salary was $30,000 per year.
After gaining experience, awards, and accolades in his name, his worth must have gone high too.
Justin Tatum's Youth Camps
Coach Tatum has been leading and involving much of his time and effort in his youth camps. He has been doing so for the last 11 years.
You might want to take a look at Jayson's top 81 quotes.
The CBC administration also allowed him to operate his youth camps in the CBC high school for the last six years.
The camps are a place for young kids from school to learn and grow their love for the game.
Different coaches from different areas also provide instructions, knowledge, and insights on improving one's gameplay.
The camps allow the school students to make new friends too.
Justin Tatum and Jayson's Relationship
Early days
Justin started teaching Jayson basketball as early as possible.
"He started teaching me basketball as early as I can remember," said Jayson. "That is one of the main reasons I am the basketball player and the man I grew into."
He told the viewers that his father taught him to be honest and patient. He goes on to say how his father was just 18/19 when he had a kid.
High School days
Justin Tatum used to be harder on him than other kids at the practice sessions because he wanted his son to be disciplined on and off the court.
"My Dad coached at Soldan for like six years, so when I was in the fourth grade until ninth or tenth grade, so I used to practice with him four to five times a week," told Jayson to the interviewee.
"And he would treat me like I was in high school, so if I messed up… he was harder on me than he was on other kids, and like I used to cry every day on the way home," said Jayson.
He hated playing basketball that way and felt like quitting almost every day because of his father's treatment.
Little did he know that those same practice sessions would be the foundation for his basketball career.
"He saw my potential before I saw it in myself," stated Jayson.
Jayson's father usually set him up to play with players from two or three grades higher than him. He played with his level teammates only during his last high school year.
The Results
Despite all the hardships and hatred mustered up while training, it all worked out perfectly, and now Jayson is happy about it.
When school was off, Jayson would go to Soldan to be with his father and spend the entire day watching the matches.
He learned a lot from spending time at Soldan with his dad; just by watching, a man learns from others' mistakes and decisions.
On the way home from Soldan, he and his dad would talk about what happened during the match and discuss the essential takeaways of the events that occurred during the games that day.
Justin Tatum was young when he had Jayson, but he was not a foolish father. On the contrary, despite his age, he did a great job raising Jayson.
Recently, Jayson was entitled to be the youngest player in the history of the NBA to score 5000 career points at 23 and 32 days old.
Of course, Justin was the proudest dad in the whole world at the moment. He even tweeted out, congratulating Jayson on reaching this admirable milestone.
You might be interested in reading this spicy news about Jayson.
Social Media Links
As expected from a 43 years old man, he is not that active on social media.
Twitter: 3.6k followers
Jayson Tatum's Instagram: 5.1 million followers
Jayson Tatum's Twitter: 1.1 million followers
(Note: The numbers of followers listed above are as of September 2022).
Frequently Asked Questions (FAQs)
Did Justin Tatum play in the NBA?
No, Justin Tatum did not play in the NBA (National Basketball Association). He played high school and college basketball, and since then, he has transformed into a professional basketball coach.
Who are Jayson Tatum's mother and father?
Jayson Tatum's father is Justin Tatum, and his mother's name is Brandy Cole. His father is also a big name in the basketball community, so information about him is available, unlike his mother.
Who is Jayson's sister?
Jayson Tatum's sister's name is Kayden Tatum. Along with a sister, Jayson also has a brother named Jaycob.