Jennifer Dempster is an American actress and former fitness model from New York. Her professional stage debut was at the age of 10 in Clara in the Nutcracker.
When she turned 16, she toured and performed with American Dance Machine throughout the U.S. and Europe.
Born in 1969, 5'5″ Jennifer Dempster is happily married to Chris Fowler, one of the most recognizable faces of ESPN's college football coverage.
Similarly, from a television fitness show named BodyShaping, she gained a lot of popularity from the show because of her girl-next-door charm.
Jennifer and Chris Fowler had a fairytale-themed wedding in 2006 in a place called Oheka. But many don't know that couple had to face a lot of troubles before their wedding. To learn more about the problems, read below.
In this article, we will give you detailed information about Jennifer Dempster. First, her career as an actress, as a fitness model to her love story and lavish marriage.
But, before that, let's have a look at some quick facts.
Jennifer Dempster: Quick Facts
Full Name
Jennifer Dempster
Birth Date
1969
Birth Place
New York, United States
Zodiac Sign
Not Known
Common Name
Jennifer
Religion
Christian
Nationality
American
Ethnicity
White Caucasian
Father's Name
Unknown
Mother's Name
Unknown
Siblings
Unknown
Known for

Host of ESPN's show "Body Shaping."
Wife of American sports broadcaster for ESPN Chris Fowler

Profession
Former Fitness Model/ Instructor & Actress
Movies
On the Make (1989), Marci X (2003), It's About Time(2005), Runaway (2005), The Chew (2011)
Affiliation
ESPN
Age
54 years old
Height
5 feet 5 inches
Weight
55 kgs
Body Build
Slim & Fit
Hair Colour
Brunette
Eye Colour
Brown
Marital Status
Married
Husband
Chris Fowler
Children
None
Husband's Profession
Sports Reporter/TV Personality
Marriage Location
Oheka Castle
Marriage Date
2006
Net Worth
$1.3 million (approx)
Salary
Unknown
Social Media
None
Merch
Fitness Equipment
Last Update
May, 2023
Jennifer Dempster: Personal Life
Not only has Jennifer managed to stay quiet about her childhood days, but she has also kept her parent's identity away from the media. So there are not many details about her parents and early days.
One available fact is that she was born in New York. Thus, Dempster has been living in America since her birth.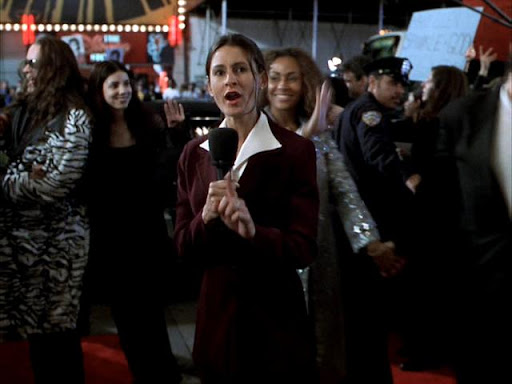 Regarding her education, she is a science graduate. But other than that there is not any further information regarding her school & college yet. If we find any information, it will be updated soon.
Since she started acting at a young age, her parents must be supportive regarding Jennifer's acting career.
Abby Wambach's Wife: Glennon Doyle >>
Jennifer Dempster: Physical Appearance, Height & Weight
Dempster stands 5 feet 5 inches tall and weighs around 58 kg. Although Jennifer is in her 50s, she has very graciously maintained her body.
There is no doubt that in her early days, she was a fitness model and trainer. Yet, even at this age, Dempster looks fresh and flawless.
Her brunette hair, beautiful face, and curvy body caught much attention of netizens.
Jennifer Dempster: Career
Career as an Actress
Jennifer Dempster started her acting career when she was only 10. She played the character, Clara, in the movie named Nutcracker.
Her charming beauty and innocent girl-next-door look caught the attention of both male and female audiences.
Some of her movies are The Waterboy (1998), Marci X (2003) alongside TV show FRIENDS' star Lisa Kudrow, It's About Time(2005), Runaway(2005) & The Chew(2011).
Career as a Fitness Model
Jenifer was known to the public more for being a fitness model. She gained popularity from ESPN's College Football (1979) & Wimbledon Championship.
The show which was a turning point for Jenifer in her career was ESPN's "Body Shaping." This show was aired between 1990-1998 and was one of the hit shows of that time.
An exercise and fitness show included cardiovascular exercise, weight training, nutrition, and stretching sections.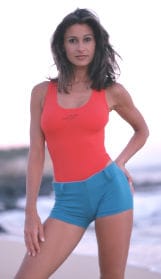 Notably, she was on the stretching and aerobic segments of the show. Sometimes, she participated in viewer mail and resistance training part also.
Since Body Shaping was a hit one, the old show is presently re-broadcasting.
Besides Jennifer, some other cast members were Cory Everson, Kiana Tom, Page Langton, Keelin Curnuck & Laurie Donnelly.
However, Jenifer was the most popular one in the group because of her looks and personality.
Jennifer Dempster's marriage with Chris Fowler: How Did it Start?
Jennifer first met Chris in 1990 at ESPN at the Christmas party. It was from the party their love blossomed, and the couple started dating.
Nearly after dating for fifteen years, Chris proposed in one of the most romantic ways.
He and Jennifer went to Paris to meet one of their friends, and one morning when they were on the hotel balcony sipping coffee, Chris proposed to her.
It's most of the girl's dream to get a marriage proposal in the city of Paris. So Chris asked Jennifer to live with him forever, and of course, Dempster said YES.
Marriage Ceremony
The couple had a fairy-tale-themed wedding at Oheka Castle in 2006. Jennifer's friend jokingly used to call them the "Green Acres" couple. The reason behind this unique nickname is because of Jennifer's and Chris's background.
Chis Flower is from the Colorado mountains, while Jennifer is from New York City, so choosing the wedding venue was tricky.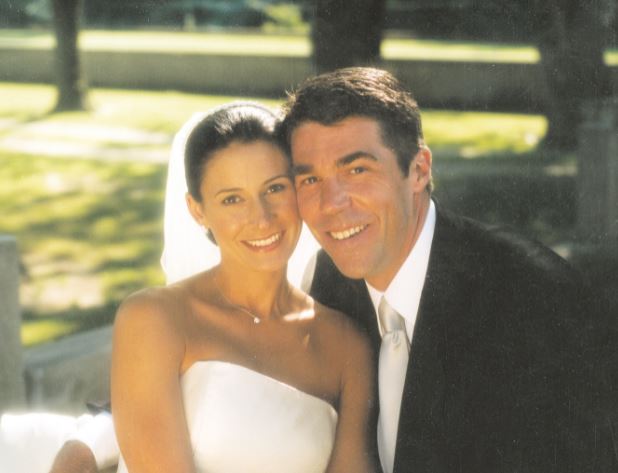 The reason behind choosing Oheka Castle as their venue for marriage is also enjoyable. This place was Jeni's favorite place while growing up.
She once revealed,
" As a little girl, I could see the top of the castle from my school bus stop. And when we called the castle to inquire about weddings, the phone number was very familiar. It was the old number from the house I grew up in. It was kismet."
Finally, Jennifer and Chris exchanged vows in front of close friends and family in the beautiful garden of Oheka.
Darius Slay Net Wort & Lifestyle >>
Disaster in Wedding
Even though all the preparation was perfect but Jennifer did encounter some troubles in her wedding.
Just weeks ahead of her wedding, she unknowingly put sunblock with a tan accelerator on her upper lip, which left the mark of a mustache. It must have been a horrible experience for any soon-to-be bride.
Not only this, but on her final fitting, accidentally she cut her finger with a seamstress and bled all over the front of her dress! Which, later, was thankfully cleaned.
Also, terrible thunderstorms occurred near their wedding day; they canceled flights and lost luggage with groomsmen's tuxes.
On her wedding day, she smashed her car window against the side mirror of the florist's van. It was definitely a lot of chaos, but in the end, they did get married and lived happily till this till.
They planned their honeymoon at some of the exotic places like Botswana, Zimbabwe, and South Africa.
However, Jeni and Chris were together for nearly 16 years before marriage and had been on vacation several times.
Children
The couple is highly secretive about their personal lives. They never share anything about themselves online. So, regarding information about their kids is quite a tricky topic.
But, it is said that they still don't have any kids. So, it is a personal choice, and the most important thing is to be happy.
Jennifer Dempster has lived a happy life with her beloved husband for 30 years now, including dating days. And there have been not heard any controversies and scandals about them.
They are the ultimate Couple Goals.
Jennifer Dempster's husband, Chris Fowler
Chris Fowler is a sports broadcaster and is best known for his work of hosting in popular ESPN show called "College GameDay" from 1990 to 2014.
In addition to that, he also play-by-play announced College Football Playoff semifinal games and the College Football National Championship.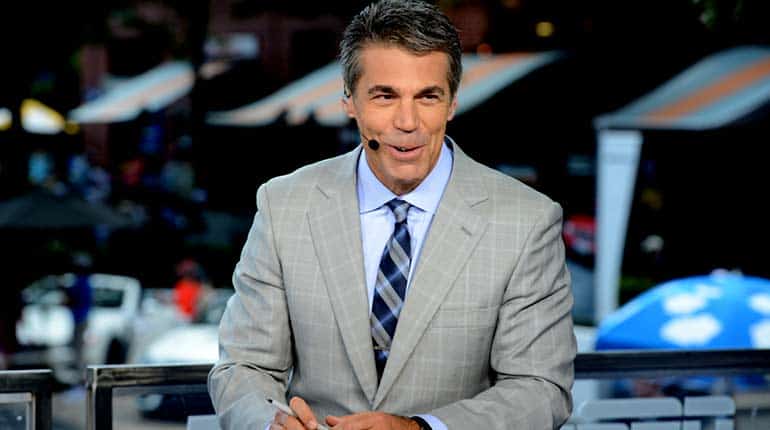 Chris has been associated with ESPN since 1986 and is featured on several high-profile sports events. He started as a host and reporter of Scholastic Sports America.
Fowler also did coverage of College Basketball on ESPN. Besides these, he also covered significant tennis tournaments, including Wimbledon, the French Open, the US Open, and the Australian Open.
Since his early years, he was comfortable and natural in reporting, especially as a sports reporter, built a career on it, and eventually got success.
Now, Chris Fowler is one of the renowned sports reporters.
Over the year, Chris gained a lot of popularity on the Internet and earned a lot of fortune from his career.
Know more about Chris Fowler in detail >>
Jennifer Dempster: Net Worth
During her 20's Jennifer was active in her career and had done some popular shows also. Through her fitness instructor to fitness model and actress works, it is estimated her net worth is around $1.3 million.
However, her salary is not disclosed publicly, but it's our assumption it was nothing less.
On the other hand, her husband, Chris Flower, has a considerable income as a sportscaster at ESPN.
According to some online sources, Chris's net worth is somewhere between $5 million to $7 million. All this income is from television & newscasting.
Jennifer Dempster: Social Media Presence
Jennifer is not active on any social media platforms. She seems to enjoy her life quietly, away from public attention.
We can see her pictures only when attending some public events.
Frequently Asked Questions (FAQs)
Is Jennifer Dempster still active as a fitness trainer?
Jennifer had quit her career from TV shows now. However, she appeared on some of the popular sports-related programs in the past, and BodyShaping was her last one.
BodyShaping is re-broadcasting in ESPN nowadays.
What is Jennifer Dempster's Instagram handle?
Jenifer is not on Instagram. She has been living a quiet life after leaving TV.