Abby Wambach's wife, Glennon Doyle is a world-renowned personality; follow this article to find out everything.
To begin with, Glennon Doyle is the bestseller author, activist, besides the wife of a former sportswoman. Glennon's life is a real-time roller coaster and an open book medicine to the people who are drug addicts and depressed.
Abby Wambach's wife is the creator of the online community Momastery. Besides she is also the founder, and president of Together Rising, an all-women-led non-profit organization supporting women, families, and children in need.
Glennon has gone through different phases, such as physical abuse, mental illness, and Drugs.
Glennon Doyle is married twice, and her first husband is Craig Melton, and her present husband is Abby Wambach.
But the best side is that Abby and Glennon are happily married, and they complement each other very well because they both take care of each other at their worst time.
Without further delay, let's check the details about Doyle's life.
Quick Facts | Glennon Doyle:
| | |
| --- | --- |
| Full Name | Glennon Doyle |
| Nick Name | Glennon |
| Date of Birth | March 20, 1976 |
| Birth Place | Burke, Virginia, USA |
| Residence | Naples, Florida |
| Age | 47 years old |
| Gender | Female |
| Sexual Orientation | Bisexual |
| Height | 1.67m (5 feet 5 inches) |
| Weight | 121.5 lbs (55 kg) |
| University Name | James Madison University |
| Religion | Christian |
| Nationality | American |
| Ethnicity | White |
| Father's Name | Dick Doyle |
| Mother's Name | Pattie Doyle |
| Siblings | Amanda Doyle |
| Hair Colour | Light-Brown |
| Eye Colour | Grey |
| Skin Colour | White |
| Marital Status | Married |
| Partner | Abby Wambach |
| Ex-Partner | Craig Melton |
| Kids With Ex-Partner | Chase, Tish, Amma melton |
| Profession | Author, Activist, Blog Writer |
| Net Worth | $4 million |
| Social Media | Instagram, Twitter |
| Last Update | November, 2023 |
Brief Details | Abby Wambach:
Abby Wambach, also known as Mary Abigail Wambach, was born on June 2, 1980, to Judy Wambach and Pete Wambach.
Similarly, Abby was born in Rochester, New York, in the USA with her other six siblings, and she also has an impressive educational background.
Abby has studied at Our Lady Mercy High School for Young Women and later went to the Florida University.
Above all, Abby is an American professional retired football player for the US women's National Team, and her position was forward.
Likewise, Abby is also a coach, and she is a two-time Olympic Gold Medalist, FIFA Women's World Cup Champion.
Abby has set many records and achievements in her lifetime, and she was also a Member of the National Soccer Hall of Fame and six-time winner of US Soccer Athlete of the year.
Accordingly, Abby has played and won many national and international matches, and her record of goals was highest until it for broken by Canadian captain Christine Sinclair.
Likewise, Abby has a net worth of $5 million, and she is living a comfortable life with her fortune.
Abby Wambach Previous Marriage:
The former football player was previously married to Sarah Eileen Huffman, a former American professional Soccer player who last played for Portland and Thorns FC of the NWSL.
Sarah and Abby have dated for a long time, and in the year 2013, they got married in Hawaii and were a very iconic and happy couple.
In 2016, Abby and Sarah divorced because of Abby's drugs addiction, alcohol addiction, and abusive physical nature.
Also, Portland police arrested Abby in 2016 for driving under the influence of intoxicants charge.
Abby Wambach | Social Media:
Wambach is quite active on her social media accounts as she shares her romantic pictures with her wife Glennon and shares her tweets also.
Abby Wambach's Wife | Glennon Doyle:
A lady with a pretty face and smart mind, Glennon Doyle, was born on March 20, 1976, in Burke, Virginia, USA.
Glennon was born to parents Dick Doyle (father) and Pattie Doyle (mother). She has a sister named Amanda Doyle who helps Glennon in many aspects of the work.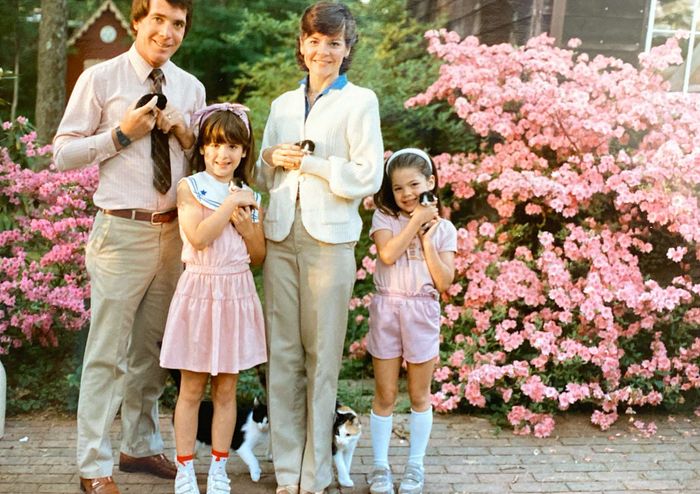 Glennon's father was a school principal and a high school football coach, and her mother was a housewife.
The author graduated from the James Madison University holding a Bachelor's Degree of Arts in 1998.
Above all, Glennon Doyle writes and frequently speaks about her early age struggles with bulimia and biopsychosocial disorder.
Glennon Doyle | Career:
Doyle is an award-winning No.1 best seller acclaimed author by New York Times. Initially, she was a teacher in Northern Virginia.
Glennon was fond of writing from an early age, and in the year 2009, she began writing professionally with her blog, Momastery.
She became a recognized writer after Momastery, and in 2013, Glennon's memoir "Carry on, Warrior" was published.
In September 2016, Doyle published her second memoir, "Love Warrior," and was selected to be a part of Oprah's Bookclub.
On March 10, 2020, a publication called The Dial Press published the history-making, nonfiction book "Untamed"
Likewise, all three books of Glennon was record-setting and best-seller, but "Untamed" was something else as the book was sold more than two million copies around the globe.
The Book "Untamed" | Glennon Doyle:
Untamed is the book that acclaimed No.1 bestseller by the New York Times, and it changed many people's prospects to see and live life.
In this book, Glennon put herself as the character, and basically, the book is about her own life; divorce, mental illness, and many disorders, and her marriage with a woman. Overall, she describes her thoughts and emotions in Untamed.
In short, Untamed is both an intimate and a galvanizing wake-up call for all women.
Similarly, the book encourages women to uncover the voice of longing inside them and outlines how society tells women are supposed to be good and fit in their gender roles.
The book says that the only way females can genuinely be happy is by starting to live rather than, please.
Above all, Untamed is the story of how each of us can begin to trust ourselves enough to set boundaries, make peace with our bodies and, honor our anger and heartbreaks.
Abby Wambach & Glennon Doyle | Wedding:
Wambach and Doyle first met in Chicago at the launch event for writers, and it was something at first sight, and they felt an instant bond.
The couple got engaged in February 2017, and then married on May 14, 2017. They said they are so happy like never before.
Accordingly, Wambach also proudly flaunted her marriage to compliment Doyle, showing an image of her custom sweatshirt, which read" Christian Mommy Blogger Wife."
The couple now lives in Naples, Florida, with three children of Glennon with one French dog, Mastiff.
Likewise, Gleenol and Abby are the happiest couples in the Universe, and Glennon wrote on her Facebook," Abby and I decided to hold hand forever; Love wins."
Glennon Doyle | Ex-husband and Children:
Doyle was previously married to a model Craig Melton, and they have three children named Chase, Tish, and Amma Melton. Craig and Glennon were married in 2002 for almost 14 years and separated in 2016.
If you want to read about Kathryn Tappen, then you can click here.
Abby Wambach's wife Glennon Doyle | Award and Achievement:
Glennon Doyle has touched the ninth sky of success in her career, and she feels blessed to have this fame and success.
Glennon has won many awards and achievements in her career; some of them are written below for you.
Parents magazine named Glennon and Monastery the winner of its award for Best All-round on social media in 2016.
The book, Love Warrior, was selected to be a part of Oprah's Book Club 2.0 in 2016.
Reese selected Doyle's book called "Untamed" to be part of Reese Witherspoon's "Reese's Book Club."
In 2021, Abby Wambach's wife Doyle has included in the "Fast Company Queer" 50 lists.
Journey to Mental Hospital | Glennon Doyle:
Doyle was eight years old when she started to feel exposed, and she began to feel very awkward.
Glennon was pushed out of her home and into school, all oily and fuzzy and conspicuous and, to meet other girls seemed so relaxed and together & easy. During that time, Doyle was suffering and dealing with addiction.
By the time she was 18 years, Doyle's capes of addiction and pretending kept her safe and hidden, not even her parents.
Later on, it became so dangerous she started feeling anxiety, depression, and suicidal tendency. When she was in senior high school, she finally decided to tell the truth. She walked to the counselor's office and said, "Actually, I'm not fine; someone, please help me."
Glennon told, in the mental hospital for the first time in her life, she found herself in a world that made sense to her. She said she doesn't have to pretend in a mental hospital and doesn't have to be who she is not.
Dylon had classes about expressing how she felt through music, art, and writing in the mental hospital.
Similarly, classes about how to be a good listener and brave enough to tell own story to the world and not to pretend anymore.
Read about: Top 12 Beautiful Wives of the NFL Players
Glennon Doyle | Social Media:
Glennon is active in her social media handle because she is a blogger also, and she loves to share her pictures and likes to tweet.
Follow her if her story inspires you in this article.
Abby Wambach's Wife | Glennon Doyle Net Worth:
Glennon is a wealthy author, and she has an attractive net worth of $4 million.
Primarily, both Glennon and Abby are successful personalities, so there would not be a monetary problem in their life.
Both of them have made some investments also, so hopefully, they are getting an excellent money-back profit from their investments.
FAQs | Glennon Doyle:
Is Glennon Doyle still a drug addict?
At the age of 13, she started to drink alcohol to numb her feelings, which later turned to addiction, and began to intake cocaine and alcohol. But she has not done drugs since she found Abby.
What must-read books does Glennon Doyle recommend?
Glennon Doyle has recommended four must-read books they are, "The book of Longings," "We are the Luckiest," "Trick Minor," and "Wow, no Thank You." All these books are worth reading.