Jennifer Hale is an American journalist who serves as an NFL sideline reporter for Fox Sports for her 13 season in 2023 and is currently paired with Chris Myers and Robert Smith. She is also the moderator on 'Skip and Shannon: Undisputed' on Fox Sports 1.
Fans of the NBA and NFL might be familiar with Jennifer Hale, a sideline reporter, and an award-winning journalist. Known as Jen Hale, she started covering New Orleans Pelicans in 2012 for Bally Sports New Orleans.
Besides, Jen has covered The Basketball Tournament for ESPN, the Westminster Kennel Club Dog Show, and the 2017 NBA playoffs for TNT.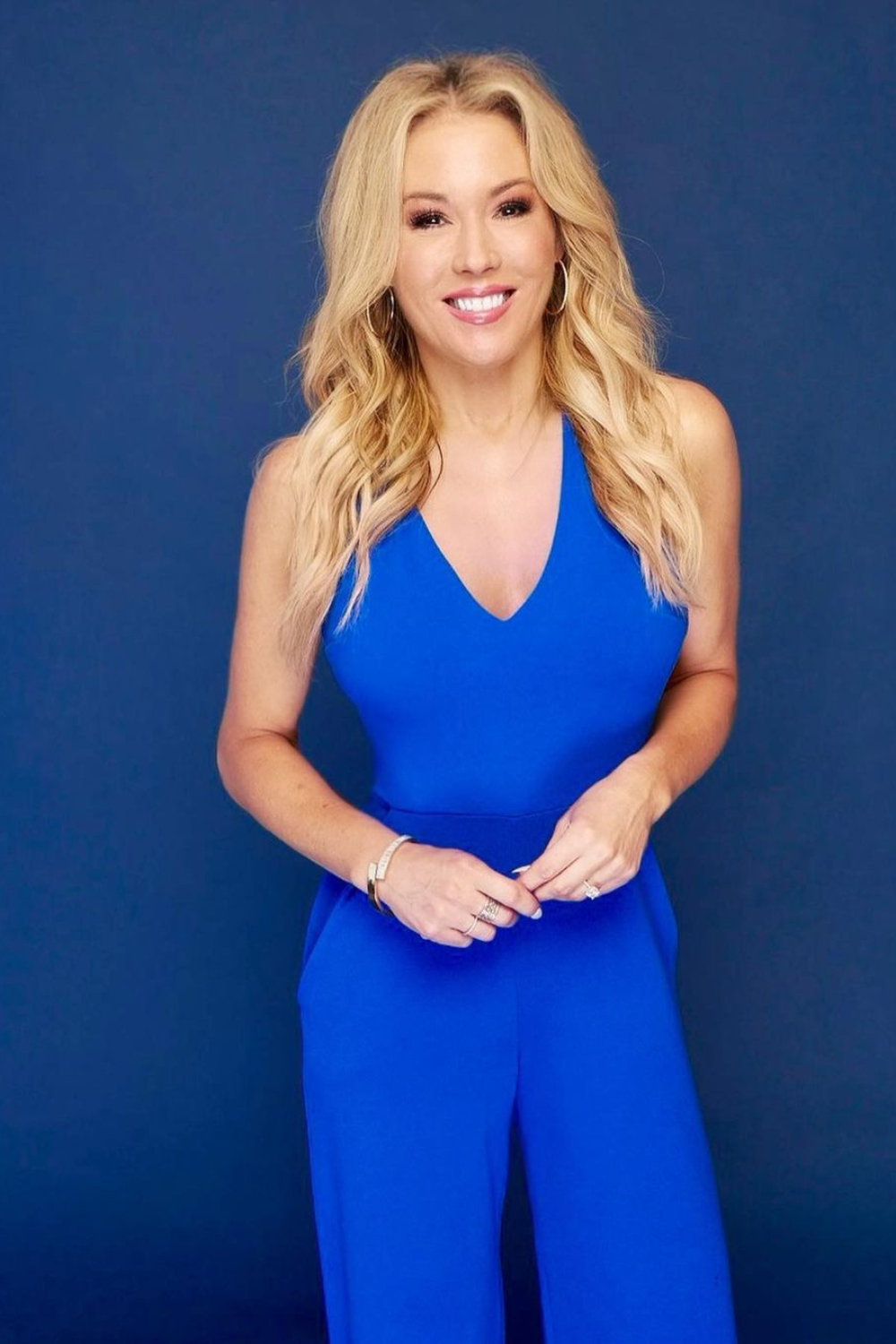 The sideline reporter is also the founder and CEO of 'All Access Sideline Pass," an organization that educates and empowers young women in the New Orleans community.
An eager beaver who lives out of suitcases and spends more time on the road than home has a very affluent career in broadcasting.
In 2015, "New Orleans Magazine" named her a Top Female Achiever, and she was among the Top 40 under 40 in 2016 by "Gambit Magazine."
Hale, in her reporting career, has won several accolades to her name, including multiple Emmy, Edward R. Murrow, and Associated Press Awards for both her sports and news coverage.
Well, today, we will be disclosing more than Jennifer's professional life in this article. We will talk about her early life, family, education, net worth, and many other details.
So, let's get started, shall we?
Quick Facts
Full name
Jennifer Hale
Date of Birth
February 28, 1978
Birthplace
New Orleans
Nickname
Jen
Nationality
American
Ethnicity
White
Age
45 years old
Height
5'6″/1.68 m/168 cm
Weight
50 kg/110 lb.
Mother's Name
Unknown
Father's Name
Rodney Hale
Religion
Catholic
Horoscope
Pisces
Relationship
Engaged
Boyfriend
Joseph Krzemien (Engaged)
Alma mater
College: Northwestern University

Louisiana State University

High School: Apple Valley High School

Profession
Sideline Reporter, Journalist
Affiliation
Fox Sports 1 (current), ESPN, TNT (former)
Hair Color
Blonde
Eyes Color
Brown
Publication
Historic Plantations of Alabama's Black Belt (2009)
Founder
All Access Sideline Pass
Net Worth
$1-$5 million
Social Media
Facebook, Instagram, Twitter
Merch
Book
Last Update
June 2023
Early Life And Education
Born in 1978 in New Orleans and brought up in Alabama, Jennifer 'Jen' Hale grew up loving sports; as she said in an interview, "I grew up hearing about first downs and penalties before I could talk."
Just a few weeks after graduating from Apple Valley High School, her father, Rodney, died due to heart failure after struggling with cardiomyopathy for some time.
Planning to become an attorney, she completed her undergrads in Political Science on full scholarship at Louisiana State University, New Orleans.
However, her life took a different turn when she appeared as a political analyst for Tiger TV, a student-run television program at LSU. She confesses that was the time she fell in love with broadcasting.
Being a sports enthusiast and a 'competitive gymnast' led her to become the cheerleading squad captain and was also the homecoming queen and Miss LSU.
Hale completed her master's degree from Northwestern University on a partial scholarship in Chicago in Journalism.
She is also the recipient of a RIAS fellowship for the year 2009, allowing her to travel to Germany and study US-German relations.
Jennifer Hale's Career
Jen started her journalism career covering politics for KNOW-TV and worked with different networks like WAFB, WVTM, and MSNBC. She moonlighted with MSNBC and was sent to New Orleans to cover Hurricane Katrina.
She also worked as an anchor on WVUE-DT's morning show, where she would cover different themes from sports to politics and culinary.
Jen later got a call from some friends from LSU to interview former athletes and special guests at LSU football games.
All these gigs with different networks led people in the Saints organization to recommend Hale to Fox Sports.
Hale's Career With Fox Sports
After the recommendation, her career skyrocketed, and had it not been for her past experiences, she would not have reached where she is today.
Joining NFL on Fox in 2011, 2023 marked her 13 Fox NFL season as a sideline reporter. She is also one of the contributing writers for Fox Sports.
She is the recipient of numerous awards for her brilliant work by Edward R. Murrow, Associated Press, and Emmy.
In 2009, she published a book titled 'Historic Plantation of Alabama's Black Belt.' She has published many articles on travel, history, and other plantation sites.
When she is not busy covering the sports section, she uses her talent to emcee charity and other local events and mediates discussion panels.
She is also the spokesperson for women's health at Thibodaux Regional Medical Center.
In 2015, she founded an organization, 'All Access Sideline Pass,' which FOCUSES on educating and empowering young women through seminars and community outreach.
Jen is also on the advisory board for the Son of Saint organization and served as an emcee for Miss LSU Pageant, which supports Alzheimer's research and the Speech and Hearing-Impaired Foundation.
From political reporter to sideline reporter and now a philanthropist, her experiences show that you do not need to restrict your interest to succeed professionally.
How Much Does Jennifer Hale Make In A Year? Net Worth?
Jennifer Hale is one of the multitalented and experienced sideline reporters for FOX Sports.
"As of 2023, jennifer Hale net worth is estimated to be around $5-$10 million. "
From her sideline reporting job with Fox Sports and other side gigs, she reportedly earns over $90k per annum.
In 2006, she bought a 500-square-foot condo in French Quarter, New Orleans.
Relationship Status And Hobbies
Per her Instagram, the sideline reporter is engaged to Joseph Krzemien, who is a Chiropractic by profession.
Joseph, originally from Michigan, runs Georgia Spine & Sports Rehab, which provides treatment utilizing the latest advanced techniques and tools.
Before this, she was not public about her relationship and made sure her private life stayed out of the limelight.
Moreover, besides hosting and reporting, Hale enjoys running, cycling, cross-fit, and TRX. She also loves to ski and surf during vacations.
Jennifer Hale's Battle With Dilated Cardiomyopathy
Despite being a health junkie, a cross-fit enthusiast, a cyclist, and a non-smoker, Hale was diagnosed with dilated cardiomyopathy at 38.
Cardiomyopathy is a condition that makes our heart difficult to pump blood to the rest of the body.
Her symptoms started showing up in the summer of 2016; she was always tired and was always short of breath.
Initially, she ignored those symptoms as she thought it was due to her crazy work schedule.
But things started worsening in September when her fatigue and shortness of breath became more severe.
In an interview with Women's Health Magazine, she said, "I was waking up close to 15 times a night to catch my breath, and I even began sleeping on my couch at a 90-degree angle, so I'd be able to sleep through the night."
Severity And More Symptoms
Jennifer Hale loved her job and had worked hard to get where she was. She was not ready to let it all go. New symptoms started arising.
For instance, her feet and legs had begun to swell up. That's when she knew things were not going well. She realized her symptoms began to progress at a fast pace.
Hale convinced herself, saying she was fine and it was just a food allergy. At that time, the swelling had extended to her waist, where she could not zip up her skirt.
She finally decided to see a doctor the next day. Thinking it was just acid reflux, she went to a gastroenterologist, but the doctor recommended her to ER because the swelling was unusual for someone her age.
The ER doctor finally diagnosed her with cardiomyopathy and transferred her to the cardiac intensive care unit.
As her heart was pumping at 16 percent capacity. She was told she might only live for five years and was put on the heart transplant list.
Work-Life Balance
Jennifer was prescribed medication by a specialist and was asked to leave her work for six months, which she did not agree to.
Being a public figure, she decided to continue working but agreed to cut back on her schedule.
Hale knew taking her time off would slow down her career and affect her mentally. In addition to her medication, she wore a vest-like defibrillator every day to work for six months.
It would monitor the heart's activity, alarm if her heart slowed down, and shock her heart into pumping if necessary.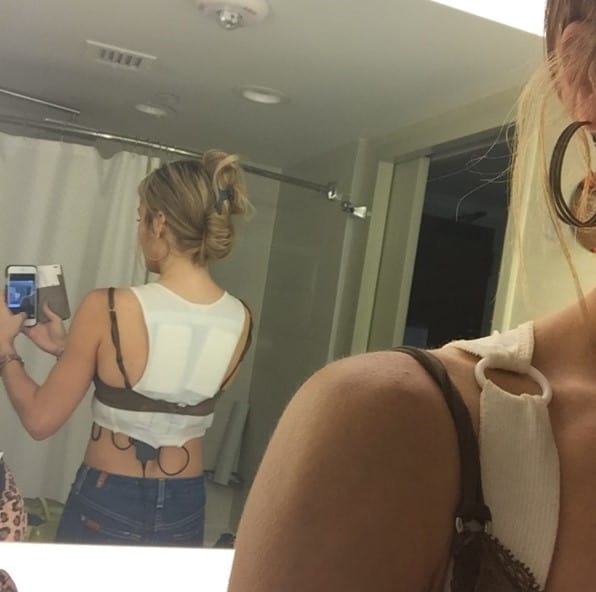 Not willing to give up that one thing she loves most, she wore the vest beneath her shirts while covering NFL, NBA, and college games for six months.
The medicine worked miraculously. Her heart was pumping at 50 percent capacity, and she was finally removed from the transplant list after one and a half years.
Hale admits that it never occurred to her mind that it would be related to a heart condition. Although, she lost her father, uncle, and grandfather, who all died below 50 due to heart failure.
Jennifer is in better shape today, and there are not many restrictions on her activities.
After recovering from cardiomyopathy, she became actively involved with the American Heart Association, raising awareness about heart disease.
Because of this bitter experience, she urges people to be proactive regarding heart conditions and not ignore the initial symptoms.
Jennifer Hale Today
Hale currently resides in a 500-square-foot condo in French Quarter, New Orleans. She bought the apartment in 2006 after covering Hurricane Katrina in New Orleans.
She realized that she did not want to leave New Orleans. As a kid, she dreamt of living in the French Quarter one day, and now she is living her dream.
During the pandemic, she was working day in and day out. She was the only woman on Broadcast Team for 'The Basketball Tournament 2020'.
Hale is a perfect example of beauty with brains. From a cheerleader and homecoming queen to a full scholarship student at LSU, it only proves that Hale is a versatile and talented journalist.
Starting her career as a political anchor to a sports sideline reporter, she has proved herself worthy and valuable in her field.
The late start to her sports sideline reporter career was a blessing in disguise. It only made her stronger, mature, and wiser.
Social Media Presence
Jen is active on her social media and frequently posts pictures on her account. Her Instagram feed is all filled with pictures of her covering different games and snippets of moments with her niece and friends.
You can find her on Instagram under the handle @jenhale504, Facebook @Jennifer Hale, and Twitter @JenHale504.
Instagram: 64k followers
Twitter: 54.4k followers
Facebook: 37k followers
Popularity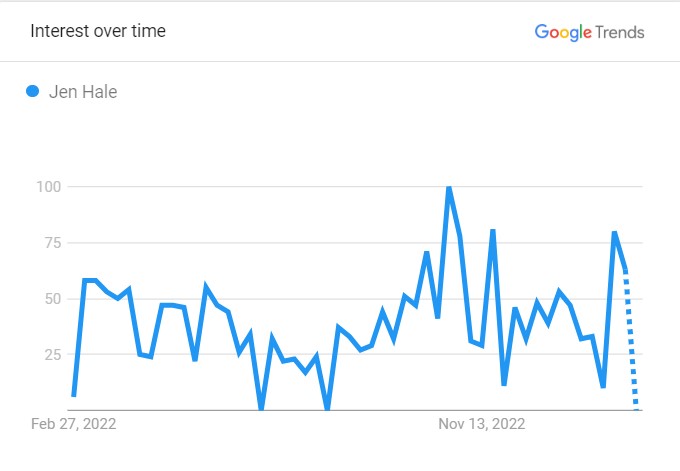 The above graph gives brief information about the popularity of Jen Hale based on Google searches in the United States over a year.
Frequently Asked Questions
Where does Jennifer Hale live?
Jennifer Hale currently lives in French Quarter, New Orleans.
What is Jennifer Hale's Nationality?
Jennifer Hale is American by Nationality and belongs to the white ethnicity.
Is Jennifer Hale sick?
Jennifer Hale was diagnosed with dilated cardiomyopathy during the 2016 NFL season.
Did Jennifer Hale host the 2017 NBA Playoffs?
Jennifer Hale was a sideline reporter for TNT's coverage of the 1st round of the 2017 NBA Playoffs.