Jenny Shin hasn't publicly said about having a husband or being married. But the LPGA golfer might have a boyfriend in Albert Montalbo.
The South Korean golfer, Jenny Shin, began her golfing journey in 2010, having previously played in the 2010 U.S. Women's Open Championship.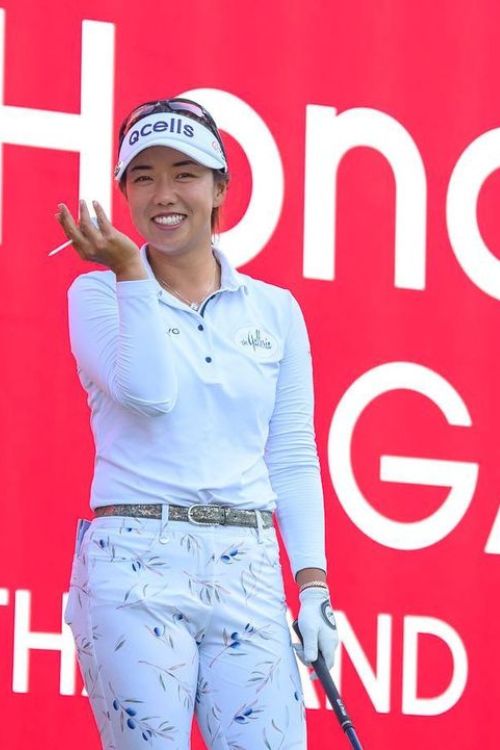 She moved to the States at nine and received tremendous support from her parents. In her 12-year golfing career, Shin has one LPGA victory under her belt, which came in the 2016 Volunteers of America Texas Shootout.
Recently, Shin was seen competing alongside Stephanie Meadow and Rose Zhang in the KPMG Women's PGA Championship. She tied for the eighth position, making it her third career top-10 at a major.
Jenny Shin Husband: Is The Golfer Married?
Jenny Shin hasn't publicly stated about having a husband. The LPGA golfer has kept her family life under wraps. But previously, she has shared a few photos with a man named Albert Montalbo.
Albert and Jenny having a serious relationship can be backed by the fact that they moved into a new home in Vegas in September 2021.
The golfer shared a few snaps of her and Albert working on their new home with their pet dog. She also shared snippets of them celebrating by uncorking a bottle of champagne outside of it.
But since then, Jenny has only shared one other post where Albert appears. It was on a series of pictures that she shared on Christmas 2021.
Going through Albert's profile, the supposed couple seems to have a shared interest in golf. Albert can be seen enjoying golfing with friends during his free time.
But one fact is to be noted that Jenny hasn't been featured in any of the posts made by Albert on his handle.
Albert is also passionate about singing and has previously shared videos of him playing guitar and showing his vocal skills. Jiujitsu is another sport that the man from Hawaii loves to compete in, and had shared a lengthy post correlating golf, jiujitsu, and life.
Jenny Shin Parents Come From South Korea
Jenny Shin's parents raised her in Seoul, South Korea, for nine years before shifting to the States.
In the past, Jenny has credited her parents for playing an influential role in her golf career.
Throughout the years, the golfer, through her Instagram handle, has given many tributes to her parents.
In Christmas 2020, she shared a cute family snap of her parents, with her dad holding their pet family dog. In 2021, she shared a photo of her dad and mom cutting a cake to celebrate her mom's birthday.
Her mother, whose supposed name is Hyeonok Kang, is available on Instagram with the username @kanghyunok0215. She has shared a couple of snaps, including one of team LPGA.
In 2021, on her 11th anniversary as a professional golfer, Shin shared a sweet tribute post to her parents and those who have supported her in this golfing journey.
Earlier this year, on Mother's Day, Jenny shared a series of photos of her sweet mom to celebrate the occasion. But Shin didn't miss the chance to make a pass a sarcastic comment saying her mom is a beautiful woman on the outside.
She is close to her dad and has previously shared pictures of her enjoying dinner dates with him and sharing tribute posts on Father's Day and his birthday.