Jerome Robinson is a professional American Basketball player for the Golden State Warriors G League affiliate team, Santa Cruz Warriors.
Robinson started his professional NBA career with the Los Angeles Clippers in 2018 after being drafted as the first-ever lottery draft pick out of Boston College.
He plays as a shooting guard in the team. His quick reflexes, passing technique, and steals are quite dangerous for opponents. Furthermore, he is equally effective in blocking.
The shooting guard's path to playing professional basketball was full of struggles. He lacked offers while joining college after being unranked as a high school recruit.
Jerome had to deliver spectacular performances during his college career. Hence, making his NBA dream possible.
Before learning more about Robinson, let's dive into his quick facts:
Quick Facts
| | |
| --- | --- |
| Full Name | Jerome Robinson |
| Birth Date | February 22, 1997 |
| Birth Place | Raleigh, North Carolina, California |
| Nick Name | Rome's, Jerome's |
| Religion | Christianity |
| Nationality | American |
| Ethnicity | African-American |
| Education | Completed School from Needham B. Broughton |
| Horoscope | Pisces |
| Father's Name | Jerome Robinson, Sr. |
| Mother's Name | Amy Robinson |
| Siblings | Three Brothers; Jeremy, Justin, Jonathan |
| Age | 26 Years Old |
| Height | 6'4″/1.93 m/193 cm |
| Weight | 86 Kg/190 lb. |
| Hair Color | Dark Black |
| Eye Color | Light Black |
| Build | Athletic |
| Profession | NBA Player |
| Active Years | 2018-Present |
| Sexual Orientation | Straight |
| Marital Status | Single |
| Girlfriend's Name | Information not available |
| Jersey Number | 1 and 12 |
| Net Worth | $3 million |
| Social Media | Instagram, Twitter |
| Last Update | June 2023 |
Early Life, Family, and Education
Jerome Robinson was born to his father, Jerome Robinson Sr., and mother, Amy Robinson, on 22 February 1997 in Raleigh, North Carolina, California.
Jerome was the oldest among the four. His other three brothers are Jeremy, Justin, and Jonathan.
It was tough for Robinson while growing up in North Carolina as an African-American.
His parents showered him with love and motivated him always. From an early age, Jerome started to play basketball, and his parents always supported him.
The shooting guard completed his primary schooling in a local school and used to play basketball for the school's team.
He completed high school at Needham B. Broughton High School and struggled to get college offers.
Despite being unranked as a high school recruit, Boston College's assistant coach, Scott Spinelli, offered him and was the only representative of a Power-5 school.
The shooting guard declared for the 2018 NBA draft and hired an agent with CAA sports, forgoing his college eligibility.
Height, Weight, And Body Measurements
Jerome Robinson is 6 feet 4 inches (1.93 meters) tall. He is only 26 years old.
With proper workouts and exercise, Robinson weighs 86 kilograms (190 pounds).
Robinson's wingspan is 6 feet 7 inches (2 meters). Unfortunately, the information regarding Robinson's body measurements and shoe size is not available for now.
The professional basketball player does seem to be a fan of tattoos, as he does not have one on his body.
While playing on the court, he looks way more significant than in the pictures. Coaches relate him with Lebron James and later Kobe Bryant, believing he will shine as bright as those aforementioned NBA stars.
Basketball Career
High School And College Career
As already mentioned earlier, Robinson's amateur career started at his school. He started playing during primary school but didn't get much attention.
After moving to high school, many coaches saw his abilities. However, Jerome started playing impressive basketball after he started playing with the Boston College Eagles.
During the inception of his collegiate career, Jerome ranked 306th position in the entire United States. He wanted to demonstrate his skills in the NBA and become one of the top basketball prospects in the country.
As a freshman, Robinson averaged 11.7 points, 4 rebounds, and 3 assists per game, and his stats kept increasing in his sophomore and junior years.
He finished his junior season with an average of 20.7 points, 3.6 rebounds, and 3.3 assists per game and was named All-ACC First Team and earned an All-American honorable mention by Associated Press.
NBA Draft And LA Clippers
His dream came true in 2018 when the Los Angeles Clippers picked him with the 13th overall pick in that year's NBA draft, becoming the first-ever player to play in the NBA from Boston College.
Jerome scored career-high 21 points in a win against the Atlanta Hawks on November 17, 2019. Besides, he also played in the G-League for the Agua Caliente Clippers.
He played two seasons with the Clippers in the NBA, averaging 3.4 points in his first season and 2.9 points in his second.
Trade To The Washington Wizards
On February 6, 2020, Robinson was traded to the Washington Wizards in a 3-team trade involving the New York Knicks.
The audience supported Jerome's engagement in the Black Lives Matter movement. He also wore Black Lives Matter printed jerseys during one of the NBA games. After playing 38 games with the Wizards, he was waived on April 8, 2021.
Santa Cruz Warriors
The former Wizards shooting guard returned to the G League after the Golden State Warriors acquired him. He signed an Exhibit 10 contract with the Warriors and later signed a two-way contract.
However, the Warriors waived him on October 15, 2022, and he became a free agent.
In the 2022-23 season, he played 24 games with Santa Cruz, averaging 14.8 points, 4.3 rebounds, and 4.8 assists.
NBA Stats
| | | | | | | | | | | | |
| --- | --- | --- | --- | --- | --- | --- | --- | --- | --- | --- | --- |
| Year | GP | GS | MPG | FG% | 3P% | FT% | RPG | APG | SPG | BPG | PPG |
| Career | 113 | 12 | 14.2 | .363 | .310 | .721 | 1.8 | 1.2 | .5 | .2 | 4.5 |
Personal Life, Hobbies, And Girlfriend
Robinson is a travel enthusiast. Whenever he gets free time, he packs his bags and travels to new places.
The professional basketball player likes to go to places by the ocean. He always travels with his friends.
Apart from playing basketball, Jerome is a fitness lover. He spends his time working out in the gym. He also likes swimming.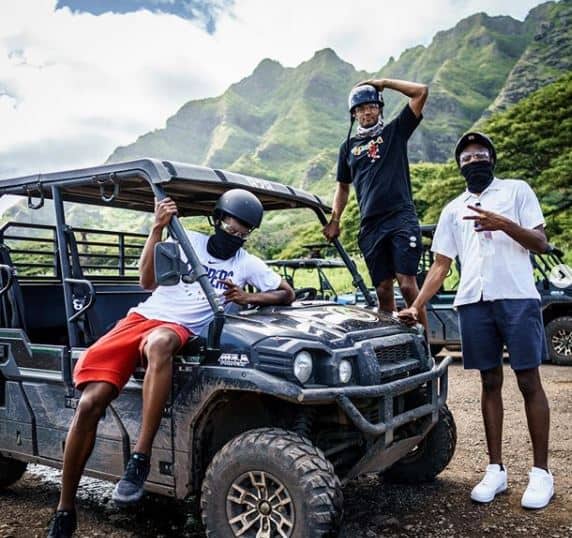 Robinson is a fan of Steve Irwin, a wildlife explorer and crocodile expert, who died in September 2006.
Jerome was involved in a romantic relationship with a girl. However, they are no longer together.
No information about the girl is available on the Internet. It is rumored that his ex-girlfriend was from his hometown, North Carolina.
As of now, Robinson is single and is focused on improving his games and making his return to the NBA. He is not planning to make any girlfriend soon. But if he makes one, Jerome will indeed upload her pictures on his Instagram.
Salary And Net Worth
Having played in the world's most expensive basketball league, we can assume Jerome has garnered impressive wealth.
Robinson is estimated to have a net worth of around $3 million as of 2023. Throughout his NBA career, he is estimated to have earned $10,128,458.
In the rookie season, Robinson earned $3,046,200 in salary from the Wizards.
The professional basketball player owns several cars and has been endorsed by different brands.
He is currently a brand ambassador of the Nike brand. Nike has also released a customized design that has the signature of Jerome Robinson.
Net Worth of Jerome Robinson in Different Currencies
Here is the net worth of Jerome Robinson in different currencies, including the Euro and Pound Sterling.
| | |
| --- | --- |
| Currency | Net Worth |
| Euro | €2,766,690 |
| Pound Sterling | £2,432,010 |
| Australian Dollar | A$4,497,852 |
| Canadian Dollar | C$4,079,355 |
| Indian Rupee | ₹246,959,400 |
| BitCoin | ฿105.25 |
Social Media Presence
Jerome Robinson keeps his fans updated through his social media handles. His posts feature pictures of him during games, him with his friends and family.
He is available on Instagram under the handle @j_rob12 and Twitter @Rome_Coldbucks1.
Instagram: 29.7k followers
Twitter: 7,113 followers
Popularity
Despite playing for a very short time in the NBA and G League, Robinson has gained quite a considerable amount of fans.
The above graph gives brief information about the popularity of Jerome Robinson based on Google searches in the United States over a year.
Frequently Asked Questions (FAQs)
Is Jerome Robinson an African-American?
Yes, Robinson belongs to the African-American community.
Has Jerome Robinson faced an injury during a game?
No, Jerome hasn't suffered any major injuries so far in his career. Let's hope his fitness remains stable during his entire professional basketball career.
Where did Jerome Robinson go to play?
Jerome initially played with the Los Angeles Clippers in the NBA. But after a year, the club traded him to Washington Wizards. He last played for the Santa Cruz Warriors in the G League.
Where does Jerome Robinson live?
Jerome Robinson currently lives in Washington, D.C. However, his hometown is in Raleigh, North Carolina, California.
Who is Jerome Robinson?
Jerome Robinson is a professional basketball player who last played for the Santa Cruz Warriors in the G League. The Los Angeles Clippers drafted him in the first round of the 2018 NBA draft and he later played with the Washington Wizards.
Is there any arrest record of Jerome Robinson?
There are no criminal incidents or arrest records of Jerome.