"Rookies need to be seen, not heard."
-Jerry Sloan Quote
Jerry Sloan is the late legendary American basketball player and the head coach of Utah Jazz.
As a folktale hero, he was one of the best defensive guards and hard-nosed rebounders in the National Basketball Association (NBA) history as a Chicago Bull.
Equally important, he became the first coach to win 1,000 games in a single team.
According to Bulls board chairman Jerry Reinsdorf, "Jerry Sloan was 'The Original Bull' whose tenacious defense and nightly hustle on the court represented the franchise and epitomized the city of Chicago."
While we plunge deeper into his life moments, some of the quick facts below will help us know him shortly.
Quick Facts about Jerry Sloan
Full Name
Gerald Eugene Sloan
Date of Birth
March 28, 1942
Birth Place
McLeansboro, Illinois
Nick Name
The Original Bull
Religion
Christianity
Nationality
American
Ethnicity
White
Education

Highschool (McLeansboro)
College (Evansville = 1962-1965)

Horoscope
Aries
Father's Name
N/A
Mother's Name
N/A
Siblings
Ten older siblings
Date of Death
May 22, 2020
Height
6 ft 5 in (1.96 m)
Weight
195 lb (88 kg)
Hair Color
Black
Eye Color
Black
Build
Athletic
Profession
Basketball player, Head Coach of Utah Jazz
Position
Small forward/Shooting guard
Affiliations
Utah Jazz
Active Years
1965-2020
Marital Status
Married
Wife

Bobbye Sloan (m. 1963–2004)
Tammy Jessop (m. 2006)

Kids
Brian Sloan, Holly Sloan Parish, Kathy Sloan Wood
Net Worth
$12 million
Merch
Basketball Signed Cards, Trading Card, Rookie Card
Last Update
June, 2023
Jerry Sloan | Early Life and Family
Jerry Sloan was born on March 28, 1942, in Gobbler's Knob, Illinois (15 miles south of McLeansboro, Illinois).
His birth name was Gerald Eugene Sloan. At the young age of 4, Sloan lost his father, and hence, he was raised by his single mother and his other nine elder siblings.
Furthermore, Sloan had a rough childhood day as he had to get up at 4:30 a.m to do farm chores. Additionally, he used to walk almost 2 miles to get to school at 7 a.m basketball training.
Initial Career
Sloan was like a lost child, always forced to fend for himself. However, his perseverance paid off in the end. Eventually, he became a star player leading his college basketball for Evansville Purple Aces (1962-1965).
He was titled the Indiana Collegiate Conference (ICC) Player of the Year in 1963 and 1965 and a three-time first-team All-ICC selection during that timeframe.
Not to mention, he was also chosen as the 19th overall pick in the 1964 NBA draft by the Baltimore Bullets. However, he remained in his college and led the Purple Aces to their second in two consecutive Division II national titles.
Gaming Career
Before the Micheal Jordan era, Jerry Sloan was known for his unshakable defense. Therefore, he was nicknamed 'The Original Bull' on their first and only division title.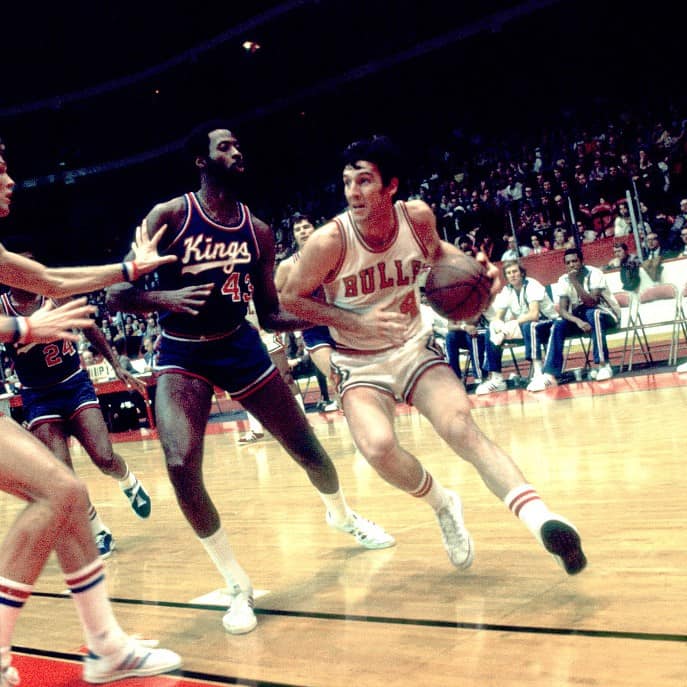 At first, Sloan got fourth in selection in the 1965 NBA draft by the Baltimore Bullets. Right after it, he got selected in 1966 NBA by the expansion team, The Chicago Bulls. It was in 1976 when Jerry Sloan retired from the game after a series of knee injuries.
Despite being only 6 ft 5 inches, his average rebounds were outstanding, with the stat of 7.4 rebounds per game, with one season having 9.1 rebounds. His average was 18 points in 1970-71, while he had 15 points over three other seasons.
As per the sources, his number 4 jersey was retired by the Chicago Bulls in 1978, becoming the first retired jersey in franchise history.
Career Stats
| | | | | | | | | | | |
| --- | --- | --- | --- | --- | --- | --- | --- | --- | --- | --- |
| Year | GP | GS | MPG | FG% | FT% | RPG | APG | SPG | BPG | PPG |
| Career | 755 | – | 34.1 | .427 | .722 | 7.4 | 2.5 | 2.2 | .2 | 14.0 |
| All-Star | 2 | 1 | 20.0 | .353 | .000 | 3.5 | 2.0 | – | – | 6.0 |
Jerry Sloan | Coaching Career
After Sloan's retirement in 1976, he worked for Evansville but withdrew it after just five days.
Two years later, he was hired by the Bulls as a scout, which changed the post to assistant coach after one season.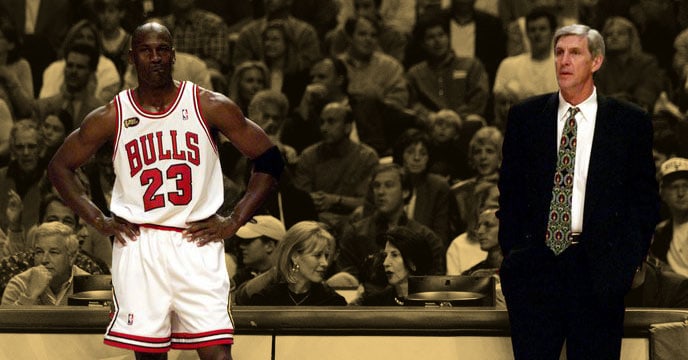 In 1979, he got promoted as a head coach, but he stayed in it for less than three months. He had 94 wins and 121 losses, which kick-started his work with a layoff; hence, he was fired.
Utah Jazz
Utah Jazz took Jerry Sloan as a scout at the beginning. For one season, Jerry did that and then coached Evansville Thunder of the Continental Basketball Association for the 1984 season.
In December 1988, he became the head coach of the Jazz and earned a successful run of 16 consecutive seasons.
He got to coach the future Hall of Famers Karl Malone and John Stockton, along with other players, including Jeff Hornacek, Antoine Carr, Tom Chambers, Mark Eaton, and Jeff Malone.
Sloan had led the jazz team to six division championships and ten seasons with 50 great wins. However, they lost to Sloan's former team(The Michael Jordan-led Bulls) twice in NBA finals in 1997 and 1998.
Jerry Sloan | Walkthrough
Utah Jazz had a disappointing season in 2004–05 and 2005–06. However, it picked up in the 2006-7 season. By the end of this period, Sloan was one of the coaches with ten or more seasons, winning 50 or more games.
After the retirement of the long-term Jazz player Malone, Jazz was predicted to be the worst team in the NBA.
Despite being underestimated, Sloan coached the junior team without Stockton and Malone to an unexpected 42–40 record. He was then voted for the 2004 NBA Coach of the Year Award.
The year 2006
On December 11, Sloan had a 101–79 victory against the Dallas Mavericks. Thus, his 1,000 wins in his career made him the fifth coach in NBA history to reach the milestone.
Again, Sloan was captured by many sportswriters for the Coach of The Year award; however, he lost it to Toronto Raptors head coach Sam Mitchell.
The Year 2007
On May 15, under Sloan's guidance, Jazz went for the Western Conference finals with a 100–87 win over the Golden State Warriors. However, they lose 4–1 to the San Antonio Spurs.
The Year 2008
On November 7, Jazz had a win over Oklahoma City Thunder 104–97 in a Friday night game. Thus, he became the first coach in NBA history with 1,000 wins for one team.
The Year 2009
In April, Sloan was named the Naismith Memorial Basketball Hall of Fame, in the same class as his former longtime point guard John Stockton.
As powerful as Sloan was with his games, he was just as fiery as a coach. To illustrate, in April 1993, he was suspended for pushing referee Bob Delaney, and a decade later, he was served a seven-game suspension for pushing referee Courtney Kirkland in Sacramento.
Coaching Record
| | | | | | | | | |
| --- | --- | --- | --- | --- | --- | --- | --- | --- |
| Team | G | W | L | W–L% | PG | PW | PL | PW–L% |
| Career | 2,024 | 1,221 | 803 | .603 | 202 | 98 | 104 | .485 |
Signing out as a Jazz Head Coach
In February 2011, Sloan and assistant Phil Johnson resigned immediately. Before that, on February 7, Sloan had revealed his contract expansion for the season 2011-12. However, Sloan Stated his confrontation with the players and reported his leave.
On February 9, Sloan's last game as a head coach lost 91-86 to the Bulls. Therefore, Tyrone Corbin overtook his place.
There were many undefined rumors going under Utah Jazz. For instance, Deron Williams was transferred to New Jersey, which embarked on suspicion on Utah Jazz as a franchise.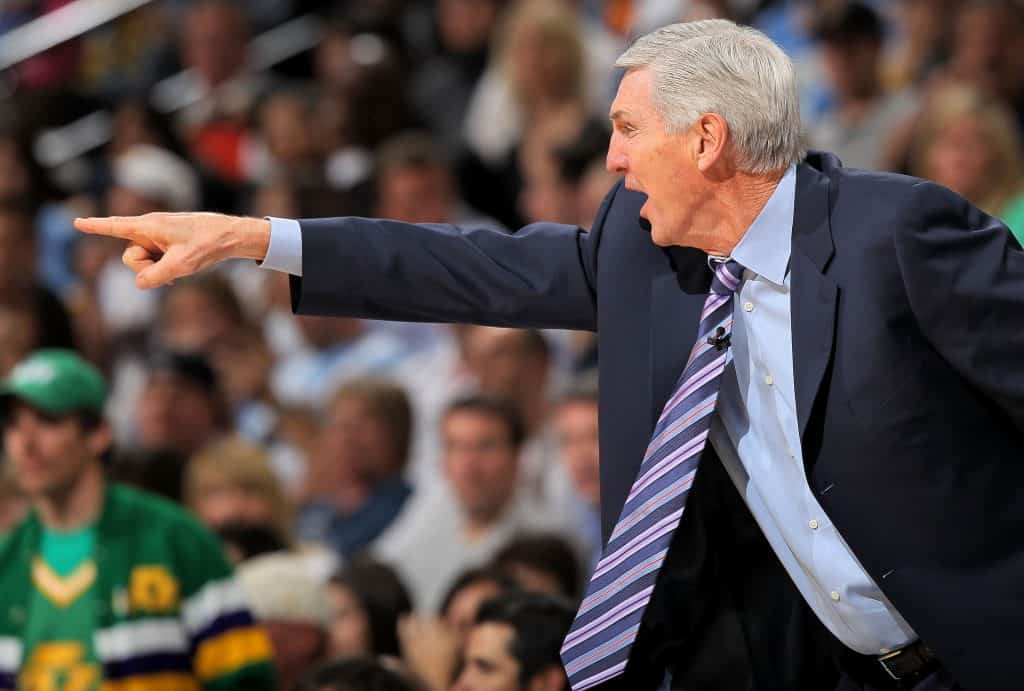 Secondly, Karl Malone (former trainer under Sloan's coaching for 18 years) indicated that Sloan did not feel supported by Kevin O'Connor and Greg Miller.
Comeback to Jazz
At first, on June 19, 2013, Utah Jazz announced Sloan's comeback to the team as an adviser and scouting consultant.
Afterward, on January 31, 2014, the Jazz honored Sloan by raising a banner featuring the number "1223", representing Sloan's wins with the Jazz from 1988 to 2011.
Then-Jazz team president Randy Rigby said, "This banner will serve as a symbol of the enduring legacy of Jerry Sloan, one of the greatest coaches in NBA history and forever a member of the Jazz family."
Jerry Sloan Retirement Controversy and Deron Williams
As we all know, the abrupt retirement of Sloan alongside the transfer of Deron Williams.
Apparently, the disagreement between Sloan and Williams was kept within a bar with closed doors. However, everyone was aware of the prolonged silent war that had been simmering throughout the season.
Even the Jazz picked up a big banner to honor Sloan, and Williams was doing really well on his own with maximum-salaried commitment from the Nets.
But things weren't picture-perfect as it seemed as there were inconsistencies and controversies surrounding them.
Altogether, after seven and a half years, Williams opened up about their disagreement, stating it rose when he wanted to have another approach in the court. However, Sloan was not ready to trust anyone. Thus, it became a massive issue among them.
Well, things did end on a good note together as Williams did ask for an apology for his impatience. Indeed, the first trial wasn't strong as Jerry wasn't ready to let go. But in the end, they made it into an understanding.
You might like to read about Royce O' Neale.
Jerry Sloan | Personal Life and Death
Jerry Sloan had a thing for antiques as he always collected antique furniture and dolls. He was always wearing John Deere hats. Also, Sloan had wild drinking and smoking habits, which later, he stopped them both.
Love Life
Sloan married his high-school sweetheart, Bobbye. The duo found out about Bobbye's breast cancer in 1997, which shook the Earth for Jerry, and at the same time, it bought them even closer.
After a well-publicized six-year battle against breast cancer, she died of pancreatic cancer in 2004.
They were married for 41 years and had three children(Brian Sloan, Holly Sloan Parish, Kathy Sloan Wood).
In 2006, Jerry Sloan married Tammy Jessop in Salt Lake City. As a result, Sloan had a stepson, Rhett.
Accordingly, in April 2016, Sloan publicized his diagnosis with Parkinson's disease and Lewy body dementia.
In the same year, on June 8, Sloan was honored at halftime of that night's NBA Finals Game 3 in Cleveland as the co-recipient of the Chuck Daly Lifetime Achievement Award from the National Basketball Coaches Association.
Real Life wasn't so kind to Jerry Sloan; however, he bloomed from where he was planted. Jerry Sloan left this mortal world at the age of 78 in the early hours of Friday, May 22, in his Salt Lake home from Parkinson's and Lewy body dementia complications.
Jerry Sloan | Net Worth
Sloan had a net worth of $12 million with a salary of $1.25 million. That made him only the 23rd highest-paid coach in the league.
Besides that, he owned properties, and endorsements made him an adequate income. His Utah house was recently put on sale in 2020.
Estate
Jerry Sloan's Riverton Estate is a 9,860-square-foot home on the Riverbend Golf Course with a custom pool an 18-car garage. It also has waterfalls and an east-facing view of the Wasatch Front.
The estate was on sale for $2.9 million, managed by the real estate company Berkshire Hathaway.
Sloan had moved into the house in 2007. He lived there until his death, and the property was brought for sale four months after his death.
Jerry Sloan | Basketball Card
Here's a picture of Jerry Sloan's basketball card:
Jerry Sloan FAQs
What was Jerry Sloan's hobby?
Jerry Sloan's hobby was to collect and restore tractors.
Was Covid the cause of Jerry Sloan's death?
No, the NBA coach had previous health complications. He had Parkinson's disease and eventually passed away from Lewy body dementia complications.
Who was Jerry Sloan's sidekick?
Jerry Sloan's Sidekick was assistant coach Phil Johnson.
What did Gregg Popovich say about Jerry Sloan after his death?
Gregg Popovich said:
"It's a sad day for all of us who knew Jerry Sloan. Not only on the basketball court but also as a human being. He was genuine and true. And that is rare.
He was a mentor for me from afar until I got to know him. A man who suffered no fools, he possessed humor, often disguised, and had a heart as big as the prairie."