One of the greatest and most popular athletes during the '90s, Karl Malone, has accrued a net worth of $85 million. Likewise, Karl Malone's net worth is a consequence of his 19 years of service in the NBA.
At the peak of his career, Malone earned a staggering $19.2 million in yearly salary with the Utah Jazz. Above all, Karl was the second-best player during his era, the only player better than him being the G.O.A.T, Michael Jordan.
Similarly, the 14-time All-Star is just as successful in his business ventures, if not more than his playing career. For instance, the Hall of Famer has more than 14 business ventures in various cities, including his hometown of Louisiana.
But how did the kid who grew up with eight other siblings manage to accrue a net worth of $85 million? Who guided the 14-time All-Star in his successful business ventures?
Well, at the end of this article, you guys will be enlightened on the questions asked above. Furthermore, you will also find information regarding the 56-year-old's early life, NBA salary, contracts, house, cars, family, and wife.
So without further ado, let's get started.
Quick Facts
Full Name
Karl Anthony Malone
Birth Date
July 24, 1963
Birth Place
Summerfield, Louisiana
Nick Name
Karl Malone
Religion
Christian
Nationality
American
Ethnicity
Mixed
Education
Summerfield High School
Louisiana Tech University
Horoscope
Leo
Father's Name
Shedrick Hay
Mother's Name
Shirley Malone
Siblings
8
Age
59 years old
Height
6 ft 9 in (2.06 m)
Weight
259 lb (117 kg)
Shoe Size
Not available
Hair Color
Dark Brown
Eye Color
Dark Brown
Body Measurement
Not available
Build
Athletic
Married
Yes
Wife
Kay Kinsey
Kids
Yes (7)
Profession
Basketball Player
Position
Forward
Active Years
1985-2004
Clubs
Utah Jazz, Los Angeles Lakers
Awards
Southland Player of the Year
2× NBA Most Valuable Player
14× NBA All-Star
Net Worth
$85 Million
Social Media
Twitter
Merch
Jersey, Shirt
Last Update
November, 2022
Karl Malone Net Worth: A Brief Bio
Karl "The Mailman" Malone was born on 24 July 1963 in Summerfield, Lousiana, to his mother Shirley Malone and father, Shedrick Hay.
However, Shedrick deserted nine siblings and Shirley to marry another woman before Karl was even three years old.
As a result, from very early on, Malone had to step up and help his mother by chopping trees, hunting, and fishing to feed the family.
Following tumultuous early years, the former LA Lakers power forward attended Summerfield High School, where he led the team to three consecutive Louisana Class C titles.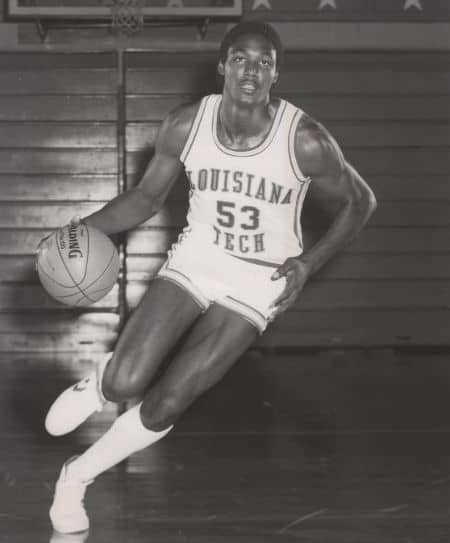 Consequently, a lot of Universities were interested in Malone's services, but it was Louisiana Tech University that won in the end. The primary reason being the fact that the university was closer to home than the rest.
Unfortunately, the future Hall of Famer had to wait a year to make his debut for the team as his grades were too low. Subsequently, the 6 feet 9 power forward impacted his second season with the Louisiana Tech Bulldogs.
Specifically, Karl averaged 18.7 points and 9.3 rebounds per game. As a result of Malone's impressive performances, Louisiana Tech advanced to the NCAA tournament for the first time in their history.
NBA Career & Achievements
Malone's NBA career started at the 1985 NBA draft when Utah Jazz selected Karl as the 13th overall pick.
After that, the Louisiana native stayed with the Jazz for an incredible 18 years, which is unheard of in today's NBA due to a lack of loyalty in both players and the franchises.
Returning to the subject, the Louisiana native led his team to two NBA finals during 1997 and 1998. Unfortunately, the Jazz lost both those finals to Chicago Bulls led by the great Michael Jordan.
Although Malone could never win a team award, he more than made it up with his extraordinary haul of personal achievements, which are listed below:
If you are interested in buying Baseball jerseys, click here.>>
1997, 1999 NBA Most Valuable Player
14-times NBA All-Star (1988-1998, 2000-2002)
11 times All-NBA First team (1989-1999)
Two time All-NBA Second team (1988, 2000)
Three times NBA All-Defensive First Team (1997-1999)
1986 NBA All-Rookie First Team
No.32 retired by Utah Jazz
NBA's 50th Anniversary All-Time Team
1983 Southland Player of the Year
No.32 retired by Louisiana Tech
Karl Malone LA Lakers
Even though Malone stayed with Utah based franchise for 18 years, he did play his final season for the Los Angeles Lakers to realize his dream of becoming an NBA Champion.
At the time, the Lakers were fresh off their 3-peat and boasted world-class players such as Kobe Bryant, Shaquille O'Neal, and Gary Payton.
Therefore, when the two-time MVP signed with the franchise, expectations were unparalleled as everyone thought that the Lakers would be crowned champions for the fourth consecutive year.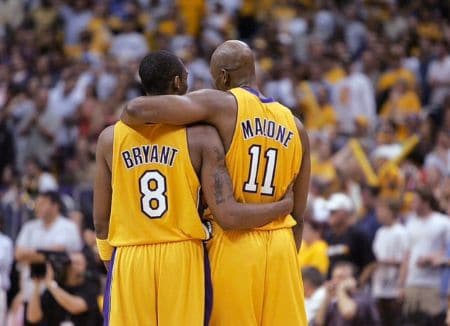 Contrarily, similar to the 1997 and 1998 campaigns with the Jazz, Karl fell short at the last hurdle. To explain, the Los Angeles-based franchise did reach the NBA finals in the 2003-2004 season.
Unfortunately, to the surprise of almost everyone, and inspired Detroit Pistons team led by Chauncey Billups comfortably beat the Lakers in five games.
Thus, ending the career and dreams of one of the greatest players is Karl Malone.
Karl Malone Net Worth: NBA Contracts & Salary
The Mailman is worth an eye-watering $85 million due to his nearly two decades of service in the NBA. Also, Karl had various sponsorship deals with many suppliers that contributed to Malone's massive net worth.
If you are interested in buying Baseball boots, click here>>
Over the course of 19 years of service in the NBA, the Mailman has earned over $105 million in salaries alone.
However, NBA players need to pay taxes ranging from 45-50% of their total payroll. Nevertheless, Malone has an eye-watering net worth of $85 million.
Similarly, Karl's net worth should come as no surprise because the former Jazz Power Forward was probably the second-best player of his generation.
To illustrate, Malone won the NBA MVP award twice during the years 1997 and 1999.
As a consequence, Malone was regularly one of the highest-paid players of his era.
Furthermore, you may be wondering exactly how much the 14-time All-Star earn during each of his near two-decade stay in the NBA? Well, don't worry, as I have got you covered.
The following is a list of career earnings and contracts of Malone throughout his near 20-year stay in the NBA:
1985 Earnings: $225,000
1986 Earnings: $550,000
1987 Earnings: $835,000
1988 Earnings: $1.35 million (a new two-year contract worth $3.6 million)
1989 Earnings: $2.26 million
1990 Earnings: $2.26 million (a new five-year contract worth $17.8 million)
1991 Earnings: $2.5 million
1992 Earnings: $2.8 million
1993 Earnings: $3.0 million
1994 Earnings: $3.3 million
1995 Earnings: $3.6 million
1996 Earnings: $4.6 million (a new three-year contract worth $15.9 million)
1997 Earnings: $5.1 million
1998 Earnings: $6.1 million
1999 Earnings: $7.2 million (a new four-year contract worth $66.5 million)
2000 Earnings: $14 million
2001 Earnings: $15 million
2002 Earnings: $17.5 million
2003 Earnings: $19.2 million
2004 Earnings: $1.5 million (a new one year contract with LA Lakers)
Karl Malone: Career Stats
Career stats
Year
Team
GP
Min
Pts
FG%
3pt%
Reb
Ast
Stl
Blk
2003
Lakers
42
32.7
13.2
48.2
0.0
8.7
3.9
1.2
0.5
2002
Jazz
81
36.2
20.6
46.2
21.4
7.8
4.7
1.7
0.4
2001
Jazz
80
38.0
22.4
45.4
36.0
8.6
4.3
1.9
0.7
2000
Jazz
81
35.7
23.2
49.8
40.0
8.3
4.5
1.1
0.8
1999
Jazz
82
35.9
25.5
50.9
25.0
9.5
3.7
1.0
0.9
1999
Jazz
49
37.4
23.8
49.3
0.0
9.4
4.1
1.3
0.6
1997
Jazz
81
37.4
27.0
53.0
33.3
10.3
3.9
1.2
0.9
1996
Jazz
82
36.6
27.4
55.0
0.0
9.9
4.5
1.4
0.6
1995
Jazz
82
38.0
25.7
51.9
40.0
9.8
4.2
1.7
0.7
1994
Jazz
82
38.1
26.7
53.6
26.8
10.6
3.5
1.6
1.0
1993
Jazz
82
40.6
25.2
49.7
25.0
11.5
4.0
1.5
1.5
1992
Jazz
82
37.8
27.0
55.2
20.0
11.2
3.8
1.5
1.0
1991
Jazz
81
37.7
28.0
52.6
17.6
11.2
3.0
1.3
0.6
1990
Jazz
82
40.3
29.0
52.7
28.6
11.8
3.3
1.1
1.0
1989
Jazz
82
38.1
31.0
56.2
37.2
11.1
2.8
1.5
0.6
1988
Jazz
80
39.1
29.1
51.9
31.2
10.7
2.7
1.8
0.9
1987
Jazz
82
39.0
27.7
52.0
0.0
12.0
2.4
1.4
0.6
1986
Jazz
82
34.8
21.7
51.2
0.0
10.4
1.9
1.3
0.7
1985
Jazz
81
30.6
14.9
49.6
0.0
8.9
2.9
1.3
0.5
Career
1,476
37.2
25.0
51.6
27.4
10.1
3.6
1.4
0.8
Karl Malone Net Worth: Houses & Cars
Having big expensive houses and extravagant and luxurious cars has become a norm for the wealthiest people. Similarly, Karl is no exception as he has one of the biggest real estate in the city of Louisiana.
To illustrate, Malone is currently residing at his Ruston, Louisiana house, which set him back $8 million. Nevertheless, I don't think Karl felt the pinch as he has a net worth of $85 million.
Furthermore, the 14-time All-Star had a colossal mansion in the city where he earned his fame and wealth, Utah.
To illustrate, the two-time MVP lived in one of the most luxurious houses in the state of Utah. For instance, the 19,000-square-foot home included two swimming pools, a shooting range, 11 baths, and a beautiful backyard.
The colossal residence has a basketball hoop in the basement, which should come as no surprise.
Nonetheless, Malone had to sell the house as he was going to Los Angeles to play for the LA Lakers in the 2003-04 season. As a result, the home was listed at $6 million for the auction conducted by Craig King.
However, the house did not fetch as much as expected. The main reason being that the event was an "absolute auction," which means that someone is guaranteed to get their hands on the house, no matter the bidding price.
As a result, the 19,000-square-foot residence was sold for a mere $2.5 million, less than half the original price.
And, the lucky man who bought the mansion was none other than Dwight Manley. Interestingly, Manley was Malone's agent at the time, along with being a real estate investor.
In addition to owning several houses, the 14-time All-Star is a proud owner of a vast fleet of vehicles.
For instance, Malone owns a Harley Davidson motorcycle, which costs around $30,000. Also, the 6 feet 9 power forward owns several Toyota branded cars.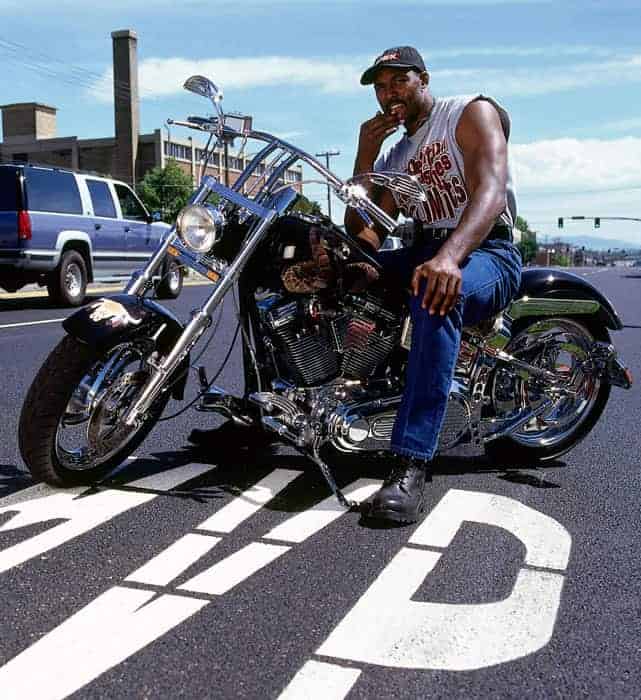 The reason being that Malone owns a Toyota dealership in his hometown of Ruston, Louisiana. Furthermore, MVP also owns a Dodge Charger GT, with its listed price being $35,000.
Karl Malone: Career Highlights
2× NBA Most Valuable Player
14× NBA All-Star
2× NBA All-Star Game MVP
11× All-NBA First Team
2× All-NBA Second Team
All-NBA Third Team
3× NBA All-Defensive First Team
NBA All-Defensive Second Team
NBA All-Rookie First Team
No. 32 retired by Utah Jazz
NBA's 50th Anniversary All-Time Team
Second-team All-American
Southland Player of the Year
No. 32 retired by Louisiana Tech Bulldogs
Karl Malone Net Worth: Business Endeavours
The amount of money Karl earned during his playing career would have been enough for most other people.
However, being the competitor Malone is, no one should be surprised that the 6 feet 9 power forward is as competitive off the court as he is on it.
To emphasize, the two time MVP's late brother once said,
"If I had your money, I wouldn't do anything."
In other words, Karl is one of the most successful entrepreneurs who boasts a host of businesses under the umbrella of Malone Properties.
One might be forced to think that the 14-time All-Star would take a break and enjoy his wealth and fame. Instead, the two-time MVP has expanded his business venture, which includes:
Arby's/Texaco in Ruston
Teriyaki Grill franchise in Ruston
230-acre cattle ranch
Three Jiffy Lube franchises in Utah
Part owner of two Burger King franchises (Utah and Idaho)
22 acre Karl Malone Used Car Outlet Toyota in Sandy
Karl Malone Toyota in Draper
Two condos at Green Valley Resort in St. George
M&M Automotive in Sandy
Body Shop/Collison Center
Eskimoe's Ice Cream
Karl Malone Chrysler Dodge Jeep Ram in Heber City
In addition to the long list of business ventures, Malone owns a few thousand acres of Louisiana timberland property.
Likewise, Karl also owns the gas, oil, and mineral rights of the same real estate. Likewise, he is the owner of a summer home near the Kenai River in Alaska.
Furthermore, the two-time MVP has a 37-acre outdoor mall in his hometown of Ruston. Similarly, the Louisiana native has a deer-raising venture on 300 acres of fenced property. For years, Malone has been raising white-tailed and axis deers inside the property.
If that isn't enough, Karl owns Malone Outfitters, through which he takes his clients on hunting trips in his 300-acre deer property. One might wonder where the 6 feet 9 power forward learned his business trade.
Well, no need to worry as the man behind Malone's success is none other than his former boss, Larry Miller.
The late entrepreneur, car dealer, and Jazz owner helped the 14-time All-Star in not only his on-court activities but also off-court.
According to Malone,
"Larry and I talked about everything. One of the things he told me is to have a passion for whatever you do, not doing business just to do it. You do it to make a profit. You've got to ask questions."
Besides, the Louisiana native has also tried his hands in the entertainment industry. For instance, Malone appeared in two movies named Rockwell (1994) and Soul Plane (2004).
However, the films did not turn out to be as profitable as his business and playing career. Furthermore, the two-time MVP has a recurring cameo called "All Alone with Karl Malone" in the hit talk show Jimmy Kimmel Live.
In conclusion, the power forward learned from one of the best entrepreneurs to have ever lived. As a result, Malone is one of the most affluent business moguls currently. And I have no doubts that Karl will someday increase his net worth to break the $100 million barriers.
Karl Malone: Charity Work
Having grown up living a frugal life out of necessity, Malone does everything within his capabilities to help needy families and kids.
As a result, Karl runs the Karl Malone Foundation, which financially supports kids and their families. To illustrate, the Louisiana native donated supplies worth $200,000 to Navajo Indians.
Also, back in 1998, Malone was honored with the Henry B. Iba Award. To explain, the award is given to athletes that have gone out of their way to aid people in need.
Similarly, the two-time MVP also donated $6,000 to the re-election campaign of President George W. Bush along with $2,000 to the 2004 U.S Senate campaign of Lisa Murkowski.
By this time, we all know how generous and down-to-earth Malone is. Therefore, it should come as no surprise that the 14-time All-Star voiced his support for farmers of Louisiana as Pilgrim's Pride closed its plants, which meant that the farmers would be without jobs.
Also, Karl is a member of the Board of Directors of the National Rifle Association (NRA), whose primary aim is to teach firearm safety and competency.
Karl Malone: Wife & Family
Just like the eventful journey that Karl had in the NBA, his personal journey is as incredible, if not more. For instance, The Mailman is currently married to 1988 Miss Idaho, Kay Kinsey. Precisely, the couple got married on 24 December 1990 in a lavish wedding.
Karl Malone Children
Furthermore, the two lovebirds have been blessed with four lovely kids daughters Kadee Malone, Kylee Malone, Karlee Malone, and son Karl Junior. However, that's not all as the 14-time All-Star begat further three children with two women.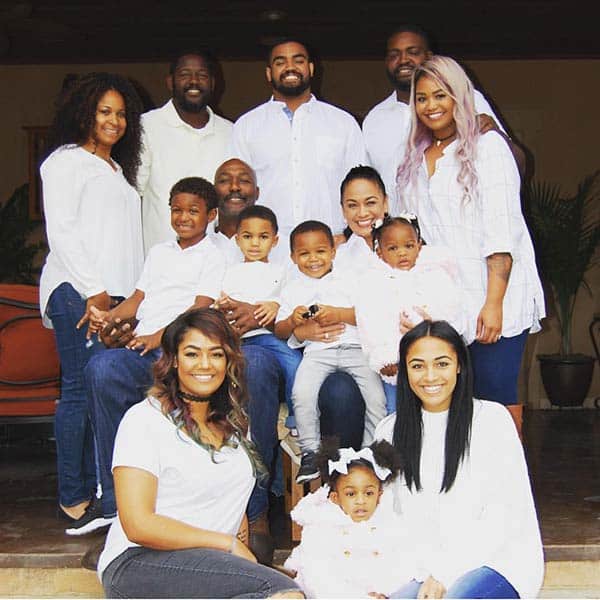 Firstly, Malone had a set of twins with Bonita Ford, son Daryl Ford, and Daughter Cheryl Ford.
Secondly, the Hall of Famer had another child, Demetress Bell, with Gloria Bell. Astonishingly, Gloria was only 13 years old at the time she gave birth to Demetress.
Nonetheless, those incidents happened in the past and should be left there. As of now, Malone is a family-oriented guy who loves spending time with his children and his wife, Kay.
Therefore, Karl's past should not blemish his present as he is one of the most caring and loving fathers one could have.
Karl Malone: Some Popular Quotes
Sometimes, you follow your dreams. I say to the young people, 'If you have a dream, chase it.
It takes people a while to trust you.
I never felt I had the kind of relationship with Magic that I could just pick up the phone and call him at home.
Social Media Presence
Twitter: 73.6k +followers
Some FAQs
What does Karl Malone do for her living?
Karl Malone's wife, i.e., Kay Kinsey, works in the Teriyaki Grill Restaurant of Ruston. Karl owns a lot of businesses and properties, and Kay Kinsey also is getting involved in other companies as well.
What are the other hobbies of Karl besides basketball?
Karl is fond of an outing, visiting new places, and has a deep interest in hunting and fishing.
Is Karl Malone still owns the Honda dealership?
At present, Karl does not own the Honda Dealership. In the past, he was the co-owner of the Honda dealership, but in 2010, he sold the share to Larry H. Miller Dealerships.
What happened to Karl Malone?
On December 21, Malone suffered from a knee injury when playing against the Phoenix Suns that forced him to miss 39 games.
Was Karl Malone interviewed for the last dance documentary?
Karl Malone was missing from the last episodes for the last dance documentary. However, Kael declined the interview.