Jim Brown, the NFL great, sadly passed away at the age of 87 in the presence of his family. Amid the pouring of condolence, many of his fans are wondering if Jim Brown was sick or had any illness.
Brown was widely regarded as one of the greatest players in the history of the NFL and made a significant impact both on and off the field.
The legend had an illustrious career as a fullback for the Cleveland Browns in the NFL from 1957 to 1965.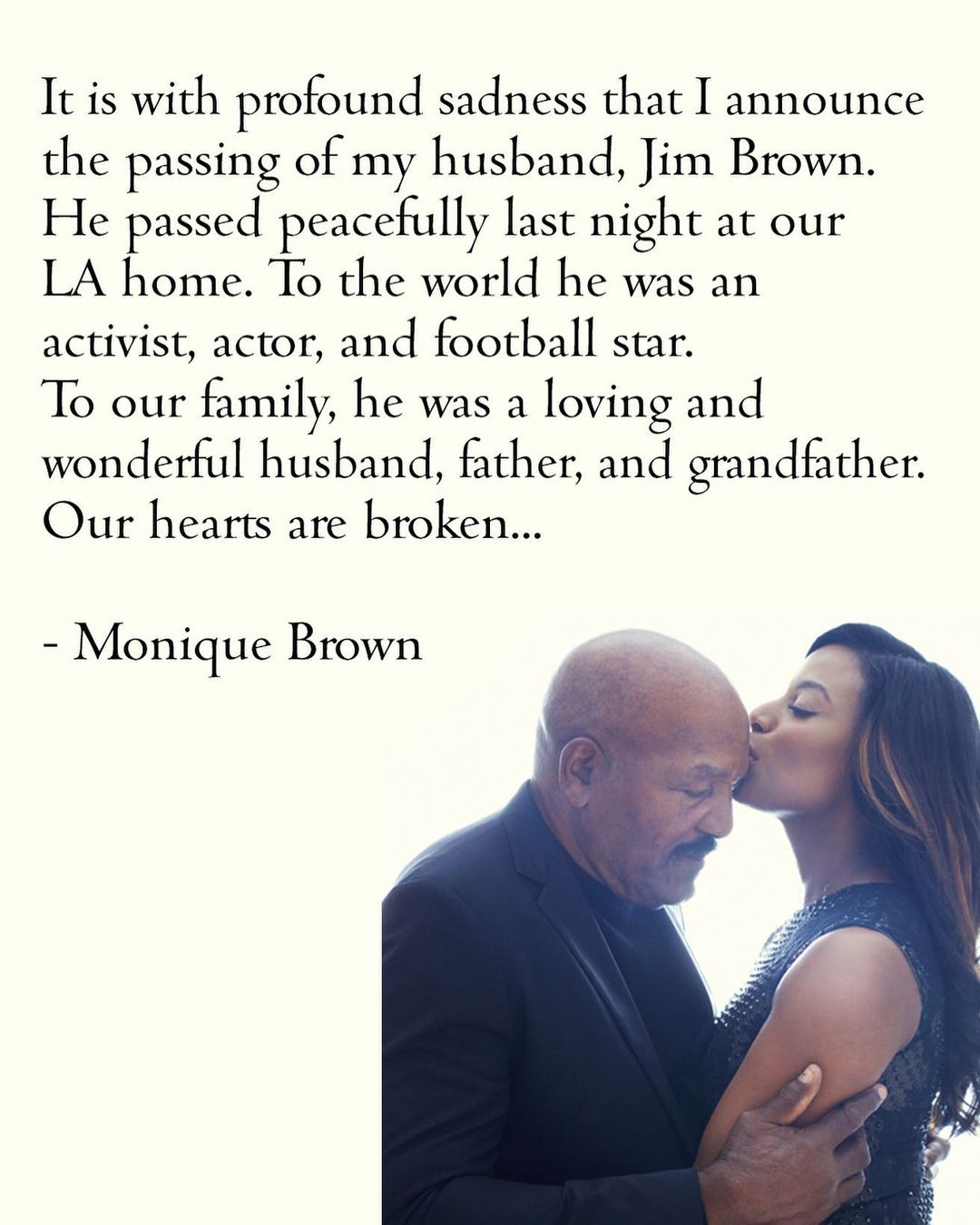 He dominated the league in rushing yards, leading in eight out of his nine seasons. By the time of his retirement, Brown held many significant rushing records.
In 2002, The Sporting News recognized him as the greatest professional football player ever.
Despite retiring from football during the prime of his playing career, he transitioned into acting and continued to stay in the public eye as an activist.
Was Jim Brown Sick? Illness And Health Before Death
As of this writing, Jim Brown hasn't had any public diagnosis. Hence, there is no concrete evidence that supports that he was sick before death.
Moreover, it was revealed that he passed away peacefully at his Los Angeles residence on Thursday night, with his wife by his side.
This has led to much speculation as the cause of his death is still a mystery, but it gives a slight hint that he wasn't suffering from any illness.
Back in 2013, due to health reasons, he had to cancel his scheduled speaking engagement with NFL rookies.
In a statement, Jim explained that he had to cancel due to extreme fatigue caused by extensive travel. He emphasized the importance of taking some time off to rest and recuperate.
Regardless, it is important for us to respect the privacy of Jim Brown's family unless they choose to share information publicly. Their decision to disclose any details should be honored and supported.
Jim Brown Obituary
On 18th May, Jim Brown passed away peacefully at the age of 87 in his Hollywood Hills home in California.
His wife confirmed the news in an Instagram post the next day. Brown is survived by his wife Monique, their two children, and three children from his previous marriage.
Monique Brown expressed their family's grief in her Instagram post, highlighting that while the world knew him as an activist, actor, and football star, to their family, he was a loving and remarkable husband, father, and grandfather.
Many athlete and renowned personnel have poured their love and respect for the legend and has mentioned the impact he has made throughout his life.
Jim Brown, regardless of his controversies, has made a mark in the sport as well as the movie world.
Football Was Not Only His Legacy
Towards the end of his football career, Jim Brown ventured into acting, amassing 53 acting credits and taking on prominent roles primarily in the 1970s.
He is often hailed as Hollywood's pioneering black action hero.
Notably, his acting in the 1969 film "100 Rifles" was groundbreaking as it depicted interracial love scenes, making a significant impact in cinematic history.
Likewise, Jim played a pioneering role as one of the earliest African American athletes who inspired and motivated others to engage in activism beyond the realm of sports.
Recognizing the need for economic empowerment, Brown established the Negro Industrial Economic Union, later renamed the Black Economic Union.
The organization aimed to promote economic opportunities specifically for minority-owned businesses.
Additionally, Brown founded the Amer-I-Can Foundation, an initiative that aimed to guide gang members away from violence by providing them with essential life skills.