A retired NBA player & two-time Rupy Award winner JJ Redick has two kids with his wife Chelsea Kilgore. Fans wonder if Redick's son is into basketball too.
Redick and his longtime girlfriend-turned-wife Chelsea Kilgore are married for more than a decade. They ensure that their kids are into professional ventures of their own.
The American former basketball star retired in 2021 after 15 NBA seasons as a Mavericks player.
The Tennessee native now works as a sports analyst for ESPN & as a podcaster.
An alumnus of Duke University, JJ Redick was the 11th overall pick of the Orlando Magic in the 2006 NBA Draft.
Throughout his playing career, the shooting guard played for various NBA teams like the Bucks, Clippers, 76ers, Pelicans & Mavericks.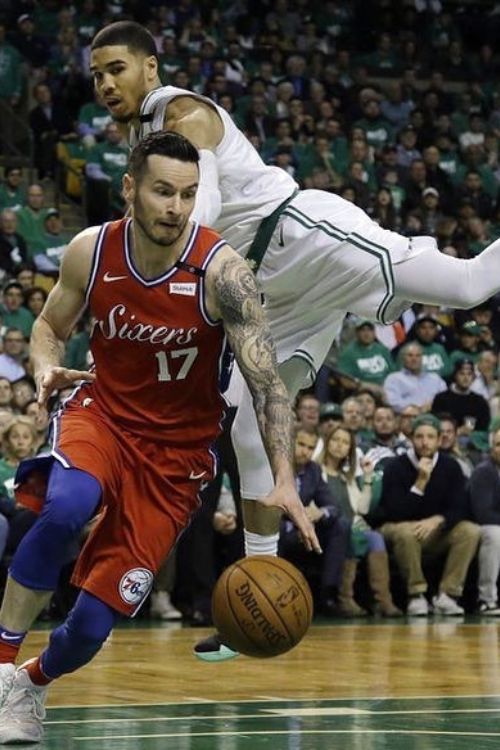 Redick's exceptional three-point and free-throw shooting earned him praise in college.
He set ACC records for both total points scored throughout a career and total points scored at an ACC tournament.
Redick has a well-known reputation for being Duke's all-time leading scorer. He also set several other Duke records, including the most points in a single season.
He also became the first NBA player and the second professional athlete, still in a professional capacity to participate in a podcast during the regular season.
Redick attended Cave Spring High School in Roanoke, Virginia, and was a McDonald's All-American.
JJ Redick Son: Knox Redick Is A Basketball Prodigy
Knox Redick is the eldest son of JJ and he was born on August 26, 2014. Nowadays, the internet is going wild over Knox's basketball skills.
The official youtube page of JJ Redick posted a video of a basketball duel between the 9 year old and an NBA star Josh Hart.
Hart is a 28 year old plays from the wing for the New York Knicks.
In the video, it was seen that junior Redick challenged Hart to a 3-point contest. Meaning, two shots apiece from five spots around the arc.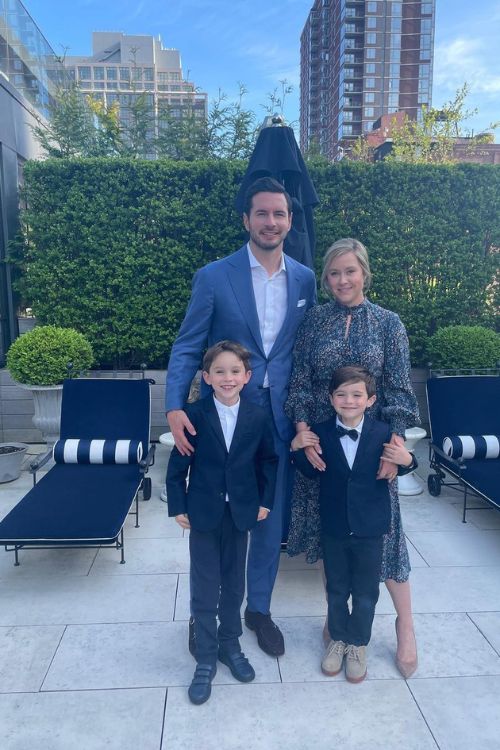 When Papa-Redick is explaining the rules of the game, Knox goes, "I know what a 3-point contest is!" with a very charming smile.
Knox scores in his very first attempt which sets the stage for pressure for Hart. He even reminds Hart of the rules when he finds the NBA star's foot touching the line.
In the first arc, Hart barely manages to tie the score to a 1-1. But Knox did not seem to be generous to the fellow NBA star. He scores three times back to back pressurizing the Hart even more.
We can also see Redick's younger son, Kai, cheering for his elder brother.
Finally, Hart scores in his last shot, and the final scores turn to 4-2. The NBA star humbly accepts his defeat.
Despite the debates of whether Hart went easy on Knox or not, if we put the competition element aside, Redick's son seems to be a basketball prodigy.
He is also playing in his school's leagues and JJ was ejected from one of these games as he made a very persistent appeal to the referee.
JJ Redick Wife Chelsea Kilgore
In 2008, JJ first met his wife, Chelsea Redick, and they have been together ever since.
Chelsea was born in Mississippi on May 12, 1987. Additionally, she also has a Kylie-named twin sister. Chelsea was a Pilates instructor before she wed JJ.
Knox and Kai Redick are the two children of the couple. Knox, the oldest one, was born in August 2014, while Kai was born two years later, in August 2016.
When Redick was in the NBA bubble, Chelsea managed the family. She is very involved in her sons' lives.
JJ and his wife both seem to love each other very much. Both of them are family driven and always keep their family first.
Her Instagram handle is @chelsealredick which is a private account. She seems to have a following of about only 900 followers but posts heavily with more than 1900 posts.