Jeremy Clarkson sister, Joanna Clarkson, is a corporate lawyer with more than 30 years of expertise. Her focus is mostly on corporate transactions for both private and public companies.
Even if Joanna has a flourishing career in her own right, she gets media attention as the younger sister of the British journalist & TV host Jeremy Clarkson.
Jeremy is best known for co-hosting "Top Gear," a popular automotive program on the BBC, from 2002 to 2015. In addition, he has hosted a number of other TV programs, such as "The Grand Tour," "Clarkson's Farm," and "Who Wants to Be Millionaire?".
While Joanna keeps herself away from the spotlight, her brother Jeremy seems to be a contrary figure to that.
Aside from his achievements, inclusive of the International Emmy Award, Mr. Clarkson's been a frequent guest of controversies & scandals throughout his career.
Sure, many people do know about Jeremy already, but what about his small sister? Let's get a hold of that here!
Who Is Joanna Clarkson? Top Gear Jeremy Clarkson's Sister
Joanna Clarkson, also known as Joana Higton, is the older sister of famous British TV presenter, journalist, and author Jeremy Clarkson.
Born in 1962, she is two years younger than Jeremy (b. April 11, 1960).
Joanna has over 30 years of experience as a corporate lawyer, helping both public and private enterprises in a wide range of industries.
She advises on capital market operations such as AIM and main market flotations, fundraisings, reorganizations, and takeovers.
According to her LinkedIn profile, Joanna is currently a partner at Goodman Derrick LLP (2013- present).
Earlier, she had partnerships at City Law Partnership (1996-2004) and Maclay Murray & Spens LLP (2004- 2013).
Joanna Higton Clarkson graduated from Malvern Girls College with a Bachelor's degree in Chemical Sciences.
'Top Gear' Host Jeremy Clarkson Family
Jeremy Clarkson was born in Doncaster, England. He is the son of teacher Shirley Gabrielle Clarkson and traveling salesman Edward Grenville Clarkson.
The British TV host has a younger sister named Joanna Clarkson, a corporate lawyer.
While their personal life detail of Joanna remains under wraps, her brother Jeremy's life has been an open book to the media.
Jeremy Clarkson married Alex Hall in 1989, but she left him six months later for his friend.
Later, in 1993, Jeremy Clarkson married his manager, Frances Cain, but they separated in 2014. While together, they welcomed three children: Emily, Katya, and Finlo.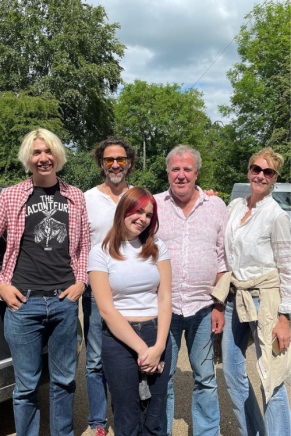 Clarkson is now dating Lisa Hogan, an English actress, and model, who was born on June 23, 1971, in Essex, England
Hogan has appeared in several TV shows and movies, including Pennyworth, Holby City, Bill, and Casualty. She also works as a model and has appeared in advertisements for brands such as Ford and Peugeot.
Hogan and Clarkson reportedly started dating in 2017 after Clarkson divorced his (now-ex) wife, Frances Kane.
They have been spotted together at various events and photographed together while on vacation.