American football coach Jon Gruden's sons, Deuce, Michael, and Jayson, have a flourishing yet diverse career.
Only the eldest son, Jon "Deuce" Gruden II, pursued the athletic road. Deuce is a strength and conditioning assistant at the NFL's Oakland Raiders (2018- present).
Gruden's other two sons have been involved in music.
The former Buccaneers head coach welcomed three sons with his wife, Cindy, whom he married in 1991.
The duo met in 1985 at the University of Tennessee when Gruden was a graduate assistant while Cindy was a student.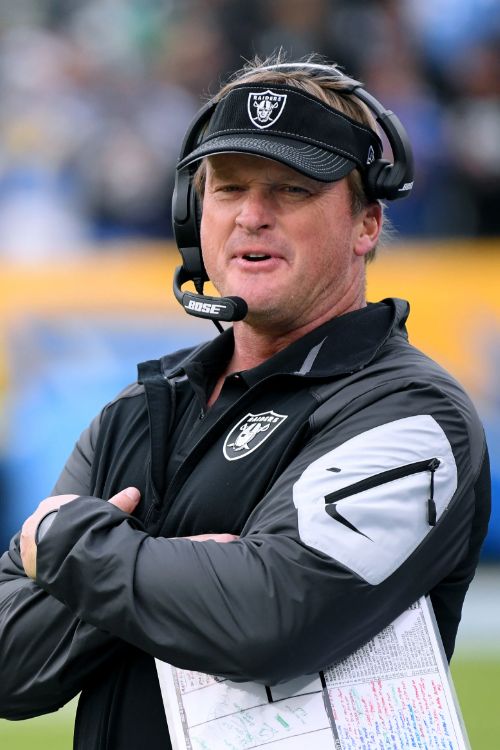 Born on August 17, 1963, Jon David Gruden is an American football coach who now serves as a consultant for the NFL team New Orleans Saints (2023- present).
Formerly, the Ohio native served as the head coach of the Las Vegas Raiders (aka Oakland Raiders) before resigning in 2021.
It resulted in the aftermath of his revelation of his racist, misogynistic, and homophobic emails.
Having started his career as a graduate assistant at the University of Tennessee in 1986, Jon sought experiences in NFL teams: the 49ers, Packers, Eagles, Raiders, and Buccaneers.
While with the Buccaneers, he led the team to their first-ever victory at the Super Bowl XXXVII.
The winning team's rosters included future Hall of Famers like Ronde Barber, Derrick Brooks, John Lynch, and Warren Sapp.
Jon Gruden Son: Deuce, Michael, And Jayson, What's Their Age Gap?
The former Raiders head coach, Jon Gruden, is the father of three children (all sons), Deuce, Michael, and Jayson, with his longtime girlfriend-turned-wife, Cindy.
After three years of marriage, the duo welcomed their eldest son, Deuce (full name: Jon Gruden II), on January 19, 1994.
As of 2023, he is 29 years old.
Later, they became parents to their second son, Michael "Mike" Gruden, born on December 21, 1996. His age is 26 as of 2023.
The youngest of three, Jayson, is currently in his 20s. Deuce and his brother, Mike, have an age gap of nearly two years.
While Jayson's exact age isn't known, he is reportedly three years younger than Mike and one year younger than Deuce.
Jon's three sons share a close bond, frequently visiting each other and sharing pictures on their Instagram.
What Does Jon Gruden's Sons Do?
Of the American football coach's three sons, only the oldest, Deuce, chose to follow in his father's football footsteps.
Meanwhile, the other two brothers are into music and currently reside in Las Vegas.
Deuce Gruden Works For Las Vegas Raiders
Currently, Jon "Deuce" Gruden II is serving as the strength and conditioning assistant for the Las Vegas Raiders.
He joined the Raiders in 2018 and recorded his 6th season in 2023. There, he has worked with Jared Cook, Derek Carr, and Davante Adams, to name a few.
Earlier, Gruden II was the strength and conditioning assistant for the Redskins in the 2016-17 and 2017-18 seasons.
Moreover, the eldest of three Gruden brothers won a gold medal in the juniors 83-kilogram (183 pounds) division at the IPF World Classic Powerlifting Championships.
He is a graduate of Lafayette University, where he played for the Leopards from 2012-15 before graduating with a degree in Biology.
Then, he enrolled at the A.T. Still University & earned a master's degree in Kinesiology with a focus on corrective exercise.
Michael Is A DJ
Michael "Mike" Gruden is a D.J. and goes by the stage name "Hexed." He manages his music production company, Hexed (June 2019- present).
Moreover, according to his LinkedIn profile, he is a freelance D.J. at Chateau Nightclub & Rooftop.
His fascination with music came after joining Icon Collective's music production program in 2019.
Since then, he has earned label releases with AY YO TRIP! Records, Left Coast Xtracts, Wubaholics, and Electrostep Network
He is a 2019 Haslam College of Business graduate at the University of Tennessee with a degree in Marketing/Entrepreneurship.
Youngest Son Jayson Once Competed In Muay Thai
In 2018, Jon Gruden's youngest son, Jayson, made his Muay Thai. He trained at Combat Sports Academy gym in Dublin.
But it seems he made a U-turn from the kickboxing career and sees himself collaborating with his brother, Mike, for music composition.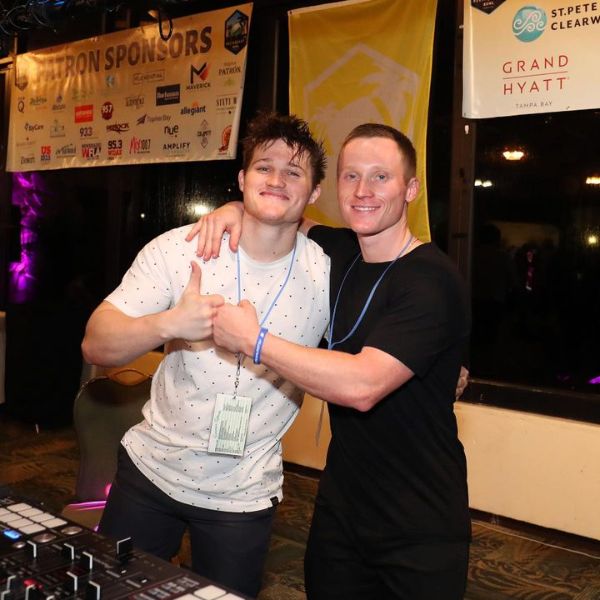 According to his LinkedIn profile, Jayson is a contractual music assistant at HEXED (June 2023- present).
He completed high school at Monte Vista High School in 2019 and graduated from the University of South Florida in 2023 with a degree in Public Health.