After nine seasons with the Las Vegas Raiders, QB Derek Carr saw a waiver that raised a wave of potential signings. Within a month of being a free agent, Carr signed a four-year deal with New Orleans Saints in February 2023.
The Fresno State alumnus contract with $100 million guaranteed runs throughout the 2026-27 NFL season, with sightings for his first-ever Super Bowl title.
As he received the Sammy Baugh Trophy at the end of college, the Oakland Raiders drafted Derek as the 36th overall pick in the second round of the 2014 NFL Draft.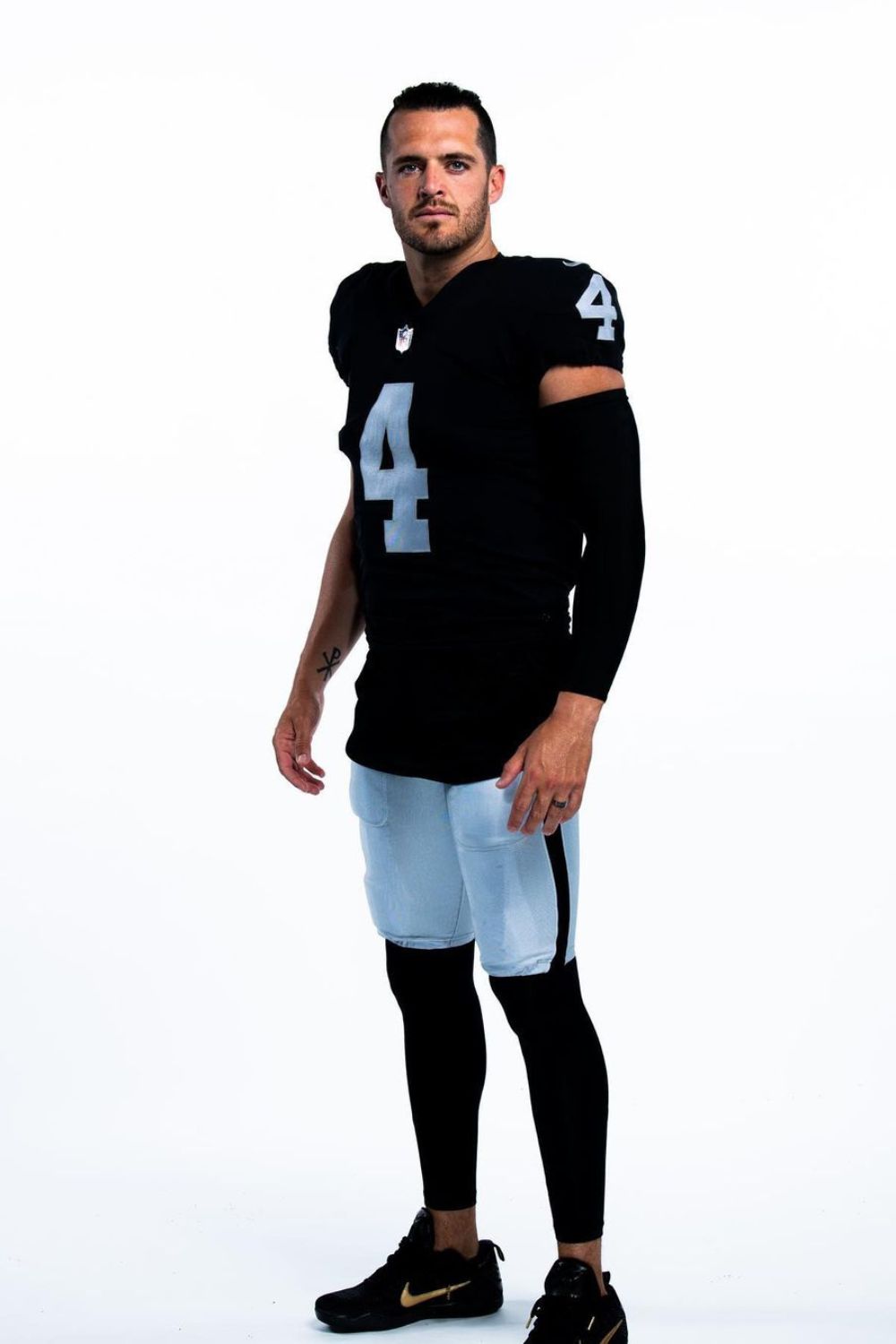 In the lead-up to the 2014 NFL Draft, Derek acknowledged the significant contribution of his older brother David towards his preparation and training.
His older brother is a former NFL player turned analyst, and his middle brother is the head coach at Bakersfield Christian High School.
Carr comes from a strongly religious family background in addition to a football background.
This article will enlighten you about Derek Carr's family, education, net worth, contracts, and many more.
Quick Facts
Full Name
Derek Dallas Carr
Known As
Derek Carr
Birth Date
March 28, 1991
Age
32 Years Old
Birth Place
Bakersfield, California, United States
Nationality
American
Religion
Christian
Education

High School: Clements High School, Bakersfield Christian
College: Fresno State (2009-2013)

Father's Name
Rodger Carr
Mother's Name
Sheryl Carr
Siblings
Two
Marital Status
Married
Wife's Name
Heather Neel
Children
Four
Height
6 feet 3 inches/ 190 cm/ 1.9 m
Weight
210lbs/ 95 kg
Zodiac Sign
Aries
Profession
NFL Player
NFL Draft
2014/ Round: 2/ Pick: 36th Overall
Awards & Achievements

4 Times Pro Bowl (2015-2017, 2022)
2 Times MWC Offensive Player of the Year (2012, 2013)
2 Times First-team All-MWC (2012, 2013)

Playing Career

Oakland/ Las Vegas Raiders (2014-2022)
New Orleans Saints (2023- now)

Position
Quarterback
Jersey Number
4
Annual Average Salary
$37.5 Million
Net Worth
$80 Million
Social Media
Facebook, Instagram, Twitter, YouTube
Merch
Signed Card, Signed Football, Signed Jersey
Last Update
December 2023
Early Life
Derek Carr was born on March 28, 1991, in Bakersfield, California, to Rodger and Sheryl Carr.
He has two older brothers named David Carr and Darren Carr, and he is the youngest in the family.
In 2002, Derek Carr and his family relocated from Bakersfield to Sugar Land, Texas, where he enrolled at Clements High School.
However, they later returned to Bakersfield, and for his final year of high school, Derek attended Bakersfield Christian High School.
Derek Carr was raised in a religious household and maintains a strong faith in God.
Many of his relatives are connected with the church, including his grandfather, grandmother, and his uncle served as a pastor and minister in charge of a Christian church.
More On Derek Carr's Family!
Sheryl Joyner Carr, the mother of Derek Carr, was born to David G Joyner, an Air Force veteran who passed away in 2008. It was Sheryl's father who first introduced her to Jesus.
Sheryl frequently shares pictures of her husband and children on her social media.
Derek's oldest brother, David Carr, was the first overall draft pick of the 2002 NFL Draft.
From 2002 to 2012, Derek Carr's eldest brother David had a career in the NFL playing as a quarterback for various teams, including the Houston Texans (2002–2006), Carolina Panthers (2007), New York Giants (2008–2009), San Francisco 49ers (2010), and New York Giants (2011–2012).
He earned a Super Bowl ring as a backup for the Giants when they defeated the Patriots in Super Bowl XLVI.
David is an NFL analyst for the NFL Network in Los Angeles, which he joined in 2016.
Derek's other brother, Darren Carr, is the head football coach at Bakersfield Christian High School.
In addition, Derek Carr's uncle, Lon Boyett, played as a tight end for the Raiders during the 1978 season.
Age, Height & Body Measurements
Derek Carr is currently 32 years old, having been born in 1991.
He is 6 feet 3 inches (1.9 meters) and weighs approximately 95 kg (210 pounds).
Carr has an athletic build with black hair and grey eyes.
Education
High School
Derek Carr began his high school football career at Clements High School in Texas.
During his junior year, Carr had an outstanding season, leading his team to a perfect 13-0 record and throwing for 1,622 yards and 16 touchdowns before being eliminated in the quarterfinals.
As a result, he received interest from several colleges, including Fresno State, SMU, Boise State, USC, UCLA, and Utah.
Of these options, only Fresno State, SMU, and Utah offered Carr a scholarship. He eventually committed to Fresno State in May 2008 at the end of his junior year.
Carr continued to impress in his senior year, leading his high school football team to a 12-1 record.
Overall, he threw for a total of 6,935 yards and 74 touchdowns during his high school football career.
After completing his high school career, Derek Carr was honored with the title of National Player of the Year by the National Private Schools Athletic Association in 2009.
College
In the 2011 season, Derek Carr debuted as a starter for the Bulldogs, but unfortunately, they lost the game against California.
Carr led the Bulldogs to a 9-4 record in 2012. Davante Adams, who had just come off a redshirt year, emerged as a reliable receiver for Carr.
The following year, Carr played a significant role in leading the Bulldogs to an impressive 11-2 record, their highest since 2001.
For his outstanding performance over three seasons at Fresno State, Carr was awarded the 2013 CFPA Elite QB Award.
By the time he finished his college career, Carr had thrown for a total of 12,843 yards and 113 touchdowns.
During his time at Fresno State, Carr wore the number 4 jersey, which he wore as a tribute to his favorite NFL player, Brett Favre.
In 2017, Fresno State retired Carr's number 4 jersey during halftime against Incarnate Word.
NFL Career
Derek Carr was drafted by the Oakland Raiders as the 36th overall pick in the second round of the 2014 NFL Draft. He was the fourth quarterback chosen in that year's draft.
In his rookie year, Carr started as the quarterback for the Raiders, making him the first rookie quarterback in Raiders history to start a season opener.
He also became the first Raiders quarterback to start in all 16 games since Rich Gannon in 2002.
On January 20, 2015, Carr was selected to replace Aaron Rodgers of the Green Bay Packers in the 2016 Pro Bowl.
Carr was named to the Pro Bowl in 2016 and ranked 11th on the NFL Top 100 Players of 2017 as voted by his fellow players.
He was also named to the Pro Bowl in 2018 as a replacement for Tom Brady.
In the 2022 season, Carr was benched in Week 16 after throwing three interceptions and completing only 53.3% of his passes in a loss to the Steelers.
This benching ended his streak of 91 consecutive regular-season starts for the Raiders, the longest active streak for a quarterback on the same team.
Following his refusal to waive a no-trade clause in his contract, the Raiders released Carr on February 13, 2023.
It would follow his negotiations for potential new signings with the Jets, Saints & Panthers.
On March 6, 2023, Derek signed with New Orleans Saints on a four-year contract, keeping him committed to the team through the 2026-27 season.
Throughout his career, Carr has earned four Pro Bowl selections, thrown for 35,222 yards, and completed 217 touchdown passes.
A Happy Family Of Six
Derek Carr tied the knot with his wife, Heather Neel, on June 29, 2012.
Heather held a part-time job at a restaurant while also being a cheerleader at Fresno State University. She was born in Fresno, Northern California, United States, on January 3, 1990.
The two first met when Heather was working as a waitress at a steakhouse in Fresno, where Derek was studying at Fresno State University and playing football for the team.
In 2013, during an interview with ABC7, Heather recalled the amusing story of their first encounter.
Derek joked that she was wearing only one earring and asked her about it. Heather, who was sure she had both earrings on, checked her ears, and they both had a good laugh.
The couple is blessed with four children: three sons, Dallas Carr (August 2013), Deker Luke Carr (March 2016), Deakon Derek Carr (May 2019), and a daughter, Brooklyn Mae (November 2020).
The birth of their first child, Dallas, brought both joy and hardship.
He was born with intestinal malrotation, a rare condition, a 1-in-500 illness for American babies, in which an infant's intestines become entangled, and he had to undergo three emergency surgeries.
Dallas spent 23 days in Children's Hospital Central California before being discharged, and thankfully, he has been healthy ever since.
Net Worth & Endorsements
Derek Carr's estimated net worth is around $80 million as of December 2023, primarily earned through his NFL contract with the Las Vegas Raiders, endorsements, and bonuses.
He has signed endorsement deals with multiple companies, including Nike, Panini, Haute Living, Anchor, and Oofos, adding to his earnings.
Additionally, Carr owns an e-commerce website that sells merchandise products for his fans.
Contracts
Derek Carr was selected by the Oakland (now Las Vegas) Raiders in the second round as the 36th overall pick of the NFL Draft on May 9, 2014.
On May 21, 2014, Carr signed a four-year contract worth $5.371 million with the Raiders.
He extended his contract with the Raiders on June 22, 2017, for a five-year deal worth $125 million.
At that time, Carr's contract surpassed Andrew Luck's with the Indianapolis Colts, making him the NFL's highest-paid player based on average annual salary.
However, Matthew Stafford's annual $27 million contract with the Detroit Lions broke this record the following August.
On October 5, 2020, Carr and nine other Raiders players, including Darren Waller and Jason Witten, were fined $15,000 for violating the NFL's COVID-19 protocol by not wearing masks at a fundraiser held by Waller's charity.
Derek agreed to a contract extension with the Las Vegas Raiders on April 13, 2022, worth $121.5 million over three years.
The deal included $24.87 million in full guaranteed, $65 million in total guaranteed, and a $7.5 million signing bonus.
However, the Raiders released Carr on February 14, 2023.
Within less than a month, he signed a four-year deal worth $150 million with New Orleans Saints on March 6, 2023.
The multi-year contract includes a $100 million guaranteed amount with a signing bonus of $28.5 million & average annual salary of $37.5 million.
Social Media Presence
Derek Carr is active on various social media platforms, including Facebook, Instagram, Twitter, and YouTube.
He has a substantial following across all platforms.
As of this writing, he has 425k followers on Facebook, 854k followers on Instagram, 507.9k followers on Twitter, and 66.3k subscribers on YouTube.
Carr frequently shares pictures of his family and football-related posts on his social media.
He also uses his YouTube channel to share videos related to gaming and highlights of his football games.
Popularity Graph
The graph below shows the search interest for Derek Carr over the past twelve months.
Frequently Asked Questions (FAQS)
Did Saints get Derek Carr?
After spending nine seasons with the Raiders, Carr was released on February 14, 2023. Later, in March 2023, he signed a four-year deal with the Saints.
Are David and Derek Carr brothers?
David Carr is the oldest of three brothers, followed by Darren Carr in the middle, and Derek Carr as the youngest.
What happened to the oldest son of Derek Carr?
Carr's firstborn son was born with a medical condition that caused his intestines to become entangled, requiring three emergency surgeries.