Jonathan Isaac is a professional basketball player in the National Basketball Association (NBA) for the Orlando Magic.
He played one season of college basketball for the Florida State Seminoles. Orlando took him with the sixth overall pick in the first round of the 2017 NBA draft.
Because of his exceptional length, versatility, and defensive instincts, Jonathan Isaac is one of the most intriguing players in the game.
Isaac may have all of the tangibles needed to excel in basketball, but he also epitomizes the qualities that cannot be taught: mental and physical tenacity, as well as a high basketball IQ.
Allowing the game to come to him while retaining a healthy level of aggression on the court is extremely difficult at a young age, but he is good at that too.
In this article, we will cover everything there's about Jonathan Isaac. But before getting into details, we will look at the quick facts about him.
Quick Facts
Full Name
Jonathan Judah Isaac
Known as
Jonathan Isaac
Nickname
Minister of Defense
Birth Date
October 3, 1997
Birth Place
The Bronx, New York
Residence
Not Available
Religion
Christianity
Nationality
American
Ethnicity
American-Puerto Rican
Education
Barron G. Collier, International School of Broward, IMG Academy and Florida State (2016–2017)
Zodiac Sign
Libra
Father's Name

Jacob Isaac

Mother's Name
Jackie Allen
Siblings
Kalilah (older sister), two older brothers (Jacob and Joel), and two younger brothers (Winston and Jeremiah)
Age
26 years old
Height
6 feet 10 inches
Weight
230 lb (104 kg)
Eye Color
Brown
Hair Color
Black
Body type
Athletic
Profession
Basketball Player
Marital Status
Engaged
Girlfriend

Takita Nicole Thomas

Children
None
Active since
2017 – present
Teams

Orlando Magic
Lakeland Magic

Achievements
ACC All-Freshman team (2017)
Endorsements

Pepsi and Papa John's

Net Worth
$6 million
NBA Draft Pick
2017 / Round: 1 / Pick: 6th overall
Position
Power Forward
League
NBA
Merch
Why I Stand (Hardcover), Trading Card
Social Media
Instagram, Twitter
Last Update
November 2023
Early Life
Isaac's mother transferred him and his siblings from the Bronx to Naples, Florida, when he was ten years old to get away from an uncomfortable living situation.
The move not only ushered in a new way of life but also ignited a passion for something that would change everything: basketball.
There wasn't any sibling rivalry in the house; instead, Isaac and his older brother, Jacob, had a solid bond.
The chivalry between the two inspired Isaac to pursue basketball further, and the flame that was lit in Naples continues to burn to this day.
It was a match made in heaven when his newly discovered love for the game coincided with his growth surge.
High School Career
Isaac attended Barron Collier High School in Naples, Florida, during his freshman and sophomore years. He went to the International School of Broward in Hollywood, Florida, for his junior and senior years.
However, Isaac attended IMG Academy for what was termed a postgraduate year in 2016 due to his desire to be reclassified as a member of the 2016 high school class.
Isaac was chosen to participate in the Jordan Brand Classic and the Nike Hoop Summit All-Star games in 2016.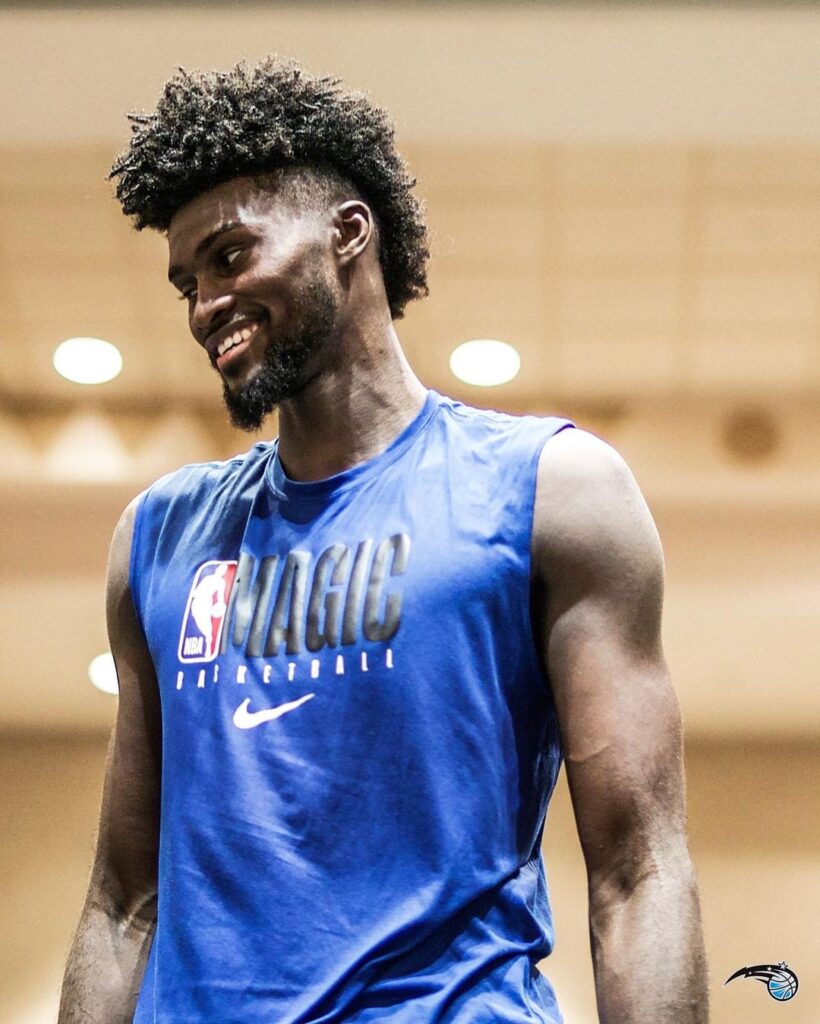 Isaac was a five-star recruit in the 2016 high school class, ranked as the No.12 overall recruit and No.4 small forward.
On February 5, 2016, he revealed his intention to test the waters in the 2016 NBA draft, becoming the first American postgraduate to do so since 2005.
College Career
Isaac was a preseason watch for the Karl Malone Award before the 2016–17 season.
From November 15–21, 2016, he was named ACC Freshman of the Week for his efforts.
His team advanced to the NCAA Tournament, where they were seeded third in the West.
Isaac only scored 25 points in two games in his NCAA Tournament career. He was chosen to the 2017 All-ACC First Team at the end of his freshman season.
After Malik Beasley in 2016, he was the second player in Florida State basketball history to leave as a one-and-done candidate.
Professional Career
The Orlando Magic selected Isaac with the sixth overall choice in the 2017 NBA draft on June 22, 2017.
He was declared out with a right ankle sprain on December 28. On February 23, 2018, the athlete was assigned to the NBA G League's Lakeland Magic for rehabilitation.
Isaac started 64 games for the Magic in his second season in the league, setting career highs in points, rebounds, assists, and blocks per game.
In a 107–100 victory over the Indiana Pacers on January 31, 2019, he set a career-high with 13 rebounds.
He set a career-high with 20 points in a 118–88 win over the New Orleans Pelicans on February 12.
On October 28, 2019, he surpassed his previous career-high in scoring 24 points in a 95–104 loss to the Toronto Raptors.
Also, read about Shooting guard for the NBA club Boston Celtics Derrick White!
Injury
Isaac was projected to be out for eight to ten weeks after suffering a posterior lateral corner fracture and a medial bone contusion in his left knee during a 122–101 win over the Washington Wizards on January 1, 2020.
He tore his left anterior cruciate ligament (ACL) in a 132–116 win over the Sacramento Kings in a game played on the bubble on August 2.
Isaac had successful surgery to repair his torn left ACL and meniscus on August 7 and was expected to miss the rest of the 2019–20 season.
According to Magic team president Jeff Weltman, he also missed the entire 2020–21 season due to the injury.
On March 15, 2022, Weltman revealed that Isaac would miss the rest of the 2021–22 season due to injuries.
During the season, he had yet to appear. During his recuperation, Isaac experienced a small injury to his right hamstring on March 22 and had to have surgery.
Jonathan Isaac: Age, Height & Weight
Jonathan Judah Isaac was born in the Bronx, New York, on October 3, 1997. Thus he is currently 26 years old.
With his length, athleticism, and finesse, he has emerged as one of the top basketball players in the country.
Jonathan is 6 feet 10 inches (2.11m) tall. Issac weighs roughly 104 kg (230 lbs). He has black hair and black eyes, and a lean frame.
As a freshman and sophomore, Isaac was a 6-foot-3 guard for Barron Collier High School in 2011-12 and 2012-13.
Moreover, from Isaacs' freshman to senior year of high school, he grew six inches, transitioning from a combo guard to the combo forward he is now.
Jonathan Isaac is a Christian who preached at an Orlando church. He gained the moniker "Minister of Defense" as a result of this. It's a play on words for his outstanding defensive abilities and his Christian faith.
Don't miss about Former NBA player and current assistant coach for the Denver Nuggets Ryan Bowen!
Family
Jonathan Isaac is a New Yorker who was born in the Bronx. He was reared by his mother, Jackie Allen, with his five siblings.
Jackie was born and reared in Cayon, St. Kitts, a Caribbean island, according to Times Caribbean Online. As Jonathan has indicated, she has also worked in health care for a long time.
When Jonathan was ten years old, the couple divorced, with Jacob remaining in New York and Jackie moving the rest of the family to Naples, Florida.
He has two older brothers, two younger brothers, and one older sister. Isaac was born and reared in the United States, but his grandfather is of Puerto Rican heritage.
Jonathan's father, Jacob Isaac, was also a significant figure in his life. According to The Atlanta Journal-Constitution, the star thanked him in a Footlocker commercial for "getting up early to attend those far away tournaments."
Before he enters between the court lines, he usually receives a text from one of his five siblings wishing him luck.
Isaac values pregame rituals, pep talks, and jump shots, but nothing compares to his family. Since his early years in New York, it's been like that, which is only the first chapter of a story he still uses to motivate himself.
Net Worth
Jonathan Isaac has a net worth of approximately $6 million. He's made $14,961,840 thus far in his career.
The Orlando Magic has Isaac on a four-year, $22,324,406 deal. This corresponds to a $5,581,102 annual compensation on average.
Jonathan Isaac has an endorsement with Pepsi and Papa John's, although the financial terms of the arrangements have not been revealed.
In 2017, Jonathan Isaac agreed to a four-year, $5.6 million agreement with the Orlando Magic.
Jonathan Isaac: Book
On January 10, 2022, it was declared that Orlando Magic forward Jonathan Isaac would collaborate with Ben Shapiro's publishing house to release a book.
It is about being a small group of NBA players who refused to kneel during the national anthem in 2020 as part of a league-wide presentation supporting the Black Lives Matter movement.
As Shapiro stated in his statement, Isaac has strong opinions about his faith and referenced his trust in Jesus Christ when reasoning why he chose not to kneel in support of the BLM movement.
The book "Why I Stand" tells Isaac's narrative of finding the fortitude to stand for his ideas in the face of tremendous pressure to follow the crowd through a series of heavenly connections and unshakeable faith.
Why I Stand will be available in paperback, e-book, and audiobook editions in May 2022.
Denied Of Getting Vaccinated Against Covid-19
Jonathan Isaac has not been immunized against COVID-19. While Isaac expresses gratitude to his Higher Power for the availability of immunizations, he says he is "uncomfortable" with getting the vaccine himself.
He claims that anyone who tries to persuade him to get vaccinated is "bullying" and "ridiculing."
Vaccine denial is more widespread in central Florida than it is along the coast, so Isaac and the Magic won't have to worry about being barred from playing at home.
The issue for Orlando as a franchise is that the question of what to do with Jonathan Isaac remains unanswered, and this difficulty extends beyond Covid-19.
The athlete's been out of the game for almost a year and will have to work his way back into game fitness while also overcoming the mental challenges that come with knee surgery.
Is Jonathan Isaac Married?
On May 3, 2021, Jonathan informed his fans that he and Takita Nicole Thomas were engaged.
Some fans may have been surprised by this, but it seems appropriate given Jonathan's ardent Christianity and eagerness to take his relationship to the next level.
Outside of their connection, little is known about Takita, although she looks to be a Christian rapper, according to the Orlando Sentinel.
On September 5, 2021, in Orlando, Fla., he and Takita co-hosted the J.U.M.P. Ministries Global Seafood Festival for Project Life. Their intense religiousness was on show for their entire existence community to behold.
Takita performed some of her Christian rap songs at the festival, according to the site, while Jonathan assisted with other festival activities.
According to the outlet, Jonathan and Takita were also supposed to marry on September 18, 2021, though he hasn't mentioned it on social media.
Jonathan Isaac: Fun Facts
Isaac gave a sermon at Orlando's Jump Ministries Global Church.

Because of his grandfather's Puerto Rican ancestry, he is eligible to play for the Puerto Rican national team.
Read next on French NBA Player Rudy Gobert
FAQs
How long will Jonathan Isaac be out?
Jonathan, who is still recovering from a ruptured ACL, will not play for the Orlando Magic this season.
They're hoping he'll be back in time for the 2022-23 season when he'll have been gone for more than two years.
How good is Jonathan Isaac?
Isaac is one of the league's most fascinating players. Despite playing in only 34 games due to several knee injuries in the 2019-20 season, he recorded 1.6 steals and 2.3 blocks per game.