Derrick White is an American-born professional basketball player. He primarily plays as a shooting guard for the NBA club Boston Celtics. However, he is very effective in the point guard position as well.
White had begun his professional league career with the San Antonio Spurs in 2017. Even though he struggled a bit in the initial seasons, he is doing well in later seasons.
Before that, he played NCAA Division I league for the Colorado Buffaloes. But he mostly played his college basketball for the UCCS Mountain Lions in the lower division.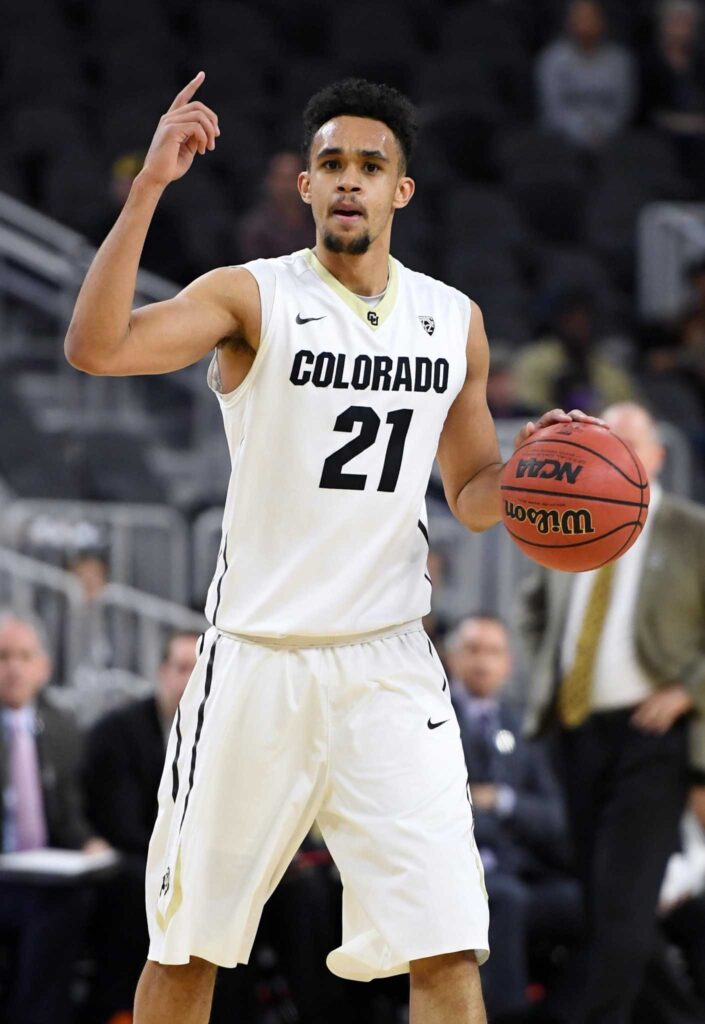 The son of very hard-working parents, Derrick finished college with much difficulty. He was paying his student loans even after starting to play in the NBA. However, his life has drastically changed after making it to the world's largest basketball league.
Likewise, he was one of the only three players to get an invitation to the 2017 Draft Combine who played in levels other than Division I. However, he is having a wonderful time and has already been the NBA G League champion in 2018.
Let's discover more intriguing information about this emerging young player, Derrick White. But before getting into the details, here are some quick facts about him.
Quick Facts
Full Name
Derrick White
Date of Birth
July 2, 1994
Birth Place
Parker, Colorado, the USA
Nick Name
Baby Face, Skywalker
Religion
Christianity
Nationality
American
Zodiac Sign
Cancer
Age

28

years old
Height
1.93 m (6 feet 4 inches)
Weight
190 lb (86 kg)
Hair Color
Black
Eye Color
Dark brown
Build
Athletic
Father's Name
Richard White
Mother's Name
Colleen White
Siblings
Brianna White
Food Habit
Non-vegetarian
Education

Legend High School (Parker, Colorado)
University of Colorado (Colorado Springs, Colorado)
University of Colorado (Boulder, Colorado)

Marital Status
Married
Sexual Orientation
Straight
Wife's Name
Hannah Schneider
Kids
None
Salary
$15.6 million
Profession
Basketball player
NBA Draft
2017 / Round: 1 / 29th pick overall
Position
Shooting guard/ Point guard
League
National Basketball Association (NBA)
Active Years
(2017 – Present)
Net Worth
$2 million
Currently Plays For
Boston Celtics
Jersey Number (recent)
9
Social Media
Instagram, Twitter
Merch
NBA Rookie Card, Notebook
Last Update

June 2023
Early Life, Family & Education
On July 2, 1994, Derrick was born to his parents, Richard (father) and Colleen White (mother). He has an older sister named Brianna White in the family.
Born and brought up in Parker, Colorado, Derrick initially attended the local school there. He belonged to a family with low economic background, and both his parents worked hard for a living.
White was very gentle and playful since he was a kid. As both his parents used to engage in sports during their youth, he too soon got engrossed in extra-curricular activities.
His father, Richard, played basketball during his high school days. He was an avid fan of the Boston Celtics and used to think of getting into the NBA. However, his dream never came true.
Little did father Richard know that his son would be one of the famous NBA players appearing for his favorite club, the Celtics, in the future.
Derrick showed that he was dedicated to basketball before he joined high school. A former university coach named Marcus Mason had just started a basketball program called Nothing But Net in Colorado during the same time.
White regularly showed up there and began practicing shooting and dribbling while Mason used to organize camps.
Even though Derrick was short, he showed promise. Similarly, his parents let him give more time to it as he found happiness in the sport.
He enrolled in the Legend High School in Parker for his high school education and got a chance to play basketball for their team easily as it was quite a new school. White quickly got popular among his teammates as he progressed very well.
He later joined the University of Colorado, where he obtained a Bachelor's degree in Business Management.
Derrick White | Basketball Career
High School Career
Derrick White joined the Legend High School in Colorado as a 5'6″ freshman because of which he was not quite impressive to the team management in the beginning.
But the coach Kevin Boley saw high prospects in him, so he guided him well. As a result, White was highly motivated and began working on his physicality and shot techniques.
As the Legend's basketball team was a novice, they initially participated in the 3A level tournament. Later, White led them to the 5A tournament, the state's highest tournament level.
<<< Zydrunas Ilgauskas: Net Worth, Family & Injury >>>
Moreover, he grew up over six feet in height as a senior and finished his senior season with an average of 17.1 points and 3.8 rebounds per game. Sadly, he could not get scholarship offers from any elite institutions upon graduation.
College Career
White completed his high school as a low-ranked-recruit, so he had to settle for the University of Colorado in Colorado Springs. However, the newly recruited head coach Jeff Culver had confidence that he would do well.
In fact, Culver was the one who gave him the chance to play for the UCCS Mountain Lions. Just like Culver had presumed, Derrick had a growth spurt due to which he attained the height of 6 feet 4 inches before his first season began.
Hence, he played for around three college seasons for the Lions in the NCAA Division II competition.
Each year he made tremendous progress, and consequently, he got an opportunity to play for the University of Colorado Boulder's team, the Colorado Buffaloes, in his final college season.
He finished his senior season with an average of 18.1 points and 4.1 rebounds per game, appearing in 34 matches.
Professional Career
The San Antonio Spurs selected White with the twenty-ninth overall pick in the 2017 NBA draft. He was one of the fifteen players who were not listed in the Rivals.com top 150 high school prospects.
Derrick signed with the Spurs on July 6, 2017. They later included him in the roster for the 2017 NBA Summer League as well.
After playing a few NBA regular season matches, the club assigned him to the Austin Spurs for the NBA G League. Unfortunately, he fractured his wrist and remained out of court for some games.
After recovery, he eventually returned to the San Antonio Spurs and appeared in some more regular-season games. Derrick finished his rookie season poorly, with an average of 3.2 points and 1.5 rebounds per game.
Despite his poor performance in the first season, the club allowed him to play many matches in his second season. Although he had just recovered from a foot injury, his performance was commendable.
Furthermore, he appeared in three more seasons for the Spurs, and he kept improving his gameplay. He had recorded 14.4 points and 5.6 assists per game in his last season with the Spurs.
The San Antonio Spurs had announced his contract extension for four more years in 2021, but they traded White to the Boston Celtics on February 10, 2022.
Apart from his club career, he was part of the United States national team in the 2019 FIBA Basketball World Cup.
Awards & Achievements
Some of his awards and achievements include:
NBA G League champion (2018)
RMAC Tournament MVP (2015)
First-team All-Pac-12 (2017)
RMAC Freshman of The Year (2013)
NCAA Division II All-American (2014, 2015)
First-team All-RMAC (2014, 2015)
Derrick White | Net Worth & Earnings
One of the best young recent players, Derrick White, has an estimated net worth of around $2 million.
It has been around half-decade since he entered the NBA, and he earns very well through the league games. He made enough to play for his student debt, rent an apartment, and could buy a car within a very short time of his debut.
Derrick had signed a four-year contract worth $8.5 million with the San Antonio Spurs at the start of his career. The Spurs paid him nearly $1.5 million in his rookie season.
Likewise, the club regularly increased his salary each season, and by his last season with them, he earned around $3.5 million.
Even though he had signed a contract worth $70 million with the Spurs in 2021, it did not last long as they traded him to the Boston Celtics in 2022.
As per the news, his annual salary for the 2021-22 season is around $15.6 million. He has become the fourth-best paid athlete in the Celtics this year with that earning.
<<< Brandon Ingram: Net Worth, Girlfriend & NBA >>>
He has already accumulated more than $8 million from his NBA career to date.
Derrick White | Personal Life
White is married to his longtime girlfriend, Hannah Schneider. Derrick had met Hannah in his college years, and they had been together all these years.
The two were engaged to each other in September of 2020 and had planned to get married soon after. He had expressed his happiness among his fans through his social media handles.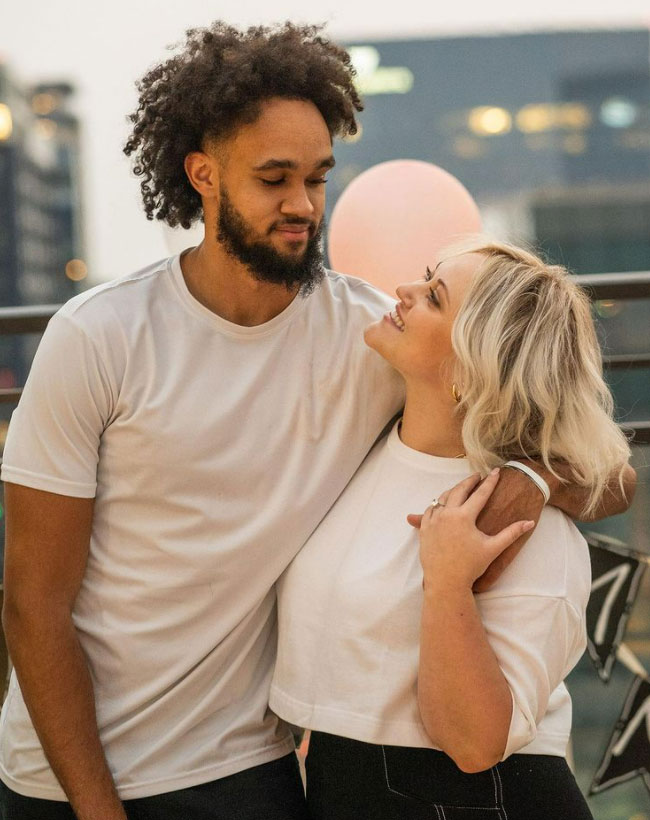 However, the coronavirus pandemic ruined their initial schedule, and their wedding got postponed.
But, they eventually married on August 28, 2021. The special ceremony was attended by his close relatives and his Spurs teammates, including Jakob Poeltl, Lonnie Walker, etc., among many others.
In November 2021, Derrick announced that he and Hannah were expecting a child via Instagram.
Age, Weight & Height
As of 2023, Derrick White is 28 years of age and celebrates his birthday every 2nd of July.
White looks a bit chubby regarding his physical features but is perfectly fit and agile as he regularly goes gym for workouts. Currently, he weighs around 190 lb (86 kg).
Likewise, he stands tall at 1.93 meters (6 feet 4 inches). His father, Richard, is around 6 feet tall, so he obviously inherited tallness from him. Moreover, he has thick black colored hair and brown eyes.
He looks cute, so his fans have nicknamed him "Baby Face" or sometimes "The Baby Face Assassin," which may be because of his deadly performances against his opponents.
Social Media
<<< Randolph Morris: Net Worth, Leagues & Career >>>
Frequently Asked Questions
What ethnicity is Derrick White?
Derrick's father, Richard, belongs to the African-American community, while his mother is a White American woman. So, Derrick is of mixed ethnicity.
Is Derrick White a good shooter?
Derrick White has improved a lot as a shooter in recent years, but he still needs practice. Most probably, he struggles the most while executing three-point shots. Nevertheless, he is a good shooter.
Is Derrick White related to Jo Jo White?
No, Derrick White and Jo Jo White are unrelated.