Jordan Clarkson (born on June 7, 1992) is a Filipino-American NBA player who plays for the Utah Jazz.
The Washington Wizards selected him in the 2014 draft. However, he debuted in the regular NBA League for the Los Angeles Lakers. Clarkson has already appeared for three different NBA clubs so far.
Previously, before joining the NBA, he played his college basketball for two different teams, namely Tulsa Golden Hurricane and Missouri Tigers men.
The NBA star mostly plays as a shooting guard. However, he has shown his abilities in the point guard position on numerous occasions. He is one one the best defensive players out there in the NBA.
He has maintained good streaks in scoring points as well since the start of his NBA league journey.
While still very young, Jordan Clarkson has already made history by entering Utah Jazz's All-Time Top 10 three-pointers list. No doubt, he is currently the Utah Jazz fan favorite.
Let's explore more about Jordan's early life, his acquaintance with the Phillippines, his NBA journey, etc.
But before moving into the details, here are some quick facts about Jordan Clarkson.
Quick Facts
Full Name
Jordan Taylor Clarkson
Commonly Known As
Jordan Clarkson
Date of Birth
June 7, 1992
Birth Place
Tampa, Florida, the USA
Nick Name
Flamethrower
Religion
Christianity
Nationality
Filipino/ American
Zodiac Sign
Gemini
Age

31

years old
Height
1.93 m (6 feet 4 inches)
Weight
194 lb (88 kg)
Hair Color
Black
Eye Color
Dark brown
Build
Athletic
Father's Name
Mike Clarkson
Mother's Name
Annette Tullao Davis
Siblings
A brother
Sibling's Name
Bear Clarkson
Food habit
Non-vegetarian
Education

Karen J. Wagner High School (Bexar County, Texas)
University of Tulsa (Tulsa, Oklahoma)
University of Missouri (Columbia, Missouri)

Marital Status
Unmarried
Sexual Orientation
Straight
Girlfriend's Name
None
Kid
A daughter
Kid's Name
Callie Rose Clarkson
Profession
Professional basketball player
NBA Draft
2014
Position
Shooting guard/ point guard
League
National Basketball Association (NBA)
Active Years
(2014–present)
Net Worth
$25 million
Currently Plays For
Utah Jazz
Jersey Number
00
Career Highlights & Awards

Second-team All-SEC (2014)
C-USA All-Freshman Team (2011)
NBA All-Rookie First Team (2015)
NBA Sixth Man of The Year (2021)

Social Media
Instagram, Twitter, Facebook
Merch
Cards, Autographed photo
Last Update

November 2023
Early Life, Family & Education
Jordan Taylor Clarkson was born in Tampa, Florida, United States, on June 7, 1992. Both his father and mother were employees at the United States Air Force when he was born.
Clarkson is of mixed ethnicity as his parents are from different heritages. His father, Mike Clarkson, is an African-American, while his mother, Annette Davis, is related to the Philippines through her mother.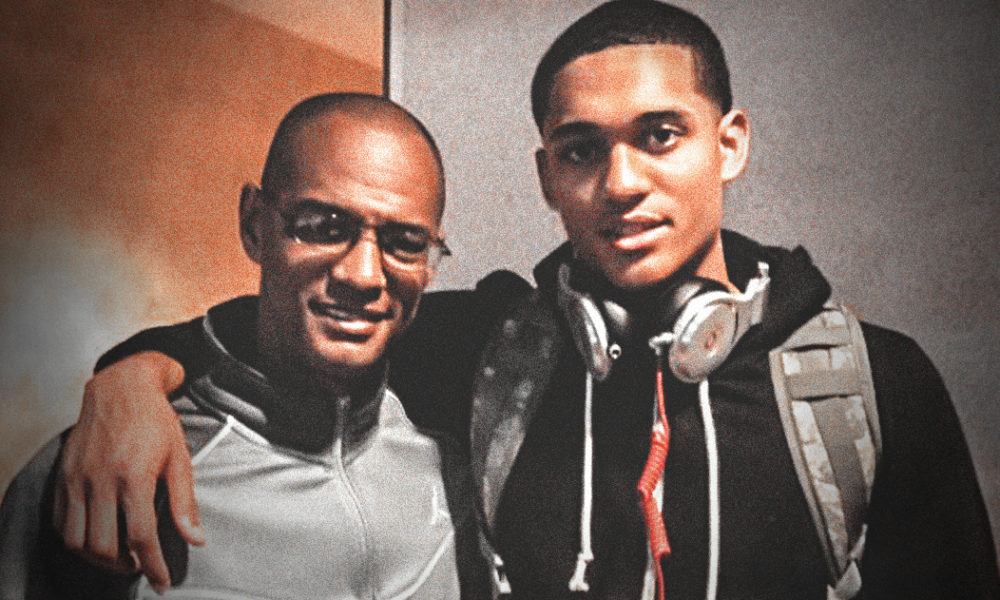 Both his parents were huge fans of the legendary NBA star Michael Jordan. So, they named their child after him.
Although he was born in Florida, his family moved to Texas when he was six. Subsequently, he joined Wagner High School in San Antonio.
His dad introduced him to basketball when he was just a kid. However, he loved playing soccer more than any other sport. Soon after, his parents divorced, and he lived with his mother's family.
After attending high school, he soon began participating in sports activities. Consequently, he started developing an interest in basketball and soon began playing for his high school basketball team.
Moreover, he also participated in other sports such as hoops, track runnings, etc. It was initially unclear whether he would choose to be a basketball player. Even though living away from his father, his father often visited him.
Mike always motivated his son to keep playing basketball and hustle hard. As a result, Jordan grew up to be one of the most promising young players in his high school.
After high school, the athlete attended the University of Tulsa for his higher studies. He decided to keep playing basketball and played for his college team. However, he later transferred to the University of Missouri.
Moving back to his family, he has a stepmother named Janie and a younger brother, Bear Clarkson.
Jordan Clarkson | Career
High School Career
Jordan Clarkson played high school basketball in Karen J. Wagner High School in Texas. He had already learned basic basketball skills before he started playing his first high school season.
After playing exceptionally well in the first year, he came even more aggressively in his second season. He played all games of the season in which he averaged over ten points per game.
Clarkson was already in his prime in his junior season. He averaged his career-high 20 points and six rebounds per game. Moreover, he led his team to the Class 5A state semi-finals.
His stats were as good as in previous seasons in the final year. Consequently, because of his performance, Jordan received a scholarship from Tulsa to play college basketball.
College Career
Jordan Clarkson started his first college season with an absolute blast. As a freshman, he averaged 11.5 points and 2.1 rebounds per game playing 27 matches.
He was named to the 2011 Conference USA All-Freshman team. Likewise, he was declared the Conference USA Freshman of The Week four times.
Jordan played his sophomore season for the University of Tulsa before moving to Missouri to play the rest of his college career. However, he played for only one year, i.e., junior season at Missouri.
Playing for Missouri, he averaged 17.5 points and 3.8 rebounds per game. He achieved several honors and accolades for his performance throughout the season.
He even managed to get shortlisted for the Wooden Award Midseason Top 25 list.
<<< Jeff Teague Bio: Career, Injury & Net Worth >>>
Clarkson grew much more confident at the end of the same season as he received widespread fame. Consequently, he decided to leave his final college season and declared for the NBA draft.
Professional Career
The Washington Wizards selected Clarkson as the 2014 NBA draft's second-round 46th pick. However, the Wizards traded him to the Los Angeles Lakers the same night.
Jordan signed with the Lakers on August 25, 2014. However, the team did not bring him to the court for much of his rookie season. Instead, he made some appearances in the NBA Development League.
Furthermore, he played almost three more seasons for the club. Over time, the team provided him with more playtime, and consequently, he improved his stats for good.
Even though they could never reach the playoffs, his game was always a spectacle to watch. He was equally successful both in the point guard and the shooting guard position.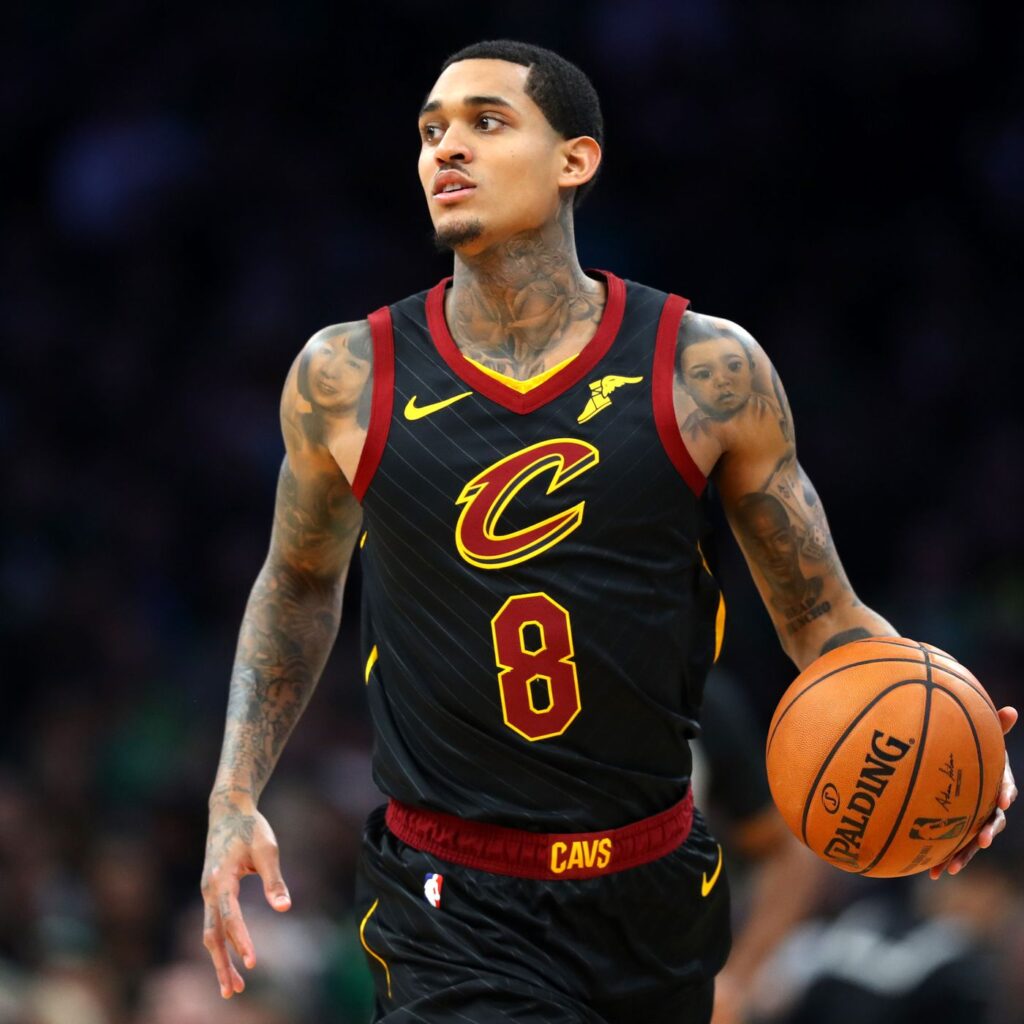 They eventually traded Clarkson midseason on February 8, 2018, to the Cleveland Cavaliers. He went on to play two full NBA seasons for the Cavaliers.
While on the Cavaliers, he reached his first-ever NBA Finals. However, they had to go trophyless after reaching so close and getting defeated at the hands of the Golden State Warriors.
After quite a fruitful two and a half seasons with the Cavaliers, they traded him to the Utah Jazz at the end of 2019. He played excellently and led his team to the 2019-20 and 2020-21 seasons.
For his contribution in the 2020-21 season, he even received the NBA Sixth Man of The Year Award, becoming the first Utah player to win it.
He is still at the Jazz and is playing very well in the ongoing season.
Apart from professional league games, he has also played for the Philippine national team as he holds dual citizenship in both countries; the USA and the Philippines.
Jordan Clarkson | Awards & Achievements
Some of his awards and achievements include:
Second-team All-SEC (2014)
C-USA All-Freshman Team (2011)
NBA All-Rookie First Team (2015)
NBA Sixth Man of The Year (2021)
First-team All-C-USA (2012)
Net Worth, Salary & Career Earnings
One of the best-known shooting guards in the NBA League, Jordan Clarkson, has a net worth of approximately $25 million.
His main source of earnings is playing the NBA league games. Jordan Clarkson entered the NBA in 2014. The LA Lakers paid him around $0.5 million in his rookie season. As he performed better, the club increased his annual salary.
He received about $0.84 million for his second season with the club. Furthermore, he was offered around $12.5 million, which was a huge increment in his salary.
Moreover, he received approximately $24 million for his two seasons with the Cavaliers. In addition, he has already received the same amount playing for the Utah Jazz.
He has signed a four-year contract worth $52 million with the Utah Jazz in 2020. His annual salary at present is around $12.4 million.
<<< Jakob Poeltl Bio: Trade, Family & Net Worth >>>
He has already accumulated around $62 million from his NBA career to date.
In addition, he has earned a lot of money through merch sales and brand endorsements from companies such as lululemon, Esports Technologies, etc.
Body Measurements & Tattoos
As of 2023, the NBA veteran is 31 years of age. He celebrates his birthday every June 7.
Moreover, he stands 1.93 meters (6 feet 4 inches) tall and weighs around 194 lb (88 kg). Likewise, he has black-colored hair and dark brown eyes talking his facial features.
Clarkson is known to have a love for tattoos. He has multiple tattoos inked all over his body. The tattoos engrave include portrait tattoos, Superman and Aces tattoos, etc. All in all, he has nearly 30 of them as of yet.
Jordan Clarkson | Girlfriends & Kids
The Utah Jazz shooting guard, it seems, is single. However, some of the sites on the Internet mention that he is currently in a relationship with an Insta model, Ally Rossel. However, some mention that they have already broken up.
The handsome NBA player has earned numerous fans in his eight-year basketball career. Obviously, many of his female fans desire him.
His name has been associated with many women, including some celebrities and high-profile Insta models. Some celebrity models he has dated include Kendall Jenner, Bella Hadid, Chantel Jeffries, etc.
The point guard of Jazz has a daughter from his previous relationship with Ashlee Roberson. Their daughter, Callie Rose Clarkson, was born on April 19, 2018. He is very close to his daughter and has even put up a photo with her as his Insta profile picture.
Moreover, he was rumored to have briefly been with Justin Bieber's wife, Hailey Bieber, in 2017.
Jordan Clarkson on Social Media
Jordan Clarkson is very active on different social media platforms. The celebrity player has a verified account on Instagram with around 1.6 million followers.
Jordan regularly posts pictures of his photoshoots and family moments. Moreover, he often shares various glimpses of himself playing matches.
In addition, he has Facebook and Twitter accounts as well. However, these accounts have much fewer followers compared to Instagram. But, he has many fans equally engaging in his posts on all three social media platforms.
You can surf his social media pages through the links given below:
<<< Danuel House Bio: NBA Career & Net Worth >>>
Frequently Asked Questions (FAQs)
Has there ever been a Filipino in the NBA?
Yes, there have been few players of Filipino origin in the NBA, including the Utah Jazz's Jordan Clarkson. Jordan's grandmother was from the Philippines. However, he is not the first Filipino to be in the NBA.
Raymond Townsend was the first Filipino-American to play in the NBA League matches.
What happened to Jordan Clarkson?
Jordan Clarkson has not had any injuries recently and is playing well for the Utah Jazz. It is his third season with the club, and he has never disappointed his fans with his performance.
He has already played over 50 matches in the ongoing NBA season.