Alex Kirilloff, the MLB player, shares parenthood of two daughters: Penelope and Priscilla, with his wife Jordan Kircher.
The 25-year-old baseball star & his wife Jordan met in high school & married as teenagers.
Taking in familial responsibility & career at the same time is undeniably challenging, but Alex's determination & his supportive partner made it a lot easier.
Currently, the baseball outfielder & first baseman plays for the Minnesota Twins, having made his MLB debut in 2020.
He was the 15th overall pick of the Twins in the 2016 MLB draft but spent two seasons away due to injury.
Stepping into the diamond in 2018, Kirilloff went through promotions in the minor league before his entry into the MLB.
The Liberty University alumnus has been playing baseball since his early years and showed his skills in high school and college.
Meet Jordan Kircher: Alex Kirilloff Wife
The curiosity of media & fans about celebrities' personal life is unceasing- they want to know everything about them.
Well, it leaves no exception to Jordan Kircher, the wife & mother of two kids of the MLB star Alex Kirilloff.
The couple married in October 2016 after dating for a few years. At the time of the wedding, Alex was only 18, while his better half was a year senior to him, i.e. 19 years old.
Alex, when posting the moment from his wedding on Instagram, stated that many considered them too young.
No doubt, they proved true love & dedicated partner is enough!
As reported, the two met during his school days but began dating only in their high school, Plum High School.
It didn't take them long to exchange vows & the rest is history!
Alex and Jordan are now parents of two beautiful daughters: Penelope and Priscilla.
Their eldest child Penelope Kirilloff was born in February 2020 & following a year, they welcomed their second child, daughter Priscilla in November 2021.
MLB Career & Achievements
The American baseball player, after signing for the Minnesota Twins, spent his first season with the Elizabethton Twins, a rookie-level team associated with the Twins.
Furthermore, with the Twins, he hit seven home runs, nine doubles, and 33 RBIs in about 50 games.
Kiriloff also managed to win the Appalachian League MVP honors for his efforts.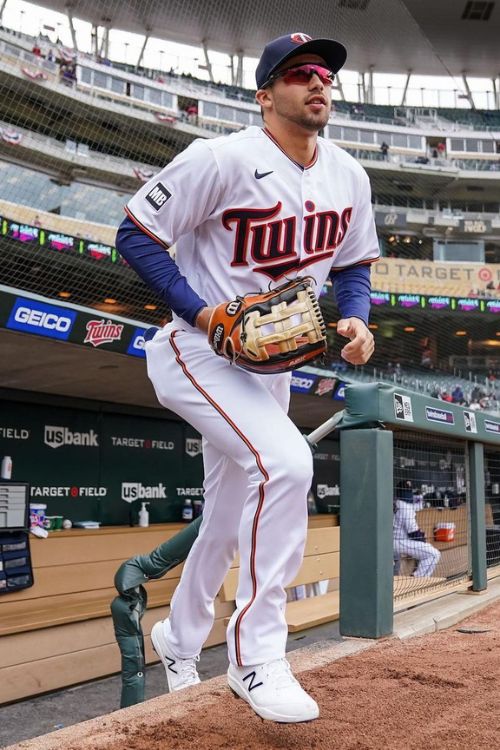 However, his season was cut short with a partial ligament tear in his elbow.
Alex then returned in June 2018 with the Cedar Rapids Kernels before being promoted to the Fort Myers Miracle.
Minnesota Twins finally gave a contract to Alex Kirilloff on September 29, 2020, and he made his debut the very next day.
Additionally, the outfielder has been really unlucky with injuries. He underwent surgery to repair a torn ligament in his right wrist in 2021.
Similarly, on August 7, 2022, Kirilloff had a season-ending injury. The baseball player had an ulnar shortening surgery on his right wrist.