Jordan Love is a professional American football player in the National Football League (NFL). He plays as a quarterback for the Wisconsin club, Green Bay Packers.
Before joining the NFL, he played college football for the Utah State Aggies. In three years at Utah University, Love earned several honors and received many praises from fans and coaches alike for his stellar performance.
Even though Green Bay Packers picked him up in the 2020 NFL draft, he did not play any game in his supposedly first NFL season.
Moreover, Jordan could not deliver as expected, even in his second season in 2021. However, his fans in the NFL still have some hope that this young man will do well for their club in the upcoming seasons.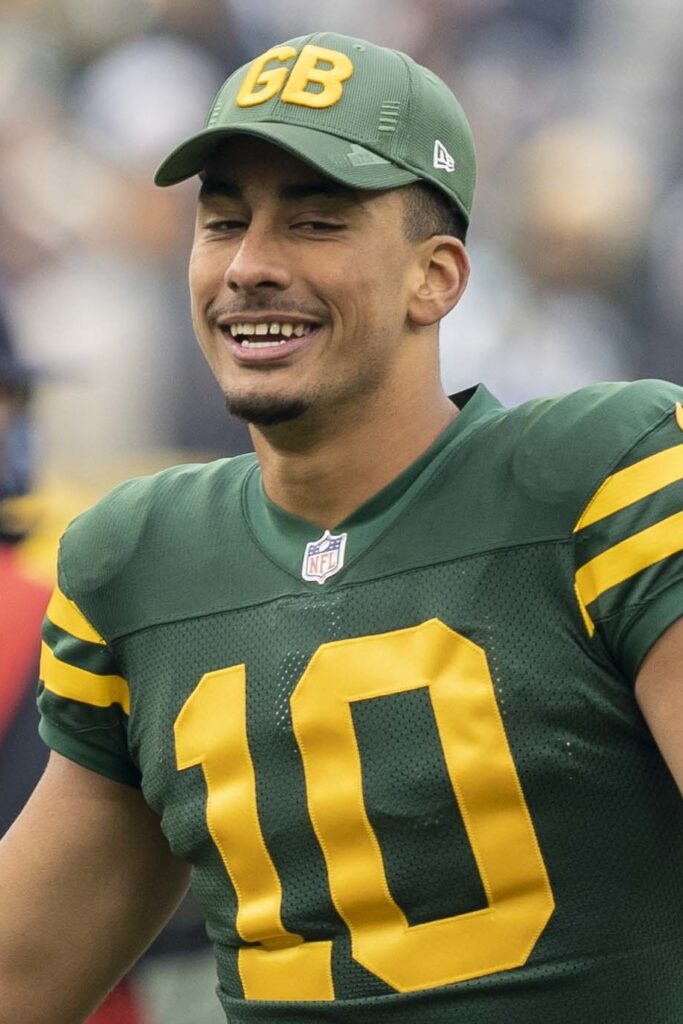 After the Packers failed to win against the 49ers in the Divisional Round, the Utah State product is trending on the Internet. The fans blame the club's experienced quarterback, Aaron Rodgers, for their team's lousy performance.
Moreover, they demand Aaron leave his position for Love to take over. Finally, they require the "Love Era" so the team can start a new one.
Rodgers, too, has expressed a desire to leave the club following the reaction. This could mark the beginning of a drastic change in the club, with Love as the club's main quarterback.
This article will discover more about this young prospect's life, his brief career in the NFL to date, his family, his net worth, and much more.
However, before moving into the details, here are some quick facts about Jordan Love.
Quick Facts
Full Name
Jordan Alexander Love
Date of Birth
November 2, 1998
Birth Place
Bakersfield, California, the USA
Nick Name
None
Religion
Christianity
Nationality
American
Ethnicity
Mixed
Zodiac Sign
Scorpio
Age

24

years old
Height
1.93 m (6 feet 4 inches)
Weight
219 lb (99 kg)
Hair Color
Black
Eye Color
Black
Build
Athletic
Father's Name
Orbin Love
Mother's Name
Anna Love
Siblings
Three sisters
Siblings' Name
Emily Love, Kami Love, and Alexis Love
Education

Liberty High school (Bakersfield, California)
Utah State University (Logan, Utah)

Marital Status
Unmarried
Sexual Orientation
Straight
Girlfriend's Name
Ronika Stone
Kid
None
Profession
Professional football player
NFL Draft
2020
Position
Quarterback
League
National Football League (NFL)
Active Years
(2020–present)
Net Worth
$3 million
Currently Plays For
Green Bay Packers
Jersey Number
10
Career Highlights & Awards

New Mexico Bowl MVP (2018)
Second-team All-MWC (2018)
Mountain West Offensive Player of The Week (2017)

Social Media
Instagram, Twitter
Merch
Bobblehead
Last Update

June, 2023
Early Life, Family & Net Worth
Jordan Alexander Love was born on November 2, 1998, to his parents, Orbin Love and Anna Love. Both his Father and mother were Police officers at Bakersfield Police Department.
Orbin Love motivated his son to play sports from a very young age. He wanted to see his son become a famous footballer.
As a result, he played football with other young boys in his locality. Then, growing up in Bakersfield, Love joined Liberty High School.
But sadly, his Father committed suicide when he and his sisters were still very young. His Father killed himself with his service pistol at his own home. It was traumatizing for him and his family, especially his mother, as his Father provided strong support.
At that time, Jordan was just 14 and tried his best to get into the high school football team.
However, Anna slowly pulled herself up and cared for her children well.
Meanwhile, the then coaches of Liberty High School did not allow Love to play as a quarterback on the team. However, he continued playing football.
In his senior year, they named him the starter, and he showed good performance throughout the games during his senior year.
He passed for 2148 yards and 24 touchdowns in his senior year alone. Moreover, Love rushed for 806 yards with 8 touchdowns.
After high school, many universities offered him to play for their football teams. Eventually, he chose Utah State University to start his college career.
In addition, he has three sisters, Emily, Kami, and Alexis. Alexis is studying Criminal Justice presently and wants to be a Police officer, like her parents.
Similarly, Emily is a Bakersfield graduate, and she works as a registered dental hygienist in a clinic.
<<< Ziggy Ansah Bio: College, NFL, 49ers & Net Worth >>>
Jordan Love | Career
College Career
Jordan Love enrolled in Utah State University to play college football in 2016. However, he redshirted his first year.
Moving onto 2017, he played 12 matches for the Aggies, in which he started the final six games. His overall performance in his redshirt first year received considerable praise.
Love completed 129 of 235 passes for 1631 yards with 8 touchdowns and 6 interceptions at the end of the season. Further, he received The Mountain West Offensive Player of The Week honors that same year.
Love was already quite confident going into his second year, and the University coaches, too, had trust in his gameplay. As a result, he started all 13 games in 2018.
As a sophomore, he completed 267 of 417 passes for 3567 yards with 32 touchdowns and 6 interceptions. With the help of his brilliant performance, his team ended the season with an 11-2 record.
Many had expected that he would go for the NFL draft that year, but he continued with the Aggies for the third year.
Love again started all 13 games for his team in the 2019 season. Many of his colleagues on the team had already graduated and the squad reorganized under the new head coach and offensive coordinator that year.
With Love as one of the most experienced players, the team finished the season with a 7-6 record, apparently a worse record than their previous year.
Talking about his stats, he completed 293 of 473 passes for 3402 yards. Plus, he had 20 touchdowns and a career-best 17 interceptions that season.
Following his junior year, he decided to leave his senior year and declared for the 2020 NFL draft.
Professional Career
Green Day Packers selected Jordan 26th overall in the first round of the 2020 NFL draft. As a result, Love became the first player from the Group of Five conferences to get picked up in that draft.
Surprisingly, at the time of Love's recruitment, the packers already had a popular quarterback, Aaron Rodgers. Despite that, they stuck with Jordan to let him play for them in NFL preseason, shocking draft analysts.
Unfortunately, the NFL canceled their preseason due to Covid-19 restrictions on July 28, 2020.
The Packers then officially listed Love as their third quarterback for the NFL. However, in November, he was placed on the reserved Covid-19 list, only to be active again four days later.
Love did not appear for the Packers in the 2020 NFL games. Nevertheless, they finished the season with a 13-3 record.
Jordan made his NFL debut against the New Orleans Saints on September 12 next year. Even though they lost the match, he completed 5 of 7 passes for 68 yards.
Besides, he became the team's quarterback of the second choice in the same season, and he made his first NFL start on November 7 in a match against Kansas City Athletes. They lost this match as well.
Since then, the club has not been able to perform well. Continuing their disaster performance, they lost against the 49ers in the 2022 Divisional Round, unleashing widespread criticism of the team management.
Following this match, they are under huge pressure and are supposed to make big changes. However, they are still unsure how big a role they will assign to Love in the upcoming matches.
<<< Evan McPherson Bio: NFL, Bengals & Fiancee >>>
Age, Height & Weight
As of 2023, Jordan Love is 24 years of age. The young NFL player celebrates his birthday every second of November.
Moving onto his body measurements, he is 1.93 m (6 feet 4 inches) tall and weighs around 219lb (99 kg).
Furthermore, he has black hair and a beautiful set of black eyes. He is a handsome young man with an athletic physique.
Love pays attention to keeping himself fit, so he works out regularly.
Jordan Love | Girlfriend
The Packers quarterback is in a relationship with Ronika Stone. It is not evident when exactly they began dating. However, they publicly announced their relationship through their social media handles on September 5, 2020.
Ronika is a former volleyball player at the University of Oregon. As an athlete, she had even won All-Pac-12 consecutively for three years. Furthermore, she was named AVCA Pacific North All-Reason.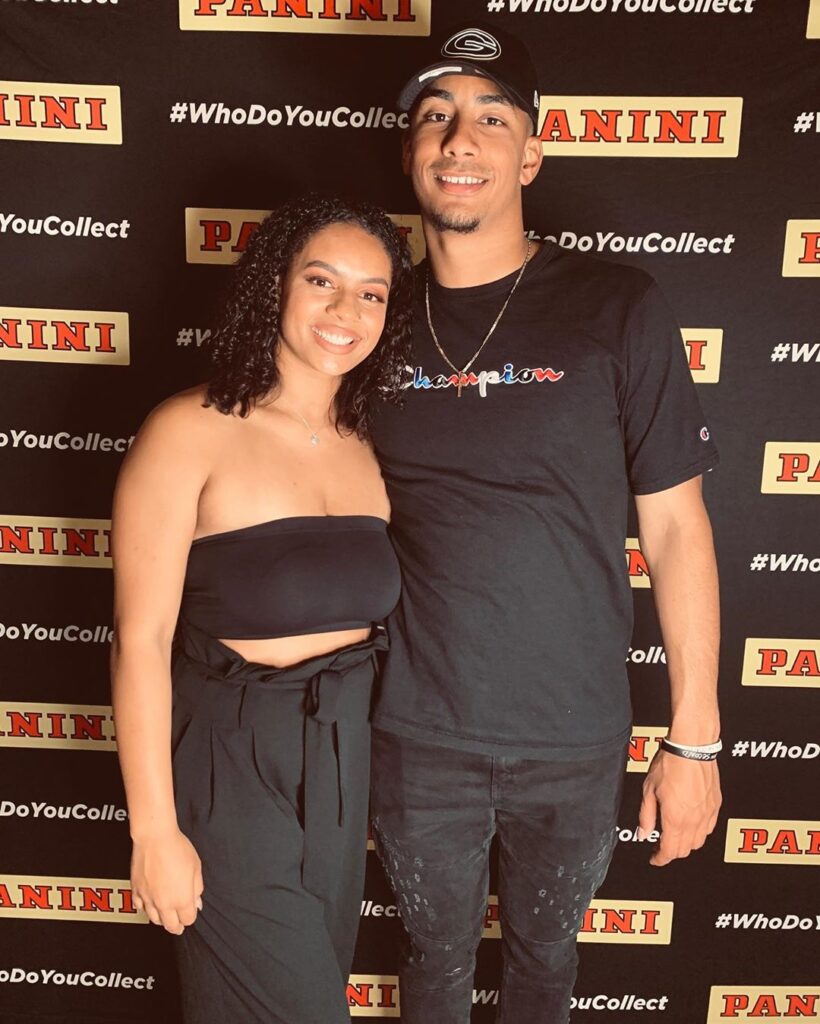 However, she graduated from the University with a degree in Journalism in 2019.
Moreover, her Father, Ron Stone, was a former NFL player who played as an offensive lineman for about 13 seasons.
Love is delighted with his love life. They frequently tease each other on social media handles.
Net Worth, Salary & Career Earnings
Having played for about two years in the NFL, Jordan Love has an estimated net worth of around $3 million.
The impressive young athlete mostly earns through the league and tournament games. In his brief NBL career, the player earned around $9 million. Even though he did not play NFL games in 2020, he received around $2 million from the club that year.
<<< Top 12 Best NFL Tight Ends in the World >>>
For his 2021 NFL season, he received an estimated $2.7 million from the club.
Seeing his lavish lifestyle, he receives a fair sum annually from the club.
Awards & Achievement
As Jordan Love is at the beginning of his football career, he has not achieved much in the NFL. However, he received some honors and awards during his college years.
Some of the achievements of Jordan Love are:
New Mexico Bowl MVP (2018)
Second-team All-MWC (2018)
Mountain West Offensive Player of The Week (2017)
Jordan Love on Social Media
Jordan Love is an active user of Twitter and Instagram.
He regularly posts pictures of his personal life on various occasions. Likewise, he posts a lot concerning his professional life.
Additionally, he regularly tweets team updates for his fans on Twitter.
If you haven't followed him yet on social media handles, click on the link below and check him out:
Frequently Asked Questions (FAQs)
Did Jordan Love have Covid?
Yes, Jordan Love had Covid. In December last year, the Packers announced that he was kept on the reserve/ Covid-19 list after testing Coronavirus positive. After that, he got vaccinated and isolated himself for weeks before finally rejoining the club on the ground.
Is Jordan Love a rookie?
No, Jordan Love is not a rookie. He has been in the NFL since 2020 and has already appeared in two NFL seasons for the Green Bay Packers.
However, he remained on the bench throughout his supposed rookie season due to Covid and for being the team's quarterback of the third choice back in that season.
What did Jordan Love do?
Jordan Love has been playing well individually, even though the Packers are having a tough time this year. To become a new fan favorite, he has even performed much better than the team's first quarterback, Aaron Rodgers.
In addition, his stats are considerably good this year.