The Cardinals' third baseman Jordan Walker has no girlfriend and is currently single. At least on social media, Walker hasn't given any hints he is in a romantic relationship.
The 21-year-old Jordan Walker doesn't come from a family with a baseball legacy. His dad is an MIT graduate, his mom is a Harvard graduate, and he received a scholarship from Duke University.
But his true love from day one had always been baseball. And despite being parents who succeeded academically, Derek and Katrina never stopped their kids from exploring other fields. They have raised their three kids with the utmost care, love, and independence.
His parents were so certain he would debut on opening day on March 30 that they had already bought the tickets to St. Louis months ago.
With teammates Lars Nootbaar and Andrew Knizner, the youngster Walker is trying his best to steer their season in a different lane. By far, the Cardinals have endured a difficult season, with their pitcher Adam Wainwright even admitting it a few weeks ago.
Jordan Walker Girlfriend: Is He Dating Anyone?
Jordan Walker doesn't have a girlfriend and is currently enjoying his single life. The MLB rookie hasn't shared any romantic pictures with a partner on his Instagram handle.
The young player seems to be focused on his baseball career. The outfielder, who made his MLB debut earlier this year with the Cardinals, is also not much active on social media, unlike his peers.
Walker would want to build a solid reputation as a player before sharing too many details about his personal life. He only has nine posts up on his Instagram handle, and all his posts are related to baseball.
There is also a high chance that Jordan doesn't want to give to show off his partner to the world right now. He might be waiting for the right moment to go public with their romance. But till then, we can only speculate about the Cardinals player's romantic life.
Jordan Walker Parents, Derek, And Katrina Walker
Jordan Walker's parents, Derek and Katrina Walker, raised him with two siblings in Stone Mountain, Georgia.
The couple, Derek and Katrina, couldn't be more proud of their son when they witnessed his MLB debut earlier this year. Speaking to Corey Miller, Derek recalled a story of when Jordan was nine and was already showing his baseball talents on the diamond.
A student with a GPA of 3.98 and a scholarship from Duke University, Jordan, might not have received the athletic genes from his parents, but he got the smarts from them.
Derek Walker Is The Senior Vice President At Hyland
When Jordan was drafted by the Cardinals in 2020, Derek said it was his son's dream to play baseball. And now he is happy to see his son's dream become a reality.
An MIT graduate, Derek earned his degree in electrical engineering in 1992. He then enrolled at Carnegie Mellon University to complete his master's program.
After working as a member of the technical staff in Telcordia Technologies for a year, Derek joined AT&T as a senior member of technical staff, a position he held for five years before being promoted to Director of Product Development and Strategy.
Derek continued to rise in ranks at AT&T before he quit in 2015 when he was the Executive Director. He then worked for the pharmaceutical company McKesson for a year before joining his current employer.
At Hyland, the software development company, Derek is the senior vice president of engineering. He joined the company in 2018 as a director of product management before earning his promotion in 2020.
Katrina Walker Is An English Teacher At Decatur
At one point in their lives, Jordan and Katrina would have the same place as their destination in the mornings.
If Jordan was a star baseball player at Decatur High School, then his mother was the English teacher, Chair of the Department. Katrina has been working at Decatur for the past decade.
Katrina graduated from Havard University with a bachelor's degree, cum laude, in East Asian Studies. She then joined Washington University in St. Louis to earn her master's in business administration.
Before she joined her first workplace, Tucker High School, in 2000 as an IB Coordinator, Katrina enrolled at Emory University to earn her master's in secondary education and teaching.
Katrina worked at Tucker High School for 12 years before joining Decatur in 2013. In the video with Corey Miller, Katrina said she was thankful her son had received the opportunity to show his skills at the highest level.
Jordan Walker Siblings, Derek Walker Jr, And Maya Walker
Jordan has two siblings, Derek Walker Jr. and Maya Walker. Unlike his younger brother, Derer Jr showed more interest in filmmaking.
Derek Jr is available on Instagram with the username @selfderekted. He has a personal website where he has shared several of his projects. The older sibling has worked as a director, editor, and writer for several short films and film étude.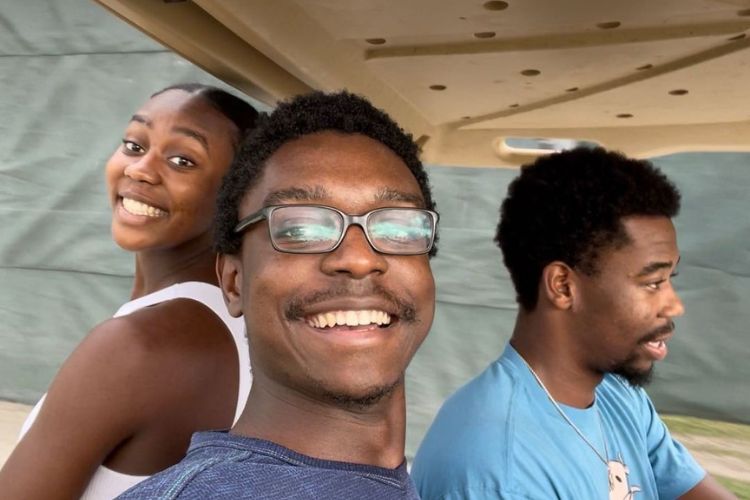 He graduated from the University of Georgia in 2022 and informed his followers he had moved to LA in an Instagram post earlier this year. And not only that, he has been working on the Netflix Animated Series Jentry Chau vs. The Underworld.
Maya Walker Is A Collegiate Volleyball Player
Jordan's youngest sibling, Maya Walker, is a freshman at Fairfield University. She is currently on the women's volleyball team.
Like Jordan, Maya graduated from Decatur High School. While at Decatur, Maya played as a middle blocker and earned her spot at Second Team All-County.
The little sister of the MLB player was voted the MVP for high school in 2021 and had previously won the Offensive Player of the Year award in 2019. She is available on Instagram with the username @mayaswalker and has shared several posts with her friends and her time as a volleyball player for Decatur.