Meet Aaron Hicks parents, Joseph And Jody Hicks, who wanted the Yankee to become a golfer.
The New York Yankee Aaron Hicks (full name: Aaron Michael Hicks) plays as a center fielder in Major League Baseball.
He started his career by joining the Minnesota Twins after the 2008 MLB Draft. Additionally, the California native debuted in the game in 2013.
Hence, the New York Yankees were interested in him. They signed him in 2015 for his athleticism, strong throwing arm, and ability to hit left-handed pitching.
Similarly, Aaron Hicks has been recognized multiple times for his efforts. He was listed in the top 100 prospects by "Baseball America" four times in his career.
As the 2023 season has already begun, however, the fielder has only managed to be on the bench.
Hopefully, the 33-year-old can play for the rest of the season.
Aaron Hicks Parents
Hicks was born on October 02, 1989, to Joseph and Jody Hicks. Joseph, his father was a player for the baseball team Padres.
However, the details surrounding Jody Hicks (his mother) are not known.
Although a good baseball player in his own right, he wanted his son to become a golf player.
The Padres player had a good baseball career, however, due to an injury, he had to end his baseball career.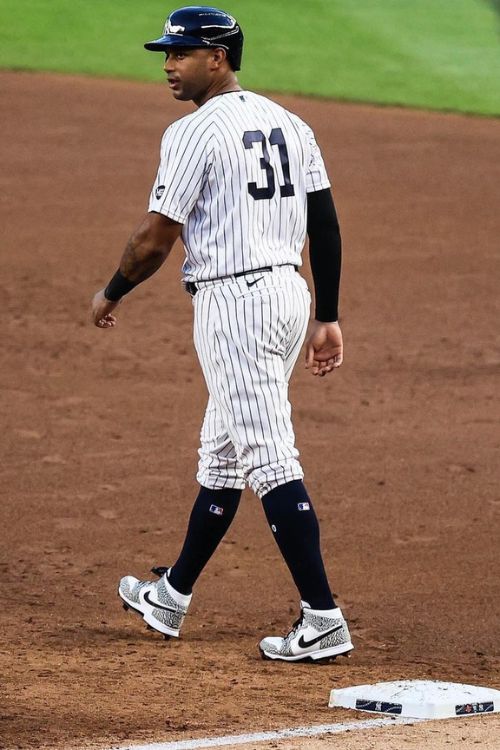 Moreover, it may be due to the ball hitting his right eye, which is why he did not want Aaron to play the sport.
However, Hicks seemed to have picked up his father's athleticism more than his beliefs as he went on to become a Yankee.
In an interview, the athlete said that he remembers that ever since he started walking, he was pushed towards golf.
Reportedly, Aaron only started playing at age 13. He also told the media that his passion for the sport came after he found out about Joseph's career with the Padres.
Is Aaron Hicks A Father?
The baseball player is a married man and also the father of three children.
Although he did not become a golfer like his father wished, he is married to a golfer; Cheyenne Woods.
Moreover, she is the half-niece of Tiger Woods.
The couple met in 2020 when the future Ms. Hicks interviewed Aaron on her podcast. And as they say, the rest is history.
Moreover, their love and commitment to each other were already seen by the world, as they got engaged after a year in October 2021.
The lovely couple shares one child together; Cameron Jaxson Hicks, who was born on April 26, 2022.
However, the 33-year-old was already a father before meeting Cheyenne.
He is also the father of two sons, Aaron Jr, and Jaylen Zade, with his previous partner Jessica Knoles.
Additionally, despite his breakup with Jessica, they are lovely co-parents to their sons.
Aaron now seems to be happy with his wife, and they often share photos of each other on their social media accounts.