Josh Hawkinson parents played basketball during their college years. His mother played at the University of Washington, and his father at Trinity Western University.
Josh Hawkinson is an American-born Japanese professional basketball player who currently plays for Shinshu Brave Warriors of the Japanese B League.
He is also involved with the Japanese national team in the ongoing FIBA Basketball World Cup.
Josh first started to play locally and became one of the best players in the Seattle area. Later, he attended Shorewood High School and continued his basketball career.
After that, he played college basketball for Washington State University.
During college, at 8.7 defensive rebounds per game, he led the Pac-12 and the NCAA, and he was named Pac-12 Most Improved Player of the Year. He also earned an All-Pac-12 Honorable Mention twice.
Academically, the player earned his bachelor's degree in management operations from Washington State University in just three years.
Who Are Josh Hawkinson Parents?
Josh Hawkinson was born to his parents, Nancy and Nels Hawkinson, on June 23, 1995, in Seattle, Washington.
His parents now live in Shoreline, US. Josh has a sister named Carlyn. Josh's parents have deep roots in the basketball world.
Their shared passion for basketball has not only influenced their own careers but has also undoubtedly played a role in shaping their son Josh's trajectory.
Josh's Father: Nels Hawkinson
Like Josh, his father is also very fond of basketball. He attended Ballard High School, where he played basketball. Recalling his school days, Hawkinson jokingly says:
"I was so bad in high school; I got the Most Improved Player award two years in a row. People weren't knocking on my door for any kind of scholarship."
Nels also played collegiate basketball at Trinity Western College (now University) in Langley, British Columbia, just 10 miles north of the US border.
He then played and coached in Norway for another two years. Josh's father was the head coach of the women's basketball team at Seattle Pacific University from 1982 to 1987.
In addition to his coaching endeavors, Nels Hawkinson took on significant roles in various basketball organizations. He contributed to FIBA as a FIBA Olympic Solidarity Basketball Clinician, a role he has held since 1984.
Notably, he became a respected figure within the USA Team, serving as the Deputy Head of Delegation from 2011 to the present day.
Nels also actively participates in the Women's Basketball Coaches Association, where he is a member of the board of directors.
His strong presence in the U.S. and international basketball community is evidenced by his involvement in the Kay Yow Cancer Foundation and the U.S. Virgin Islands Tourism Council.
Nels holds a master's degree in athletic administration from Seattle Pacific University, where he previously coached the women's basketball team.
Interestingly, he has traveled to 76+ countries to establish his network of international basketball contacts. He is currently the CEO of Basketball Travelers Inc., a position that he has held since 1986.
Josh's Mother: Nancy Hawkinson
Josh's mother, Nancy Hawkinson, has also made her mark in the basketball scene. She has been a creative services director at BTI Events and Basketball Travelers Inc. since 1988.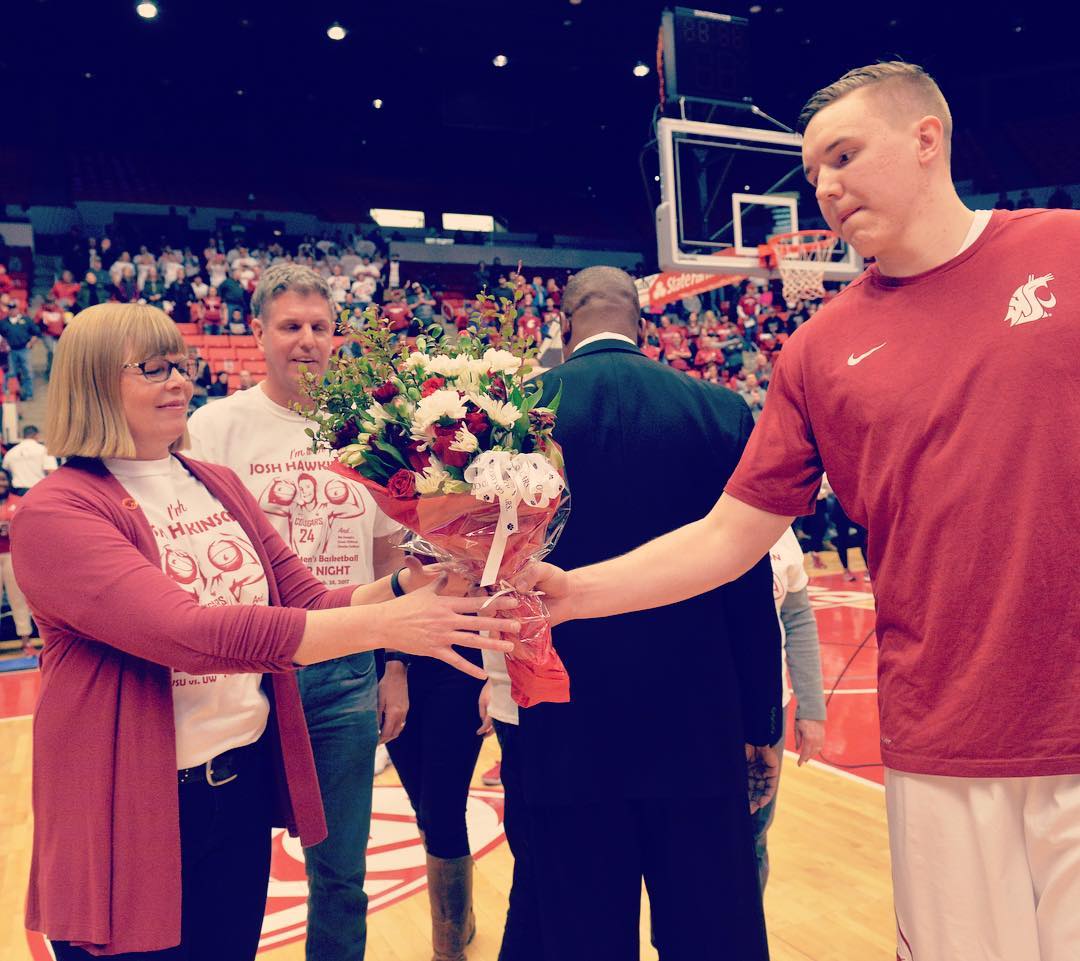 Nancy's academic pursuits led her to the University of Washington, where she pursued a Bachelor of Arts degree in communications, journalism, and international relations.
She embarked on her journey in 1982 and successfully completed her degree in 1987. During her time at the University of Washington, Nancy showcased her basketball skills as a player.