An American football coach, former player, and the head football coach at the University of Tennessee, Josh Heupel shares two kids with his wife, Dawn; a son named Jace and a daughter named Hannah.
According to their father, the youngest Heupels are up for any and every activity.
Josh Heupel's college football journey was nothing short of remarkable. As the quarterback for the Oklahoma Sooners, he not only achieved consensus All-American status and earned numerous prestigious awards but also steered Oklahoma to clinch the 2000 BCS National Championship.
Following an ambitious but ultimately unsuccessful two-year endeavor to secure a spot on an NFL roster, marked by brief stints with the Miami Dolphins and the Green Bay Packers, Heupel transitioned into a coaching career.
He excelled in his role as co-offensive coordinator for Oklahoma, guiding the team to four successful seasons.
However, despite this success, his tenure was abruptly terminated on January 6, 2015, as part of a program restructuring.
Josh Heupel Wife Dawn Heupel
Navigating life as the wife of a college football head coach is undeniably challenging, whether your husband is at the helm of the Tennessee Volunteers or guiding the team at Utah State.
Yet, for Dawn, it's a journey alongside her closest confidant and lifelong companion.
Dawn's story with Joshua Kenneth Heupel began at the age of 16, during their high school years when they both attended Aberdeen Central High School.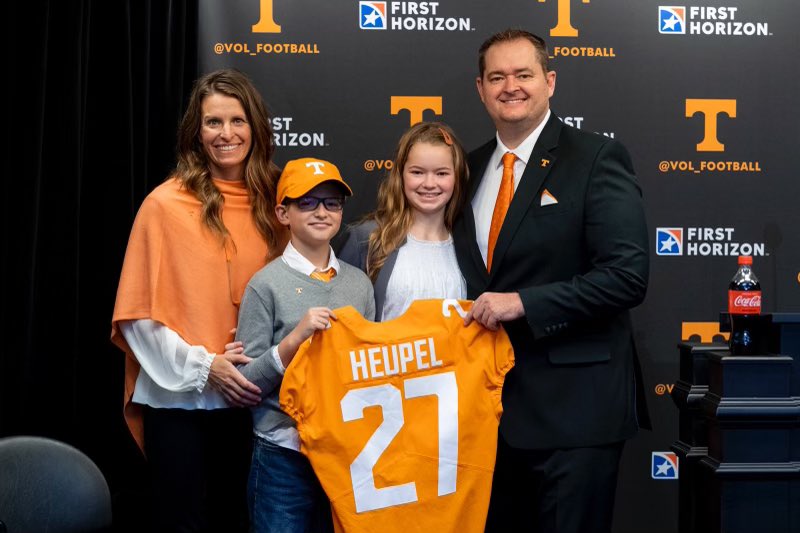 Dawn's personal life remains largely private, as she chooses to keep a low profile on social media.
However, one thing is crystal clear—her unwavering support for her husband shines brightly, both in the offseason and during the intense rivalry weeks.
Dawn stands as a pillar of strength and encouragement by Joshua's side, a testament to their enduring partnership.
Josh Heupel Kids Jace & Hannah
Josh and Dawn are proud parents to two wonderful kids, Jace and Hannah Heupel. According to their father, the youngest Heupels are enthusiastic participants in a wide array of activities.
Hannah, the daughter, possesses a genuine passion for the arts and sports alike.
She's deeply involved in dance, piano, and various artistic pursuits.
When it comes to sports, she's a true all-rounder, eagerly taking on basketball, volleyball, golf, and tennis.
Her father's hope is that she discovers her true calling, and she's undeniably one of the most competitive individuals he's ever encountered, a trait she inherited from both her mom and dad.
On the other hand, Jace, the son, has a strong penchant for a variety of sports. He's deeply immersed in baseball, football, and basketball, showcasing his athletic versatility.
Additionally, he dabbles in golf and swimming, demonstrating an eagerness to explore and excel in various physical pursuits.
Josh Heupel In
Tennessee
On January 27, 2021, Heupel assumed the role of the 27th head coach for the Tennessee Volunteers, marking the beginning of a new era.
In his first season, he guided the Volunteers to an impressive Music City Bowl appearance, concluding with a final record of 7–6 (including a 4–4 conference performance).
His remarkable coaching abilities earned him the Steve Spurrier First Year Head Coach Award for the second time, sharing the prestigious 2021 accolade with Shane Beamer.
In his second year at Tennessee, Heupel orchestrated a sensational turnaround. The Vols soared to an extraordinary 8–0 start, their most formidable beginning since 1998.
On November 1, 2022, under Heupel's guidance, the Vols reached the pinnacle, securing the #1 ranking in the inaugural release of the College Football Playoffs rankings, a milestone they hadn't attained since 1998.
Recognizing his outstanding contributions, Heupel was honored as the SEC Coach of the Year for the exceptional 2022 season, a testament to his coaching prowess and leadership.
Furthermore, on January 24, 2023, ESPN reported a significant contract extension agreement that will keep Heupel in Knoxville until 2029.
As part of this deal, he will receive an annual salary of $9 million, solidifying his commitment to Tennessee's football program and their bright future ahead.
FAQS
Who Are Josh Heupel Kids?
Josh Heupel kids are Jace & Hannah Heupel.