Josh Williams' wife, Trazia Rae, is a social media influencer, particularly known for her presence on TikTok, where she has garnered around two million followers.
Razia's TikTok account has gained massive fans who love watching her food and recipe videos.
She also has considerable followers on other social media platforms like Instagram and YouTube due to her engaging content.
Occasionally, she can be seen cooking with her husband, Josh. They enjoy creating new food recipes and participating in cooking competitions.
Joshua Lee Williams is an American professional stock car racer and team owner of Josh Williams Motorsports.
He actively participates in the NASCAR Xfinity Series, driving the No. 92 Chevrolet Camaro for DGM Racing.
Williams also competes part-time in the NASCAR Craftsman Truck Series, racing for AM Racing on the No. 22 Ford F150.
In the past, he has competed in the NASCAR Truck Series and the ARCA Menards Series.
Josh Williams Wife
Trazia Rae, the wife of Josh Williams, has become a popular figure on TikTok due to her cooking videos and tutorials.
She was born on January 31, 1995, and grew up in Port Charlotte, Florida, with her parents and two brothers.
Trazia started her social media journey on Instagram in December 2016, where she shared modeling photos that attracted followers.
However, it was on TikTok where she gained immense popularity, especially after one of her videos went viral in August 2019, showing her bringing home a chicken.
Since then, Trazia has amassed over 100 thousand views on TikTok.
Besides her culinary content, she engages her audience with lifestyle videos featuring her pets and dance videos that have earned her over 38 million likes.
Trazia Has Published Her Cooking Book
Trazia Rae's passion for food extends beyond the kitchen. She even authored her cookbook, "In the Kitchen with Trazia Rae," in May 2022.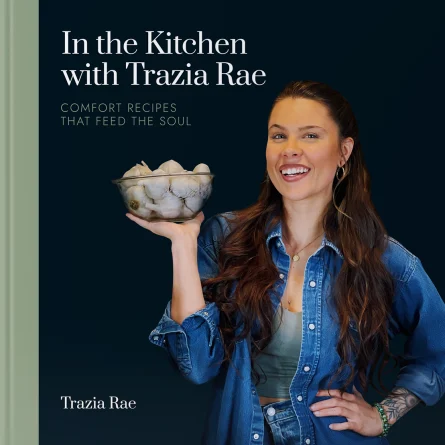 As she wrote her book, she mentioned that her goal was to bring families back to the dinner table every night to create moments together.
Josh And Trazia's Relationship Began During Junior High School
The power couple began their relationship when they were just in their high school days.
After being in a relationship for more than a decade, they finally decided to take their relationship to the next level.
In 2018 Josh and Trazia Rae tied the knot in a beautiful wedding ceremony in the presence of their closest friends and family.
Despite their busy careers, the couple makes time for each other and supports each other's passions.
Josh has even appeared in Trazia's TikTok videos, cooking alongside her.
Moreover, Josh's wife has several pets, including a cat, dog, and goat.
In April 2022, she made a significant decision to purchase an RV so that she could travel with her pets.
Besides, she is a very supportive wife and often makes special appearances on the track during Josh's races.