12 Best NASCAR Drivers Of All Time!!! NASCAR is a well-known American company that operates and sanctions auto racing events, primarily focusing on stock car racing.
It was founded by Bill France Sr., a prominent figure in the racing industry, in 1948.
The company is currently led by Bill's son Jim France, who has been in this role since August 2018.
Headquartered in Daytona Beach, Florida, each year, NASCAR sanctions over 1,500 races at over 100 tracks in 48 US states, Canada, Mexico, Brazil, and Europe.
The NASCAR Cup Series (NCS) stands at the pinnacle of professional stock car racing, attracting the most talented drivers and passionate fans worldwide.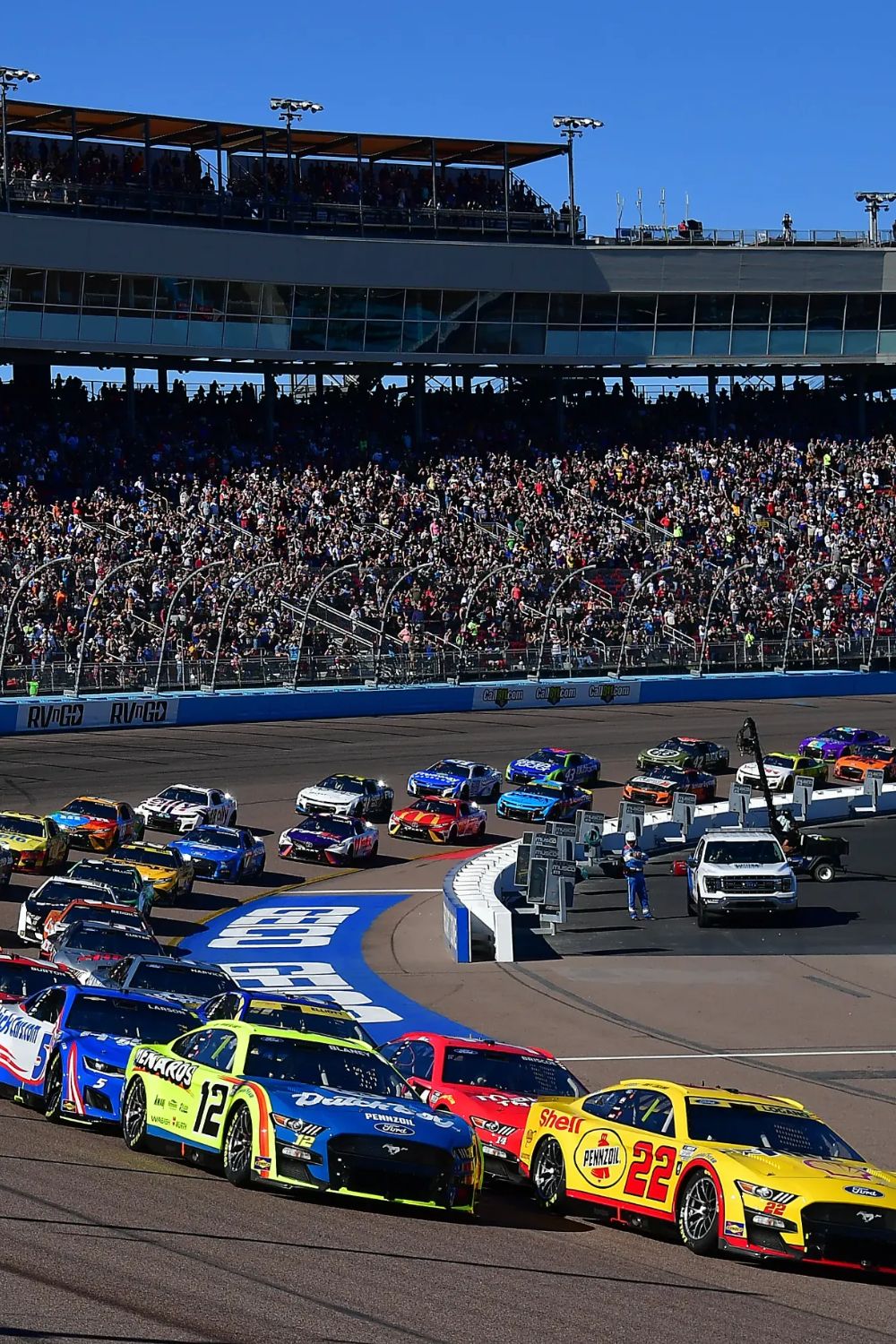 As the most prestigious and financially rewarding NASCAR series, it holds a significant position in the industry.
The 2023 NASCAR Cup Series marks the 75th anniversary of professional stock car racing in the United States and the 52nd season for the modern-era Cup Series.
This highly anticipated season kicked off with the exhilarating Busch Light Clash event, which took place at the iconic Los Angeles Memorial Coliseum on February 5th, 2023.
With that in mind, let's jump right into the list of the 12 best NASCAR drivers of all time.
Quick Overview
Below is the list of the top 12 best NASCAR drivers of all time, including both male and female drivers.
| | | |
| --- | --- | --- |
| Rank | Names | Status |
| 1 | Richard Petty | Retired |
| 2 | David Pearson | Expired |
| 3 | Dale Earnhardt | Expired |
| 4 | Jimmie Johnson | Inactive |
| 5 | Jeff Gordon | Retired |
| 6 | Darrell Waltrip | Retired |
| 8 | Junior Johnson | Retired |
| 8 | Danica Patrick | Retired |
| 9 | Patty Moise-Sawyer | Retired |
| 10 | Edward Glenn 'Fireball' Roberts Jr. | Expired |
| 11 | Shawna Robinson | Retired |
| 12 | Johanna Long | Inactive |
Best NASCAR Drivers Of All Time
12. Johanna Long
Ranked 12th among the best NASCAR drivers of all time, we have Johanna Long. When it comes to driving, Long never ceases to amaze us.
She transitioned into NASCAR in 2009, participating in various series, including Pro Late Model, ASA Late Model Series, and ARCA.
Born in Pensacola, Florida, United States, Johanna is an attractive and talented female NASCAR driver who debuted in the Camping World Truck Series in 2010 and made 24 starts.
Apart from regular-season races, she holds the title as the winner of the Snowball Derby in 2010.
In 2011, she started driving the No. 20 Toyota owned by her family.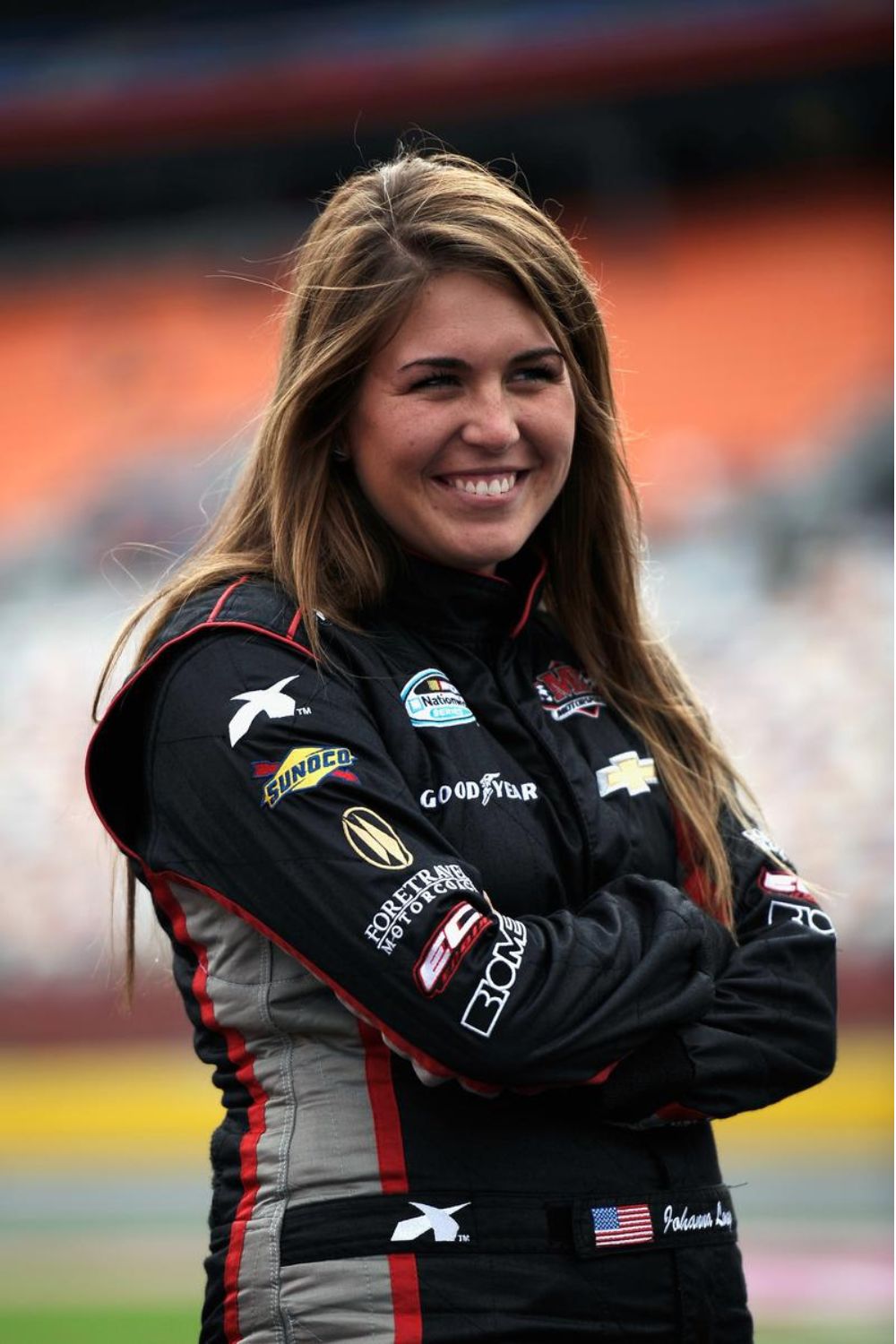 Long was announced as the No. 03 Chevrolet Camaro driver for Mike Affarano in the Xfinity Series in 2015.
Nevertheless, because of funding issues, her attempt with the team resulted in a DNQ at Richmond, and the team subsequently released her on May 21.
However, her passion and determination for racing remained undiminished, and she joined Obaika Racing for the Xfinity race at Iowa Speedway on July 30, the same year.
Despite setbacks, Johanna continued to push forward and chase her dreams in the world of professional stock car racing.
11. Shawna Robinson
The retired American professional stock car racing driver Shawna Robinson was quite a fantastic competitor in all three NASCAR national touring series.
Robinson's passion for racing started at an early age, and she began competing in various racing events during her childhood.
After graduating from high school in 1983, she decided to pursue her dream of becoming a professional driver and started racing semi-tractors.
She is one of 16 women to participate in the NASCAR Cup Series and one of three females to race in the sport's premier event, the Daytona 500.
During the Sprint Cup Series in 1995, she made 8 starts.
Also, she made 61 starts over her career in Xfinity Series.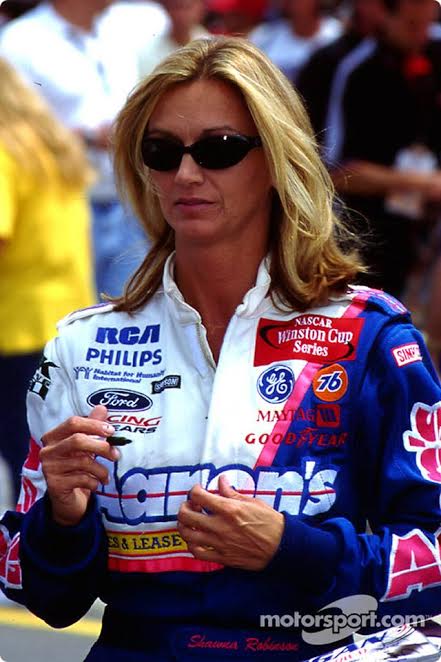 In 1991, Robinson moved to compete in the NASCAR Busch Series, a highly competitive racing circuit known for its talented drivers and intense competition.
Despite facing significant challenges as a female driver in a male-dominated sport, Robinson remained determined to succeed.
Although she initially struggled to achieve the same level of success she had experienced in other racing circuits, her hard work eventually paid off, and she achieved a significant milestone in 1994 when she earned a pole position in a NASCAR Busch Series race.
10. Edward Glenn 'Fireball' Roberts Jr.
Edward Glenn Roberts Jr., or "Fireball," was an American stock car racer born on January 20, 1929, in Tavares, Florida, United States.
Glenn was initially interested in baseball and was a pitcher for the Zellwood Mud Hens, an American Legion baseball team, where he earned the nickname "Fireball" because of his fastball.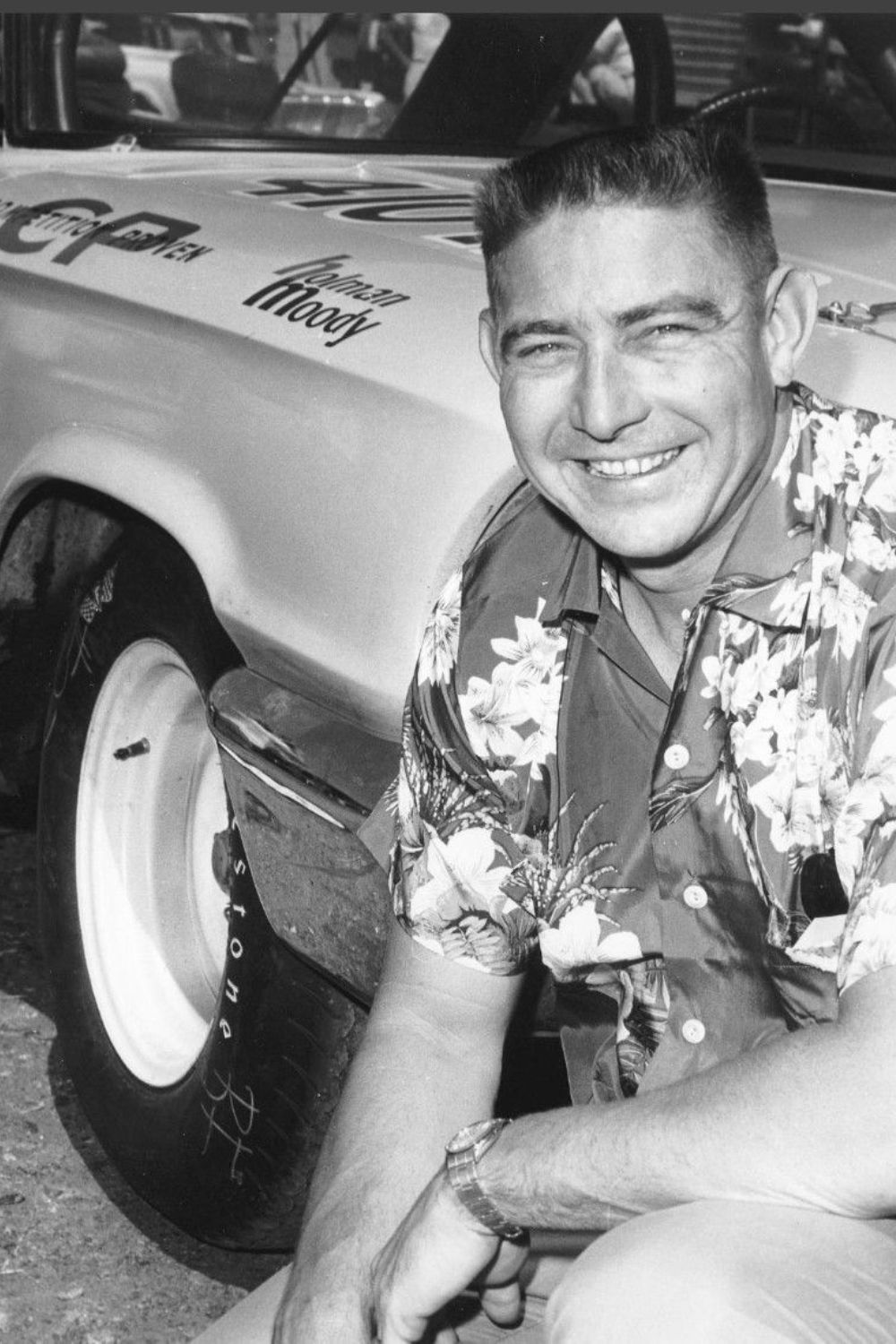 He went to the University of Florida and raced on dirt tracks on weekends. At 18, he raced on the Daytona Beach Road Course at Daytona for the first time in 1947.
He won a 150-mile race at Daytona Beach the following year. Roberts also competed in local stock and modified races at Florida tracks such as Seminole Speedway.
Roberts had over 15 years of experience in the sport.
But unfortunately, the great superstar Glenn Roberts left this world on July 2, 1964, at age 35, in Charlotte, North Carolina, United States.
Behind his demise were complications from a racing crash on 24th May 1964, during the 1964 World 600.
9. Patty Moise-Sawyer
Stepping at number nine on the best NASCAR drivers list, we have Patty Moise-Sawyer, a former female NASCAR driver.
But, most significantly, she is the spouse of Elton Sawyer, who is also a former fellow NASCAR driver.
Patty Moise was born in Jacksonville, Florida, on 29th December 1960.
From 1987 to 1989, she raced in five Winston Cup Series and 133 Busch Series from 1986 to 1998.
Similarly, she made 133 races run over 12 years in the NASCAR Xfinity Series and achieved the best finish in 22nd place in 1990.
She made 5 races run over 3 years in the NASCAR Cup Series and achieved the best finish in 59th place in 1988.
8. Danica Patrick
The most successful woman in the history of the American racing industry, Danica Sue Patrick, was born on March 25, 1982.
Racing enthusiast since early childhood, Danica began racing stock cars in 2010 in the NASCAR Nationwide Series, with her best result coming in the form of a fourth-place finish at Las Vegas Motor Speedway in 2011.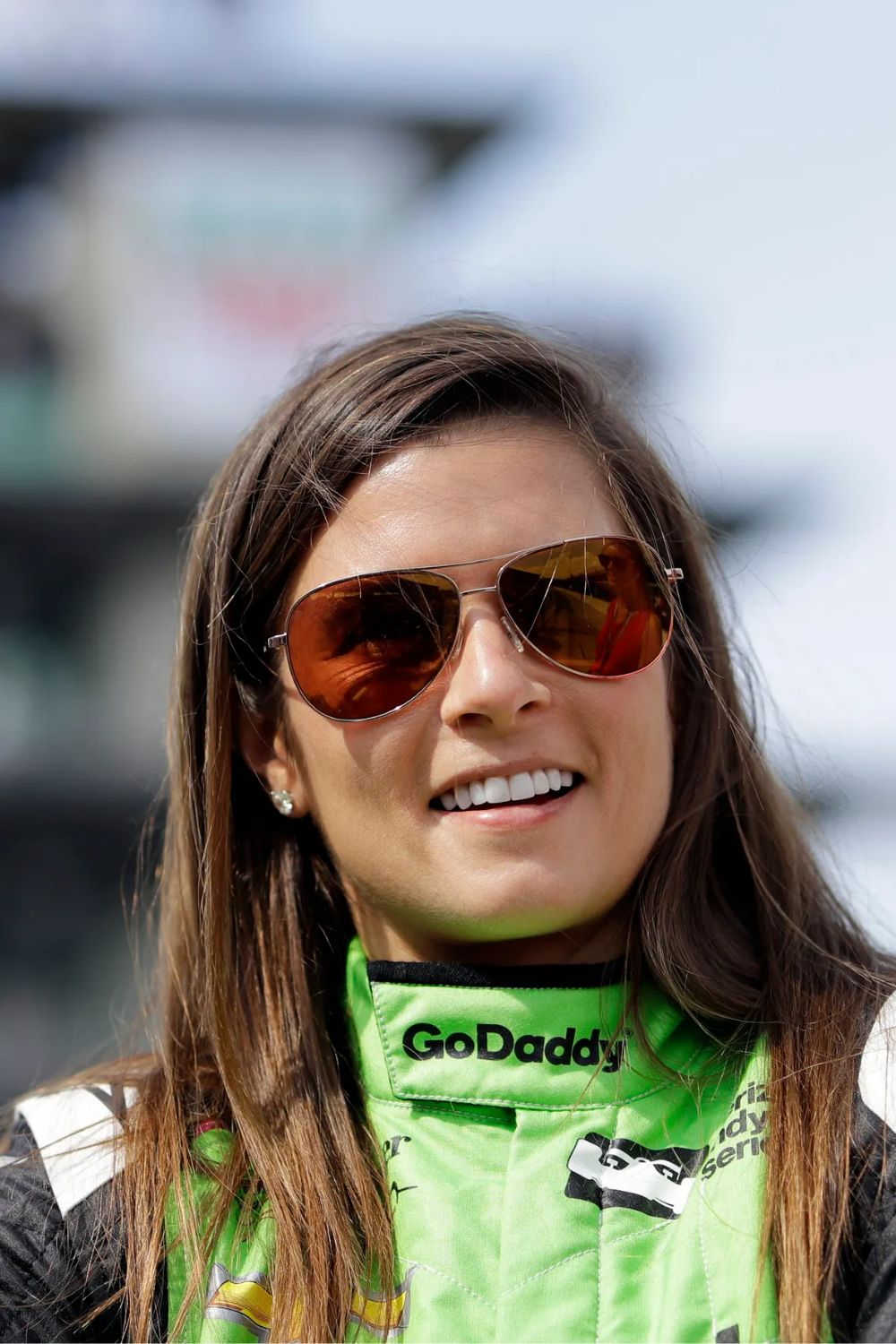 Above all, her victory in the 2008 Indy Japan 300 is the only win ever achieved by a woman in an IndyCar Series race.
Likewise, in 2015, Patrick broke the record for the most top-ten finishes by a woman in the Sprint Cup Series.
However, she stopped racing after the 2018 Daytona 500 and the 2018 Indianapolis 500.
7. Junior Johnson
Better known as Junior Johnson, Robert Glenn Johnson Jr. was an American NASCAR driver during the 50s and 60s.
The NASCAR superstar won 50 NASCAR races throughout his career before eventually calling it an end to his professional career in 1966.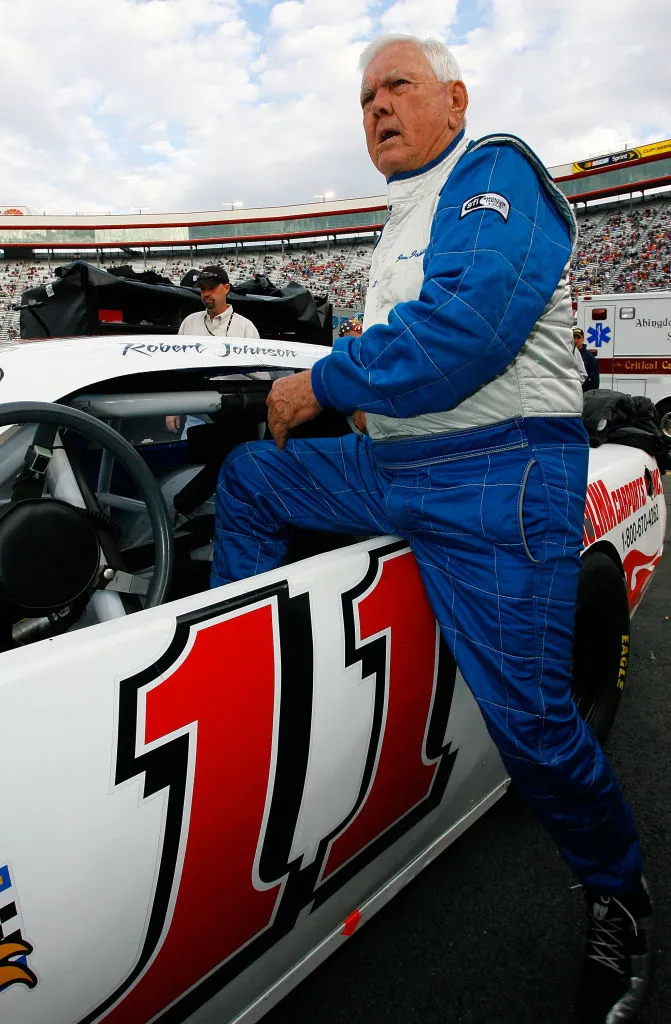 Besides, he became a NASCAR racing team owner in the 70s and 80s.
Johnson is credited for using the drafting technique in stock car racing. His legacy earned him the nickname "The Last American Hero."
Unfortunately, "The Last American Hero" died at a hospice care facility in Charlotte on December 20, 2019, at age 88. He had been suffering from Alzheimer's disease at the time.
6. Darrell Lee Waltrip
Considered one of the greatest NASCAR drivers in history, Darrell Lee Waltrip is an American motorsports analyst, author, former national television broadcaster, and former stock car driver.
Waltrip was born in Owensboro, Kentucky, United States, on 5th February 1947.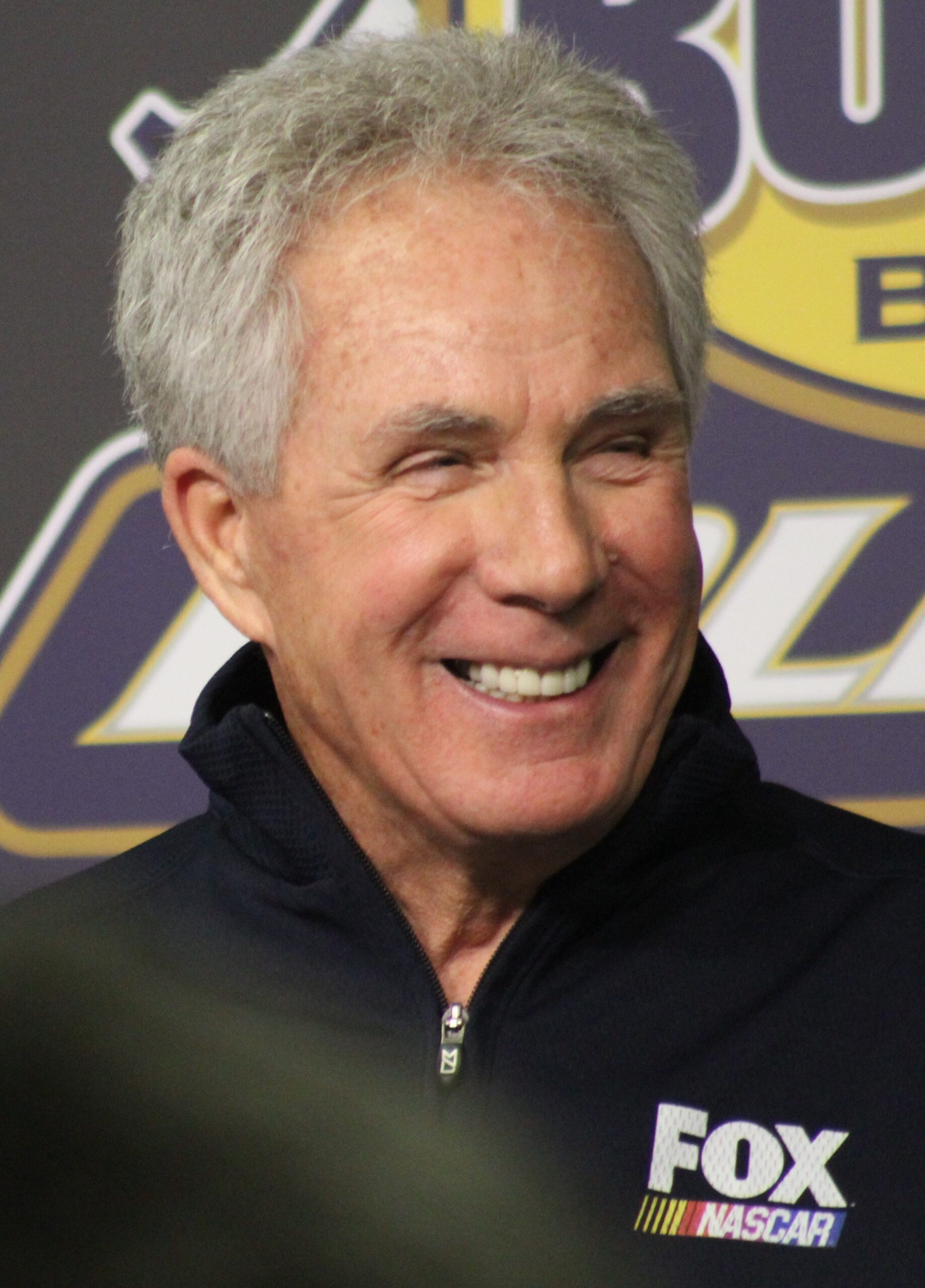 Waltrip raced from 1972 to 2000 in the NASCAR Winston Cup Series throughout his racing career, most remarkably driving the No. 17 Chevrolet for Hendrick Motorsports.
Waltrip won 84 races over 29 years, and his top sponsor was Budweiser.
He is the three-time Winston Cup Series Championship in 1981,
1982, and 1985.
5. Jeff Gordon
Born on August 4, 1971, Jeffery Michael Gordon is an American former professional stock car racing driver.
He currently serves as the vice chairman for Hendrick Motorsports.
He drove No. 24 for Hendrick Motorsports in the former NASCAR Winston Cup Series and Sprint Cup Series from 1993 to 2015.
Gordon also served as a substitute driver for Dale Earnhardt Jr. in the No. 88 Chevrolet for Hendrick Motorsports in select races during the 2016 season.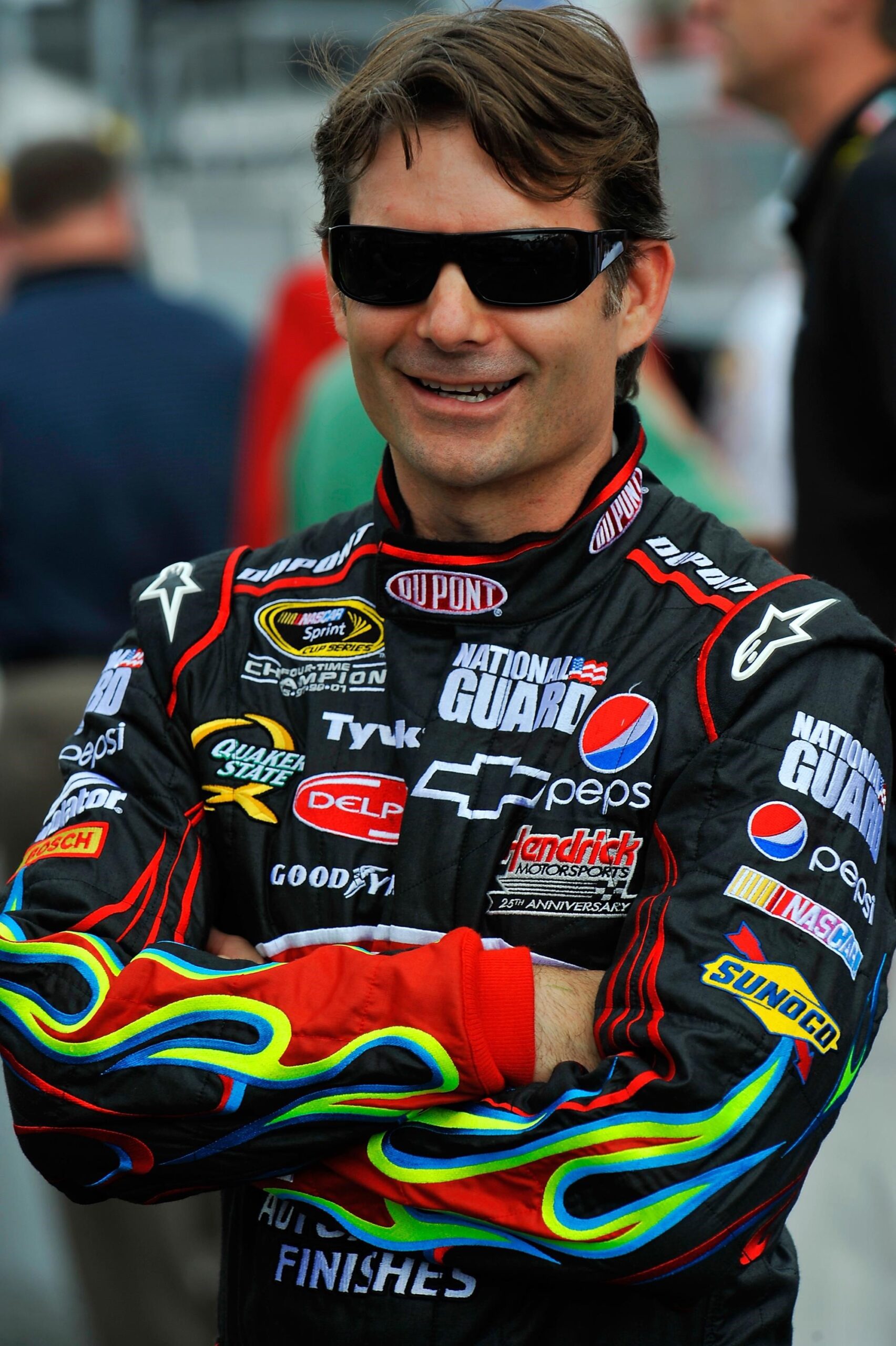 Regarded as one of the most influential drivers in NASCAR history, he started his professional racing career in the Busch Series with Hugh Connerty Racing.
Similarly, he began racing full-time in the NASCAR Winston Cup Series for Hendrick Motorsports in 1993.
4. Jimmie Johnson
Jimmie Kenneth Johnson is an accomplished professional auto racing driver born on September 17, 1975.
He is widely regarded as one of the greatest drivers in the history of NASCAR Cup Series racing, having won a remarkable seven championships in the series.
Johnson's success in the Cup Series includes an unprecedented five consecutive championships from 2006 to 2010, an achievement that has only been matched by a select few drivers in the sport's history.
In addition to his numerous championship victories, Johnson has also won a total of 83 Cup Series races throughout his illustrious career, which ranks him tied for sixth on the all-time wins list.
He has won several other prestigious races in the Cup Series, including the Daytona 500 twice and the Brickyard 400 four times.
Currently, Johnson competes part-time in the Cup Series, driving the No. 84 Chevrolet Camaro ZL1 for Legacy Motor Club.
Despite reducing his schedule, he remains a popular and highly respected figure in the sport, admired for his skill, determination, and sportsmanship.
Johnson purchased an ownership stake in Petty GMS Motorsports on November 4, 2022.
In addition, he announced his return to the Cup Series on a part-time basis in 2023, starting with an attempt to make the 2023 Daytona 500.
3. Dale Earnhardt
The American professional stock car driver and team owner Ralph Dale Earnhardt Sr. was among the best NASCAR drivers ever to grab the wheel.
Talking about his professional career, he raced from 1975 to 2001 in the NASCAR Cup Series.
Regarded as one of the greatest drivers in NASCAR history, his aggressive driving style earned him the nicknames "The Intimidator," "The Man in Black," and "Ironhead."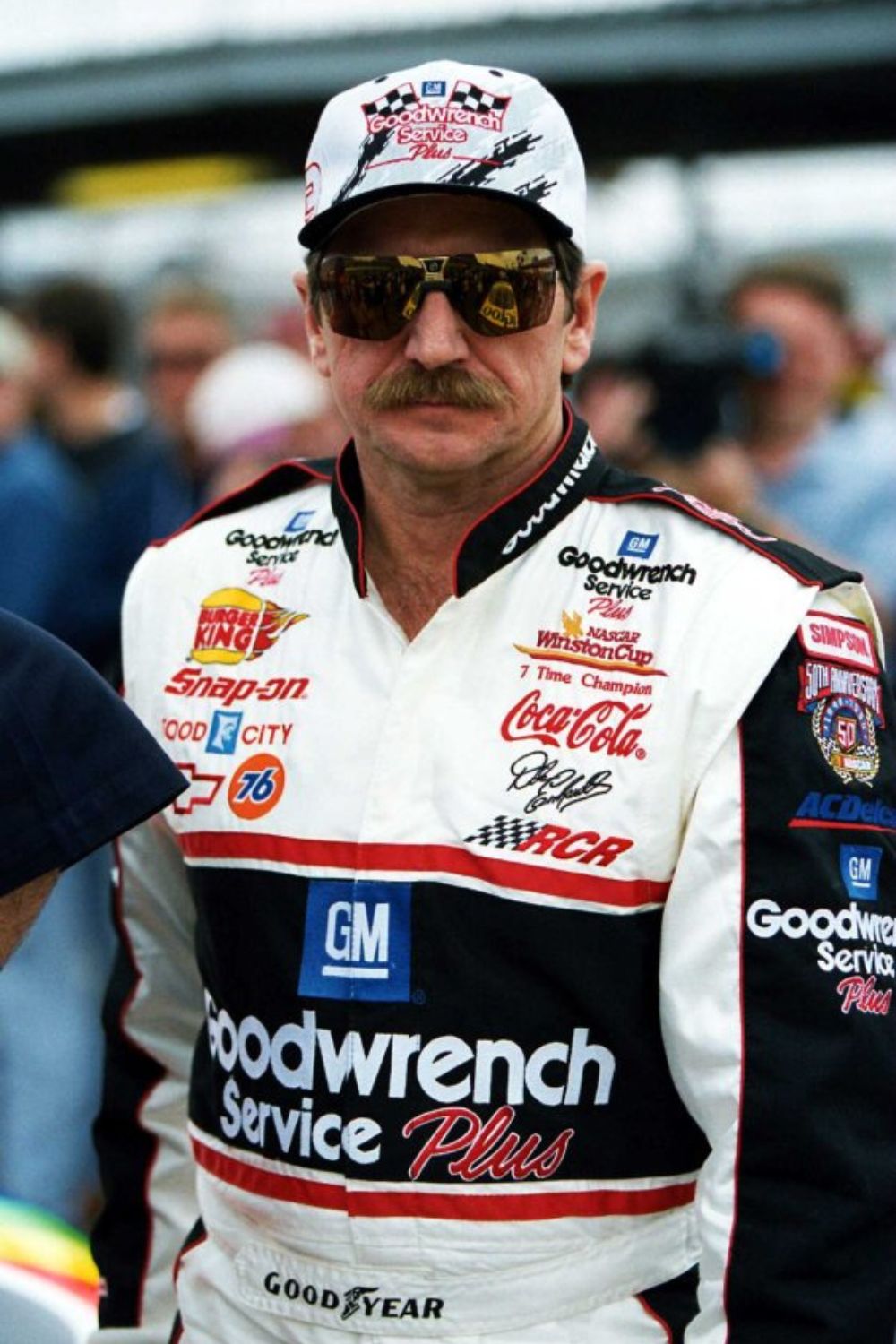 After his son Dale Earnhardt Jr. joined the Cup Series circuit in 1999, Earnhardt was generally known by the retronym Dale Earnhardt Sr.
Over the course of Earnhardt's 26 years of professional career, he won 76 Winston Cup races.
Besides, he was the only driver from the modern era of NASCAR to score at least one win in each of four different decades.
2. David Pearson
The second-ranking legendary NASCAR figure David Gene Pearson was an American stock car driver and a champion.
Deemed among the best NASCAR drivers, he professionally raced from 1960 to 1986 in the NASCAR Grand National and Winston Cup Series.
Pearson most notably drove the No. 21 Mercury for Wood Brothers Racing.
Moreover, in the 1960 series, he won the NASCAR Rookie of the Year award, along with three Cup Series championships in 1966, 1968, and 1969.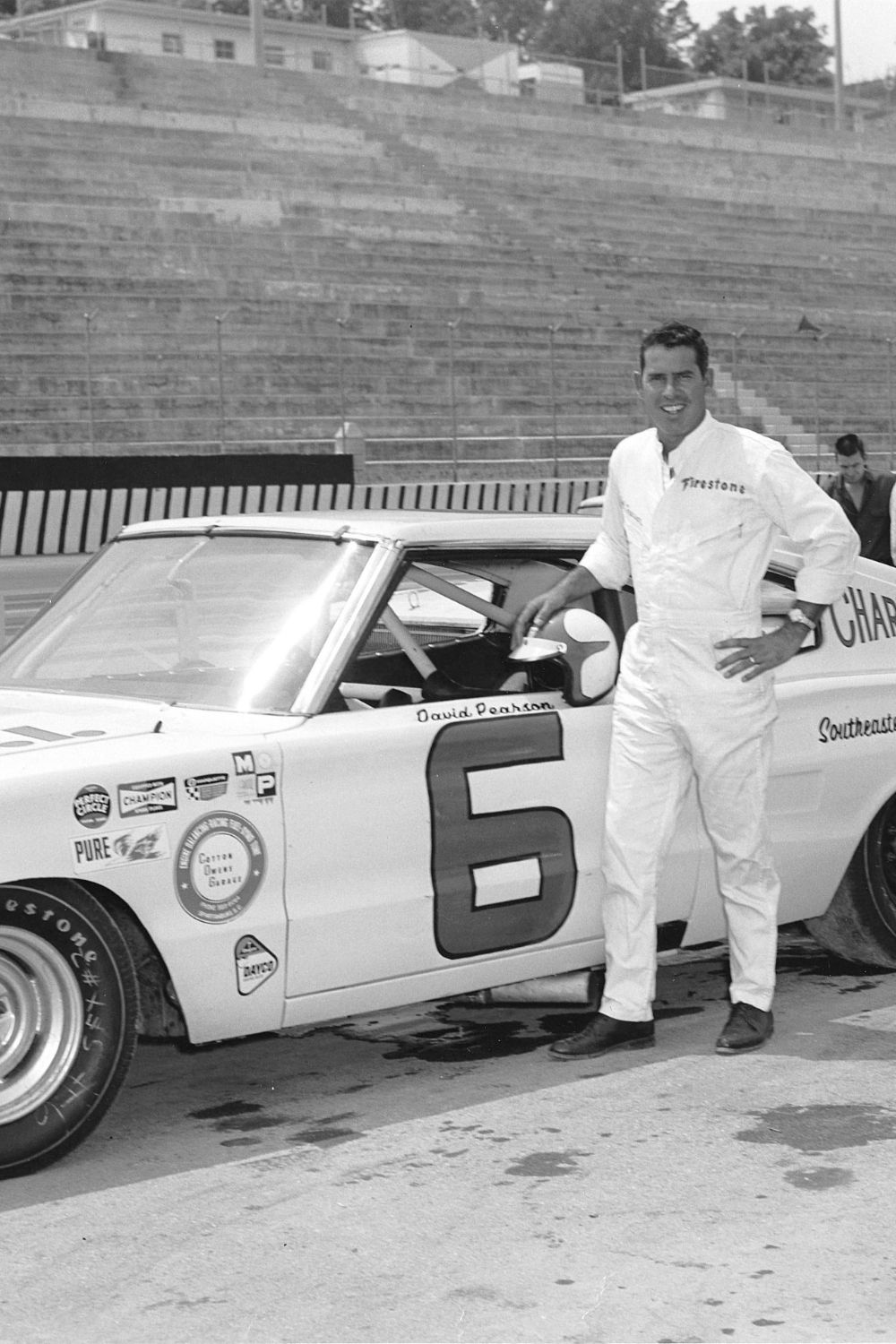 When it came to racing, he never missed a day and competed in every single race.
In 1991, he was inducted into the National Motor Sports Association's Hall of Fame and into the Motorsports Hall of Fame of America in 1993.
His death was announced by Nascar, which did not provide details. It said that Pearson's family announced in 2014 that he had had a stroke.

1. Richard Petty
When it comes to stock car racing, there isn't a person who doesn't know this name.
The best NASCAR driver and the number one ranking Richard Lee Petty, nicknamed "The King," is an American former stock car racing legend who raced from 1958 to 1992 in the former NASCAR Grand National and Winston Cup Series.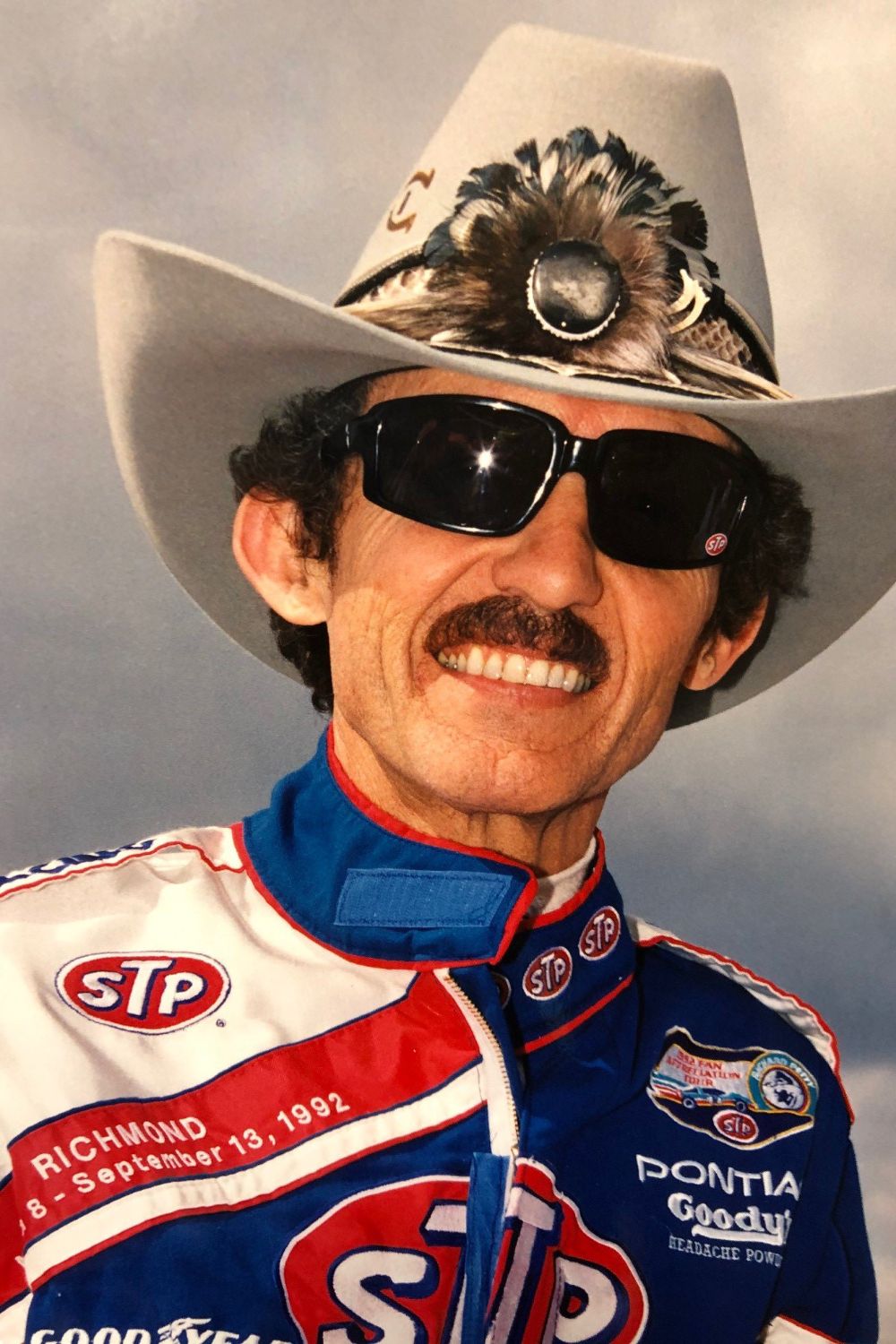 Petty's No. 43 Plymouth/Pontiac was the most iconic and loved car on the race track.
Not to mention, Petty was the first NASCAR driver to win the Cup Series championship seven times. Besides he also won 200 races, including the Daytona 500 (seven times).
Conclusion
From Richard Petty and Dale Earnhardt to Jeff Gordon and Jimmie Johnson, each of these drivers has made a significant impact on the sport through their remarkable achievements.
Whether through their impressive championship victories or countless race wins, these drivers have left an indelible mark on the world of NASCAR, and their legacies will continue to inspire and influence future generations of drivers for years to come.