The fact that Julie Ertz's sister, Melanie Johnston is also a former soccer player might be an utter surprise to many of her fans. Just like the Angel City FC player, her older sister also had a love for the game.
Back in 2004, both sisters played for Sereno Soccer Club in Phoenix, representing the club's U13 through U19 teams during their youth. And if not for Melanie, Julie might have never started playing.
But does Julie Ertz also have a brother? Let's unravel the mystery of her family connections.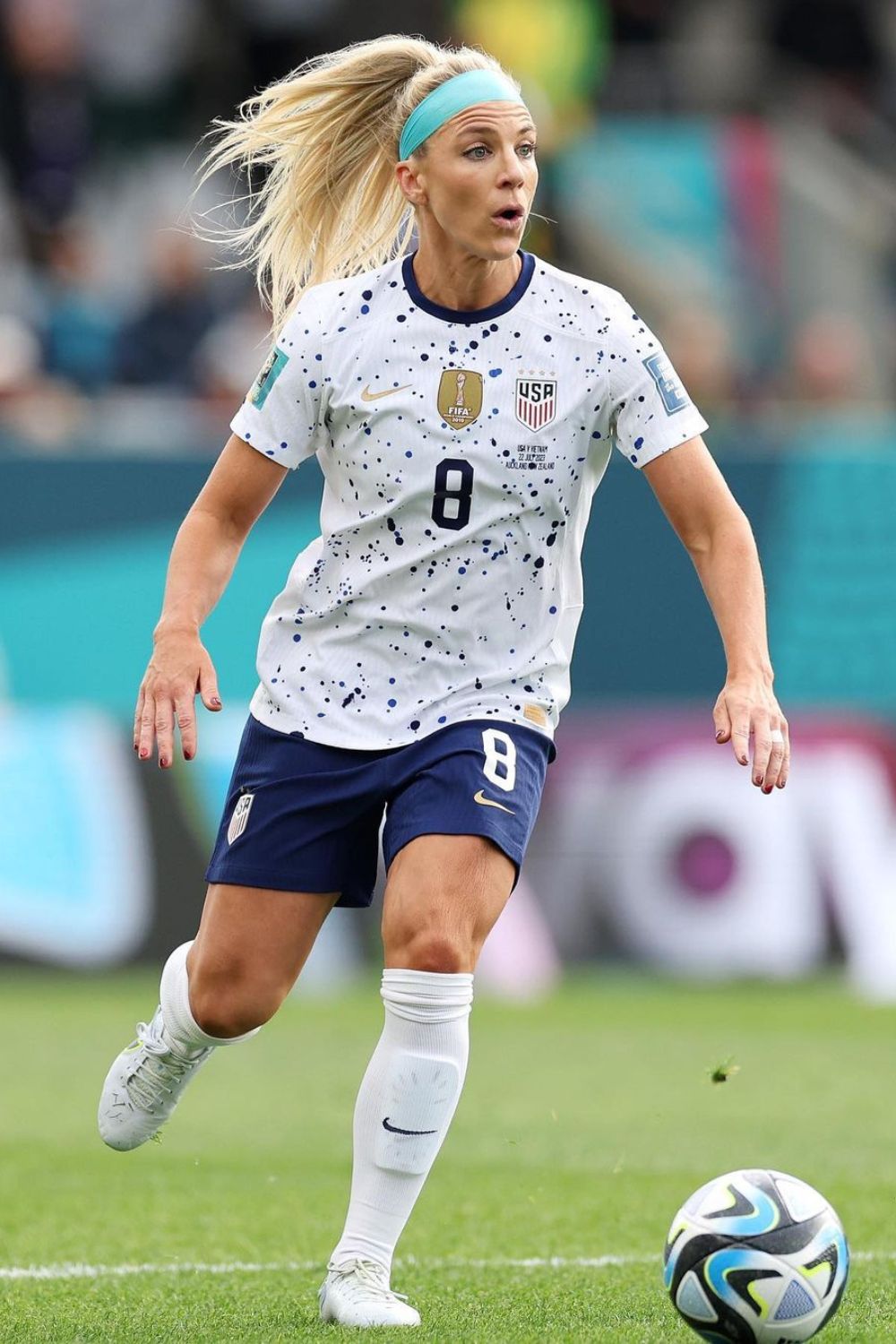 Julie Ertz is an American professional soccer player who plays for the NWSL club Angel City FC and the United States women's national team.
The USWNT player was born on April 6, 1992, in Mesa, Arizona as the daughter of Kristi and David Johnston.
A dominant force in the middle of the field, Ertz is mostly popular for being a two-time FIFA Women's World Cup Champion.
Likewise, she is the only player to win the U.S. Soccer Young Female Player of the Year and then win the U.S. Soccer Female Player of the Year twice. The two-time Olympian was named to the FIFA FIFPro Women's World XI in both 2015 and 2019.
In addition, Ertz was drafted No. 3 overall by the Chicago Red Stars in the 2014 NWSL Draft.
Ertz played with the Red Stars through the 2021 season until she had her rights traded to Angel City FC in December 2021.
Julie Ertz Sister: Melanie Johnston
Melanie Johnston, Julie Ertz's older sister, is the only sibling the player has. Therefore, it is safe to say that Julie Ertz doesn't have a brother.
Born on April 4, 1990, Melanie has remained relatively private and out of the public eye compared to her famous sister.
Julie Ertz wasn't the only soccer child in her family growing up. The Johnston sisters spent their entire childhood together playing soccer in their hometown, Mesa.
Ertz credits Melanie for igniting her soccer journey. Because she followed her sister's footsteps as she chose soccer as the predominant sport and currently is one established athlete.
Both siblings played for Sereno growing up before the younger one journeyed to Santa Clara in 2010. While Julie played for the 1992 side, Melanie played for the 1990s.
Moving towards Melanie's academics, she studied at Dobson High School, the same school as her sister, in Mesa as a freshman.
She even was a member of the Chandler High team that qualified for the state playoffs as a senior.
In addition to that, she played for 90 Sereno Soccer Club, which won the Arizona state championship in her freshman, sophomore, junior and senior years.
Melanie Johnston Was A Collegiate Soccer Player
The former soccer player attended Arizona State University, where she pursued her academic interests in Nursing.
Melanie continued her soccer journey throughout her collegiate days. Even though the sophomore redshirted in 2010, she played as a midfielder in 2011.
Moreover, she has a brief soccer stint at Washington State University. She was named Pac-10 All-Freshman Team and had an Honorable Mention for Gatorade Player of the Year.
Well, it's truly unfortunate that she didn't pursue a career in soccer, and the sports industry lost such a talented player.
Despite the distance, the sisters have remained close and continue to maintain their bond. Melanie often makes guest appearances on Julie's Instagram feed.
Julie Ertz Relationship
The USWNT's pride got engaged to NFL tight end Zach Ertz in February 2016 after dating for four years.
The sporting power couple first met at a baseball game in 2012 at Klein Field, the Stanford University baseball stadium.
Zach was playing football back then as Julie was playing soccer. They dated long-distance as their athletic professions took off. The lovebirds walked down the aisle on March 26, 2017.
After a decade of togetherness, Julie and Zack welcomed their first child, a son named Madden, in August 2022.
Ertz took a break for some time after her delivery and made a comeback playing in the April 2023 friendlies against the Republic of Ireland.