Julie Ertz's parents, Kristi and David Johnston played vital roles in their daughter's development as an athlete. Despite, the lack of financial backing, David, and Kristi, supported Julie's soccer dreams.
Born and raised in Mesa, Arizona, Julie Ertz's (nee Johnston) love for soccer began at a young age. She was coached by her father and trained alongside her sister, Melanie.
Her family remains away from the spotlight, but there isn't a doubt they are proud of her accomplishments. After all, she is two time World Cup winner. The veteran player of USWNT is married to Zach Ertz, the tight end of the Arizona Cardinals.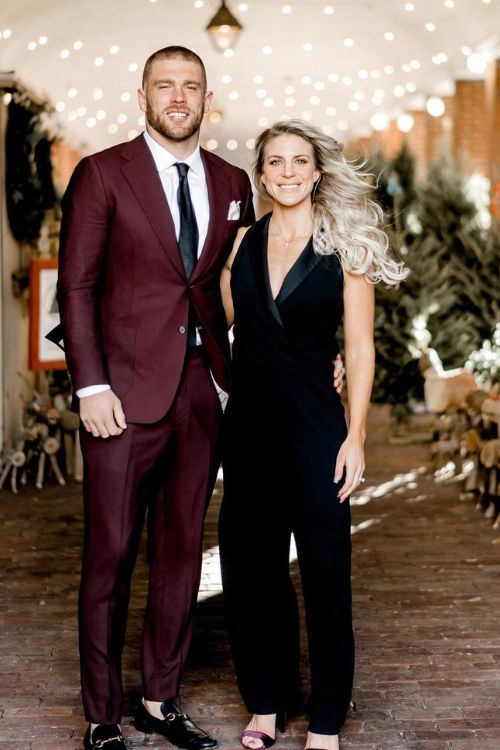 Together the couple has carried out several donation programs through their foundation. In 2022, they donated 500,000 meals to the Arizona community.
Many believed Ertz would have a difficult time making it to the USWNT World Cup squad as she only gave birth to her son Madden last August.
But Julie is in Australia with teammates Crystal Dunn and Sofia Huerta, looking to make history by winning the World Cup for the third consecutive time.
Julie Ertz Parents, Kristi, And David Johnston
Julie Ertz's parents Kristi, and David Johnston, raised two girls in Mesa, Arizona. Kristi and David supported Julie's soccer career from a young age.
David was strict when it came to coaching Julie. When Julie first started playing soccer and would cry whenever she fell, David would tell her the sport isn't built for those who give up easily.
David Johnston is a former collegiate football player. He served as a two-year starting kicker for Louisiana State University in the 1980 and 1981 seasons. Before playing for LSU, David was a football player at Mesa Community College.
Julie didn't come from an aristocratic family, and her parents worked hard to fulfill her soccer dreams. Julie's mom, Kristi Johnston, worked as a nurse, and David worked with a food supply company.
When Julie was 13, they asked their daughter if she was serious about her soccer career. If she was, then they were ready to invest in it.
The couple has tried to keep themselves away from social media. Julie also has a sister named Melanie, who is two years older than her.
The two sisters played soccer for Arizona Arsenal Club and later played with Sereno Soccer Club in Phoenix. Melanie, like her parents, remains away from social media.
Julie Ertz Husband, Zach Ertz
Julie Ertz's husband, Zach Ertz, is the tight end for the Arizona Cardinals. The two athletes have achieved massive success in their respective sports.
In 2020, Zach and Julie made headlines for all the right reasons. Through their Ertz Family Foundation, the two donated $100,000 to the Philadelphia food bank.
The two started their organization in 2018, intending to serve the Philadelphia community. At the time, Zach played for the Eagles in the NFL and even won a Super Bowl title.
Julie And Zach Welcomed Their First Child In 2022
The athletic duo of Julie and Zach Ertz first met in 2012 at a baseball game at Stanford Stadium through their mutual friends.
Their first date was later that year in Chipotle. After the 2012 football season, Zach entered the NFL Draft and was signed by Philadelphia Eagles. But despite the long distance, the couple decided to continue their relationship.
The footballer has been seen in several of Julie's games, notably the 2015 World Cup final. A year later, in 2016, Zach proposed to the soccer star at the same stadium they met.
The two tied the knot in 2017 in Santa Barbara, California, and later traveled to Hawaii for their honeymoon. In the past, the couple has done several interviews where they have shown nothing but appreciation for each other.
A video went viral in 2018 showing Julie in tears after knowing her husband's team made it to the Super Bowl. They celebrated the Eagles winning the tournament against the New England Patriots a month later.
On August 11, 2022, Zach and Julie welcomed their first child, Madden. The little one with his parents has been seen cheering for the USWNT.
Earlier this year, with his mom, Madden honored his dad on his first Father's Day. Julie shared a series of cute family pictures and that of Madden wearing the No.86 jersey of his dada.