Ever since his amateur racing days, the NASCAR driver Justin Allgaier has had his wife, Ashley Allgaier, by his side. The two are married for more than a decade & a half and share two lovely daughters.
Allgaier, nicknamed "Little Gator," competes full-time in the NASCAR Xfinity Series for JR Motorsports & drives the No. 7 Chevrolet Camaro.
Born on June 6, 1986, the American professional stock racing driver is passionate about racing since the age of five. He was the 2018 NASCAR Xfinity Series champion.
Both his parents shared a strong enthusiasm for racing, which may have contributed to his development as a racer today.
Allgaier was selected as the "NASCAR Nationwide Series Rookie of the Year" for 2009. He also went on to win five championships and more than a hundred races.
Additionally, Justin has been competing in the NASCAR Xfinity series since 2016.
He enjoys spending time with his wife and kids in addition to racing. Furthermore, he also enjoys wakeboarding, hunting, and graphic design.
Justin Allgaier Wife: Who Is Ashley Allgaier?
The NASCAR driver Justin and his wife Ashley are together for more than two decades.
She is a constant support system for Justin & a doting mother of two kids.
As reported, Ashley, born in 1986 in Chicago, Illinois, works in Justin's racing company, Justin Allgaier Motorsports.
Justin Allgaier and Ashley began dating on March 4, 2002, according to his Instagram post of March 2022, as they celebrated their wedding anniversary.
After four years of relationship, the couple married on March 4, 2006, & often post on their respective social media on the occasion of the anniversary.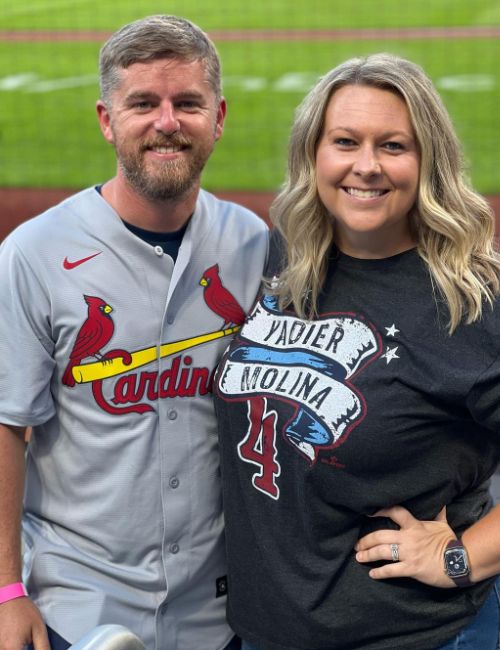 In an interview, Justin claimed that his wife always gives him praise when he succeeds and vice versa.
Perhaps it is true what they say: behind every successful man, there stands a woman.
Justin acknowledges that even when his wife criticizes him, it motivates him to work harder.
Moreover, he has always made sure to appreciate his wife and family for his accomplishment.
On her Instagram profile, Ashley describes herself as a Jesus devotee and the mother of two kids with her racer husband.
Has Two Kids: Harper Allgaier & Willow Leigh Allgaier
Together with his wife, Ashely, Justin is the father of two kids, both daughters: Harper Allgaier & Willow Leigh Allgaier.
The eldest child, Harper, was born on August 8, 2013, and is 10 years old.
On their Instagram posts, the duo often feature their daughter Harper who is showing her potential as a softball player.
Later, on May 24, 2021, Justin and Ashley became parents to their second child, Willow Leigh Allgaier.
As reported, they didn't know the gender of their second baby until birth & referred to their then-to-be-born child as the "tiniest gator."
While Justin Allgaier was about to become the father for the second time, he was competing in the Xfinity Series Playoff.
Even though performing on the tracks has its own pressure, so does the birth of a child.
Justin, the driver of JR Motorsports, has also been spotted wearing some unusual helmets.
Furthermore, Harper Allgaier, their oldest child, is reputed to have designed a few helmets for the racer known as "Lil Gator."