Justise Winslow is an American basketball player in the National Basketball Association (NBA) League. He plays as a small forward for the NBA club, Portland Trail Blazers.
Winslow's professional journey started after the Miami Heat selected him in the 2015 NBA draft. He was a college drop-out at that time.
Previously, before entering the NBA, he played his college basketball for the Duke Blue Devils. While there, the Texas resident not only won praises but also became the NCAA Champion in 2015.
Justise Winslow is always very confident on the court while playing against any NBA team. Winslow can bounce back and lead his team to a comfortable position in any difficult conditions.
As a small forward, he very well knows his responsibilities for his team. He is mainly strong in defensive areas and good at rebounds. However, even though he scores points now and then, his performance has often been average.
Most recently, the LA Clippers traded him to the Blazers. It is yet to be seen how his career in the new club would turn out.
However, let's discover more about Winslow's early life, NBA career, personal life, etc.
But before moving towards the detail, here are some quick facts about Justise Winslow.
Quick Facts
Full Name
Justise Jon Winslow
Known As
Justise Winslow
Date of Birth
March 26, 1996
Birth Place
Houston, Texas, the USA
Nick Name
JWins, JDubb, Jus-Blaze, Rubdi
Religion
Christianity
Nationality
American
Zodiac Sign
Aries
Age

27

years old
Height
1.98 m (6 feet 6 inches)
Weight
222 lb (101 kg)
Hair Color
Black
Eye Color
Black
Build
Athletic
Father's Name
Rickie Winslow
Mother's Name
Robin Davis
Siblings
Three older brothers and an elder sister
Siblings' Name
Josh, Cedrick, Brandon, and Bianca Winslow
Education

St. John's School (Houston, Texas)
Duke University (Durham, North Carolina)

Marital Status
Unmarried
Sexual Orientation
Straight
Girlfriend
None
Kid
None
Food Habit
Non-vegetarian
Profession
Professional basketball player
NBA Draft
2015
Position
Small Forward
League
National Basketball Association (NBA)
Active Years
(2015–present)
Net Worth
$3 million
Currently Plays For
Portland Trail Blazers
Former Clubs

Miami Heats
Memphis Grizzlies
Los Angeles Clippers

Jersey Number
26
Career Highlights & Awards

NBA All-Rookie Second Team (2016)
Texas Mr. Basketball (2014)
First-team Parade All-American (2014)
NCAA champion (2015)

Social Media
Instagram, Facebook, Twitter
Merch
Notebook
Last Update

March 2023
Early Life, Family & Education
Justise Jon Winslow, popularly known as Justise Winslow, was born on March 26, 1996, in Houston, Texas, United States. He is the youngest son of Rickie Winslow and Robin Davis, both of whom are Texas natives.
Winslow grew up in Houston and attended St. John's School as a kid. His father was a good basketball player and played college basketball at the University of Houston.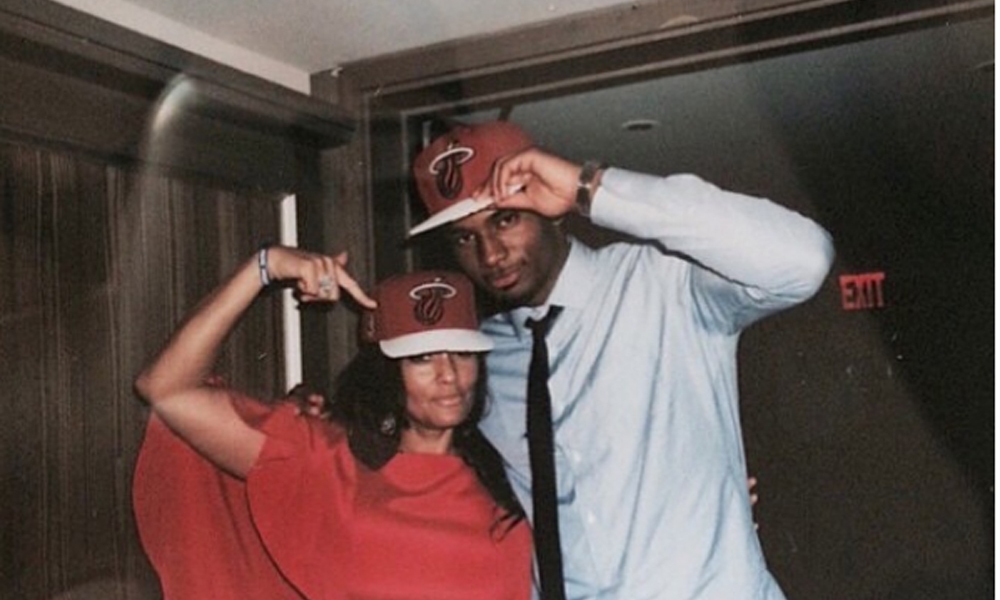 Not only that, Rickie even played some NBA matches for the Milwaukee Bucks and Chicago Bulls. Justise's keen interest in basketball developed when he was a small boy due to his father's influence.
He studied at St. John's until he graduated from high school level. While there, he participated in various inter-school tournaments and won numerous accolades.
Even though his father initially made him practice the sport and honed his skills, his mother, Robin, also motivated him. He and almost everyone in his family are into different kinds of sports.
One of his elder brothers, Josh, played college football for Dartmouth College and was very good at it. However, he did not get successful enough to pursue his professional career.
Similarly, Winslow's elder sister, Bianca, played college-level basketball for the Houston Cougars.
His two other brothers, Cedrick and Brandon, did not play sports as their other siblings did. However, they loved watching sports and cheered their siblings during their games. Brandon currently works as a real estate agent and advisor.
Moving back to his academic life, he graduated his high school in 2014 and enrolled at Duke University for his higher education and college career.
Justise Winslow | Career
High School Career
Justise played his high school basketball for St. John's School, the same school he had attended since childhood. He soon stood out as one of the best from the first year among his teammates.
He won the league championship in his first year, in which he made a significant contribution. For his performance, young Winslow received applause from his school coaches, which boosted his confidence.
He did even better in the next seasons, and his tall height certainly helped a lot. Justise displayed his career-best performance in his senior season when he averaged 27.5 points and 13.6 rebounds per game.
<<< Myles Turner Bio: Net Worth, NBA & Injury >>>
He again assisted them in winning the league championship in his final year. Before joining the college, he was named among the McDonald's All American in 2014.
College Career
The St. John's graduate immediately joined Duke University at North Carolina to pursue his college career. He played 39 matches and started all of them in his rookie season.
Mike Krzyzewski, the then coach at Duke, became impressed with his game, due to which he compared his playing style with the former Blue Devils legends Tommy Amaker and Grant Hill.
He finished the intercollegiate season with 12.6 points and 6.5 rebounds per game. In addition, Winslow competed in the NCAA tournament and contributed to his team winning the championship.
He averaged 14.3 points and 9.3 rebounds per game throughout the event.
Winslow decided to forgo his college career after his first year and decided to go for the NBA draft in April 2015. However, his brief basketball career in college was extremely successful as it became quite helpful to get drafted in the league.
Professional Career
The Miami Heat selected Justise Winslow in 2015 as the draft's first-round 10th pick. Soon after, on July 3, the club signed a rookie scale contract with him.
As his high school and college records were extremely good, the club entrusted him with more playtime in his rookie season. As a result, he played 78 matches in the 2015-16 season.
However, his performance was far from expected as he only managed to average 6.4 points per game. Apart from that, he had somewhat good rebound records and was excellent while in defense.
Winslow played four more seasons for the Heats before eventually transferring to the Memphis Grizzlies in 2020. However, his time with Miami Heat was tough and full of injuries.
He stayed for only one NBA season with the Grizzlies, in which he played 26 matches. The small forward averaged 6.8 points and 1.9 rebounds per game this season.
After he went down with the injury, there was no other choice for the Grizzlies than trade him. Eventually, they traded him to the LA Clippers in 2021.
He appeared for around 37 games for the Clippers, in which he had one of the worst performances in his NBA career. Not only was he bad at scoring, but he did not have good rebounding records as well.
Finally, on February 4, the Clippers traded him to the Portland Trail Blazers during the ongoing 2021-22 season. He has expressed that he would do well in his new club and would give his best to ensure that.
Besides his professional career, he has represented the United States national team in various tournaments, including the FIBA championships of different age groups.
Justise Winslow | Awards & Achievements
Some of his awards and achievements include:
NBA All-Rookie Second Team (2016)
Texas Mr. Basketball (2014)
First-team Parade All-American (2014)
NCAA Champion (2015)
Gatorade Texas Player of The Year (2013)
McDonald's All-American (2014)
Net Worth, Salary & Career Earnings
One of the most capable small forward of the NBA, Justise Winslow, has a net worth of around $3 million.
His main source of earning is the NBA league games. After signing with the Heat in the 2005 NBA draft, the club paid him around $2.4 million from his rookie season alone. He played four more NBA seasons for the Heat before transferring to the Memphis Grizzlies.
He earned about $8.6 million from the Heat in his next three years. Then, moving to the Memphis Grizzlies in 2020, the club offered him about $13 million for the 2020-21 season.
In his eight-year-long NBA career, he has already accumulated a wealth of around $37.2 million. He could have earned even more if he had not endured frequent injuries. He currently has an annual salary of about $3 million.
Justise earns some amount of money through merch sales and brand endorsements as well.
He does not spend his earnings for himself and those around him. Instead, he has been engaging in various social works and community services since college.
<<< Jordan Poole Bio: NBA, Family & Net Worth >>>
Together with his mom, he has established a non-profit organization named Robin's House Family Foundation which focuses on providing proper guidelines to youth and various philanthropic activities.
Age, Weight & Height
As of 2023, the NBA player is 27 years of age. He celebrates his birthday every March 26.
Moving onto his body measurements, he stands 1.98 meters (6 feet 6 inches) tall and weighs around 222 lb (101 kg). Since childhood, he has been quite stout, and all other family members are tall.
Moreover, he has black-colored hair and black eyes. He is a huge fitness enthusiast and regularly goes to the gym to maintain his body.
Justise Winslow | Personal Life
Justise Winslow is currently rumored to be single. However, many websites have often associated him with his high school friend, Abby Avery. But they have never confirmed that they are in a relationship to date.
Winslow is friendly and easy to talk to, so he has always had male and female friends. The athlete frequently posts photos of him and his friends enjoying various occasions.
<<< Channing Frye Bio: Career, Net Worth & Wife >>>
In 2017, there was a rumor that he was in a relationship with Justine Sky. She was a singer and a resident of New York City.
As he is a celebrity, it is quite normal for the media to speculate and spread rumors about his supposed relationship. However, he has not expressed anything about his love life on his side.
He is probably happy being single and still prefers to focus on his professional life. We will give an update once we discover something more concrete about his personal life.
Justise Winslow on Social Media
Justise Winslow, even though not much active, has some presence on various social media handles. Looking at his social media pages, he is more active on Instagram than any other handles.
On Insta, he is followed by over 560k people. He posts pictures related to his professional life there.
Winslow has a Facebook account, but it seems quite inactive since 2020. Similarly, he has over 120k followers on Twitter, but surprisingly it is not verified.
Frequently Asked Questions (FAQs)
Is Justise Winslow hurt?
No, Justise Winslow is not hurt. He is playing well for the Portland Trail Blazers in the ongoing 2021-22 season. However, he has a long history of injuries throughout his NBA career and has undergone numerous surgeries for recovery.
Is Justise Winslow good?
Yes, Justise Winslow is good. He is playing well with an average of over 12.0 points and 6.6 rebounds per game in the ongoing season for the Blazers. However, his past league records are far from being satisfactory.