Channing Frye is a former American professional basketball player who played in the NBA for 13 seasons as a power forward/center and announced his retirement in 2019.
Frye started his NBA journey after the New York Knicks selected him in the 2005 NBA draft, becoming the first college senior to get drafted that year.
Before joining the NBA, he played college basketball for the Arizona Wildcats. Frye had an exceptional collegiate career and received many honors for leading his team in NCAA tournaments.
The athlete played for six different teams in his long career; New York Knicks, Portland Trail Blazers, Phoenix Suns, Orlando Magic, Cleveland Cavaliers, and Los Angeles Lakers.
He even won the NBA championship with the Cavaliers in 2016.
After retiring from professional basketball, he started working as a TV program host and match analyst.
In this article, we will discover about the former NBA player's early life, a historical NBA journey, personal life, and much more.
But before moving into the details, here are some quick facts about Channing Frye.
Quick Facts
Full Name
Channing Thomas Frye
Known As
Channing Frye
Date of Birth
May 17, 1983
Birth Place
White Plains, New York, the USA
Nick Name
Black Lightning
Religion
Christianity
Nationality
American
Zodiac Sign
Taurus
Age

40

Years Old
Height
7'0″/2.13 m/213 cm
Weight
116 kg/255 lb.
Hair Color
Black
Eye Color
Black
Build
Athletic
Father's Name
Thomas Frye
Mother's Name
Karen Mulzac- Frye
Siblings
A brother
Siblings' Name
Logan Frye
Education

St. Mary's High School (Phoenix, Arizona)
University of Arizona (Tucson, Arizona)

Marital Status
Married
Sexual Orientation
Straight
Wife's Name
Lauren Lisoski
Kid
Four
Kids' Names
Hendrix, Margaux, remaining two kids' names- unknown
Profession
Professional basketball player
NBA Draft
2005
Position
Power forward/center
League
National Basketball Association (NBA)
Active Years
(2005–present)
Net Worth
$10 million
Currently Plays For
None/ Retired
Former Clubs

New York Knicks
Portland Trail Blazers
Phoenix Suns
Orlando Magic
Cleveland Cavaliers
Los Angeles Lakers

Jersey Numbers
7, 44, 12, 8, 9
Career Highlights & Awards

NBA champion (2016)
McDonald's All-American (2001)
First-team All-Pac-10 (2004, 2005)
NBA All-Rookie First Team (2006)

Social Media
Instagram, Twitter
Merch
Trading card
Last Update

June 2023
Early Life, Family & Education
Channing Thomas Frye, popularly known as Channing Frye, was born in White Plains, New York, on May 17, 1983. He was the eldest son of late Thomas Frye and late Karen Mulzac-Frye.
Karen was a TV reporter, program producer, and most notably, an Emmy Award winner. Talking about his dad, he had a company that consulted various private and government schools for multiple purposes.
Young Channing spent his childhood in Phoenix, Arizona, with his younger brother, Logan Frye, and attended St. Mary's High School.
He started playing basketball very early when he was still in his primary level.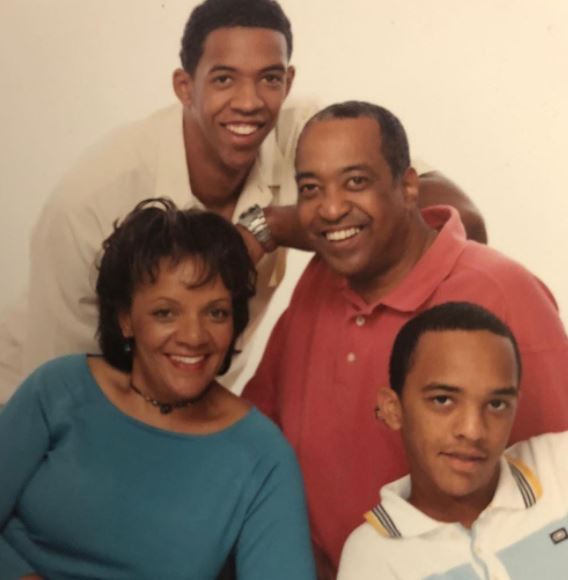 Frye was popular in his town as one of the best centers while he was playing for his high school team. Being born to supportive parents, he was always encouraged to practice with his friends.
After high school, he committed to play for the Arizona Wildcats and continued playing basketball.
Both his parents were divorced and living apart. Sadly in 2016, both his parents; his mother, Karen, died of cancer in October 2016, and after 27 days, his father also passed away.
Channing's grandmother discovered his father's dead body when she checked upon him on Thanksgiving.
The simultaneous demise of both his parents had a severe effect on him. It took quite a while for the former NBA player to come out of the trauma.
He had a great bond with both his parents, which lasted until their death.
Career
High School Career
Channing Frye played for the St. Mary's basketball team until 2001. During his four years as a high school athlete, he developed various skills and stood out as one of the best players on the squad.
As a junior, Frye led his team to the semi-finals of the 2000 Class 5A state tournament, averaging 15.0 points and 12.0 rebounds per game.
Going onto his senior year, the Arizona player outperformed himself. He recorded an average of 22 points, 6 blocks, 3 assists, and 15 rebounds per game leading St. Mary's to the 2001 Class 5A state championship with a 30-3 record.
Following his performance at the championship, he was named Player of the Year by the Arizona Republic and the Arizona Gatorade Player of the Year.
He also earned the fourth-team Parade All-America and McDonald's All-America honors.
College Career
After high school, Channing enrolled at the University of Arizona and played for the Arizona Wildcats. As a freshman, he played all 34 games, starting 25 of them. He continued his brilliant performance up to the college season.
Continuing his impressive performance, he ended his first season averaging 9.5 points and 6.3 rebounds per game, and earned Pac-10 All-Freshman team honors.
As a sophomore, he appeared in 32 games and averaged 12.6 points and 8.0 rebounds per game.
Moving on to his junior year, he played 30 matches, starting all games, and averaged 15.9 points and 7.4 rebounds per game.
He played all 37 matches in his senior year and showboated impressive stats, with an average of 15.8 points and 7.6 rebounds per game.
Frye made and broke many records throughout his collegiate career. Subsequently, he declared for the 2005 NBA draft as one of the country's top prospects.
Professional Career
New York Knicks
the New York Knicks selected Frye in the 2005 NBA draft with the 8th overall pick. In his rookie season, he played 65 games and averaged 12.3 points and 5.8 rebounds per game.
Sadly, he could not play as many games as he had wanted to play in his first NBA season, as he was forced to miss the remaining of the season after spraining his left knee ligament on March 21, 2006.
After a long rest, he made his return in the 2006-07 season. In his second season, he played 72 games, starting 59 of them, and averaged 9.5 points and 5.5 rebounds per game.
Struggling to gain momentum after the knee injury, he was selected to the 2005-06 NBA All-Rookie first team.
Portland Trail Blazers
The Knicks traded Frye to the Portland Trail Blazers on June 28, 2007. Both seasons with the Blazers were not praiseworthy, as he averaged 9.5 points and 0.9 assists in his first season and 6.8 points and 0.7 assists in his second season.
During his time with the Blazers, he was troubled by his knee and was forced out of the court.
Frye underwent knee surgery and missed many games in the 2008-09 season. In his two seasons with the Blazers, he played a total of 145 games.
Phoenix Suns
Channing signed a two-year contract with the Phoenix Suns on July 14, 2009. He regained his form back while in the Suns and recorded excellent stats. Playing four seasons for the club, he averaged over 10.0 points per game.
In 2012, he was diagnosed with an enlarged heart, ruling him out for the entire 2012-13 season. During this period, he filled in as a broadcaster for the Suns.
Impressed with his progress, the club even signed a new five-year contract in 2010.
However, Frye opted out of the final year of his contract and signed with the Orlando Magic on July 14, 2014.
He signed a four-year/$32 million deal and had a very disappointing first season. With an even worse performance from the former NBA player, he was traded to the Cleveland Cavaliers mid-season.
Cleveland Cavaliers
Frye was traded to the Cleveland Cavaliers in exchange for Jared Cunningham and a future second-round pick.
Gaining his form, Channing registered four three-pointers in his second game and aided his team to sweep the Hawks in their Eastern Conference Finals journey.
The Cavaliers defeated the Golden State Warriors, winning the NBA championship. However, he did not have much playtime in the final match.
Frye played 26 matches for the Cavaliers in the 2015-16 season and averaged 7.5 points and 3.6 rebounds per game.
He played 44 games with the Cavaliers before making his move to the Lakers in 2018.
However, he returned to the Cavaliers after playing just 9 matches for them and logging an average of 5.8 points and 0.1 assists per game.
After playing 36 games in the 2018-19 season with the Cavaliers, he announced his retirement from professional basketball in 2019.
Post Retirement
After retiring from his professional basketball career, he joined NBC Sports Northwest as the co-host for their podcast program, 'Talkin' Blazers Podcast.'
He also worked as a studio analyst for NBATV since 2020 and a fill-in studio analyst for the NBA on TNT since 2021.
Injuries
Channing Frye endured numerous injuries throughout his NBA career. He suffered a significant knee injury in his rookie season.
He sprained his left knee when Andre Barrett accidentally fell upon his knee, forcing him to miss all the remaining matches of his first season.
In September 2008, he did surgery to remove bone spurs from his left ankle and was placed as a backup in the 2008-19 season.
Moreover, he was diagnosed with severe heart disease in 2012 during his time with the Suns. As a result, he missed the entire 2012-13 season and had to go through yoga classes and golf to recover from his heart defect.
He is fine now and living his life very well after retirement.
Awards & Achievements
NBA champion (2016)
NBA All-Rookie First Team (2006)
First-team All-Pac-10 (2004, 2005)
Pac-10 All-Freshman Team (2002)
McDonald's All-American (2001)
Fourth-team Parade All-American (2001)
Age, Weight & Height
As of 2023, the retired NBA player is 40 years of age and celebrates his birthday on May 17 every year.
Moreover, he stands 7 feet (2.13 meters) tall and weighs around 116 kg (255 pounds). Talking about his facial features, he has black colored hair and black eyes.
Net Worth, Career Earnings & Foundations
The NBA veteran's garnered most of his net worth from his professional basketball career. After his retirement, he started working as a host for tv programs and podcasts.
As per spotrac, throughout his professional NBA career, he earned a total of $68,630,093. Frye also earned from some endorsement deals.
He also owns a wine/spirits company, 'Chosen Family Wines.'
As of 2023, the former NBA player is estimated to have a net worth of around $10 million.
Apart from spending money on his needs, the player has participated in various community service programs.
He established a foundation called 'The Channing Frye Foundation' in 2007. They said they started the foundation for youth consultation and betterment programs.
In addition, he and his wife founded another organization called 'The Frye Family Foundation' in 2010. He also sponsors various charity programs and sports events like kickball, etc.
Wife & Kids
Channing Frye is married to Lauren Lisoski. He first met Lauren in Portland before the 2007-08 NBA season.
Per Channing, they were introduced to each other by their mutual friend and dated for a few years before taking their relationship to the next level.
They married on August 14, 2009, at Portland Portland Vineyards in a private ceremony in the presence of their family and close friends.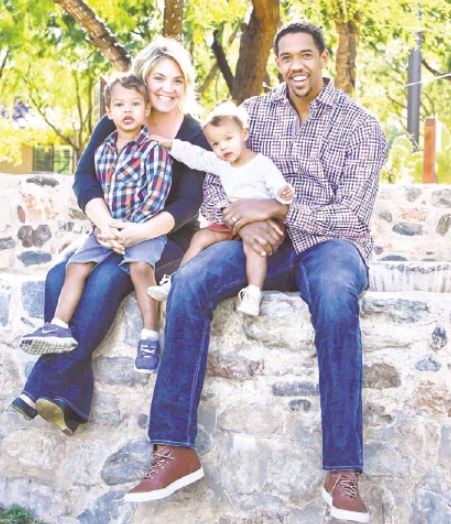 The couple had their first child, Hendrix Frye, on October 4, 2010. Some years later, Lauren gave birth to their daughter, Margaux. Sadly, she was born with a vision impairment.
In addition, the pair is blessed with two more kids. However, there is not much information about them on the Internet.
Social Media Presence
The former NBA player is an avid social media user. He frequently posts pictures on his social media handles.
His posts feature clips from his professional basketball career and recent works with his family and friends.
Twitter: 276k followers (@channingfrye)
Instagram: 141.9k followers (@channingfrye)
Popularity
Having played for six different teams in the NBA during his professional career and winning the NBA championship, Channing Frye is quite a popular name among NBA fans.
The above graph gives brief information about the popularity of Channing Frye based on Google searches in the United States over a year.
Frequently Asked Questions (FAQs)
Did Channing Frye retire?
Yes, Channing Frye retired in 2019. At that time, he was just 35 years old and was playing for the Cleveland Cavaliers. After his retirement, he started working as a co-host of various tv programs and podcasts.
Why did Channing Frye retire?
Channing Frye retired because, as he said, he wanted to put a stop to his NBA career as a Cavaliers player. He deeply loves the club as he won his first and only championship with them. Moreover, he had made a funny remark about having "enough money to buy extra guacamole every time" while retiring.